Generate Catchy Names using
Writecream
Are You thinking about having a Brand, a YouTube channel, etc? Wow that's great congratulations. But did you decided a distinctive, authentic, memorable, and enduring name for it which will create a unique identity of your asset. If not than. Create it with Writecream AI. Try it for free today. No credit card required.
Free forever, upgrade as your business grows!
Start using the Catchy Name Generator for free below
If you need help, please refer to the video tutorial above or the detailed step-by-step instructions at the end of the page
Generate A Unique Catchy Name in these simple steps!
Input
Output
Input 1- A Company which builds Quality products like Mobiles, Desktops and Softwares.

The main goal of company is to peovide secure & quality devices.

Output 1- Apple
Input 2– It's an online shopping company which sells variety of products.
Output 2– Amazon
Input 3- This is an e-learning company and it's main goal is to provide skill worthy knowledge to everyone at no cost at all.
Output 3– Cybervish
Input 4– It's an software company which makes AI powered tools and software to make people's life easy and more meaning full with ease in doing jobs that takes to much to think like content writing and so on.
Output 4– Writecream
Input 5- A company which takes orders online and delivers it to customers within a hour.
Output 5– Zomato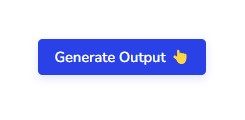 And ta-da, you will get your AI-generated Personalized tool matter of seconds!
Catchy Name Generator Tool
Using Writecream's AI, you can generate personalized tools as quickly as 5 minutes. You need to start by writing 1-2 sentences about your brand like what it does and what it's main goal and there you go. Catchy name generator tool is ready to boost your name search in matter of seconds and use it as much time as you need for as much different different choice of names you want for different-different business or till you like the one. So try it now.
Generate Catchy Names For Me