Use Writecream's A.I to generate
Email Copies
Use Writecream's AI to generate
cold emails
sales messages
blog articles
voice-overs
podcasts
icebreakers
Take your Cold Email outreach up a notch by using Writecream's personalized email copy generator. Write flawless emails, and high-quality emails with proper email elements and email check. Try for free today to reach your email clients. No credit card required.
Free forever, upgrade as your business grows!
Generate Email Copy in these simple steps!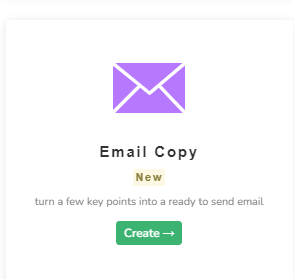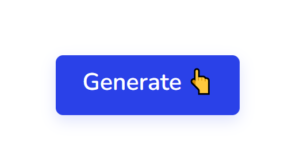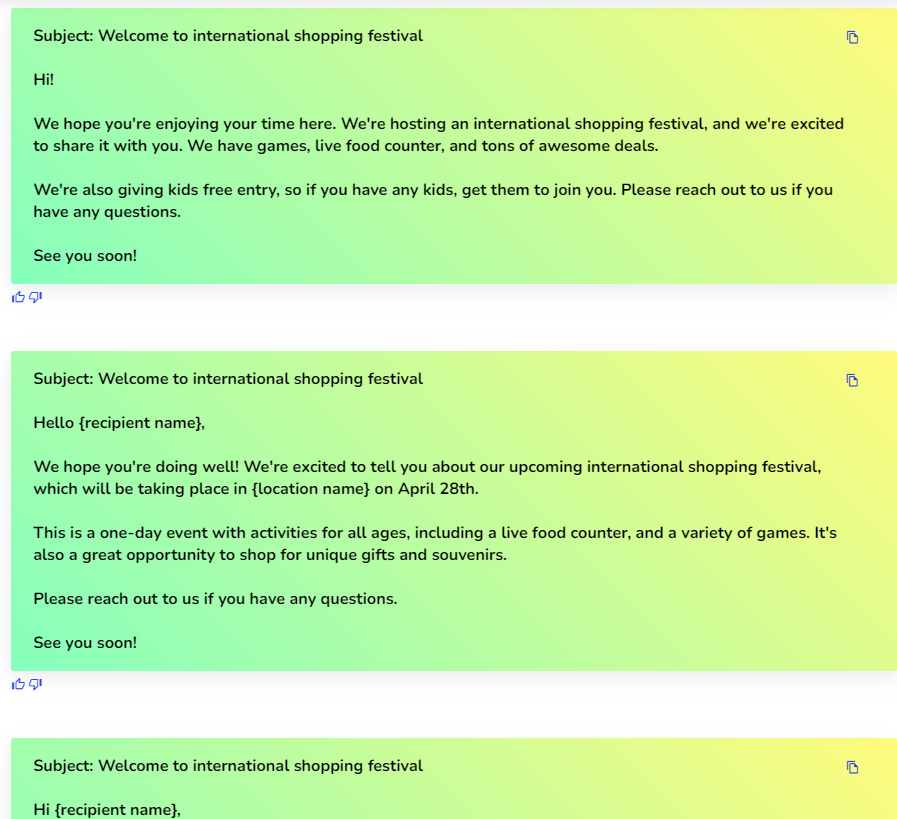 And ta-da, you will get your AI-generated content in emails in seconds!
Choose one of the generated outputs by our email body generator or keep generating email address till you get the email program you like. It's that easy!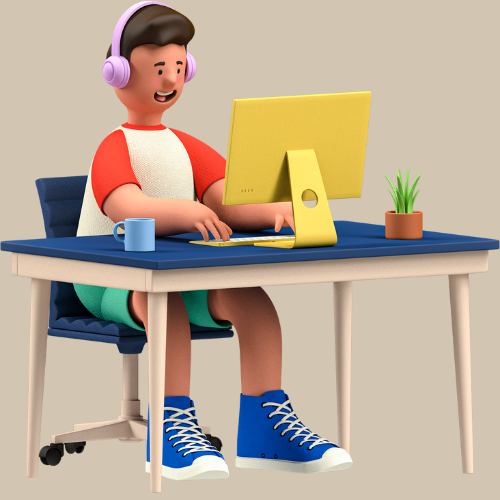 Email Copy Generator
Using Writecream's personalized email copy generator, you can write your Cold Email copies as quickly as 5 minutes
You can write the Email using the specialized tools present there in one place
Generate
Enter the Keypoints
Start by entering the key points you want to be there in the Email, for email communication, email signature and email production.
Set Creativity Level
Decide the level of creativity for email client tests you want for your promotional emails for our Drag-n-Drop email builder.
Generate Email copy
Generate the best email copy and email messages for your cold outreach to your prospects and business email correspondence.
FAQs
+
You can click on the chat button to have a word with our support team. If you prefer email, drop us a line at support@writecream.com.
+
Yes, we have a bunch of them on our YouTube channel! We have videos for almost every feature and issue, and questions people may face.
+
Yes, you have the right to the generated high-quality content and content type. You are free to use the original content however you want.
+
Of course! Here is a 1,300+ word article written using Writecream: https://bit.ly/writecream-ai-blog
+
You've worked hard to build a list of subscribers. You appreciate all your friendly user because they interact with your social posts and manifest forms and you can benefit from your insights to do crucial tasks. It means that you should respect others' time and inbox by taking care not taking additional time and design a great email from head to toe. You should write an email subject line that captures your reader's attention and gather the mailing address. You should now inspire them with your content by sending them an email to up your email marketing game.
+
An online email signature generator is software that allows you to create customized signature blocks and email signature templates for use in email messages. It can help add your name, job titles, phone numbers, websites, email signature details or multiple social media links to your emails in a personalized way, making them look more professional.
+
Yes, we have multi-lingual support. Writecream supports over 75 languages. The complete list is given below. Multi-lingual support is available across all our tools, including long-form editor (A.I Article Writer), cold email icebreakers, LinkedIn icebreakers, image icebreakers, audio icebreakers, voice-over, and more.
List of supported languages: Afrikaans, Albanian, Amharic, Arabic, Armenian, Azerbaijani, Bengali, Bosnian, Bulgarian, Chinese (Simplified), Catalan, Chinese (Traditional), Croatian, Czech, Danish, Dari, Dutch, English, Estonian, Finnish, French, French Canadian, Georgian, German, Greek, Gujarati, Haitian Creole, Hausa, Hebrew, Hindi, Hungarian, Icelandic, Indonesian, Italian, Japanese, Kannada, Kazakh, Korean, Latvian, Lithuanian, Macedonian, Malay, Malayalam, Maltese, Mongolian, Norwegian, Farsi (Persian), Pashto, Polish, Portuguese, Romanian, Russian, Serbian, Sinhala, Slovak, Slovenian, Somali, Spanish, Spanish Mexican, Swahili, Swedish, Filipino Tagalog, Tamil, Telugu, Thai, Turkish, Ukrainian, Urdu, Uzbek, Vietnamese, Welsh
+
Yes, the outputs are free of plagiarism. Our A.I. generates a unique piece of SEO content for every input.
+
Yes! You can avail a no-questions-asked refund within 30 days after subscribing to one of our plans even after your days of trial period finishes. Please use the chat option in the bottom right corner to raise a refund request or write to us at care@writecream.com.
+
No, a credit card isn't required.