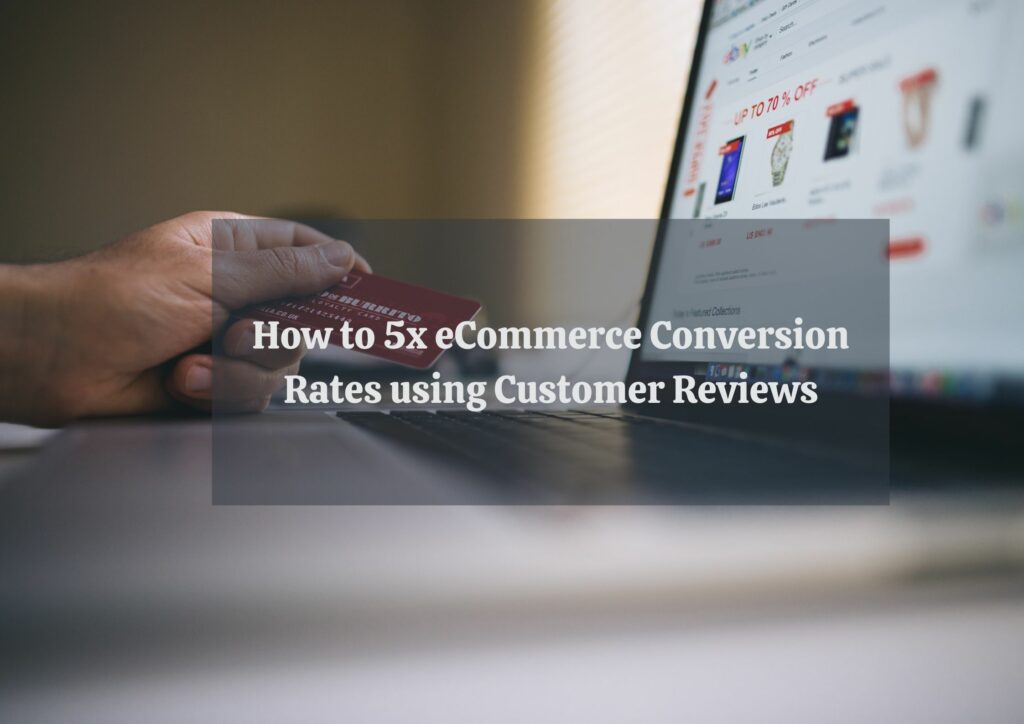 In this day and age, when online shopping has become such a huge part of our everyday life, customers have been left spoilt for choice between various eCommerce stores and outlets. People flock to these sites to make their purchases; it becomes increasingly hard for them to separate the bad products from the good ones due to the overabundance of options. One aspect of online shopping that is extremely helpful for customers is the customer review section, which allows people to read genuine reviews and comments left by the buyers. 
Reviews have become such a critical aspect of online shopping that studies have shown that about 72% of the customers believe in positive reviews and say that such reviews make them trust businesses more. Another study by Spiegel Research Centre has indicated that 95 percent of shoppers read online reviews before purchasing. The same report further demonstrated how the inclusion of product reviews boosted the conversion rate by a huge margin, i.e., by 190 % for the low-priced category and 380 % for the high-priced category.
Customer reviews have a significant impact on the way customers interact with brands and the overall revenue generation of a brand. So, naturally, for a brand owner, the question arises as to how this can be utilized to boost the conversion rates of a certain product.
To understand this, we will look at how one can collect customer reviews, the factors that do a good review, and ways to manage negative reviews.
💡 Generate personalized emails, blog articles, product descriptions, and ads in seconds using the power of A.I
Collecting customer reviews
You can motivate customers to share their reviews in various ways. Some of these are:
Having an automated system that asks customers for reviews after a purchase or a few days after is a great way to start. Amazon does this effectively, and if your site does not have this feature, you should get one immediately since it is quite a standard being followed by all major eCommerce outlets. This method works because most customers like to share their points of view, and it's a great way to nudge them into giving a review.
If you do have a review system in place or are planning to get one for your site, ensure that the entire process is as simple as possible for the customer. Having an easily accessible review form optimized for mobile phones can be beneficial in this regard, as it will prevent the hassle of searching your entire site for the review section. 
Another unique but effective way is to identify brand champions. Brand champions are essentially customers who are frequent buyers and have been a part of the customer base. They are easily distinguishable from the rest, and they can be found via social media comments and hashtags and from your customer support data. Rewarding them for their feedback will encourage the new customers to do the same, resulting in a larger online presence for your brand.
It is important to have an automated system in place to utilize the review system, as it will make collecting reviews a much easier task than doing it manually. Fortunately, there are some options available in the market currently. Yotpo, Bazaarvoice, and Power Reviews are great options that allow you to create loyalty programs apart from just writing and displaying reviews. 
What makes a good review?
The review profile for your product should have an equal balance of both positive and negative opinions, as this adds a touch of authenticity to it. Even specific reviews or comments should not sound over the top or exaggerated as this might not sound authentic. Most balanced reviews are where the customers generally have a positive point to share without making a big deal out of it. To support the claim that only positive reviews are not beneficial and can turn away customers, a study by Spiegel Research Centre demonstrated that products with ratings of 4 to 4.7 stars were more likely to be purchased than products with a perfect 5-star rating. To put it in simple words, people are more interested in genuine and authentic products, and when they come across only positive reviews, it comes off as fishy, and they tend to avoid things when they suspect something is off.
Although having great reviews or a mixture of both is undoubtedly beneficial, one has to look at it from a customer's standpoint and understand that having only a 5-star rating with a generic comment like "great product" is not enough to pull them in. As a brand owner, your objective is to nudge your customers into writing in-depth reviews. This type of user-generated reviews will even help you grow as they are generally looked upon favorably by Google and can help you greatly in your SEO efforts.
Managing Negative Reviews
Negative reviews and criticism are inevitable, and they are not inherently bad as many people would like to believe. It's quite the opposite, as there is a lot to be learned from bad reviews. It will help you gain more of what the customer wants and feels is lacking from your product. Assessing this and making changes wherever possible will eventually help your brand scale heights that would not have been possible without criticism.
Responding and being proactive with dissatisfied customers is another approach you can adopt. This will help you raise questions, understand their standpoint, and even help you gain credibility as a brand. It represents good intentions from your end, and whenever possible, adding responses to positive reviews by appreciating and acknowledging them will help you grow your presence.
If you have a system for verifying reviewers, it might be tempting to delete bad reviews. But if you take that approach, your product probably will end up looking inauthentic because of a lack of negative reviews, and as discussed earlier, people are more interested in items that seem more genuine than perfect. Make sure you approve any bad reviews if it seems authentic and take the time to acknowledge those customers and resolve their complaints. 
Conclusion
The key takeaway is that reviews are more important now than ever before. With an overabundance of options, reviews serve as proof of your product and its quality. As various studies have proven, the higher the number of reviews, the more likely purchase is to be made. Apart from that, it helps your brand by helping it grow organically, as it has been seen to compliment your SEO efforts. 
So, if you follow the strategies we discussed, it will help you move a step ahead of your competitors and scale heights in a shorter period.
Let me know your thoughts in the comment section below!