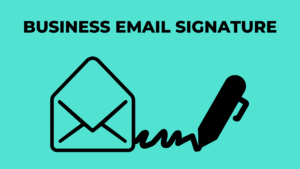 It's challenging to make a good impression and it's even more difficult to do it at the end of an email. This is where a professional digital signature comes in. It helps you identify yourself through your company and portray yourself as a valuable and genuine business.
That's most likely the reason why so many of us wind up looking for examples of professional email signatures whenever we switch jobs, get promoted, or have a nagging sense that our present sign-off isn't up to snuff. A compelling email signature grabs attention while being professional.
What is a Business Email Signature Template?
A personalized text block at the end of an email, which might contain branding and contact details is usually called an business email signature. A business email signature may be heavily customized and used for a variety of things, including displaying decency; increasing brand recognition; producing leads; attracting visitors to your website and social media networks; and establishing a favorable relationship between yourself and the company you represent.
Why is a Professional Email Signature required?
When you initially get in touch with someone, they don't know who you are, what you do, or whether what you're saying has any validity.
💡 Generate personalized emails, blog articles, product descriptions, and ads in seconds using the power of A.I
On the other hand, if an email additionally includes a digital business card, that may serve as verification of your legitimacy. It demonstrates that you are a seasoned businessperson or are managing a respectable organization with plenty of clients and supporters. When people are able to view your contact information, website, and social media connections, you are far more likely to receive a response.
One of the best practices to improve your relationship with the receiver is by providing contact information. After that, you may use your magic to build rapport and turn a lead into a client or even a motivated business partner. It can be performed using social proof or CTA banners or analytics.
Your brand's colors and company logo are frequently seen in emails, which creates connections with your email clients. The effectiveness of your other outreach initiatives, such as the provision of useful, relevant, and occasionally entertaining information to foster favorable contacts with your brand, will, however, determine the caliber of the associations.
How to Create an Email Signature? (+ Free Email Signature Template)
1. First and Last Name
Your name should always be included so that the recipient of your communication knows who it is from, just like with snail mail contact. This is frequently the first line of text in the email signature.
2. Affiliation details (Job Title and Department)
Your association information should appear immediately after your name. Your connections may be with your department, employer (business or organization), or both. Naturally, when you get to know the receiver, your name should ultimately stand on its own. However, sharing this information gives the dialogue and your part in it more context. Additionally, joining a bigger group, particularly one that is well-known, gives you greater credibility. This aids in grabbing readers' attention and ensuring that they take your message seriously.
3. Secondary Contact Details
It's crucial to include secondary contact information so that the receiver understands how else to get in touch with you. Phone numbers, fax numbers, and any other forms of communication you want to promote might be included as secondary information. In circumstances when you don't want to give out your direct line, you might use this chance to advertise your own website. This would be a passive method to start a conversation without having to deal with a lot of outreach if you don't want to.
4. Social Media Icons
Your social media presence is a significant component of your personal brand since it allows you to build a following in your industry and demonstrates your passions to others. What a person posts and the way they present themselves online may reveal a lot about them. Links to your social media pages should thus be included in your email signature. It not only strengthens your personal brand but also makes it easier for others to get in touch with and follow you. If you post links to your online material on social media, it may also increase traffic to that content. Also, make sure to use suitable fonts for the purpose of creating a signature design.
5. Call-to-Action
Including a call-to-action in your email signature is one of the wisest moves you can do. The greatest email signature CTAs are straightforward, current, non-obtrusive, and consistent with your email style, giving them the appearance of a postscript rather than a sales pitch. Select a CTA that is in line with one of your current company goals, and alter it as necessary.
We have created a sample template for your convenience, which includes various types of email signature examples. Click here to access it. Consider this as your free email signature generator!
The ideal business email signature will reflect both your professional and personal selves. The remainder of your email signature is a clean slate for you to add a little individuality to each business email you send after include the essential contact information.
Anyways that's all for now. We hope this article was helpful to you. Please don't forget to leave a comment. All the best!