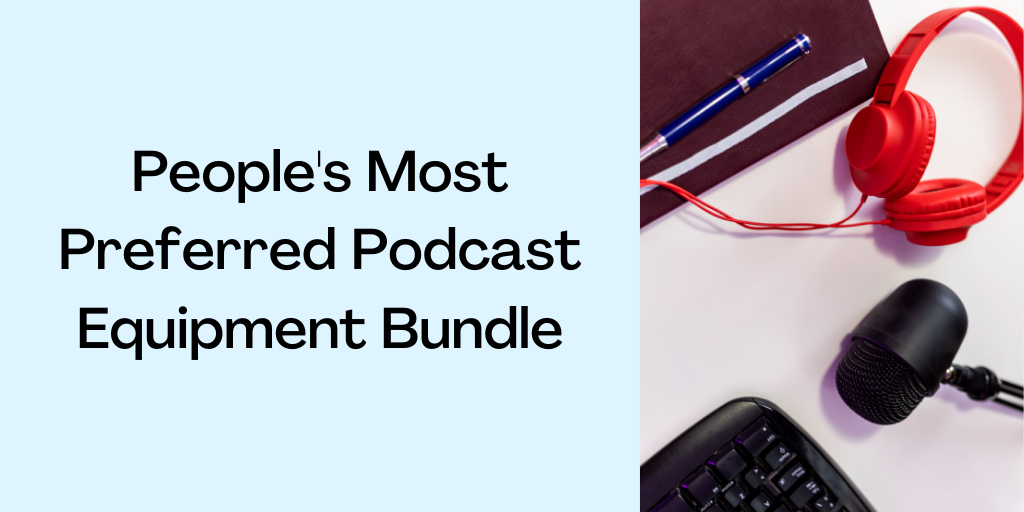 When you finally decide to start a podcast, the other questions related to podcasting start clouding your mind. If you have a hundred questions related to podcasting, I am pretty sure that buying a podcast package will clear at least the majority of your queries. A podcast package is essential to buy as it helps you progress your creative venture. But you might worry that podcasting gear might be too expensive, which is one of the main inspirations for this article. This article will be a comprehensive guide of all the details you need to know about 'packages' and 'bundles' before buying them. You can use this as a guide to upgrade your current gear with an enhanced version or to buy a new bundle. Though it is not an absolute necessity, having a high-quality podcast bundle will help optimize the sound quality and improve the workflow. Also, it will highlight the potential of your podcast and make it notable out of all the other podcasts.


BEST TECHNIQUES FOR CREATING A PODCAST FORMAT

Have you decided what should be the topic for your podcast? If you have decided on the topic, then it's time to think about the format for your podcast. One might wonder what questions would be further there even after deciding your podcast's topic. Here are a few questions to ponder and choose carefully.
               1. In what way do you want to convey the message to your audience?
               2. What will your podcast format be like? Do you plan to do a solo podcast? Or do you want to have another co- host or guest speaker in your podcast?
               3. Have you decided on your target audience and considered their interests?
               4. How much time do you plan to invest in creating content for your podcast?

Deciding on the name of your podcast
Selecting a name for your podcast is comparatively as hard as choosing the topic of your podcast. If you are finding it difficult to choose the name, then work in mind considering the following-
             1. The name should be related to your podcast's topic
             2. It should catch the eye of the audience
             3. Make sure it is simple yet lasting long in people's memory
Why is it important to have a name related to the topic? Only when the name is related to the topic will it help people find your podcast when they search your topic. Apple podcasts show different podcast information when the user is searching for a podcast, that is
             1. Title – Your podcast's name
             2. Name – You can also include your name to make it easy for users to search
             3. Subtitle – A single line description of your podcast
             4. Summary – Summarize what the episode of your podcast will be in a paragraph.
💡 Generate personalized emails, blog articles, product descriptions, and ads in seconds using the power of A.I
It is good to write more details about your podcast (without giving in too much information) because it will help your podcast show up easily in Search Engine Optimization (SEO). When you are creating an Apple Podcast, make sure you enter all the details like the podcast's name, name of the podcaster, and the podcast's description to simplify and aid the search.
For example, My Favourite Murder with Karen Kilgariff and Georgia Hardstark. Though we don't know who Karen and Georgia are, the podcast will be about My Favourite Murders.

Another example is Ellen on the Go. Ellen Degeneres has become a household name, and there are not many details that one needs to be told beforehand to know her. In that case, "On the Go" will suffice for her podcast's name. So the audience will know that they can expect similar content, which is of Ellen's usual style.

Just in case you are having trouble finding the right name for your podcast, go to Apple Podcasts or any other podcast platforms, and then do some research for the name of your podcast. If you plan to host a podcast with a co-host, it is better to discuss the ideas for name with them to be on the same page.

Buying podcast equipment
Since the podcast is about recording audio, buying good podcast recording equipment is important. Before you worry about the costs of the recording equipment, here is some encouraging news for you. You don't need the worry about buying costly equipment to start a podcast because there is a low barrier to entry for podcasting. In this article, I have covered the main equipment needed for podcasting. You can also find information on the equipment available on a higher-end if you want the finest audio quality.

This article will be a guide about "How to start a Podcast?" which is essential for beginners. And I have done extensive research and provided accurate details to keep the cost as low as possible. If you want to start a podcast with more than one person set up, you will find what you want under posts for 2, 3, or 4 persons. If you want to start as a solo podcaster, look under "Podcaster Kit for Solo-caster."

Computer
To begin with podcasting, you need to ensure you have a computer with the latest software version. The system can be either a Mac or a Windows PC. But if you have a computer that is almost 10 years old, consider changing it since it cannot afford to run the software you need for editing. Just look for a computer that will handle running the software.

Microphone
Next, you will need a microphone to record your voice. Since there are many types of microphones available for podcasting in the market, make sure you research what microphone will suit best for you. If you are concerned about spending money on a microphone, you can voice record using the mic on your laptop or even with the earphones that have a mic.

But there is a disadvantage to this type of recording. When you use the mics on your laptop and earphones for recording, it also records the other sounds around you. It might make the audio unclear and cause echo to be heard. Though you have cut costs instead of buying a microphone, it means that you are compromising on the audio quality of your podcast. A note to the readers, if you plan to record using the already available mics in your laptop or your earphones, make sure you are following the cardioid pattern. This cardioid pattern eliminates the majority of the unwanted noise while recording.

Microphone Accessories
One might get overwhelmed by the array of microphone accessories available for recording higher-quality audio. But if you are beginning your podcast, you do not need to worry about buying all of them. You can start by buying a mic stand, boom arm, shock mount, cables, pop filters, etc. The crucial accessories to buy are a mic stand and a windscreen or a pop filter. Instead of holding the microphone by yourself and recording, you can use the stand to hold the microphone. You might think that you will not be doing a live podcast and that you can take a break now and then, but we can barely keep our hands still. If you are frequently moving your hands, the wind sound will be recorded along with your audio.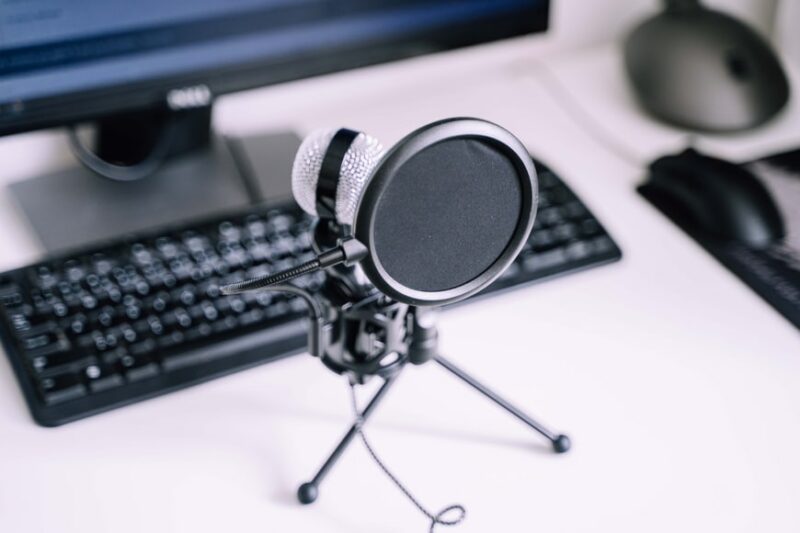 You can buy the Audio-Technica ATR2100x-USB Cardioid Dynamic USB Microphone, which also comes with a tripod stand. The stand usually starts from $10 – $30, but you do not need to pay any extra charges when you buy this microphone. The next accessory is the mic windscreen or the pop filter. This helps reduce the excessive sounds from your surroundings, breath, or voice. Usually, windscreen and pop filter are used together, but if you want just one, then buy a windscreen.

If you plan to buy a mic boom arm, you also need to buy a shock mount. The shock mount will help reduce the noises caused by the vibrations from the mic arm. Mic arms are usually connected to the desk, so even if there is a minute sound from your surroundings, it may cause vibrations. And this is where the shock mount helps minimize the vibrations. They usually range from $20 – $40.

Other Podcast Recording Equipment
There is a lot of podcast recording equipment one needs to buy if they plan to host a bigger podcast show. But for a beginner, the podcast starter kit you need is only a computer and microphone. You can buy the other required equipment, In the long run, to make sure the audience listens to better quality audio.

Headphones
Owning a good pair of headphones is better when recording and editing. Headphones are used to monitor the audio and make changes wherever needed. They are also useful while editing, as you can hear clearer. The Bose Quiet Comfort 35 Series II Wireless Bluetooth Headphones are the most popular earphones.

Audio Interface and Audio Mixer
The Audio Interface and Audio Mixer are used to make adjustments while recording, and they save you a lot of time while editing. They act as mediators between your microphone and computer. If you have an XLR Microphone, you need to buy the audio interface and audio mixer. But if you are using a USB Microphone, you do not need to buy the interface or mixer because you can connect to the computer directly using the USB port.

You need to buy them if you are recording more than a single person to separate and record the voices for editing. They usually range from $100 to more than $300, so you don't necessarily need to buy one when running low on budget. You can buy Focusrite Scarlett 2i2 (3rd Generation), one of the best audio interfaces, and for the mixer, you can buy Yamaha MG10.

Portable Digital Audio Recorder
The Digital Audio Recorder is convenient to record high-quality audio wherever you are. These recorders range from $100 to more than $500. But if you are planning to start your podcast with minimalistic equipment, you do not need to buy this recorder. If you plan to record on the road, consider buying a portable recorder. You can connect an external mic to the recorder to enhance the audio quality. An example of a portable audio recorder is the Zoom H4n Pro.

PLAN TO BUY YOUR PODCAST EDITING SOFTWARE
We have the Digital Audio Workstations (DAW) for recording and editing, which provides great free and paid options. For now, we will focus on the free DAW software, but keep in mind that the free software lacks pro features.

Audacity is a great audio editing software that is available for free. It even works on Mac, Windows, and Linux. It has amazing professional and advanced features too. Garageband is another free software, but it is available only for Mac users. It is comparatively easy to use, but you need a Mac or iPhone to edit using Garageband. When you have a great podcast production and a large following, you can use Pro Tools and Adobe Audition. While there are still a few editing apps on the Google PlayStore and iOS App Store, it isn't easy to edit using these apps.

RECORD YOUR FIRST EPISODE
Phew, you have finally set up all the equipment you need for starting a podcast! Now is the time to start your recording! When recording your first podcast, remember that this is your first podcast, and you don't have to be perfect. Learning to podcast is an ongoing process, and you will master it as you continue to record. Have fun while recording, and you will notice that you got comfortable with recording and will soon find your niche.

PREPARE AN OUTLINE OR SCRIPT FOR YOUR PODCAST
Planning about the content you want to deliver to your audience is quite important. Write an outline of what introduction you need to do, write down ideas as it comes up in your mind, try to keep it as casual as possible, and improve later. If you plan to write a structured script of what you will speak about, that is even better. But remember that when you are delivering your content, don't make it seem like you are reading right from the paper.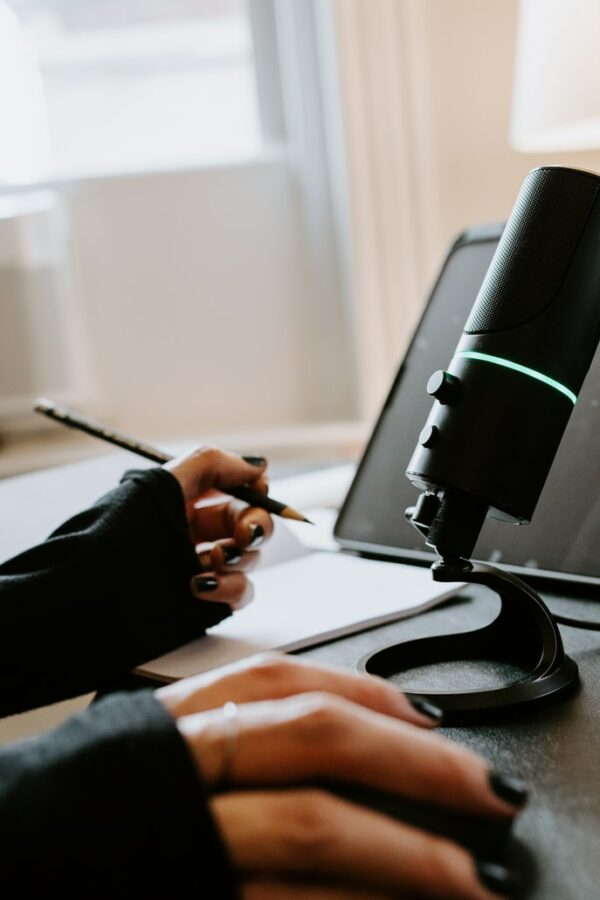 CHOOSE YOUR RECORDING SPACE
Okay, so I'm starting by saying that you do not need a professional studio to start your podcast. Pick a room with little echoes, like the place where the sound fades away as soon as it leaves your mouth. One great way to reduce echo is by filling the room with egg carton foam, also known as acoustic panels. You might have seen these acoustic panels on the walls of several Youtuber's videos. They do not absorb sound; instead, they reflect the sound not to create echoes.

SET UP EQUIPMENT AND RECORDING SOFTWARE
Begin by connecting your microphone to the computer and setting up the recording software. First of all, check if your microphone is connected to the audio input setting of the recording software you use (e.g., Audacity). While recording a podcast with multiple speakers from different locations, you can use Skype, Zoom, Google Hangouts, Google Meet, and other online meeting platforms to record.

TAKE A BREATH AND RECORD!
Now that you have set everything up click the record button! As it is your first time, take breaks whenever needed. Professional singers don't drink soda during their breaks as they know that any liquid other than water can lead to dryness. Stay hydrated and drink water to avoid voice adjustments. If you stutter in between, pause for a while, take a break, and start again. Remember this podcast is not live, and you can edit any mistakes in your audio later.

EDIT YOUR FIRST EPISODE
Now that you have finished recording your first podcast, give yourself self-appreciation. Many people quit podcasting even before they begin to record their first episode. You have achieved a huge milestone by recording your first podcast. Now recording the rest of the episodes will be easy for you. After recording, now is the time to edit, mix and master the podcast.

Look back and think about the first podcast you listened to. Try to remember how the audio quality was. Have it in mind that you are editing your podcast. So if you have any doubts or in need of ideas, you can listen to other podcasts anytime. Open the editing software you use, and begin editing. Edit if you find any awkward silences in the audio; edit out the parts where you find any stuttering, stammers, uhms, etc. If you think that there are places where you found yourself rambling in between, edit it out too. Make sure that throughout the audio, there is uniformity in the volume.
Add ID3 tags to your audio before exporting your MP3 files. This enables you to store information on your podcast like title, artist, date, cover art, descriptions, etc. If you add any music to your audio, you need to export the MP3 as 192 kbps or 44.1 MHz sample rate stereo. If you did not use any music, the minimum bitrate needed is 96 kbps.

FINDING ROYALTY-FREE MUSIC
You need to include a list of things in your podcast: intro, intro music, outro, and other music to use in between segments. Go back and listen to your favourite podcasts and pay attention to the intros, outros, and music. You don't need highly produced music when you start your podcast. You can do later even after you find your way into podcasting.

Before you think you need to hire a music composer, try sites like Incompetech (free) or Shutterstock (paid) for royalty-free music. They have a variety of music, and you will find something that works for you. You only need to download the music and import the music to the editing software.

Episode Clips
While editing the audio, decide the fun and interesting parts of the episode. After you are done with editing, make one or two audio clips that can be used for marketing and promotional purposes later. These audio clips give listeners an idea of what they can expect from your podcast.

Professional Audio Editing
As podcasts only are about audio, we need to make sure that the 30 – 45 minutes they spend listening to your podcast is worthwhile. As your podcast's audience starts to grow, your revenue will increase. Now you can seek the help of editors from big sites like Fiverr and Upwork.


UPLOADING AUDIO TO THE HOSTING SITE
The podcast hosting site is where you upload your MP3 file. These hosting sites help you get the RSS feed, and it will be used to submit your podcast in the podcast directory. Several podcast hosting platforms like SoundCloud, Libsyn, Buzzsprout, and Podbean. Out of these sites, Buzzsprout and Podbean are free sites, and both are good podcast hosting providers and distribute your podcast for free. Check out which site is best for your situation.

Buzzsprout allows people to upload 2 hours of audio each month, and the episodes are removed after 90 days. But you have got 3 months to try the platform for free. If you upgrade to the lowest paid plan, you can upload 3 hours of audio each month and no 90 days limit on the episodes. A major advantage of using Buzzsprout or Podbean is that your podcasts are submitted to different directories like Apple Podcasts, Google Podcasts, Spotify, etc.

FILL OUT PODCAST DESCRIPTION
You will need to fill the name of your podcast's episode and description. Be clear and concise about what your episode is about so that people will find your podcast unique and intriguing. You don't have to worry if once you write a title and description, will it be fixed permanently? No, you can revise them anytime you want.

VISUAL BRANDING FOR PODCAST
The branding for your podcast begins with the cover art. Go to the podcasts in Spotify and Apple Podcasts. Now scroll down and see which cover art caught your eye. And then think about the following-
           1. Was it the colours that you found attractive?
           2. What was the font size and type?
           3. What artwork was used in that cover art?


CO-HOSTING AND GUEST SETUP
Now let's delve into the shared podcast setup. This setup applies when you invite a co-host or another guest speaker for your podcast. The more the guest speakers in your podcast, the more engaging your podcast will be. This will enable the audience to hear authentic exchanges about a certain topic. It is best advised to keep the speakers to 4 or fewer people. The main reason behind limiting the participants under 4 is that when there are many people in the room, the conversations sometimes get interrupted or overlapped. This would be a headache for the audience to follow. And the recording and editing process will be a miserable process.

Beginner Starter Kits
Besides the skills of the guest, we also need to consider the budget so that we can facilitate the needs of the guest speakers. You need to make sure that each person has a microphone on their own, and they need to have headphones individually. If you think of using a single microphone, the editing process will be too tedious. Also, since a computer has limited USB ports, you will need to buy an audio interface to accommodate all the participants. You also need to ensure that the mixer's outputs are compatible with the input microphones.

For beginners, here's what we recommend
Setup for each speaker-

     – Microphone: Behringer Ultravoice Xm8500 Dynamic Vocal Microphone XLR
     – Mic Windscreen: On-Stage Foam Ball-Type Microphone Windscreen
     – XLR Cable CBI MLC LowZ XLR Male to XLR Female Microphone Cable, 20 Feet
     – Headphones: Audio-Technica ATH-M30x Professional Studio Monitor Headphones
     – Headphone Amplifier: Behringer Microamp HA400 Ultra-Compact 4-Channel Stereo Headphone Amplifier
     – Audio Cable: Hosa HSS-005 REAN 1/4″ TRS to REAN 1/4″ TRS Pro Balanced Interconnect, 5 Feet
     – Mixers and USB Interfaces (depending on the number of people) Focusrite Scarlett 2i2 (3rd Gen) USB Audio Interface with Pro Tools | First, Red (AMS-SCARLETT-2I2-3G)
     – BEHRINGER, 12 Mixer – Powered, Black (Q1202USB)
     – Tascam US-4×4 USB Audio/MIDI Interface with Microphone Preamps and iOS Compatibility.

Intermediate Kits
If budget is not your constraint now, you can invest in better quality equipment. Though there is not much difference between the starter kit and the intermediate kit, it is better that we buy the one that helps improve your audio quality.

For intermediate speakers, here's what we recommend
Setup for each individual-

     – Microphone: Audio-Technica AT2035PK Vocal Microphone Pack for Podcasting
     – Headphones: Audio-Technica ATH-M50x Professional Studio Monitor Headphones
     – Mixers and USB Interfaces (depending on the number of people)Yamaha AG06 6-Channel Mixer / 2 Microphone
     – Focusrite Scarlett 2i2 (3rd Gen) USB Audio Interface with Pro Tools | First, Red (AMS-SCARLETT-2I2-3G)
     – Mackie ProFXv2, 8 A-B Box, 8-channel (PROFX8V2)
     – Rode RODECaster Pro Integrated Podcast Production Studio
     – PreSonus Audio Interface, 4 Mic Pres – 4 Line Outs (Studio 68)
     – Mackie, B Box, 12-channel (PROFX12V2)
     – Focusrite Scarlett 18i20 (3rd Gen) USB Audio Interface with Pro Tools

Experienced Kits
For experienced speakers, here is a collection of equipment that caters to your needs. Of course, this equipment has a higher price tag.

For experienced speakers, this is what we recommend
Setup for each individual-

   – Bundle: Heil Sound PR 40 Dynamic Cardioid Studio Microphone Bundle with PRSM Shock Mount, PL2T Overhead Studio and Broadcast Boom Mount and Microphone Cable
   – Headphones: Audio-Technica ATH-M50x Professional Studio Monitor Headphones
   – Mixers and USB Interfaces (depending on the number of people)
   – Universal Audio Apollo Twin USB High-Resolution USB Interface with Realtime UAD DUO Processing
   – Rode RODECaster Pro Integrated Podcast Production Studio
   – Focusrite Scarlett 18i20 (3rd Gen) USB Audio Interface with Pro Tools Allen & Heath ZED-12FX 12-Channel Mixer with USB Interface and Onboard EFX
   – Focusrite Clarett 8Pre USB 18-in/20-out USB 2.0 Audio Interface


EQUIPMENT REQUIRED BASED ON EXPERIENCE

Podcast Equipment for Beginners

Condenser Microphone Kit

If you have money left that you are willing to spend and expect the podcast to be done all by yourself with no guest speakers, here are a few things you need to buy. All these put together will cost around 300 dollars.
You can buy our favourite Blue Yeti or a similar USB microphone, a good quality POP filter, and headphones for monitoring audio. This combination is the best condenser microphone kit, and it will never go wrong!

Podcast Equipment for Intermediate Podcasters

Intermediate-level podcasters can choose to buy a high-quality microphone with a good stand and shock mount. The remaining equipment remains the same. For the microphone, you can choose the Rode Podcaster USB dynamic microphone. The microphone mentioned above is so satisfactory that it brings your podcast to life. These are the best options for a USB microphone kit.

Podcast Equipment for Beginners: 2 or more speakers

The basic kit is the same as the single speaker budget kit. You can buy an ATR 2100 microphone which has XLR and USB connections. You can use any number of mics and an audio interface or mixer to meet your needs. The XLR microphone and monitoring headphones are essential for this setup.

MOST BASIC PODCAST BUNDLES OR EQUIPMENT

Microphones
The microphone is the pivotal equipment that you need to buy for podcasting. Without a microphone, you cannot record anything. Many readers asked us this question, "Which is the best microphone for recording?" We recommend the USB microphone or a studio condenser mic. A lot of the kits mentioned above include the best quality condenser microphones. Condenser microphones are great at recording vocals.

Interface/ Mixer
To power up the condenser microphone, you need a proper device. For this, the best solution is to use an audio interface, which provides phantom power that makes condenser mics work, but it also has more ins and outs to connect headphones, instruments like guitar, or MIDI to play keyboard. These interfaces or mixers also efficiently process our vocals.

Software
While discussing "podcast software," we need to be aware that there isn't much software dedicated to focusing on podcasting solely. We have compiled some types of software that can be used to record and mix and finalize them. You can read our best podcast software or free music software to explore options.

Headphones
Headphones are available in many shapes and sizes, and we recommend you to use this one design for podcasting which is the closed-back, dynamic and over-ear headphones. Does this name sound like Latin and Greek to you? Then fear not; all you need to look for is – there will be an ear cup in your headphones that goes over your ear and does not allow sound to leak into your microphones with the "closed" back. Any studio headphones can be used, provided they have a closed-back design.

Cables
All the podcast bundles will come with cables compatible with the equipment. But if you are planning to buy separate cables, make sure that they can be suitable for the device you need to hook them upon. Double-check if the cables are compatible with the gears you purchased.

Camera
This is the last place on this list because it is entirely optional to buy a camera. If you are planning to film your podcasts, you can buy a camera. Some people might want to purchase a camera for vlogging their podcasts, but it all depends on your preferences.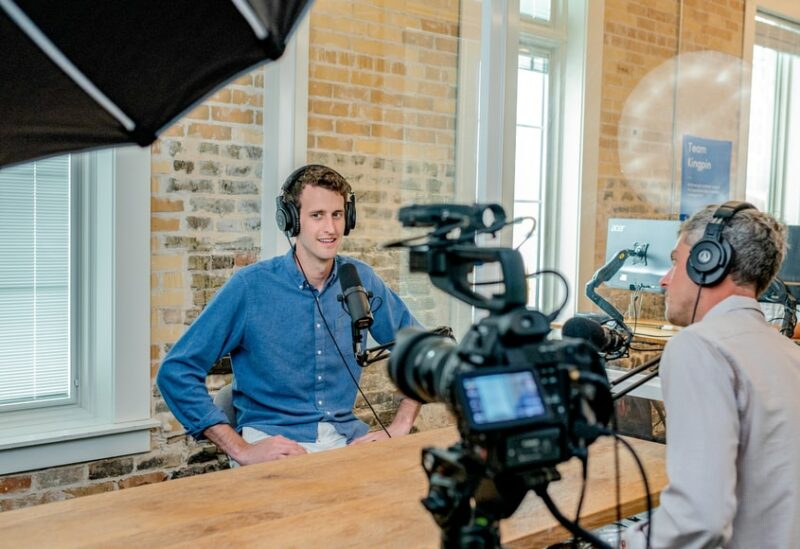 THE BEST PODCAST PACKAGES AND BUNDLES

               PreSonus AudioBox 96 Studio
Headphone jack with level control
Zero-latency monitoring with the use of internet analog mixer
24-bit resolution, 44, 48, 88.1, and 96kHz sampling rate interface
48V phantom power if using included 47 microphones or any other condenser mic
1/3U rack-mountable
Computer to interface connection cable is included
Check prices\reviews: US | UK
This is one of our topmost favourite picks. It comes with headphones, mic, and interface and a modern Digital Audio Workstation (DAW). This bundle can function effectively in both 32 and 64 bit applications. The design is simplistic and it has the popular AudioBox interface. This interface is the best because it gives you two combo instruments input and zero latency monitoring, so when you use this bundle you can begin recording right away. Another popular feature of this bundle is that it includes the M7 large-diaphragm condenser microphone, which is a very high quality microphone. Also another point to be added is that this bundle can be used with Mac or Windows too. The PreSonus AudioBox 96 Studio covers every aspect of what we discussed, perhaps just excluding the camera.

Behringer Podcastudio
It includes USB/audio interface, mixer, microphone and headphones too
Offers a vibrant broadcast-style microphone that includes a 2-stage pop filter
High performing studio headphones which has ultra-wide frequency responses
Detailed podcasting software and an ideal audio editor
Optimal for professional podcasting, music production and digital home recording
High-resolution 2 In/2 Out USB audio interface that comes with plug-and-play for Windows SP (or higher) and Mac OS X operating systems
See pricing\reviews: US | UK
This professional podcasting bundle comes up with all the features needed to make high-quality podcasts. Podcastudio comes with headphones, a USB interface, and a mixer, which you need, and you do not have to shop for any other extra equipment. This podcast bundle helps you find the perfect sound you are looking for, but all at an affordable price. Though this gear is not high-quality compared to the AudioBox Studio, if you want to save money as you are only beginning, then this is the best bundle.


Focusrite iTrack Studio
An industry-leading recording bundle for your iPad, Mac, or PC
Top of the line CM25S condenser microphone
Equipped with HP60S closed-back studio headphones
Easily connectible for instant recording
Interface features include unique Signal Halo LEDs in addition to a large monitor level control
Focusrite iTrack Solo audio interface with awesome Focusrite pre-amps (up to 24bit/96KHz audio quality)
Includes all cables (XLR, 1.2m Device Link cable)
Equipped with Ableton Live Lite and Scarlett VST/AU/RTAS Plug-in Suite
Novation Bass Station synth plug-in and Loopmasters sample content included
See reviews\prices: US | UK
This is a very high-quality studio bundle which offers you everything to record the excellent sound for your podcast. This works on Mac, PC or any type of laptop too. It also comes with the software Ableton Live Lite, which is very popular. If you are beginning to podcast, but want a software having higher quality than Podcastudio, you can buy Focusrite iTrack Studio.


MXL VRS Solo
Large Diaphragm Broadcast Dynamic Microphone included
Four inputs, one output, USB 3.0 for a dynamic sound
Desk stand to hold your microphone
Equipped with a Universal 1/4"-20 Camera Clip Mount
Includes an XLR-to-USB adapter for increased gain control
Full HD Camera with USB 3.0 included
Read reviews\pricing: US | UK
This bundle is amazing as it is a package of high quality equipment put together to make your live podcasting and online web streaming easier. If you are pretty serious about filming, then here's some good news. This bundle can be used for producing music, web conferencing, podcasting and anything else that needs to be recorded. But you need to buy the HDV Mixer software separately as it does not come along with this bundle. To take your podcast to the next level, then you can buy this bundle.


IK Multimedia iRig Pro Duo Studio Suite
Equipped with 2-hi-quality preamps with gain control
MIDI input/output included
Lightning, USB and USB OTG cables offered with package
High Output drivers for a more accurate and stronger sound quality
Extended frequency response for a high-quality bass
Adjustable headband for optimal support and great comfort so that you can listen longer without fatigue or discomfort
Closed back design for monitoring while recording without needing a mic bleed
Check prices\reviews: US | UK
This is a podcast bundle which is really good, and is one of the best podcast bundles which has high-level capabilities. This package offers you a dual-channel audio/MIDI interface so that you can connect your mic and obtain an ideal 24-bit sound. You just have to plug and play the sound, so that you can record. It also provides 2 channels with XLR/TRS combo audio jacks with phantom power, which is best suited when the recording involves more than one person. If this bundle fits your budget, then it is a must buy.


Scarlett 2i2 Studio
Offered with noise cancellation HP60 closed-back studio headphones
CM25 large diaphragm condenser microphone included
Equipped with a XLR mic cable and stand clip
20 Hz – 20 kHz frequency response
Dynamically 106dB weighted
+4dB Maximum input level
50dB gain range for further sound travel
Read reviews\price: US | UK
The Scarlett 2i2 Studio provides you crystal clear sound quality. This bundle has everything that will take your podcast to a higher level. It is user friendly and can be used by a beginner or even an experienced podcaster.


M-Audio Vocal Studio Pro II
Waves plugin pack offered, as well as a convenient mic clip
USB cables to simplify your plug and play methods
Headphones with self-control features for private recordings
2 XLR + ¼" combo inputs with phantom power recording vocals, guitars, and bass
Studio-quality audio recordings that contain up to 24-bit/48kHz resolution
Ableton live lite included for recording, mixing, and music production
Top-notch condenser transducer
High sensitivity and low self-noise
Built-in pre-amplifier circuitry for an out of this world sound performance
View prices\reviews: US | UK
Last but not least on this list, this bundle is the real deal. If you are looking for a bundle which makes your work as a podcaster easier, then this is the best bet. It helps you complete computer based recordings with high level features, and the hardware makes the whole job easier.
BUDGET FRIENDLY EQUIPMENT PACKAGES

The Blue Yeti USB Microphone
This is one of the go to microphones for several YouTubers and podcasters. The reason behind the craze for this microphone is that it satisfies the needs a beginner wants like-
      – USB compatibility (Mac and PC compatible)
      – Gain control knob, mute button, and zero-latency headphone output.
      – Multiple pattern selection – cardioid, bidirectional, omnidirectional & stereo
      – Robust, firm, but sleek design
      – If you want to conduct your podcast episodes via Skype or do any kind of work with audio editing tools like Garageband, then the USB compatibility is a no brainer.
In addition, it can be really annoying to hunt down the control on your computer for things like the gain or volume of the microphone. You can quickly and easily configure all of that on the Blue Yeti itself.

Adjustable Boom Microphone Clip
The Blue Yeti comes with a sturdy stand but if your table is short, you might feel the need to lean down to talk into the microphone. While this might be helpful initially, you can always do your podcast like this. And that is why I recommend the InnoGear Suspension Clip. This clip makes your podcast convenient and you can position the microphone anywhere you want.

Garageband (or Audacity)
Garageband is an easy software for beginners to use as it has a pretty simple interface. It is also free. If you have any queries, you can look up tutorials on YouTube. Unfortunately, it works only if you have a Mac iOS. Therefore, the alternative to Garageband is Audacity.

Skype and Ecamm Call Recorder
Using Call Recorder for Skype, you can record either audio or video calls very easily.
After you finish recording you can convert it into an MP3 or other file type and you can upload it in the podcast hosting site. However, Call Recorder is only available to a Mac user. Or you can use Zoom or Zencastr for your podcast shows.

Fiverr
Fiverr is the best platform to find a logo or introduction for your podcast. You can get everything you want at a price starting from $5 to $25. This is the best way to get started.

Libsyn Podcast Hosting
You need a host for your podcast so that you will get a RSS feed to submit it in the iTunes and create a database for your podcast. Libsyn is a dependable Podcast Hosting site that starts their service at $5 per month and expands upto $15 or $20 per month.

Start a blog for your podcast
This will give your podcast an extra edge and creating a blog will be a prudent decision. Having a blog not only interests people but also other advertisers and sponsors. If you want to earn from your podcast, then you need to create a blog.

CONCLUSION
Now that we have discussed everything, what are you waiting for? Get all your equipment and start working on your podcast. A lot of these equipment are comparatively cheaper than the other equipment available in the market. Though you have bought the best microphone, that alone doesn't count for the success of your podcast. Please have in mind that only the audience and the number of people who download your podcast will help create a successful podcast. Though we have compiled the resources, it is up to you to buy what you need according to your interests.