Use Writecream's Short
Story Creator
Not a writer? Want to write short story? No worries! Writecream makes it possible for everyone to write original content. Create 1,000+ word articles in 30 minutes. No credit card is required. We have solutions to write professional papers, student papers, fresh article, magazine article, journal articles and any type of content. We also help you to write accurate citations and citation style for professional papers, student papers with original content.
Free forever, upgrade to our premium plans or yearly subscription plans as your business grows!
Create Short Story in these simple steps!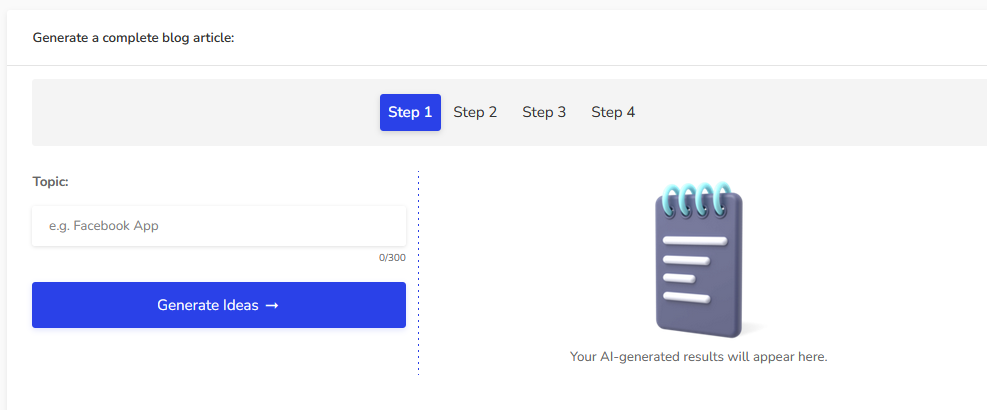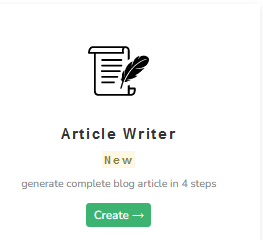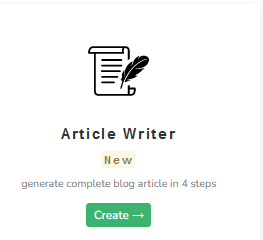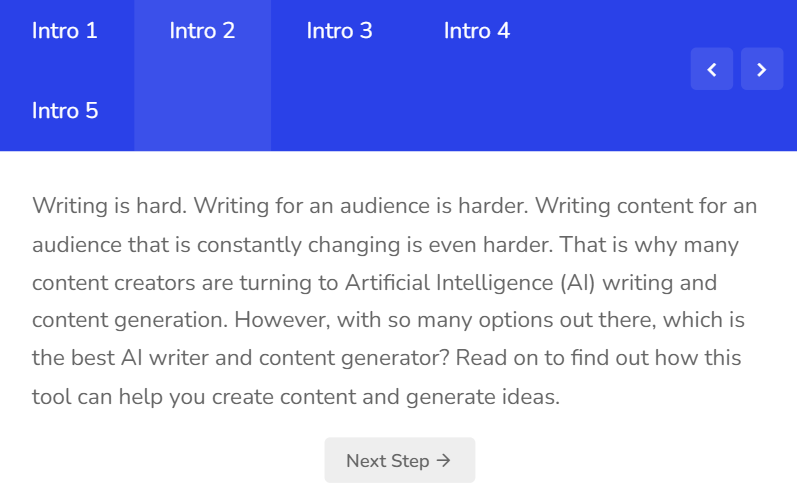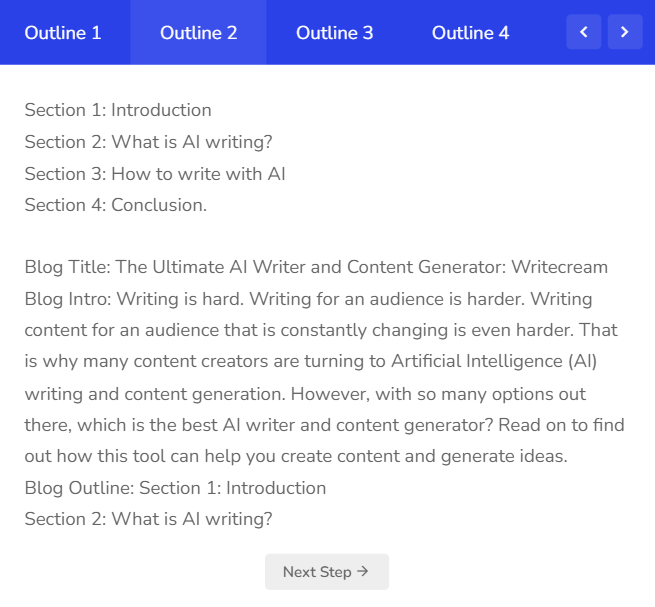 And ta-da, you will get your AI-generated short story in seconds!
Choose one of the generated story types or list of titles or keep generating till you get the quality content you like and no further human intervention is required. We provide citation examples, accurate references, book citation and blog ideas to solve your AI-generated articles needs. It's that easy!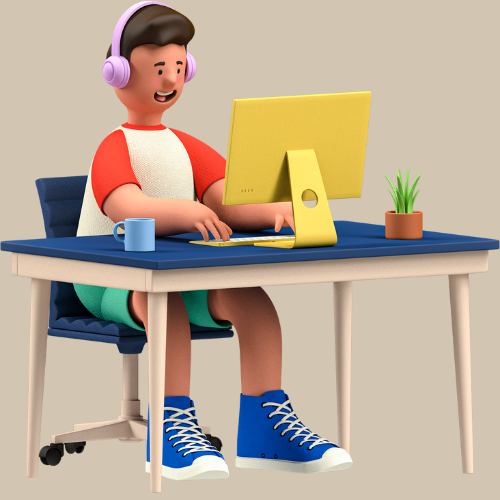 Short Story Creator
Using Writecream's AI Content Writer, you can write your article as quickly as 5 minutes
You can write the whole article using the artificial intelligence-based copywriting software and other writing tools present there in one place and choose the type of content you require.
Write For Me
Generate 1,000+ word blog articles in under 30 minutes
Content creation for a blog post is hard to be at the top of search engines: you need to come up with a content piece, then think of an outline (outline refers to the different sections a blog post is divided into), add powerful features for SEO performance and finally elaborate on the outline. Amidst all of that, you have to ensure the writing is compelling and free of grammatical errors so that you can be free from human writers. What if an online tool (a bot, perhaps) could do all this for you?
Our artificial intelligence technology-based content generator and article generator tool can do all of that and display your marketing ideas perfectly. From brainstorming content ideas to writing a plagiarism-free, grammatically-perfect article, Writecream can help! After completing the blog article, you can convert it to a podcast or a voice-over for a YouTube video like real-life content marketers and content writers.
Unleashing Creativity: Exploring the Power of AI Story Generators for Free Fiction Stories and Plot Ideas
Are you tired of being stuck with the same old story ideas? Do you need a creative boost to your writing skills? Look no further than AI story generators!
The Basics of AI Story Generators
What is an AI Story Generator?
AI story generators are computer programs that are designed to create stories and plot points using Artificial Intelligence. These generators analyze data from different sources and use natural language processing algorithms to generate fictional stories that can be used for writing inspiration.
How Can AI Story Generators Be Useful?
AI story generators can be an incredible resource for writers, whether you're just starting or trying to overcome endless writer's block. By using an AI story generator, you can receive an endless stream of new ideas, story plots, and writing prompts, all customized based on the keywords and genre you provide.
Using AI Story Generators for Story Idea
How Can AI Story Generators Help with Story Idea Generation?
When it comes to generating story ideas, one of the hardest parts is coming up with fresh and original concepts. AI story generators can help you with that, providing you with an endless stream of story ideas based on the keywords and genre that you choose. Essentially, you get a story idea generator that is completely free and can save you time and effort while you write.
What Are Some Tips for Using AI Story Generators for Story Idea Generation?
When using an AI story generator for story idea generation, it's important to keep in mind the genre and keywords you want to incorporate. Some generators have filters that allow you to specify the storyline, theme, and plot points you might want. By entering the right keywords and other details, you can generate a list of original story ideas that you're excited to write.
How To Use AI Story Generators for Finding the Right Genre?
AI story generators have the option to pick out a genre and then generate story ideas or plot points accordingly. By selecting the genre of your choice, the generator will create ideas within that specific genre. For example, if you want your story to be a romance novel, the AI story generator will produce plot points, characters, and settings that are commonly associated with romance writing.
Generating Compelling Plots with AI Story Generators
How Can AI Story Generators Help Create Compelling Plots?
AI story generators are not only great for generating story ideas but also for plot generation. Whether you're writing a short story or a full-length novel, creating a compelling plot can be challenging. By using AI story generators, writers can quickly and easily come up with captivating plots, twists and turns in a story, arc development and more to create a story you want to start writing ASAP.
What Are Some Tips for Using AI Story Generators to Generate Compelling Plots?
When using AI story generators to create a compelling plot, it's important to consider the theme, the rising action, and the climax. Consider using a specific tone or creating plot points that hook your reader and keep them engaged throughout. Keep in mind the tone and eventual resolution.
Writing Prompt Generator
What is a Writing Prompt Generator?
Writing prompt generators are an excellent tool for writers of all levels and offer endless possibilities for creative writing. Writing prompt generators work off randomized phrases and sentences to generate writing prompts for users to write short stories, long-form fiction, or anything in between.
How to Use Writing Prompt Generators for Easy Story Writing?
When using a writing prompt generator, you can choose to have it generate a prompt for you. This can provide an excellent starting point to kickstart your writing process, get over writer's block, or even serve as a daily writing exercise. Writers often use them to write short stories, screenplays, novels or perhaps just as an engaging writing exercise.
Can Writing Prompt Generator Be Used for Getting Engaging Stories?
Yes, a writing prompt generator can provide writers with engaging story ideas. Writing prompts create, simulate or inspire story moments and it sharpens your narrative instincts. The purpose behind prompts is to develop and enhance writing skills, creatively express themselves, and generate original free fiction stories.
Multiple Uses of AI Story Generators
Can AI Story Generators be Used as Writing Assistants?
AI story generators can indeed be used as writing assistants. An AI story generator can help you create a complete story by providing writing prompts, story ideas, plot points, and even generating characters and setting. In fact, if you're looking for something that can save you time, or assist you as you write, then an AI story creator is exactly what you need.
How AI Story Generators Helps To Start With Easy Story?
An AI story generator can help to start with an easy story by providing you with a list of free story ideas and genres to choose from. With AI story generators, story writing becomes a lot easier, as users can select from several options and tweak the settings according to their needs. This can help to create a comprehensive plot, with detail-oriented settings, characters, and narratives.
Are AI Story Generators Helpful For Generating Random Plots or Ideas for Brainstorming?
Yes, an AI story generator is an excellent tool for generating random ideas for brainstorming. With AI story generators, you can explore outside the box and new horizons with creative writing. You will never run out of ideas with generators that are free, easy to use, and have multiple settings such as genre, tone, and keyword filters. You also have the option to customize and choose what plot points you would like to incorporate in your writing as well.
Unlock Your Inner Author: Get Inspired with AI Story Writers and Random Plot Generators
Are you an aspiring writer seeking a tool to jumpstart your fiction writing journey? Look no further! Our free AI story generator is the perfect companion for authors of all levels. With our short story generator tool, you can unleash your creativity and let our AI story maker weave its magic. The possibilities are endless as our generator uses powerful machine learning algorithms to create unique story combinations that are sure to captivate your readers.
Using our AI story generator is simple and hassle-free. All you need to do is provide your email address and let our AI do the rest. Within moments, you'll receive a one-of-a-kind story directly in your inbox. Gone are the days of struggling with brainstorming ideas or spending hours trying to create a captivating plot. Our tool saves you time and energy, allowing you to focus on what truly matters: writing.
Our AI story generator tool is designed to help writers of all genres. Whether you're into sci-fi, romance, or any other genre, we've got you covered. The stories generated by our AI are unique and engaging, providing a solid foundation for your writing endeavors. You can use the prompts to inspire your own narrative or incorporate them seamlessly into your ongoing projects.
One of the greatest advantages of our AI story generator is its ability to assist with character development. As any writer knows, well-rounded and relatable characters are essential to bringing a story to life. Our AI novel takes character development seriously, ensuring that the stories it generates feature dynamic and multidimensional protagonists. This provides you with a head start in crafting compelling characters that will resonate with your audience.
Whether you're a beginner looking for guidance or an experienced writer seeking fresh ideas, our free AI story generator is the perfect tool to add to your writing arsenal. Embrace the power of technology and let our AI become your creative partner. With its assistance, your stories will flourish, and your writing will reach new heights.
Don't let writer's block hold you back. Let our AI story generator fuel your imagination and inspire your next literary masterpiece. Sign up today and witness the incredible stories that our AI can create. Unleash your creativity, save time, and let the art of storytelling come alive with our powerful AI story generator tool.
Conclusion
AI story generators have revolutionized the world of creative writing, giving writers the opportunity to create stories, find inspiration, and overcome writer's block. These generators are free, easy to use, customizable, and offer endless possibilities to writers who want to explore and let their creativity flow. The power of AI story generators to enhance writing skills while aiding in an unlimited stream of free fiction stories and ideas cannot be overstated.
Enter product description
Start by entering a sentence or two about your product or service or social media post to assist the copywriting tool.
Generate content ideas
Once you enter the input for context, our A.I. will begin the content writing process and suggest some content ideas.
Generate a long blog article
Pick any idea or citation formats and use it to write an article (there is no word limit)
FAQs
+
You can click on the chat button to have a word with our support team. If you prefer email, drop us a line at support@writecream.com.
+
Yes, we have a bunch of them on our YouTube channel! We have videos for almost every feature and issue, and questions people may face.
+
Yes, you have the rights to the generated content. You are free to use it however you want.
+
Of course! Here is a 1,300+ word article written using Writecream: https://bit.ly/writecream-ai-blog
+
Including parenthetical citations when writing your research papers is an important part of doing good research. If you include citations, you are being a responsible researcher. Our citation generator will solve your problems and provide the source by title with author names. You've shown readers that you found valuable, high-quality content elsewhere, placed it appropriately within your own project, created an amazing piece and acknowledged the original author(s) and their work.
+
Yes, we have multi-lingual support. Writecream supports over 75 languages. The complete list is given below. Multi-lingual support is available across all our tools, including long-form editor (A.I Article Writer), cold email icebreakers, LinkedIn icebreakers, image icebreakers, audio icebreakers, voice-over, and more.
List of supported languages: Afrikaans, Albanian, Amharic, Arabic, Armenian, Azerbaijani, Bengali, Bosnian, Bulgarian, Chinese (Simplified), Catalan, Chinese (Traditional), Croatian, Czech, Danish, Dari, Dutch, English, Estonian, Finnish, French, French Canadian, Georgian, German, Greek, Gujarati, Haitian Creole, Hausa, Hebrew, Hindi, Hungarian, Icelandic, Indonesian, Italian, Japanese, Kannada, Kazakh, Korean, Latvian, Lithuanian, Macedonian, Malay, Malayalam, Maltese, Mongolian, Norwegian, Farsi (Persian), Pashto, Polish, Portuguese, Romanian, Russian, Serbian, Sinhala, Slovak, Slovenian, Somali, Spanish, Spanish Mexican, Swahili, Swedish, Filipino Tagalog, Tamil, Telugu, Thai, Turkish, Ukrainian, Urdu, Uzbek, Vietnamese, Welsh
+
Yes, the outputs are free of plagiarism. Our A.I. generates a unique piece of SEO content for every input.
+
Yes! You can avail a no-questions-asked refund within 30 days after subscribing to one of our plans even after your days of trial period finishes. Please use the chat option in the bottom right corner to raise a refund request or write to us at care@writecream.com.
+
No, a credit card isn't required.