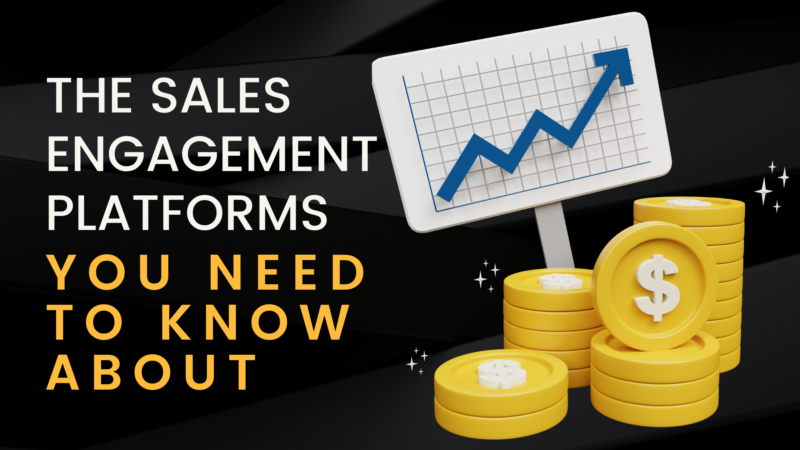 INTRODUCTION

It can be difficult to stay on top of every aspect of your business. It's important that that you're not only keeping up with key metrics, but also that you're utilizing the tools you already have to help your sales team stay engaged with your brand. One of the more tedious tasks that can get in the way of a team's work is the process of writing up emails. A well-thought-out sales engagement platform can help your team stay on top of their emails and grow your business.

There are numerous benefits that come with using a sales engagement platform such as SEPs. SEPs are the perfect solution for allowing your sales team to engage with prospects online, in real time. By using SEPs, you can stay on top of prospect opportunities, manage leads, and increase conversions. There are many SEP's available to help drive your sales team to success. This blog will take a look at some of the most important features to look for when trying to find the best SEP for your business.
How to Choose Your Sales Engagement Platform

SEPs are designed to offer a solution for any sales team. Typically, SEPs are designed to help sales teams reach their goals faster, but there are also some SEPs that are designed to help with customer retention. When it comes to deciding which platform to use, you need to consider how each one will help your sales team reach its goals. In order to make this decision, you need to consider the following criteria:

Innovation

Innovation should be the reason you are shopping around for the right sales management software solution. There will always be a threat of competitors looming over your shoulder and it wouldn't hurt to keep one step ahead thanks to some technological innovation which would allow your team to use the latest-generation technology at their disposal so they can deliver better sales performance with more ease.

Uniqueness

Unique features are not all that exclusive. With so many software development projects available for hire on the market, it's the diversity of a team's skills that makes the difference between bringing in the big bucks during a client pitch and leaving people scratching their heads as to what made you special in the first place.
💡 Generate personalized emails, blog articles, product descriptions, and ads in seconds using the power of A.I

Ease of use

Ease of use is important for different users. Ideally, sales engagement platforms should be easy to use, intuitive and understandable to a salesperson who has never used it. They also need to either integrate or have links to other tools that a user may frequently use – whether they're using a CRM or project management software or even social media or an email system then it's vital that the tool being discussed integrates into these systems too.
The Best Five Sales Engagement Platforms

Here are the best five sales engagement platforms that are considered very helpful in 2022:
Outplayhq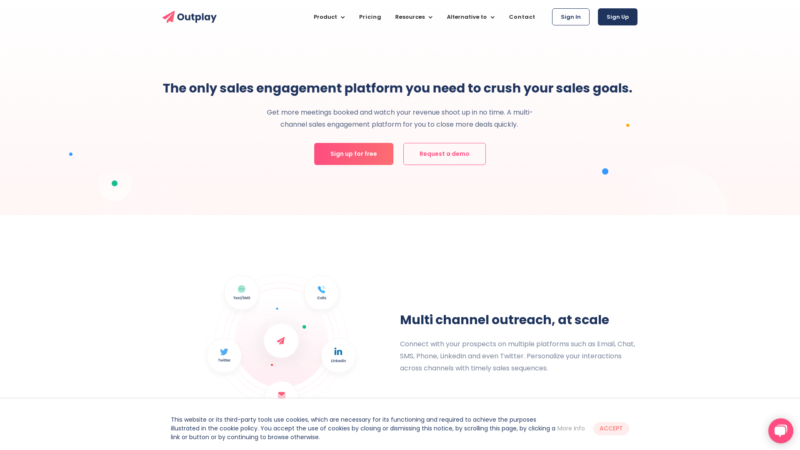 Outplayhq is a sales engagement platform that helps you streamline your sales process. It is a customized software to help you optimize your sales process by providing insight on your sales pipeline, lead management, and analytics. It also helps you build a highly engaged and successful sales team. Outplayhq offers a variety of features that allow you to track inbound leads, nurture your leads, and close deals. The platform also helps you to build a pipeline by providing real-time data and insights on the quality of leads, the stages of the sales process, and more. It includes features such as lead scoring, goal setting, and advanced lead scoring, which helps you to manage your sales team and focus on the most important leads.

Advanced Personalization Options for Email Campaigns

By mixing automation with personalization, sales reps are able to build personalized templates with customer information to increase their odds of engaging prospects. It also sends useful follow-ups that are triggered by the prospect's behavior risk increasing their engagement.

Magic Outbound Chat

Sales teams receive notifications directly on their smartphones the moment prospects who meet their company's specifications and targets visit their website. Now, sales representatives are able to engage with these prospective customers from the very first instance so as to hopefully entice them and convert them into regular clients for years to come!

Advanced-Data & Insights Into Campaigns

Real-time data helps sales reps understand what makes a difference in outbound campaigns. They can make informed decisions whenever they take action and know if those actions were successful. The reporting and analytics help give the sales rep a clear picture of which customers, prospects, or sellers have responded to their interaction and what they need to do next to drive revenue growth.
Woodpecker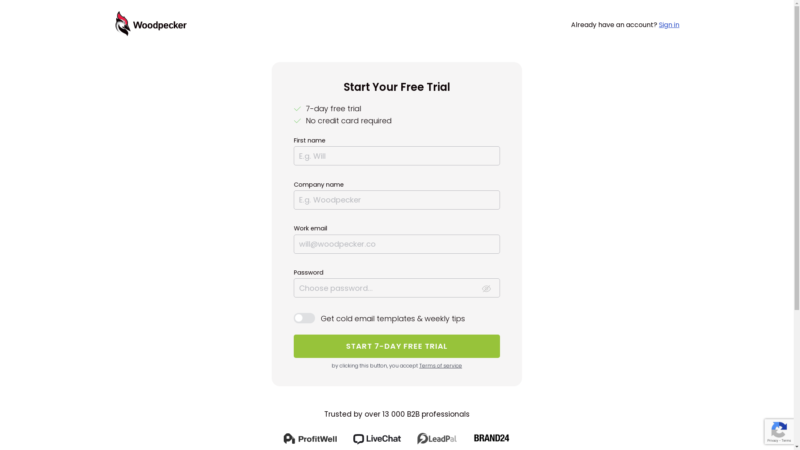 Woodpecker is a sales engagement platform that is designed to help your sales team reach its goals faster. It offers a variety of powerful tools that can help your team make better decisions about customers. Woodpecker is a powerful tool for lead generation, lead scoring, and lead management. It is also a leader in lead scoring and lead scoring analytics. Woodpecker has a lot to offer in terms of features, but it is also relatively easy to use.

Email Deliverability

Woodpecker's cutting-edge technology allows us to verify contacts in real-time, significantly decreasing the number of undeliverable emails.

Advanced Campaign Features

Sales professionals can use Woodpecker's software to intelligently suggest the correct recipients to pitch by understanding which companies are most likely to respond based on each sales rep's personal outreach campaign. Sales staff can manually add email lists and quickly customize their outreach campaign with their own personalized messages while also accessing data integrations that help manage their workflow throughout the email-pitching process.

Great Agency Features

Woodpecker makes it easy to manage your many different clients by providing a one-click login access with each client's account and a user-friendly dashboard with real time analytics. We make it easy to send newsletters, promotional emails, and sequence emails as well so you can have multiple campaigns under your belt at once. This is especially helpful if you are managing accounts representing many clients at once!
Apollo.io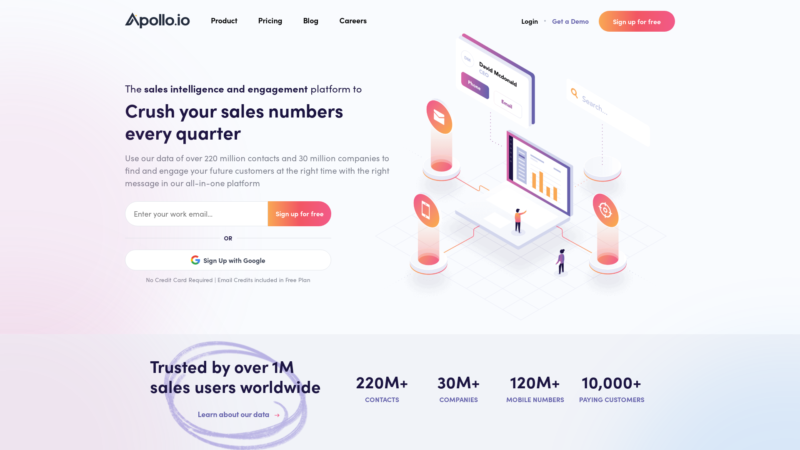 Apollo.io is a cloud-based customer engagement platform that is designed for enterprise-level customer interactions. It is one of the most advanced and accurate customer engagement platforms available, and has received a 4.9/5 star rating on the App Store. Apollo.io is able to provide data from customer interactions, whether on the phone or through email, to show how well the inbound and outbound calls are going, as well as what type of language and phrases are used when talking to customers. It also provides data on customer engagement, and if they are engaged. Apollo.io is a great option for businesses looking to engage with customers in real-time, and it is a great option for the customer engagement industry. Apollo.io is a cloud-based platform that makes it easy for sales teams to build and share their sales processes. With Apollo.io, a team of sales reps can build and share sales processes. A sales rep can then use the tool to organize and track their leads, proposals and workflows. The tool also includes customizable reports to help reps and managers understand the sales process at a glance.

Phenomenal Value

Apollo offers the most attractive pricing plans in the space. For users who are just getting started with Apollo, or simply want to look through the tool and understand how they can potentially benefit from it, they also offer a completely free option.

Substantial in Prospecting Tools and Data

Apollo transforms businesses' websites into live job boards. Sales teams use this Chrome Extension in order to find the perfect candidates for any job. Anyone can apply without any special skills or IT knowledge. By quickly gathering information about a company and its employees, Apollo can help sales representatives get in touch with their leads without having to do all of the research on their own. Sales teams can even use this data for conducting split tests with different messages or channels and make any necessary changes to their outreach efforts based on what's been learned from that exercise.

All-in-One Solution

Apollo is a great software to have if you're selling or managing a SaaS business. It differs from other sales platforms and CRMs because it contains some other tools that's hard to find elsewhere, such as email and calling automation. Apollo differentiates itself by offering data-driven analytics that are critical for effective prospecting.

Autoklose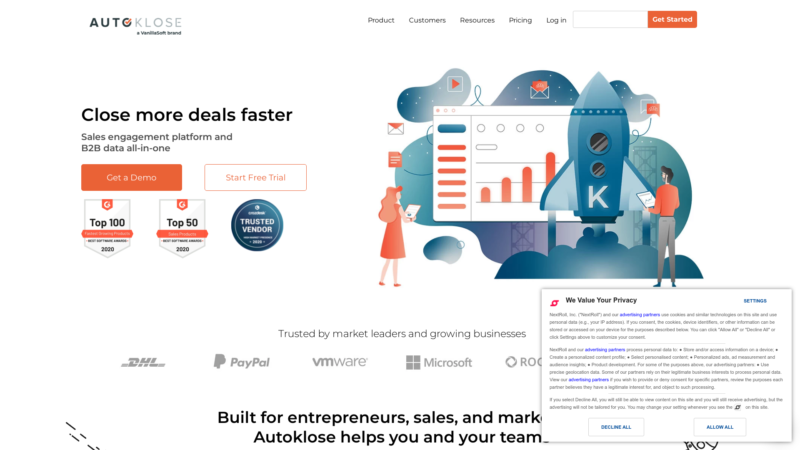 Autoklose is a sales engagement platform that helps sales managers and sales teams manage their daily sales activities. It helps them to identify, qualify, and close sales opportunities directly from the CRM. Autoklose is easy-to-use, and it is ideal for managing leads and campaigns across channels. One of the main benefits of Autoklose is that it helps you make more qualified sales opportunities happen by identifying the best customer opportunity.

Substantial in Features

Autoklose allows salespeople to streamline their deals and make the process of closing easier with its integrated set of features and tools, making managing their clients' expectations much easier for them. As a small business owner, you can reach out to potential customers with ease using outreach tools that are simple to use. Email-automation eliminates the tedious task of constantly sending the same email over and over again, and allows you to quickly tailor-make your messages to individual prospects through targeted email sequences.

Helpful Tools to Make Life Easier

There is also a rich set of features that help sales professionals work more effectively. These include but are not limited to: built-in email verification, spam checkers, email volume throttling and message writing assistance.

Affordable Pricing

Autoklose is a reliable, trustworthy tool for your sales team of any size. With the most affordable plans beginning at $59.99 per month and featuring unlimited contact uploads, campaign creation, reports, tracking and follow-ups, your sales reps can explore Autoklose in more depth when they take advantage of the 14-day free trial not requiring payment information provided.
Outreach.io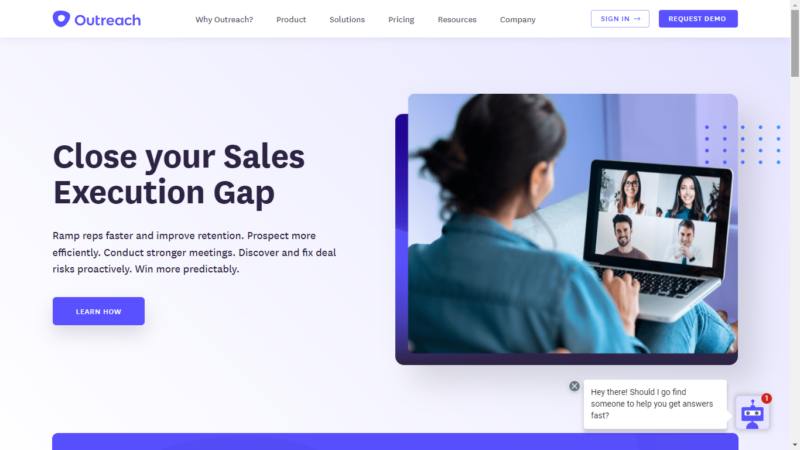 Outreach.io is a sales engagement platform that helps salespeople reach their target audience and engage with them in meaningful ways. Outreach.io offers a few different types of campaigns that can be customized to fit your needs. These campaigns include email campaigns, webinars, social media outreach, and much more. Outreach.io comes with a set of features that make it suitable for most sales teams. What makes it stand out is its real-time analytics. For example, you can see exactly how effective your campaigns are at reaching your target audience. You can also see what your audience is thinking about your message, which you can use to make adjustments before your next campaign. Outreach.io also offers a free trial, which allows you to test out the platform without spending a dime.

Established Player

Outreach was founded in 2014 and has since been a long-time leader in the SaaS sales engagement platform space. Forbes listed them as one of their top 100 cloud companies every year since 2015, including 2018 when they ranked #1 overall on the list. Salesforce has backed the company with an investment. Today, Outreach is trusted by 19 of the top 25 fastest-growing public software companies worldwide, including Zoom and Microsoft, to handle their Software as a Service ("SaaS") related customer communications.

Constantly Innovating

Outreach believes in innovation. At the heart of the company's core mission is innovation, as evidenced by their continued acquisition of other businesses to improve their own product offering. According to founder and CEO Manny Medina, this focus is part of Outreach's competitive edge that has led to continued growth – his remarks won him a Tech Impact award last year from Seattle Business Magazine.

FINAL THOUGHTS

It's no secret that today's sales reality is different than it used to be. That's why sales engagement platforms are so important these days. With so many options to choose from, it can be difficult to decide which one is right for you. To ensure that you're making the best decision possible, we've created a list of the top 5 sales engagement platforms in this post. We hope that this will help you make your decision and provide you with the information you need to decide which one is perfect for you. Thank you for reading and for staying up to date with our blog over the past few months. We hope you enjoy the final article in our series of posts on the top sales engagement platforms out there!