Start generating website content for free below
If you need help, please refer to the video tutorial above or the detailed step-by-step instructions at the end of the page
Generate Website Content with our Website Description Generator in these simple steps!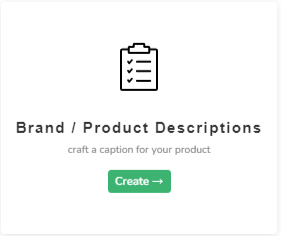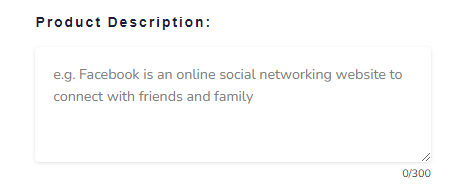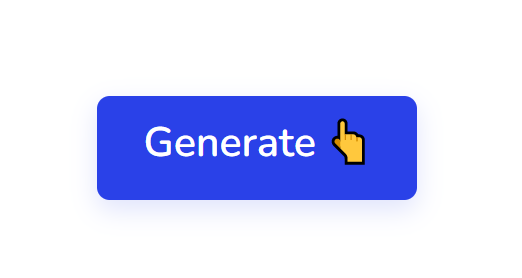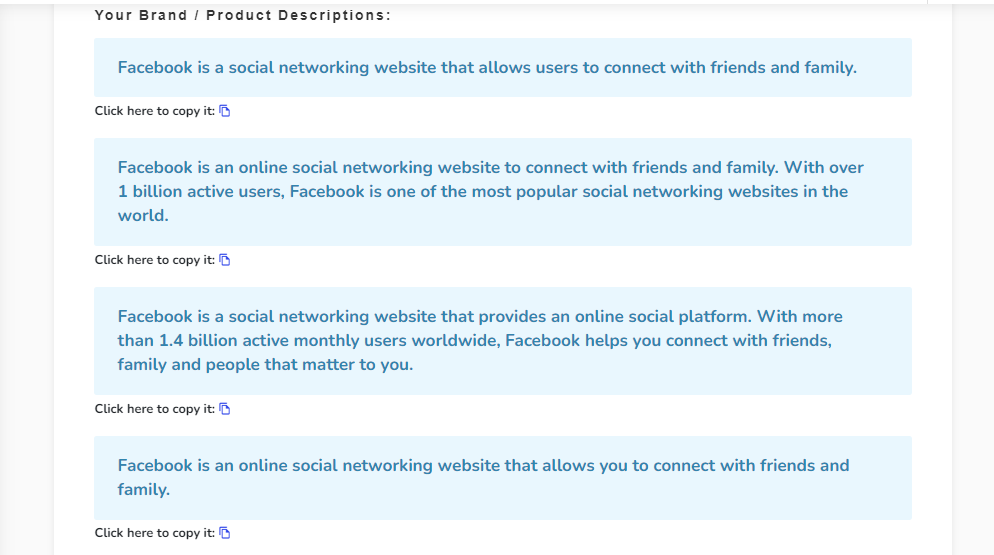 And ta-da, you will get an output generated by our Website Content Generator Tool in seconds!
Choose one of the generated outputs or keep generating till you get website content to be on top of search engine results. It's that easy!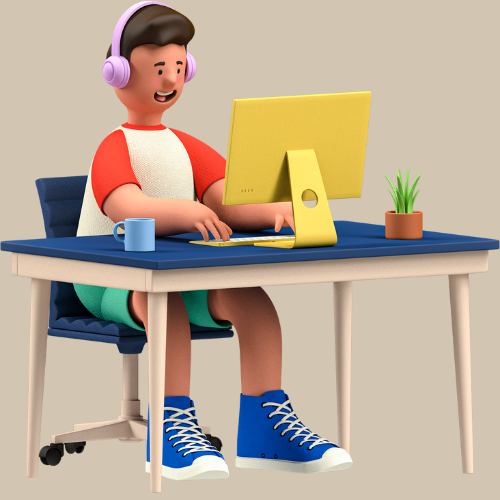 Website Content Generator
Using Writecream's AI, Website Content Generator you can generate website content for your web pages as quickly as 5 minutes
You can write using the specialized tools present there in one place.
Generate
FAQs
+
You can click on the chat button to have a word with our support team. If you prefer email, drop us a line at support@writecream.com.
+
Yes, you have the rights for the generated content. You are free to use it however you want.
+
The key to writing quality product or brand descriptions lies in the magic of words and conversational tone. Start with an effective product name. If you have hundreds or thousands of products, create a list of names and then add their names to a row in a spreadsheet, along with product features and product titles that you will generate. Define the product category for which you want to do marketing activities.
+
Before choosing a domain name for your business, a business owner needs to think about the long term goals of your business and how to lure potential buyers.
Companies like Snuggies have built a huge business by focusing on just one product and marketing and TV advertising. This is how they have influenced the purchasing decision of potential buyers.
It's best if the business has the same domain name for the product as the product itself. If there is a need to launch new products in the future, an alternative solution can be to choose a broad domain name that allows for scaling up with other product lines to catch actual user attention and get excellent user reviews. Our Business Name Generator and Product Name Generator tools will help you in your business name search and create an effective brand name to generate emotional responses, including bold keywords, and popular keywords, and find an efficient solution to lure in an average buyer.
+
Our brand name generator pulls from major domain providers to check the domain name availability check of your selected business names. We do a quick search to see whether the social media handles are available, including alternative social media handles using our copywriting robots(e.g. ones with appended prefixes or suffixes).
+
Yes, we have multi-lingual support. Writecream supports over 75 languages. The complete list is given below. Multi-lingual support is available across all our tools, including long-form editor (A.I Article Writer), cold email icebreakers, LinkedIn icebreakers, image icebreakers, audio icebreakers, voice-over, and more.
List of supported languages: Afrikaans, Albanian, Amharic, Arabic, Armenian, Azerbaijani, Bengali, Bosnian, Bulgarian, Chinese (Simplified), Catalan, Chinese (Traditional), Croatian, Czech, Danish, Dari, Dutch, English, Estonian, Finnish, French, French Canadian, Georgian, German, Greek, Gujarati, Haitian Creole, Hausa, Hebrew, Hindi, Hungarian, Icelandic, Indonesian, Italian, Japanese, Kannada, Kazakh, Korean, Latvian, Lithuanian, Macedonian, Malay, Malayalam, Maltese, Mongolian, Norwegian, Farsi (Persian), Pashto, Polish, Portuguese, Romanian, Russian, Serbian, Sinhala, Slovak, Slovenian, Somali, Spanish, Spanish Mexican, Swahili, Swedish, Filipino Tagalog, Tamil, Telugu, Thai, Turkish, Ukrainian, Urdu, Uzbek, Vietnamese, Welsh
+
Yes, the outputs are free of plagiarism. Our A.I. generates a unique piece of original content for every output. There is also a plagiarism checker in the dashboard.
+
Yes! You can avail a no-questions-asked refund within 30 days after subscribing to one of our plans. Please use the chat option in the bottom right corner to raise a refund request or write to us at care@writecream.com.
+
No, a credit card isn't required.
+
Yes, you can upload a CSV file and the A.I. will generate personalized icebreakers for all the rows. Based on the number of rows, the processing can take some time.
+
Most of the personalized icebreakers are good to go. But we recommend taking out a few minutes and taking a quick glance through the generated icebreakers.