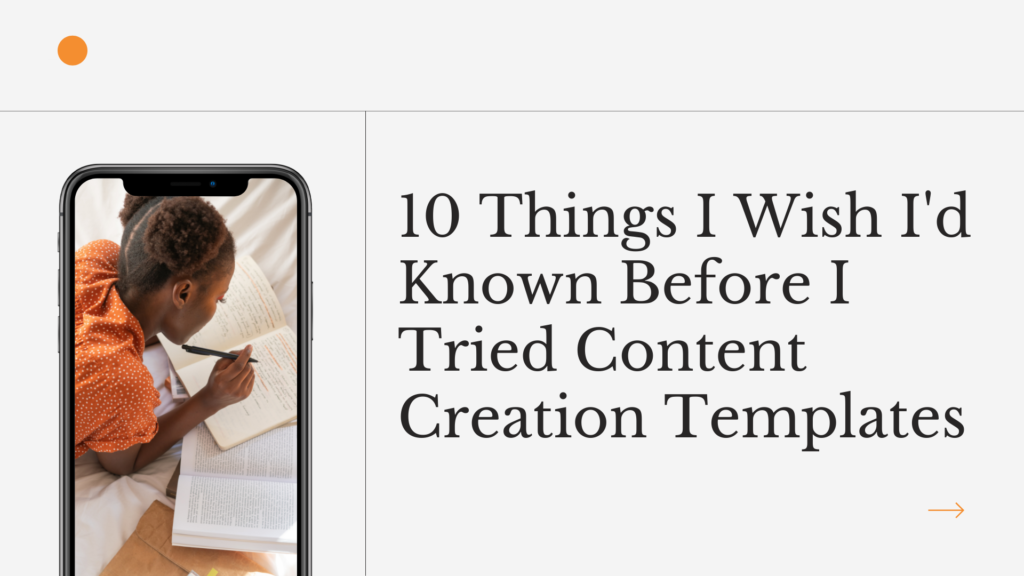 Content strategy is one of the major ways companies and businesses market themselves and make a niche in a highly competitive environment where everyone is constantly striving for perfection. Content mapping is an important part of zeroing in on a successful content strategy campaign. Careful and tailored content gives users a bespoke experience that often leads to great results for organizations. 
Here are ten things to keep in mind for all budding content creators:
1. Know your niche
Research goes to be one of the highlights of every content creator's foundational basis for putting themselves out. Read the news about your industry. This helps you stay on your feet about the upcoming dynamics of your niche. Most environments are highly changing due to various internal and external factors. Part of knowing your niche is staying updated with this change.
Sometimes it is not sufficient to just read up on the trends and changes but search and find information or tactics that will help create a rapport with your audience. Give them information and provide the knowledge that enlightens them. For this, you must equip yourself with the most rewarding facts and figures yourself.
💡 Generate personalized emails, blog articles, product descriptions, and ads in seconds using the power of A.I
2. Study your audience
Your audience dictates your space and place in the world of content that is getting highly competitive and filled by the day. Understand the kind of content that they lean towards and enjoy. Whom are you trying to reach? And how? Your audience is your ticket to fame in the content creation pool. Understand the demographic factors and insights of your audience. What mediums of your content do they gravitate towards? When are they the most active to engage with your content? Do you receive content interactions regularly? These help you gain a pulse of your audience and thus tailor your content itself.
3. Network

 
Are you constantly expanding your connections? Are you making meaningful relationships within your circles? Networking is an important part of content creation. This helps you collaborate with like-minded individuals and also boosts the reach of your own and buddy creators. It may also create a cesspool of intersecting audiences. 
Networking's biggest pro is that it provides multiple opportunities not limited to specific restraints. From a casual content creator, it bridges the gap to becoming a successful one. This is because networking leads to multiple heads brainstorming a single art. Listening to others' ideas and creativity boost and correction always yields great results and new innovative ideas. 
4. Offer solutions
Audiences appreciate an informed content creator who is not just constantly talking about things or commenting on them but also providing insights that help create personal narratives. Your audience is coming to you to not just passively listen to you but actively engage with your thoughts and ideas. You must offer solutions, stand for causes and opine on topics. 
5. Analytics

 
Analyze your KPIs. KPIs are your key performance indicators. These act as the statistical indicators in your professional dashboard. These are used to understand how your content reaches people and its speed and deliverability. KPIs can include traffic volume, responses to CTAs, open rates, etc. Analytics plays an important role in content strategy mapping, and these are essentially the report card of your work. 
6. Content distribution
Promotion is no doubt a huge integral part of content visibility. All content has a certain medium it populates, for example, social media platforms, blog platforms, video sharing platforms, etc. How will you promote your content on these platforms, so it gets the most engagement and visibility?
Some ways to go by this are paid marketing, paid discovery, email marketing, social sharing, and cross-platform plugging. These make sure your content reaches the people who want to view it or are interested in similar topics. Simple distribution techniques range from using hashtags on platforms to paid space under topical sections of social networking sites. 
7. Scheduling and budgeting
Planning is a great way to tackle content. A certain sort of content is called evergreen content that stays relevant through a period. Making batches of evergreen content and scheduling out how to post them is a great way to resurface your engagement. Great content needs more than just smart marketing. It might also require a budget to pull it off successfully. This means content strategists, writing specialists, designers, and many creative individuals. Make a financial blueprint of the capital required for all this and the interest return on the same. 
8. Tracking performance
Which type of content and what topics perform best on your channel. Do audiences engage if you're posing questions? Do they engage with recommendations or demand opinions? Understand your performance and track it. Use metrics like time on page, exit clicks, navigation to profile, etc., to see what interests your audience. This helps assess how effective your content is. 
9. Analyzing competition
Content creation is a growing pool, and multiple contenders are trying to be better than the best. Study what your competition is doing and strategize unique ways to outdo them. This is how you keep yourself afloat in a constantly changing and developing environment.
10. SEO optimization
This is the most widely used and rewarding optimization strategy for any business or service. You can also do SEO optimization for your content. Make sure your content is SEO friendly. As many people switch to voice-based searches and visual mediums, your content should be instrumental and adaptive to these changes. This makes sure that you stay on top of the game and might also give you an edge over your competitors. 
These ensure an effective content planning system has gone through behind creating a successful template for long-existing and rewarding content.
SAFE note
It is integral to know a SAFE note for all content creators. SAFE notes are documents that startups may use to collect seed capital. A SAFE note stands for a simple agreement for future equity. 
Content creation is a huge and upcoming service/business, and many individuals and investors want a headstart in it. This SAFE note is convertible security that can be invested in content creators, especially in these times of digital dominance. It is very helpful in scaling businesses and startups. 
Entrepreneurs have several reasons to invest in content creation. Content marketing and strategy provide three times the returns of conventional marketing and strategy. Reach in content creation and marketing scales across demographics and is easy to access with more digital means and less physical means. It is also a great way to receive feedback and tailor content to provide a bespoke experience to the audience that is consuming your work. Well-established content creators can reach out to great masses and prove influential on a large scale. This helps reach and engagement. 
Conclusion
It's a very easy way to tell your story through content creation, and there is something for everyone. It makes a diverse and rich portfolio, and you can mix different types of content creation techniques to create brand awareness and content types. 
So. these are some of the pointers to keep in mind while pursuing content creation templates. Make sure you keep these in mind while you go about your content creation to ensure you are most successful. 
More knowledge always means more rewards!
Let us know your thoughts in the comment section below!