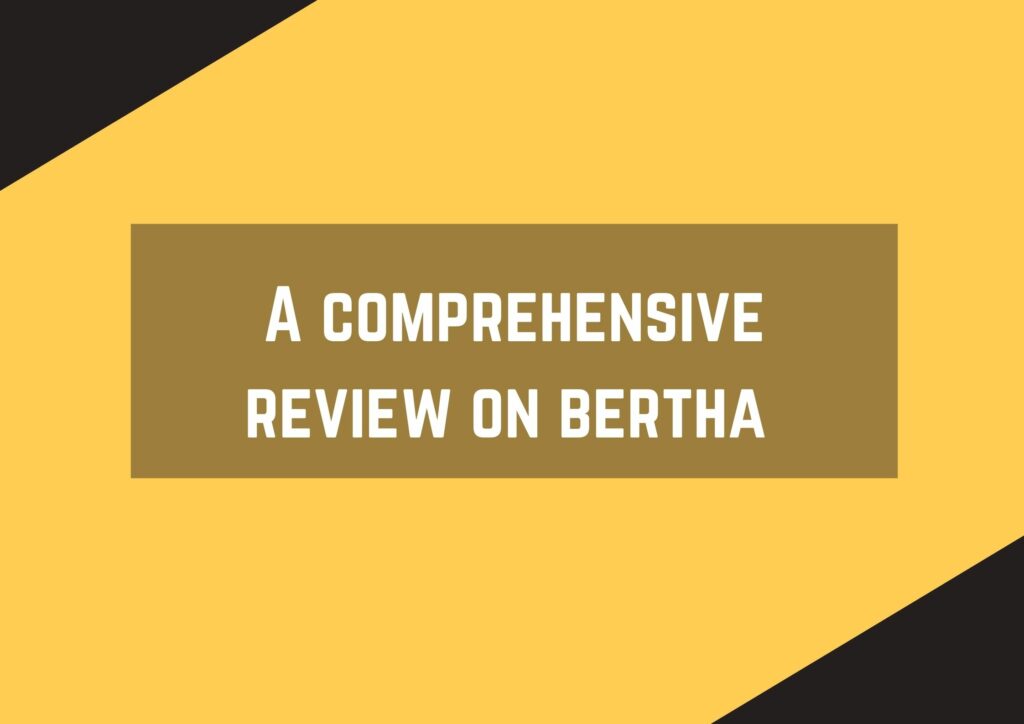 If you have been a part of the Copywriting community for a while, you must know what we must go through to write an unique content. Sometimes we are so caught up with writing that we only have time to focus on something else. And a few times, writing even a single line seems next to impossible as it feels like our brain is clogged or spent up. Thankfully, modern-day technology has solved that problem for us. Bertha AI Tool 2023.
Nowadays, Copywriters like us are taking to AI writing assistants, which can generate all forms of high-quality content for us in a matter of seconds. You need to feed a little bit of input to the AI copywriter, and it will generate human-like content in minutes, sometimes even better than what a human could write. In this article, I will acquaint you with the details of two prominent AI-powered writing assistants who can assist you in your daily writing tasks. Let's begin, shall we?
BERTHA AI (AN AI COPYWRITING TOOL)
Bertha is an AI-powered copywriting assistant that can wholly automate the content creation process for your WordPress website. It uses Natural Language Processing (NLP) to write every piece of content for you in just a few seconds. With Bertha, you need some primary inputs and ta-da! Your content is ready. Now let's take a look at its features.
One of its awe-inspiring features is that it comes as a WordPress plugin. Unlike many other AI-Powered writing assistants, Bertha can be easily installed on your WordPress website and is compatible with all WordPress themes. Sounds terrific. Besides, it is also compatible with page developers like Divi Builder, WooCommerce, Elementor, etc.
Regarding blogs and articles, Bertha can quickly generate every component of your blog article. From the introduction to the conclusion, Bertha can create compelling AI content for you in seconds. Also, it can draw out a perfect blog outline for you and give you some ideas for your blog posts. With all this, you can write thousands of blogs without effort.
Bertha can even help you with your sales promotion. What is the essential component of sales promotion? The answer is 'Product Descriptions'. Product Descriptions should be captivating and persuasive enough to convince the customers. Well, Bertha can help you write such converting product descriptions quickly.
Writing website copies can be extremely tedious and time-consuming. Besides, it takes a lot of expertise. No need to worry anymore, as Bertha is an influential AI content writer and paragraph generator tool which can generate highly converting website copies for you without going through so much hassle.
Another striking feature of Bertha is that it's available in more than 20 languages, and you can even alter the tone of every piece of writing you generate using it.
Besides the usual marketing stuff, you can generate other things like FAQs, bullet points, case studies, and call to action.
SEO can be a hard nut to crack. Well, Bertha can ease it for you. With Bertha, you quickly generate SEO title tags and get SEO keyword suggestions and SEO description tags. In addition, using Bertha, you can structure your content according to copywriting formulas like Before-After-Bridge, Pain-Agitate-Solution, etc.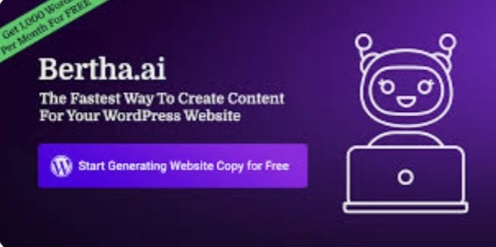 BERTHA AI- PROS AND CONS
Let's have a look at some of its pros and cons. Regarding its pros, Bertha can be easily used as a plugin on any WordPress website. Secondly, it can generate different forms of content in 20+ languages.
💡 Generate personalized emails, blog articles, product descriptions, and ads in seconds using the power of A.I
Looking at its cons, it is only significant for WordPress users as it is limited to WordPress sites. This means that it can only be accessible to websites on WordPress, which is quite a drawback.
BERTHA AI PRICING
Of course, nothing is free in this globe, not even AI writing assistants. So, let's learn about the pricing system of, Bertha.
Bertha offers plans both on a monthly and yearly basis. Talking of its monthly plans, the first one is the 'pro' plan, which costs $30 a month. This one's quite suitable for small teams. You can create about three websites, 50,000 words, and unlimited users can access them simultaneously. Besides, you get a 7-day money-back guarantee. The same plan is available every year, for which you need to pay $300 every year. This way, the pro plan costs you only $25 a month.
Next, there's a 'pro unlimited' plan that costs $99 monthly if you want to pay every month. It is excellent for large teams managing multiple websites. Like the pro plan, unlimited users can access it simultaneously. Using it, you can generate unlimited websites, 500,000 words every month, get priority customer support, and a 7-day money-back guarantee. If you wish to pay for this plan annually, it's available for $1000 a year. This way, it would only cost $83 a month.
Also, if you don't like purchasing any of the above plans, you can pay as per your requirements. This way, it would cost you $1.4 for 1000 words.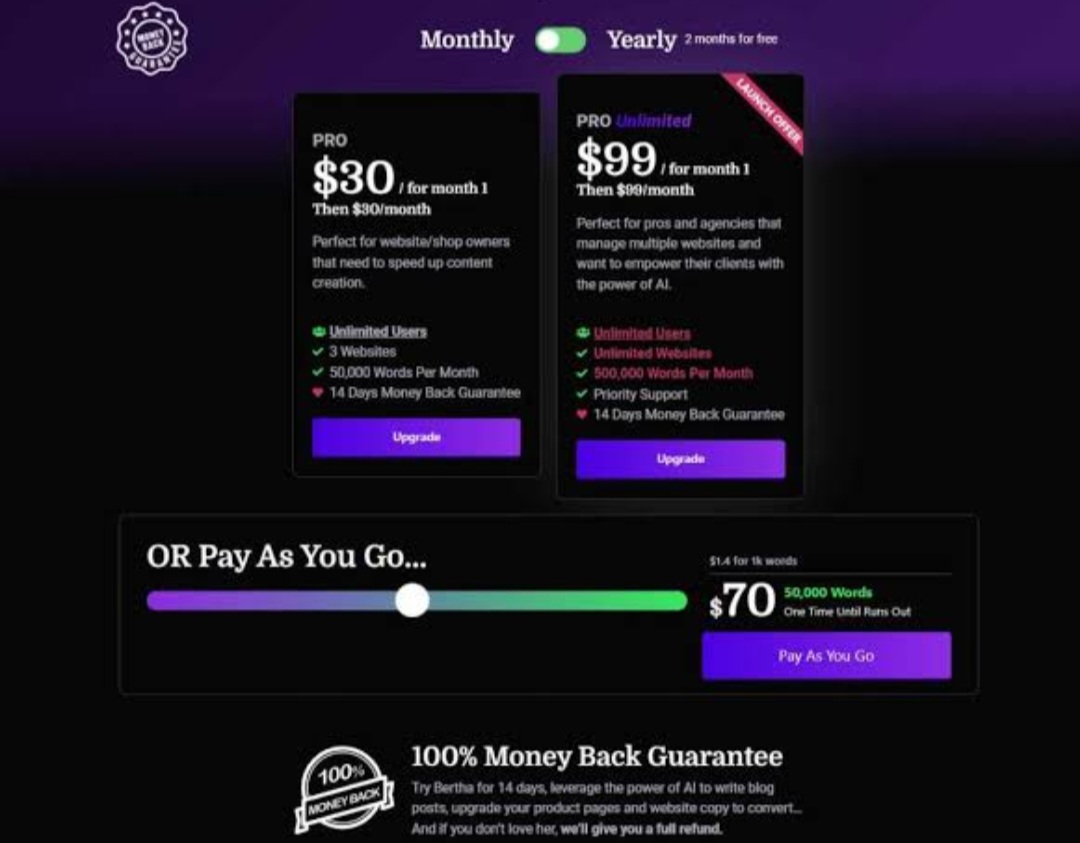 WRITECREAM
Writecream is also an AI writing assistant that uses GPT-3 to produce human-like content for its users. Like its competitors, Writecream is known for generating enhanced quality writing without requiring human effort.

Here are some of its striking features:
Writecream can also integrate with WordPress via chrome extension. This way, thus makes it perfect for WordPress users.
Writecream can help you write a blog from scratch. It has dedicated tools for writing a blog introduction/conclusion, giving you blog ideas and a blog outline for your upcoming blogs.
Not just blogs, using Writecream, you can also generate messages for your cold emails and LinkedIn outreach. We often have to send emails to unknown people or prospects, and it seems a difficult task to write an email that sounds impressive and less sales-oriented. Thankfully, with Writecream, we no longer have to worry about that.
Writecream can also write marketing copies, create content, Facebook Ad copies, Google Ad copies, and product descriptions for your e-commerce sites. Besides, there's also a tool for creating engaging social media captions for your product or service.
Regarding copywriting formulas, Writecream also has tools for Before-After-Bridge copywriting, Pain-Agitate Solutions, and value propositions. This way, you can present your product or put it before an idea.
Besides writing content, Writecream can generate images and voice-overs for YouTube videos, audio icebreakers, and podcasts. There are also tools for creating bullet points, quota answers, headlines, and product reviews.
WRITECREAM PRICING
Given the prices charged by its competitors, Writecream has some fantastic plans. Here it goes: a free forever plan offers 20 credits each month. This plan suits newbies who want to try it before subscribing to its paid plans. Under this plan, you can generate 20 icebreakers, two lengthy articles of 5000 words each, four short articles of 1000 words each, four podcasts, and four YouTube voice-overs. Besides, you get access to all content templates, the newest features, and chat or email support.
Aside from its usual paid plans, there is a limited-period offer, which gives unlimited access to all its features for just $29 a month.
Next, a standard plan costs $49 a month and gives 200 credits. Under this plan, you can generate 200 icebreakers, 20 long articles, 40 short articles, 40 podcasts, and 40 YouTube voice-overs. Besides, you get access to all content templates, the newest features, and chat or email support.
Lastly, an 'extended' plan costs $69 a month. It gives 750 credits to its users, and one can generate 750 icebreakers, 75 long articles, 150 short articles, 150 podcasts, and 150 YouTube voice-overs. Other features like content templates and priority customer support are also available.
WHICH ONE SHOULD YOU GO FOR?
It might seem like a tough one to answer. Well, no worries; I am here to simplify things for you. In my eyes, Writecream is the one you should go for. Why? Firstly, it is cheaper. Secondly, anyone can use it for their website, regardless of whether he is a WordPress user. Next, it offers more features. You cannot just stuff like articles or Ad copies. You can also generate images, podcasts, emails, and LinkedIn messages. I forgot that Writecream also has a plagiarism checker to check your writing for plagiarism errors. Also, Writecream is available as a mobile application, making it quite suitable for mobile users. These features are what make Writecream a better alternative to Bertha.
I hope I have clarified your doubts. Both Bertha and Writecream are great AI writing assistants, but Writecream goes a step or two ahead by providing more services at a better price range. So, that's all for now. Let me know your thoughts and views in the comment section. Good Day!
Writecream provides 30+ tools for generating tons of content within seconds! Use Writecream to create free product descriptions, personalized emails, blog articles, and much more! Our free plan provides 20 credits every month, which helps you generate 10,000 words per month!
Isn't it amazing?
To get started, register here for our FOREVER FREE plan NOW!