Affiliatable is a cloud-based software for building product boxes and comparison tables intended to give website visitors appealing product information and increase the likelihood that they would click your affiliate links.
Affiliatable is used by over 3,000 affiliate marketers, many of whom laud its affordability and usability.
What is Affiliatable?
Affiliatable is a SaaS (software as a service) that makes it simple to construct stunning, very effective features like product boxes, comparison tables, pros and cons boxes, top 3 boxes, and rating boxes. The technology was created by WildTech, a group of men with experience in affiliate marketing.
How Affiliatable Works?
You can link a website to your Affiliatable account by pasting the provided base script into the website's header after you've created your account and entered some website-specific data into the dashboard, including the domain name and shop.
💡 Generate personalized emails, blog articles, product descriptions, and ads in seconds using the power of A.I
WordPress users have the option of downloading a plugin that links to their WordPress website automatically.
Because the product is cloud-based, your loading speed won't be slowed.
Once your site is connected, your dashboard will allow you to create comparison tables, pros and cons boxes, top three lists, and product boxes for your website.
Features of Affiliatable
The most noteworthy features of this software are listed below.
Pre-Designed Templates
You may build appealing advertisements for any affiliate product using Affiliatable.
Use its handy templates to fill in the title, description, and noteworthy qualities of the product you wish to sell. You can also assign it a point score and a feature label, such as "Editor's Choice" or "Budget Pick," if you choose.
You can create a captivating advertisement that is specifically made for increased conversions by posting the affiliate link in the relevant section!
Affiliatable offers a variety of ad formats.
The reader is able to contrast and contrast related products using comparison tables, top three boxes, rating boxes, and opposing boxes.
Readers' attention is drawn to a single product via single-product boxes.
Pros/Cons boxes outline a product's benefits and drawbacks so that the reader can make an educated choice.
For each sort of advertisement, the Basic plan only permits one style, but Pro users have access to a wide variety.
Amazon API Integration
One of the biggest affiliate networks in the world is offered by Amazon, and consumers who are also Amazon affiliates can request that product information be filled out on their behalf.
Simply enter your Amazon API login information to connect their website to Affiliatable.
When creating your display, copy and paste a product's ASIN into the relevant field.
The item then imports a picture, the name of the item, and an affiliate link straight from Amazon.
Geo-targeting
The internet is world known in today's modern world.
As a result, the product has geo-tracking functionality built in.
International users are immediately sent to the appropriate online store.
Multiple Call to Action (CTA) Buttons
Users of Affiliatable can add up to two CTA buttons for each product promoted.
If you are a member of multiple affiliate networks, this is helpful.
Bloggers can now link to both a "Buy Now" page and a "Reviews" page, thanks to this feature.
Schema Optimized
Your ability to earn money from affiliate marketing depends on how your website performs on search engine results pages (SERPs).
It can make a significant difference if you bought one of the pro packages for the product and enabled schema on your advertisements.
Search engines can highlight the website pages where your ad appears with the help of Affiliattable for the best SERP presentation. Simply copy and paste the URL you wish to highlight into the relevant area.
Affiliatable Pricing
Affiliatable has three plans: 
Basic – Single
Cost: Free forever
You are able to link one website to your account with this plan.
This package includes a plugin for WordPress users that enables a simple connection.
Additionally, it has built-in geo-targeting and offers an unlimited amount of ad creation options for your website.
Pro – Single
Cost: $39/Year
The Basic package includes everything.
Additionally, customers of this plan have access to the schema optimization function, the ability to update their website's Amazon affiliate tracking ID from their Affiliatable profile, and a variety of layouts to select from when developing advertising.
Pages will rank higher in search results, and you can give your adverts their own unique categories.
Teams of affiliate marketers can work together more easily because pro users can add numerous team members to websites on a single account.
Additionally, the program gives Pro users access to live chat assistance and the option to copy and paste their adverts.
Pro – Infinite
Cost: $89/Year
Everything in the Pro Single plan is included in this one, plus you can connect an infinite number of websites to your account.
Affiliatable Customer Reviews
Here are a few customer reviews about Affiliatable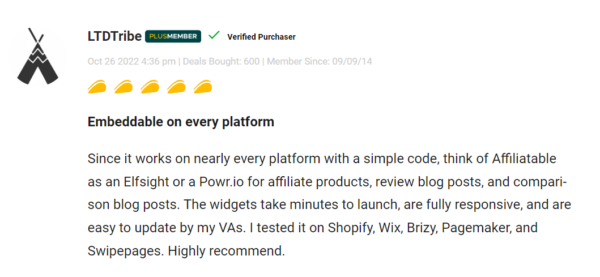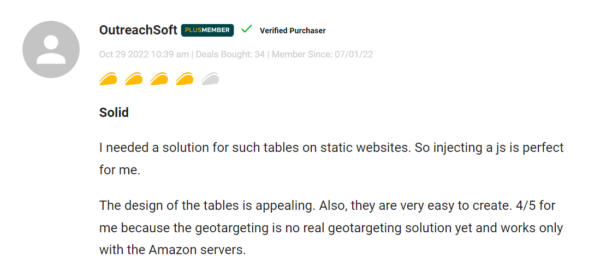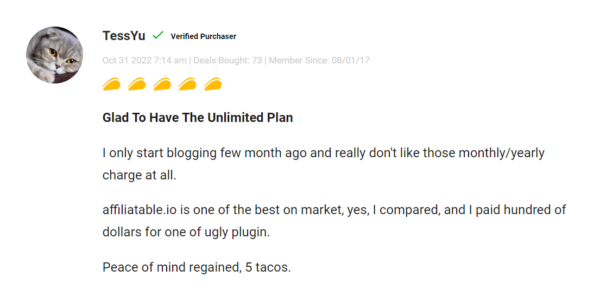 Conclusion
Irrespective of the site builder or affiliate program utilised, Affiliatable is ideal for affiliate marketers searching for an advertising tool to meet their demands.
It's also fantastic for bloggers who want to make attention-grabbing adverts but are scared to code.
Writecream provides 30+ tools for generating tons of content within seconds! Use Writecream to generate product descriptions, personalized emails, blog articles and much more and that too for free! Our free plan provides 20 credits every month which helps you generate 10,000 words per month!
Isn't it amazing?
To get started, register here for our FOREVER FREE plan NOW!