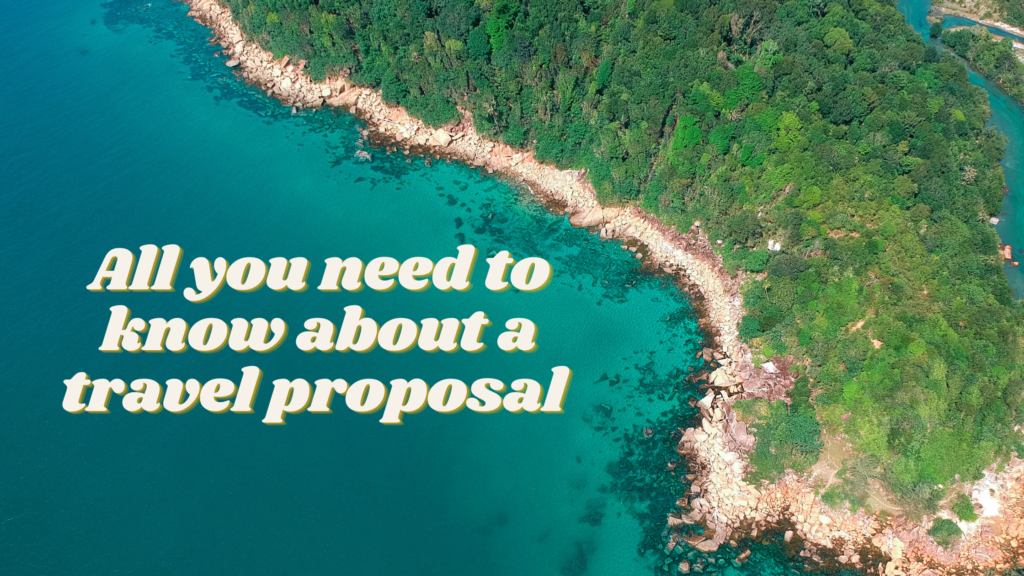 Why do you need a travel proposal?
Do you have great ideas for adventure travel expeditions or want to expand the attraction of tourists in your area? It's usually not enough to talk about your ideas. If you want funding or management approval, you usually need to explain your vision in writing. In other words, you need to create an application. But don't worry if you haven't written a suggestion before. You can list out various travel destinations for your clients to choose from.
Once you understand that all business proposals need to follow a particular structure to succeed, it's not as difficult as you think. The content and length of each section depending on the complexity of the project you are proposing and the type of information you need to provide, but a good proposal should follow a standard four-part structure. A sample is attached towards the end of this article.
Foreword
Reader-oriented rubric
Description of the offering plan
A section that describes your credibility and your ability to fulfill your promises
The introduction/ overview
First, think about whom you need to sell your ideas. In other words, who is going to read and judge your proposal? It is important to keep an eye on your readers. All good suggestions focus on the recipient, not the party submitting the suggestion. Let's start with the introductory section. The cover letter is the first item the recipient sees when opening the proposal package. This is basically an introduction to the proposal.
Therefore, please state who you are, why you are submitting this proposal now, and what you want your readers to do. Do this after reviewing your proposal and include contact information that your readers may need to approve your question or request.
💡 Generate personalized emails, blog articles, product descriptions, and ads in seconds using the power of A.I
1.    The proposal section
Next, create a front page for the proposal itself. Give your suggestions a simple and logical name, such as
"Proposals for a New England Autumn Foliage Tour,"
"Use the History of Our City to Attract Tourists."
If the suggestions are short, that may be sufficient for the introductory section. However, if your project is more complex, you will need to return to the project later and add a table of contents and executive summary. This is basically a list of important points to make in your proposal.
2.    The reader-intensive section
Now, the reader-oriented section. Think about the party you are submitting this proposal to-is the city council? Potential business partner? Outlook? Tour operator management? What do readers want to know? What are their concerns? Is there a list of requirements to meet? In this section, you need to establish that you understand who you are working on and their needs and desires. Most importantly, explain how your travel proposal letter will help that party. Clients must also have the choice to customize their plans. Your agency must also be able to provide for corporate travel, along with travel arrangements.
This section contains pages such as requirements and benefits. You may also need pages for requirements, budgets, schedules, deadlines, etc. to meet your specific needs or RFPs.
Remember that this section describes the needs and benefits of potential partners, management and investors, not your goals and desires.
Successful proposals should focus on the reader, not the party proposing the project. If you sell personal travel services to your clients, you can provide topics such as "what to expect" and "it's all about you". This section can include discount details too.
3.    Credibility section along with testimonials
Following this reader-oriented section, there is a section where you can elaborate on your suggestions and how much it will cost. This can be the longest section of a suggestion, as it should contain all the topic pages needed to explain the idea. Don't forget to include all the details your readers want to know.
Depending on the proposed project, there may be pages describing the services, products, costs, schedules, venues, facilities, tours, tourism, destinations, transportation, strategic relationships, clients, and advertisements offered- The list is endless because the goal is in it; with everything, you suggest all the topics you need to explain how you plan it and what your costs will be.
You may need to include a finance page and Expected return on investment (ROI). As always, be in the reader's shoes-what questions do they ask? The more particular you are, the more likely your suggestions will convince the reader that you are doing your research, have a good plan, and can fulfill your promises.
Why is the final section important?
The last section of the suggestion gives you the opportunity to brag about yourself. Your goal here is to provide all the information you have to convince the reader that you are reliable and capable of carrying out the plans outlined in the previous section. At minimum, you need a company story or profile page describing your background.
You can use pages such as Experience, Projects, and Clients Served to show your experience with similar projects. You can also describe special training and qualifications, list employees and team members, and add resumes and biography pages. If you have awards or testimonials, be sure to include them, as they will always be more credible if you can show others that you value your idea or service.
Once you have created all the text for your proposal, take the time to make it visually appealing. Integrate the company logo. Consider using colored borders or choosing custom bullets and fonts that suit your business style. The signature of your agency is important here.
How to make your travel Proposal package better?
Arrange in chronological order: Step by step all travel elements. Some suggestions, such as all hotels, all car rentals, and group similar items. This makes it difficult to understand what the client is trying to do and to make sure that all the foundations are covered.
Details: Name your hotel, address, and nearby attractions. It provides a map showing all the interconnected places, such as stops and recommended restaurants.
For cruise ships, highlight the cabin location on the deck plan. For recommended restaurants, please provide a little information about the restaurant, such as opening hours, types of food served, and budget range for meals. For transfers, specify the type of transfer to arrange (dedicated driver and car, limousine, chartered bus, etc.).
Add Images: Images help you sell your destination-add images of different areas of your hotel, attraction, or destination. Often we include a photo of the hotel lobby, a photo of the room type selected, and a photo of the view from the property. For tourist attractions, typical photographs are often sufficient.
Personalize: Personalize the quote for the destination customer. Include their name on the front page, hinting at their particular preferences.
For example, if you're a vegetarian, it's not a good plan to recommend going to Morton's Steakhouse while you're in New York City.
 Suggest activities on "timeouts" that are not planned in the itinerary –
Your travel suggestions are an opportunity to show your customers that you are an expert and consider their travel needs and needs when designing a trip for them. Sending a minimalist quote from a supplier that looks like it's printed from a website is a good way to look more like a contractor than a travel dream designer. Your trip proposal and the travel package needs to be inclusive of all details. This could also include an option for travel insurance.
Finally, don't forget to include the pricing slabs, adhering to your client's wishes. Have a few options for budget proposals too.
An outline of what the free Travel Proposal Template should contain
This is what your travel agency proposal template must contain.
About us section that explains the travel agency and their goals
About the travel agent, telling how they will assist in this tour.
A customer list/clientele
Testimonials to prove the efficiency of the agency
Overview of the trip
Itinerary
Other add-ons such as visa assistance, insurance, option detours etc
Refer to this link for a Free Travel Proposal template