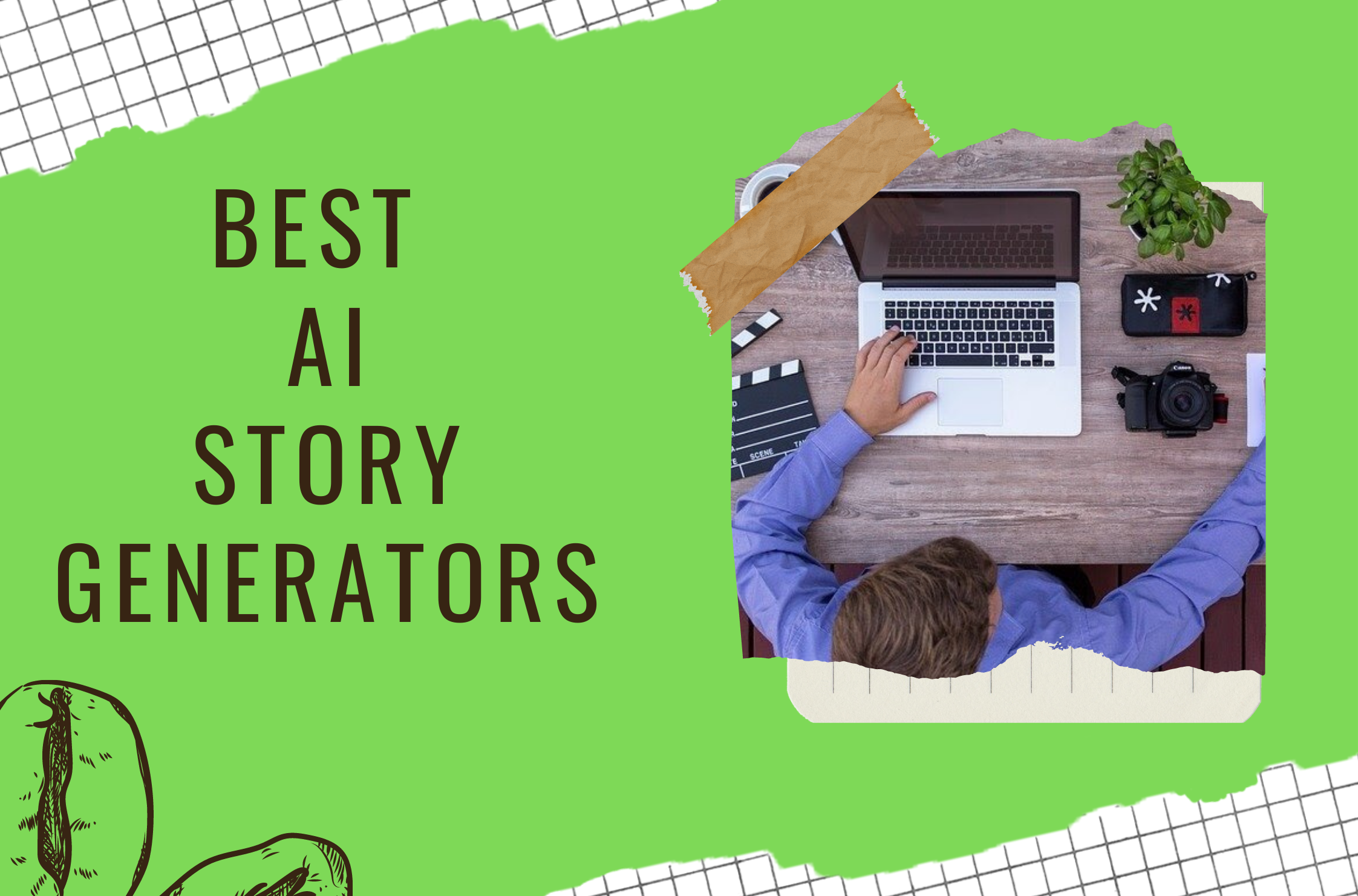 Whether you are a professional writer or a storyteller, it's never a cakewalk for anybody to write fiction stories with every aspect you think you want to. Are you the one who is constantly struggling to get a perfect plot? Are you fed up with endless hours of struggling with your writing pad? Not anymore. In the last couple of years, AI software has improvised itself to a great extent. It has simplified the whole process of writing stories. Story creation is an art, and the article contains some of the great ai stories.
This article will share some of the best ai story-generating tools with you. We will have a thorough walk-through with the features available, the pros, and the cons. If you're looking for an ai writing tool manual article then this is
the right one for your story generation.
What is an AI story generator?
Ths AI story generator is software that helps you generate a story according to your need. A perfect ai story generator that uses it to get your whole story plot or a starting point with some innovative, catchy lines. With the capability of entering new words, lines, and key phrases, anyone can use these AI story writing tools to quickly get a well-versed written story. These are story generator tools for fiction writers, non-fiction writers, comics, long stories or novels, a story based on facts, etc.
💡 Generate personalized emails, blog articles, product descriptions, and ads in seconds using the power of A.I
What is artificial intelligence?
An explanation of artificial intelligence (AI) Artificial intelligence (AI), which stands for systems or machines that resemble human intelligence to complete tasks and can iteratively improve themselves based on the information they acquire, is most commonly used to describe such systems or machines. Artificial intelligence (AI) technology increases business performance and productivity by automating previously labor-intensive processes or operations.
What is an ai writing tool?
The key to using a great ai writing tool to create articles is to use these tools to enter your commands, then rely on AI to complete your sentences, check your grammar, and create sentences devoid of errors.
A SaaS (Software as a Service) tool called Sassbook ai story generator enables you to produce story (fiction) content quickly.
What is a story writer?
The structure and tracking portions of the story can be handled by AI story writer, freeing you up to concentrate more on the actual writing. If you don't have the time to produce short tales or other creative works by hand, the AI story writer is a terrific tool. An online tool that authors, marketers, and content creators can use to generate stories is dubbed an "AI story generator" (sometimes referred to as an "AI content generator"). You can produce various content kinds with the AI story generator tool, including scripts, stories, blog posts/articles, copywriting advertising, and more.
Whenever you go through the ai story generator, you know what kind of story and novel do ai writing tool generates. Sometimes you may be coming across a name called "ai dungeon".
A free-to-play single-player and multiplayer text adventure game AI Dungeon creates content using artificial intelligence. AI dungeon enables users to design and share unique settings for adventures.
What is a novel ai?
A project called Novel AI is creating an AI storytelling tool for the general audience. Users of AI storytelling are given a great deal of freedom. Despite occasionally being referred to as a game or writing assistant, it combines the two.
Benefits of using an ai story-writing tool.
AI-generated stories are always accurate and far more authentic than manual stories, which take a lot of time.
increases your ability to communicate with others more effectively
helps you produce content of higher quality.
increases the clarity of your ideas
 productivity rises
helps you stay organized while
It helps you save money
increases the clarity of your feelings
The 10 best AI story generator tools
These are some of the powerful ai story-writing tools that can produce interesting and engaging stories without many searches. They give us a wide range of story ideas and outlines which we can choose from. Out of many story generation tools, these 10 are the best, with unlimited features.
1. WRITECREAM
WriteCream helps you create marketing content and sales email within seconds. It is a wholesome package for you because of its dynamic features. The icebreakers can be helpful for outreach, campaigns, and generating cold emails. If articles, blogs, and story writing are part of your business, you can use this ai to generate a story. It provides the right environment for the marketing strategy you want.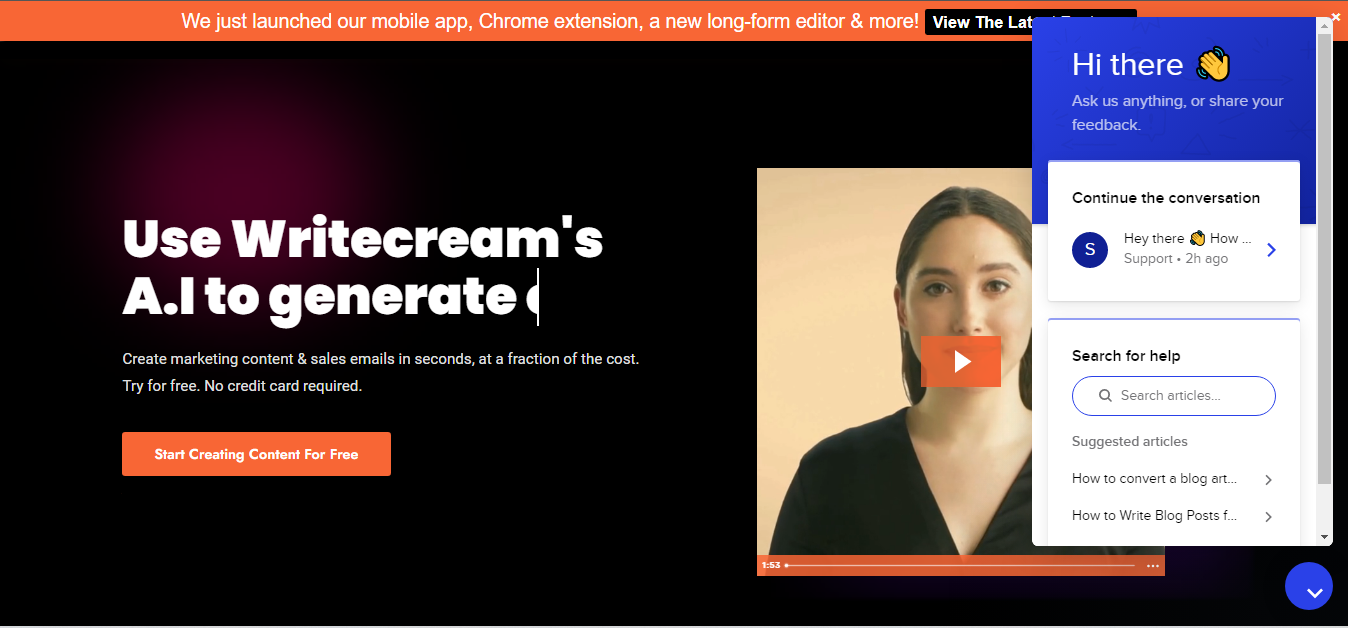 Pros
Flexibility in performing the full process, It provides you with the intro and outline of the story, which helps you write the whole story. With the help of its AI, article writers can write full stories as needed.
You don't have to pay for your story written here; most of the AI story generators are paid or offer you a limited-time free trial. Here you can use the AI writer for free.
Versatility in a single tool, Story writing, creative writing, blogs, ads, SEO, and copywriting all under one tool. You can get dozen of unique stories.
Supports 75+ languages.
Cons
Limited features availability, It is more likely to customize and test some of the features manually. It has got fewer templates than other AL story generators.
Pricing
It has a limited free plan and an unlimited plan of $29.
2. JASPER
It is a great ai story-writing tool for bloggers, creative writers, and niche site owners. It was formerly named Jarvis AI. Jasper is always in a learning period; hence it gets plenty of new ideas. It has always been a premium ai story generator. It always provides the writer with clues about what to write next. You never have to stay uncertain about your write-up. The integrated plagiarism checker is an amazing feature in Jasper that helps you get plagiarism-free content. Surfer integration is another amazing feature by Jasper, where you can create SEO-friendly content.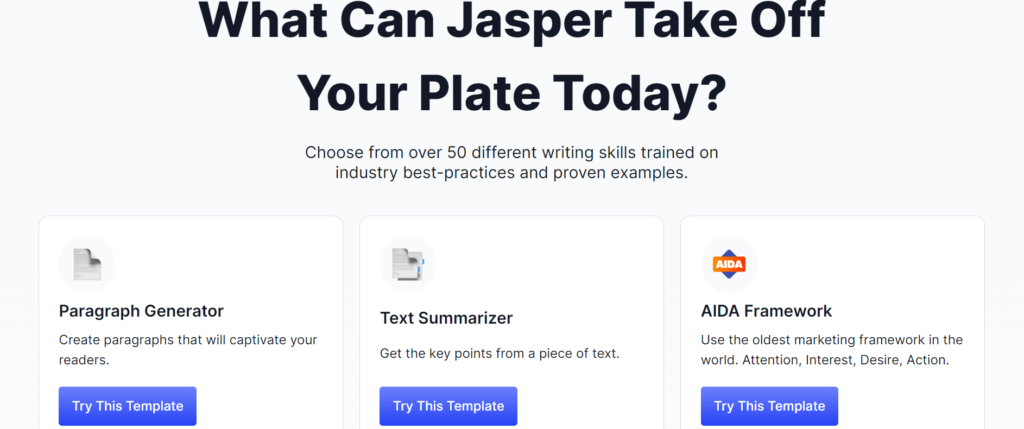 Let's see the pros of JASPER,
Original and high-quality content, The write-ups provided by JASPER are realistic, engaging, and complete. We often think that the software won't tend to match the human ability to write a story you want more realistically. But JASPER uses the word and content in such a way that it sounds natural. You can write the entire story using an ai story generator like Jasper.
Workability, Jasper has many in-built workflows like creative story templates, blog post outlines, or blog story ideas used by the users of JASPER. To write a creative story, you can use the templates. If your story outline is unclear to you, the recipe section of JASPER is quite helpful.
A large community, JASPER Facebook, has got more than 50,000 members. You can learn tricks and tips from them.
Now some Cons,
It can sometimes be a lengthier process for long-form content as it creates only one paragraph at a time.
Unnecessary addition of links.
Pricing
It provides a free trial until 10,000 characters. The free plan can only give you limited features, after which you can switch to the paid plan of $29 for 20,000 words forwards.
3. DEEP STORY
Mostly useful for creating a range of content but above all, it is best for film scripting. Here you can create a variety of scripts and plot lines using AI. This AI story generator can help you get past creative blocks.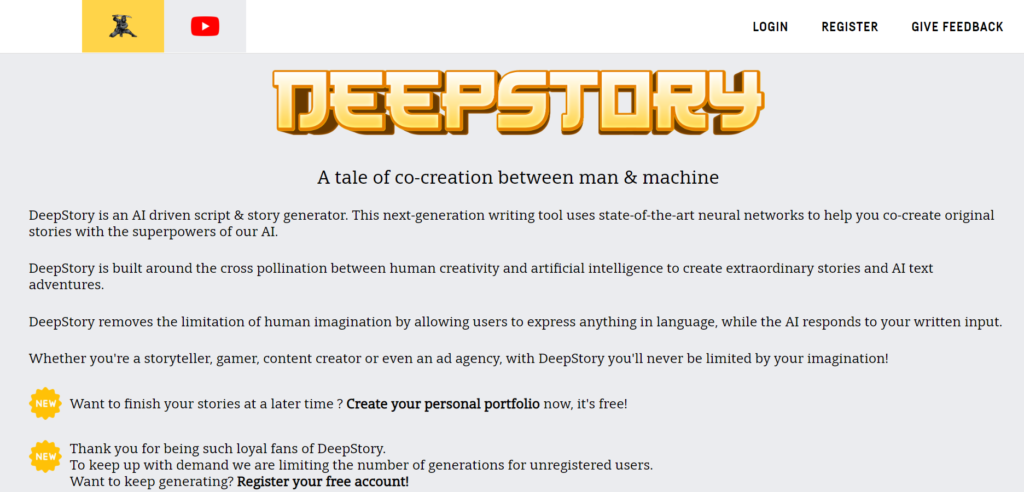 Pros
Free to use.
It provides the writers with a user-friendly interface.
You can write infinite texts.
The genre and topics can be chosen in advance.
Selectivity in the positions to keep your paragraph- header, footer, middle, and even the character, dialogue, and sequence.
Cons
Mainly good for scripting and filming purpose.
If you want a short post, you must customize the AI generations a little.
Not always will the text feel like human written.
Pricing
You can use this tool with a free plan with unlimited characters each month. But after some period, we have to create an account for further use.
4. RYTR
Like Jasper and WriteCream, it works on a wide range of content. You can create content in up to 10 languages. It is helpful for people who have an international audience. You can pick the writing tone, the genre, and the story plot.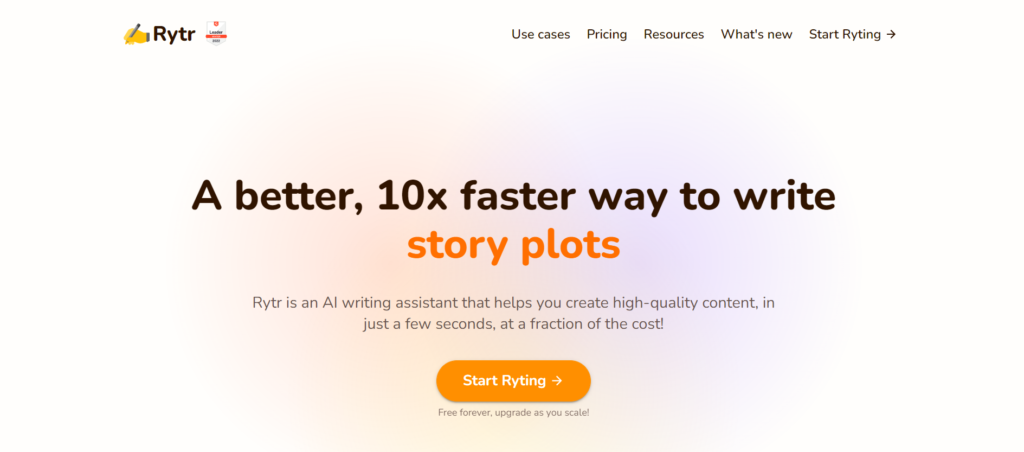 Pros
Generate content in several languages.
It helps you generate original content with the help of the plagiarism checker.
Write anywhere you want- google, WordPress, social media, or anywhere.
Cons
Hard to understand the features if you are new to it.
Not much realistic and natural writing.
It limits the number of characters per month, so if you are a writer who needs a lot of story plots, you may need an unlimited plan.
Pricing
Writers can use it for a free plan with limited features. The paid plans start from $9 per month.
5. INFERKIT
Another AI story generator to plot and write stories faster than you.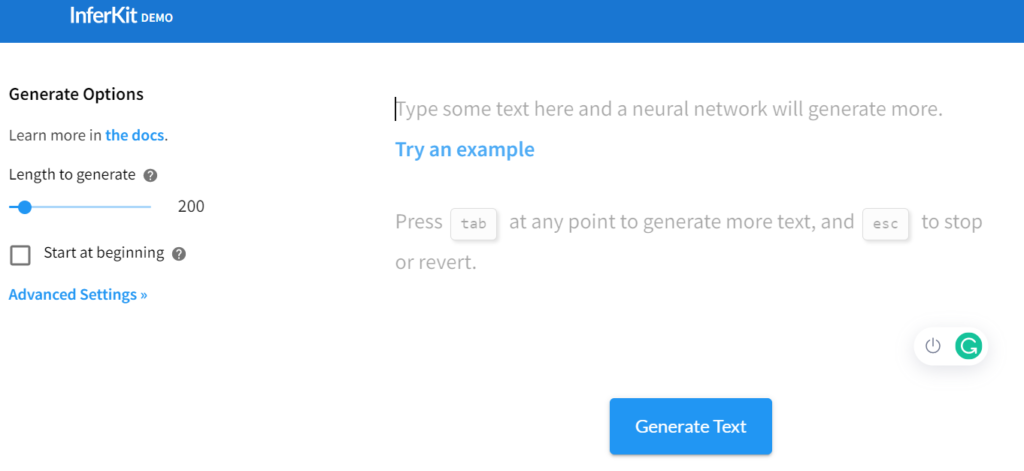 Pros
Features are user-friendly. You have to write some text and then click to generate text to write the whole story.
You can write up to 10,000 characters per week. So it is good for people with the medium requirements of writing.
Cons
The features are limited. No rephrasing, simplifying, or rewriting tools are present.
The advanced settings of the AI tool are hard to understand.
Pricing
The price for the paid plans is $20 per month.
6. COPY AI
It is a versatile AI tool that can generate something tiny, like a title, to something catchy, like short stories. It has built-in tools which will help you find your plot match. It has a rewriting option if you are unhappy with the present content formed by CopyAI.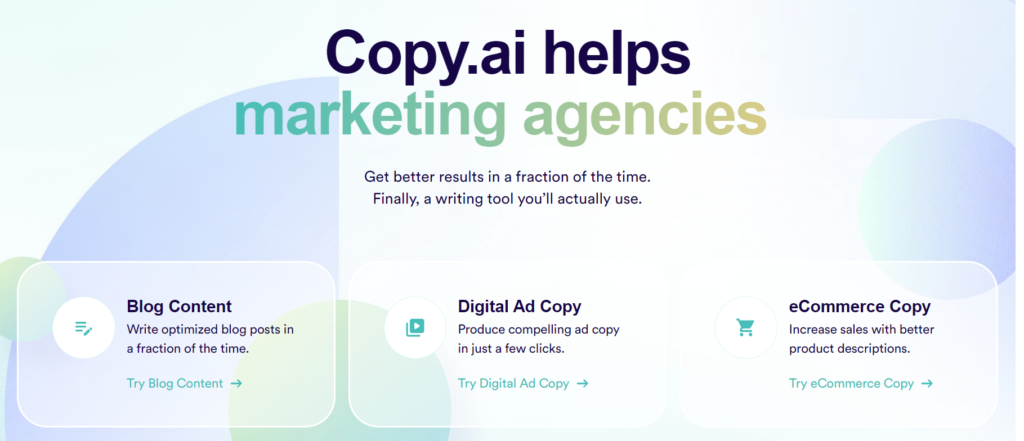 Pros
A good SEO-friendly tool.
In-built tools for quick generation of stories.
Easy to create plots, outlines, short stories, etc.
Cons
It includes a lot of copying and pasting jobs. So it takes a longer time than other AI tools.
It may not work properly while preparing long-form of content.
Pricing
You can use the Copy AI paid plans at $49 per month.
7.AI WRITER
It is another AI story generator, like Writecream, where you can incorporate storytelling into marketing content for business purposes.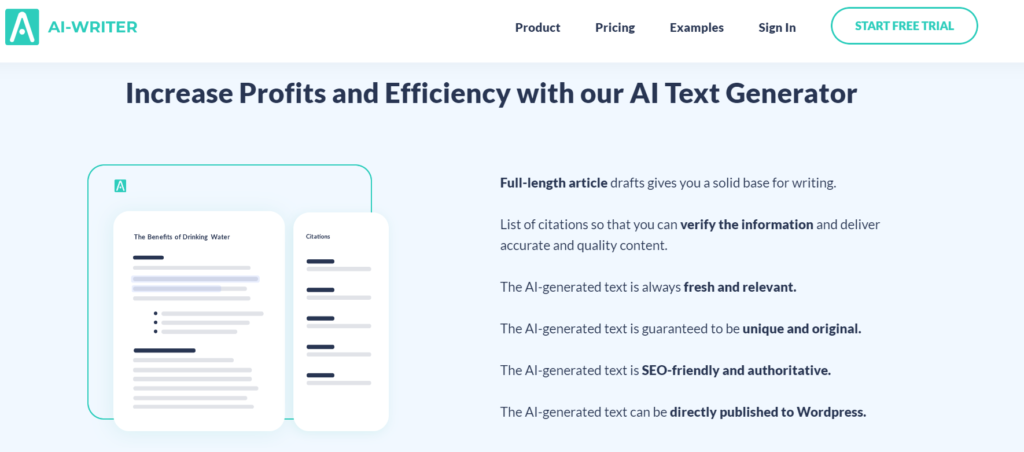 Pros
A user-friendly AI tool where you have to type only certain words, and the AI will give you a whole page on it.
You can rephrase and rewrite it as per your needs.
Takes less time than other AI tools.
Cons
Only English language. Other tools like Jasper and Rytr provide a dozen of languages proficiency.
Good for non-fiction stories only.
Pricing
It provides the users with a 7-day free trial. After that, you can avail of the paid plans for $29 per month.
8. PLOT GENERATOR
An AI tool with various features available to write engaging stories.

Pros
There are several features for generating short stories, movie scripting, and outlines.
After filling in the generator forms with random inputs, you will get an instant prompt about your likes.
If you want to make your story published so that a huge public can read it you can do so on the plot-generating website.
Cons
A lot of inputs are required by the plot generator before producing the required storyline or suggestions.
You cannot store your work here. You have to copy-paste and save it somewhere else.
Pricing
It is free to use.
9. WRITESONIC
Like WriteCream, it is a four-step tool for writing long forms of content and getting plots and outlines for your story.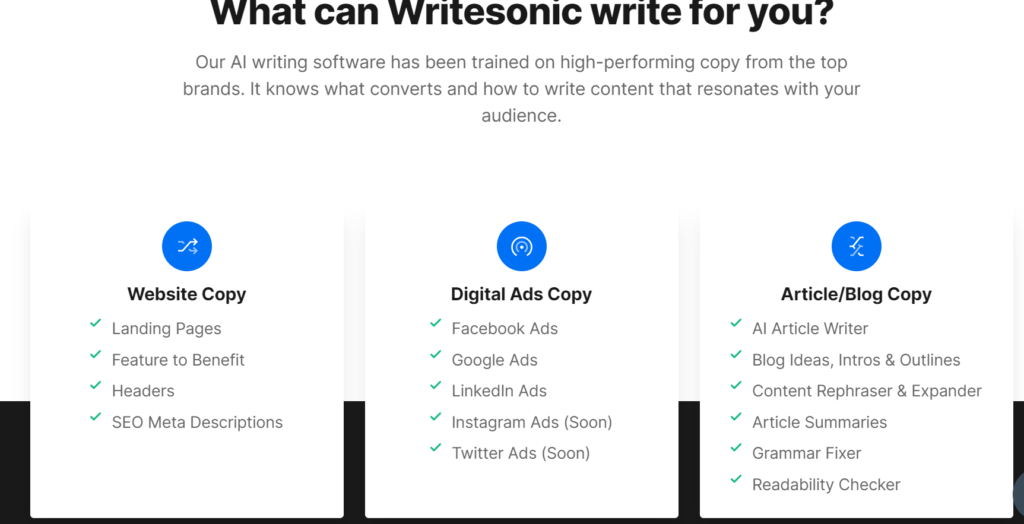 Pros
It is typically a good writing tool that gives you a relevant storyline and realistic content based on your input.
A WordPress user needs no copy and pastes job to be done. You can write your blog and publish it through Writesonic.
Cons
Once a story is generated by this AI story generator needs all manual editing by you.
No accessibility to the templates for rewriting your content once generated by the AI writer tool.
Pricing
You can avail of the paid plans at $15 per month.
10. SIMPLIFIED
It is a simple tool that provides an AI writing assistant and some normal but good features for your stories or content.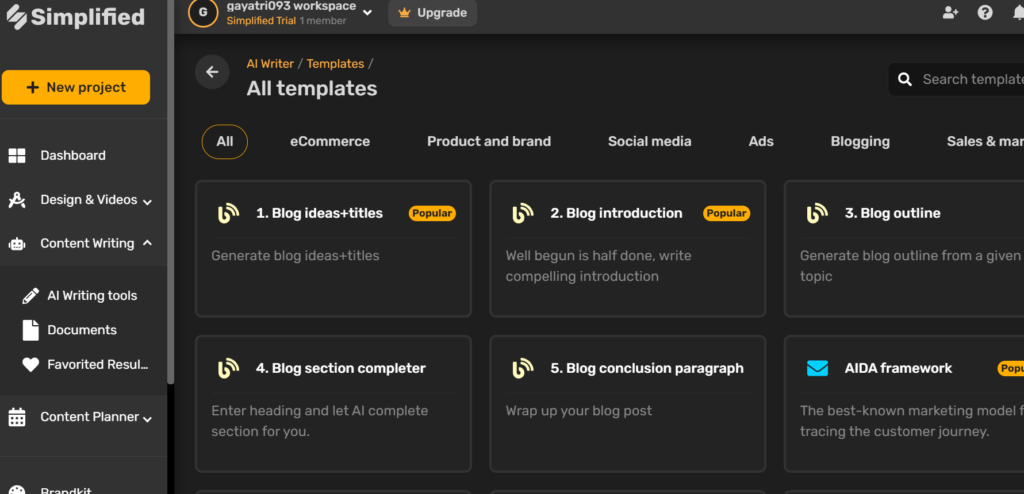 Pros
This tool is good for generating long-form of content.
Users can write up to 1000 words per month for free. Paid plans start from 20,000 words.
Cons
Simplified doesn't learn from past works or outputs and continues to do the work at the same pace. It requires more editing and rewriting than other tools.
You must be used to the dark mode interface because it is the default theme.
Pricing
There is a free forever plan, but for advance usage, you can avail of the paid plans at $15 per month.
The whole purpose of this article is to help you write stories more effortlessly and with greater speed. Using an ai script generator gives you great story plots and characters. Each tool has its own set of advantages and disadvantages. The motive behind an AI story generator is to provide the writers with high-quality original content, which can be done best using Writecream. Try for yourself! Sign up for WriteCream today and enjoy a wide range of features at a very effective cost.