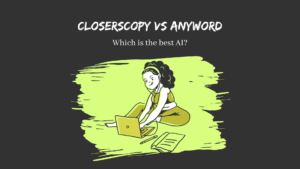 Did you know it still takes content writers many hours to generate a quality blog post? They think artificial intelligence (AI) writing tools can only replace human research and natural output talents.
That is true, but rather than focusing on how authors will be replaced by AI technologies, what if they can act as helpers by offering pre-made templates?
However, a lot of writing aids claim that they are the greatest. How can you tell which feature will best fit your needs, given the wide range of features available at various pricing points?
We'll compare the two most often used writing programmes, Anyword and ClosersCopy, today to assist you in making the right decision.
💡 Generate personalized emails, blog articles, product descriptions, and ads in seconds using the power of A.I
Let's begin immediately.
Anyword
You can write marketing copy that is competitive, engaging, and fascinating with the AI copywriting tool known as Anyword. The most outstanding blog post summaries, personalised keywords, a pre-built keyword library, and content creation for your website are all available to you in Anyword with just a few clicks. It indicates you are no longer in need of a professional writer. You can quickly create distinctive, compelling copy for various sites, such as email subject lines, landing pages, product pages, blog posts, and more, using Anyword's predictive performance score.
ClosersCopy
ClosersCopy aids users in writing the copy by giving them access to pertinent templates and is one of the top copywriting programmes available today. Users can utilise and change the software's library of website and content copy templates to create their copies. The library is updated regularly. You may create effective Facebook ads, marketing copy, sales letters, Google ads, and other types of documents using the software to assist your company in drawing in more clients. The software is frequently praised for its user-friendly features, which are suitable for experienced and inexperienced copywriters.
The Primary Features Of Anyword
·      Anyword creates email subject lines with any number of words using ML and NLP techniques like deep learning, dialogue engines, and natural language processing.
·      You can integrate Anyword with your ad project and ad creation tools to receive text customisation offers.
·      Its keyword library makes it simple to identify the optimal phrasing for your message. The AI writing tool provides precise suggestions.
·      Making a keyword library is another option. These keywords will be used in every marketing text created by the AI feature-rich software.
·      The keywords can be incorporated before composing text while utilising the AI writing tool. By doing this, you can prevent having to go back and add keywords after they've already been created.
·      Anyword accesses every blog post or content you or your company create first. You will learn whether the message in your marketing copy is accurate or needs to be improved based on the predictive performance score.
·      Anyword assists you in mass text brainstorming to save you valuable time. Because of this, managing a marketing campaign and interacting with your audience is a straightforward procedure.
The Primary Features Of ClosersCopy
·      The artificial intelligence editor in ClosersCopy changes your documents to make them appear as though they were written by a professional. Power words feature already integrated into the instrument enables it to produce better outputs or outcomes.
·      ClosersCopy includes a collection of various templates that are updated frequently. Although these templates are commonly created to operate with many copies and styles, you can select the one you believe is most appropriate for any given reason.
·      It lets you drag and drop various items onto the copy you're composing, speeding up the writing process.
·      You can access up to 18000 well-written copies with ClosersCopy.
·      ClosersCopy's most recent update, Megathron, differentiates it from other artificial intelligence content producers. Users who want to produce extensive content or a copy can benefit from this capability. It means that if you want someone else to create long-form content for you, let the AI do it.
Anyword Pricing
Anyword ranges from $79 to $239 a month, and it also offers custom pricing if your business needs more advanced features. However, you can give Anyword a try for free for seven days; this will allow you to assess whether paying for their subscription is worthwhile.
Three pricing plans are now available for the AI-powered tool: Starter Plan, Pro Plan, and Premium Enterprise Plan. Additionally, you can benefit from their free trial edition. Keep in mind that the free plan is only offered for seven days. The Starter Plan can be customised, costing $19 per month. You can choose the other two packages if you want something more specific for your firm. For instance, the Pro Beta Plan is perfect for independent contractors and meditators looking for simple landing page ideas. The Premium Enterprise Bundle, on the other hand, is a fantastic package that is perfect for businesses looking to target a specific segment of their target market.
ClosersCopy Pricing
You must pay $49.99 per month for the ClosersCopy Starter plan. If you choose the yearly plan, you can save up to 30%.
The three pricing plans that make up ClosersCopy Pricing are as follows:
Power Plan: $49.99 monthly or $419.90 annually
Users have access to all the fundamental copywriting tools with this bundle. You are limited to 50,000 characters of AI material per month, 50 SEO audits, two seats, and adding one person to this plan.
Super Power Plan: $79.99 a month or $671.90 annually.
This package includes everything that the beginning package does. You can, however, access 4,00,000 characters every month of content produced by AI. However, you have an infinite monthly character or content restriction: unlimited SEO improvements and audits. There are 3 seats available, and 2 people can join you.
Super Power Squad Plan: $99.99 per month or $839.90 annually.
In addition to the features offered in the first two tiers, this package unlocks the teams. It gives you access to an infinite number of AI-generated characters each month: unlimited SEO improvements, and audits. There are five seats available, and four people can join you.
Pros and Cons of Anyword
Pros:
·      Works with all kinds of content and makes it easy to create winning copy.
·      Utilises the AIDA and PAS frameworks.
·      Excellent tool for developing CTAs.
·      Free trial available without a credit card.
·      The abundance of features and options.
·      It assists in producing top-notch content using the keywords you supply. It also improvises to improve the appeal of the information you have created.
·      Advanced AI language.
Cons:
·      You will have to spend substantially more if you want more features.
·      Very Costly.
Pros and Cons of ClosersCopy
Pros:
·      Comes with templates and an attractive user interface.
·      It uses a copy builder that is drag and drop.
·      It employs the deep learning capabilities of AI (GPT-3).
·      One-click analysis of copies.
·      It can be applied to several niches.
·      Very simple to use.
·      Wholly reasonable and good value.
Cons:
·      AI could be flawless.
·      More results can be produced.
Anyword Vs. ClosersCopy
Anyword and ClosersCopy differ primarily in price; Anyword is considerably less expensive.
Anyword deals with content generation, CTA optimisation, blog post-production, and GPT-3, supports various languages, can predict the performance score, and has use cases. On the other hand, ClosersCopy only deals with Writing Assistants or is an AI Content Writer.
Anyword is meant for Small, medium-sized, and large corporations and independent contractors, whereas, ClosersCopy are meant for Individuals, Freelancers, and Small Businesses.
Anyword has a Live Chat Room, but ClosersCopy has no Live Chat Room.
Which is the best AI?
Based on what we have gone through the entire article, it is clear that Anyword wins the pageant here.
Whether it's writing for a landing page, an advertisement, or a product description, Anyword will do the best job of converting readers. Its templates are made with this objective in mind. Anyword gives users a prediction performance score that indicates the likelihood that their copy will connect with the reader.
These insights improve the reader's experience of your material and ultimately encourage the desired action. Some of the keywords you wish to include in your material, such as new feature announcements, new product announcements, coupons, etc., can be preselected in Anyword. Preset Keyword Library is what this is, and it dramatically facilitates your writing ability.
Also, Anyword is much more affordable than ClosersCopy and is widely used for different segments of businesses and content creators.
Ultimately, Anyword and ClosersCopy are two of my favourite AI writing assistants, and they possess distinctive qualities that make them appealing choices. They have distinct strengths, so you may choose your decision based on the kind of content you have to produce. It is totally up to you!