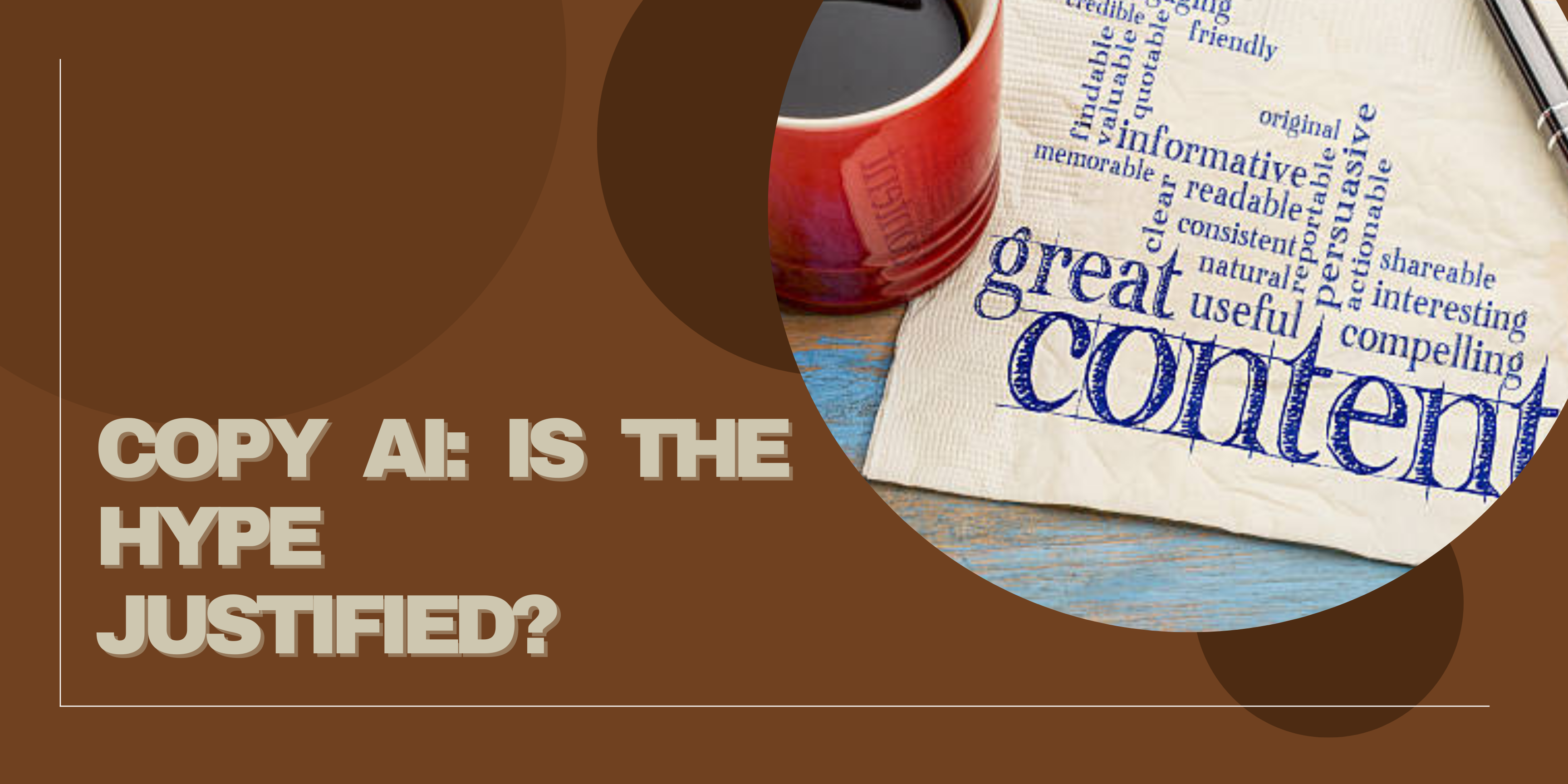 Across businesses, there has only been a rise in demand for written content. Writing is required in every element of communication and content creation. Films require scripts. Writing is required for podcasts and by businesses. While this means more work for content writers, it gets daunting, and time may be limited.
Humans have been creating content for as long as there has been content. However, in the fast-paced world of marketing and advertising, this procedure may be time-consuming and costly. AI writing helpers are getting increasingly popular as a result of their ability to produce content at a lower cost and in less time.
Continue reading to find out more about Copy.ai; in this review, we'll go over its features, advantages and cons, as well as if you should use it.
What is Copy.AI?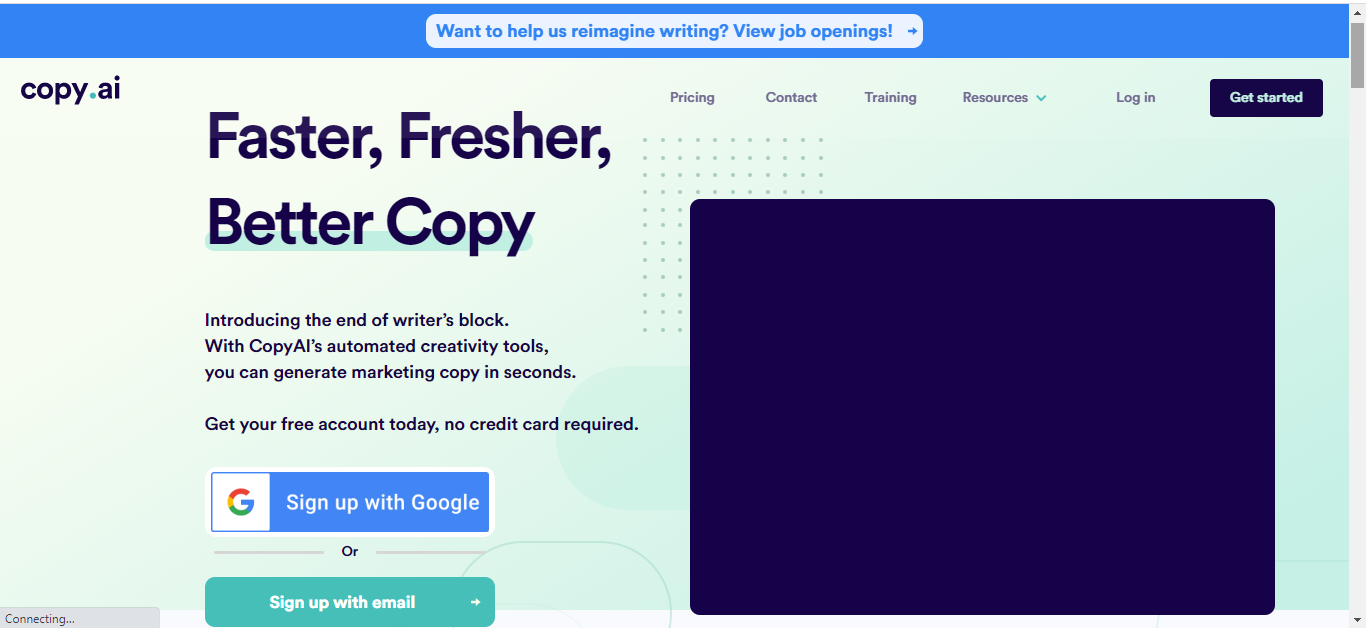 Copy.ai is an artificial intelligence (AI) platform for content production that employs deep learning to generate content automatically. The technology can easily recognize the structure of language and produce text in more than 30 languages. Copy.ai can help with a range of problems, including as creating fresh, relevant content, lowering workloads, and increasing efficiency. More than 250,000 people use Copy.ai, an AI copywriting software powered by OpenAI's GPT-3. It can develop effective copies in 30 seconds. Digital ad copy, website copy, eCommerce copy, sales copy, social media content, and blog content everything is possible through this software.
💡 Generate personalized emails, blog articles, product descriptions, and ads in seconds using the power of A.I
Copy AI Features
Copy.AI supports more than 90 templates. It offers a wide range of templates, including product descriptions, social advertisements, sales copy, website copy, and social media content production tools. You are free to select any template that best suits your requirements. A few popular templates are given below.
Description of the product
Primary Text on Facebook
Headline on Facebook
Description of the Facebook link
Headline on Google
Text Ads on Linkedin
Ideas for Blogs
Keyword Generator for Video Titles
Copy.AI supports more than 25 languages. They aim to expand the number of languages available in the future.
Language: English (Britain), English (American), German, French, Japanese, Italian, Dutch, Polish, Spanish, Portuguese, Portuguese (Brazil), Chinese (Simplified), Russian, Bulgarian, Danish, Czech, Estonian, Greek, Hungarian, Finnish, Latvian, Lithuanian, Slovak, Slovenian, Romanian and Swedish
Chrome Extension: Switching between tabs is time-consuming, and having the copy.ai chrome extension can save a lot of time. Copy.ai is a chrome extension that allows you to work with your own business tools at the same time, such as Google Docs, Gmail, Facebook ad manager, and content management tools. The Copy.ai chrome plugin has all of the essential templates that are available on their website. The results are simple to copy and paste into your work tools.
Plagiarism: Copy.ai provides a function that detects plagiarism. Simply paste your marketing copy into Copy.ai after you're done creating or modifying it, and it'll give you a score in seconds. You won't need to sign up for a separate program because Copy.ai will handle your basic plagiarism detection needs. The main disadvantage of this checker is that it requires a premium account to function.
Pros of Copy.ai
UI is simple to use: Anyone may use the Copy.ai user interface without any prior experience or training.
There are numerous templates available, i.e.,  over 56 templates to choose from for all of your marketing needs.T
The software is Multilingual. It supports over 25 languages.
AI-generated copy results can be shared with others via unique URLs. The copy can be viewed by anyone who has access to the URL.
Free trial feature is available. No credit card is required to try out all of Copy.ai's premium features for a 7-day free trial before making a purchase decision.
Has a Chrome extension that will help you be more productive.
A dedicted Facebook community to communicate with other Copy.ai users and learn how they use Copy.ai in their professional lives.
Dedicated Email support.
Cons of Copy.ai
The 'Make More Option' takes more time.
Requires a very detailed description of the input.
Doesn't support long-form content.
There are a lot of templates, which leads to a lot of confusion.
There is potential for improvement because it occasionally offers improper word/sentence structure.
Only 7 days free trial.
Pricing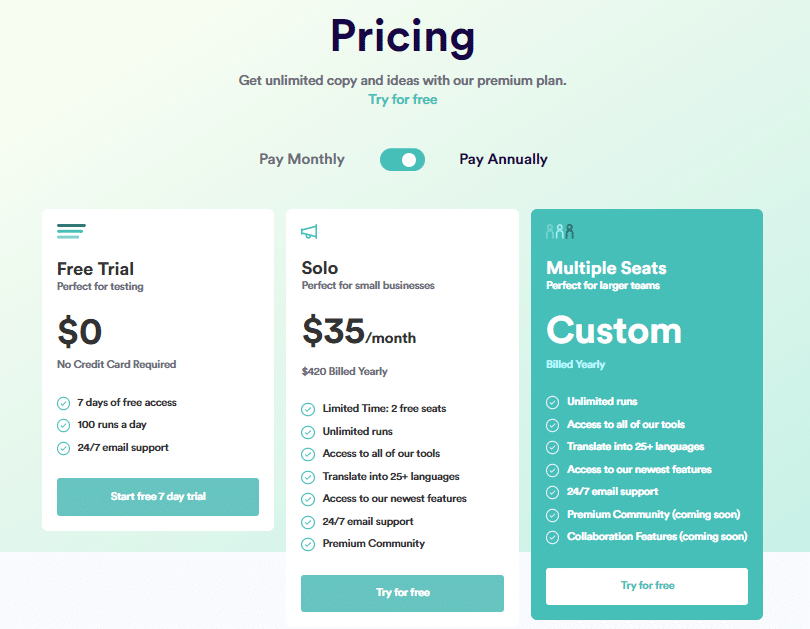 The Copy AI price page shows a flat rate of $35 per month if paid annually or $49 per month if paid monthly.
While there is no free account, they do offer a free 7-day trial. This is a great way to get a feel for the tool without having to sign up with a credit card. However, the free version limits you to 100 runs every day. However, this is more than enough to determine whether the AI's output will be beneficial to your company. Once you've begun using the tool, a 'run' is simply a click on the Create button. For example, during your free trial, you might write 100 blog post outlines or other marketing content per day.
The Perfect Copy.AI Alternative: WriteCream
Despite the fact that Copy.ai has a lot of useful features for copywriters, marketers, business owners, and content creators, it has some setbacks. Every business relies on long-form content such as blog posts, emails, and website copy. Whatever industry you're in, you'll need these types of copy. Copy.ai, unfortunately, does not produce long-form blog entries.
Luckily, WriteCream is an AI supported software that can overcome all these issues!
What is Writecream?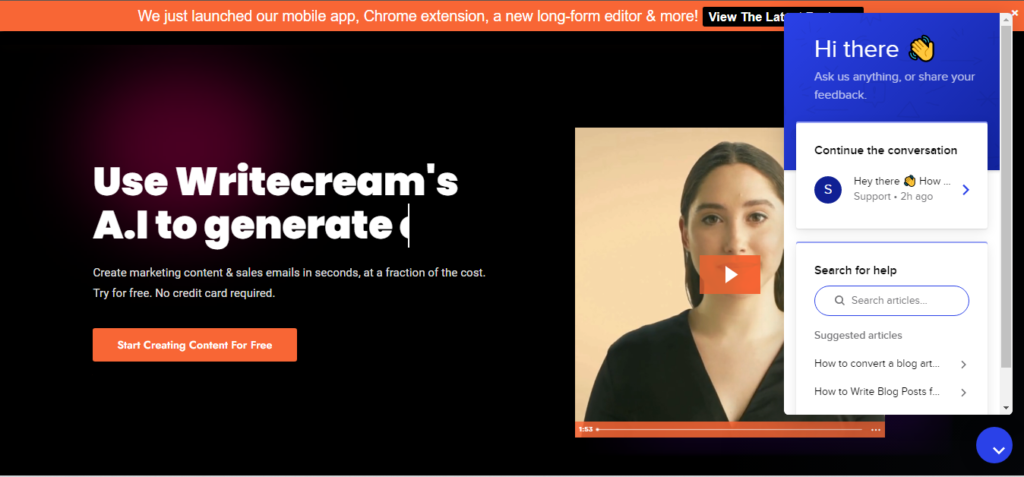 Writecream is another AI-powered platform that writers and content marketers utilise to tackle all of their writing issues, such as personalizing introductions and messages for Cold Emails, LinkedIn Outreach, coming up with blog ideas, website copy, social media content, and more. By generating massive amounts of content in a matter of seconds, this technology has the potential to substantially increase your productivity. Writecream is a digital industry newcomer that is doing remarkably well. It has increased in popularity in a relatively short period of time owing to its unique traits, accessibility, and affordability.
3 Reasons  WriteCream is better than Copy AI
AI Article Writer in WriteCream helps create long-form content in minutes, such as articles and video scripts. It takes less than 30 minutes for WriteCream to write a 1000-word article. However there's no long-form content writing feature in Copy.AI which is a major setback.
WriteCream supports 75 languages providing flexibility, whereas Copy.AI only has 25 languages.
Copy AI lacks Podcast and Voiceover feature which helps adding audio to your video in a few clicks.
WriteCream's free trial feature gives users access to the latest features as well as live chat and email assistance and it doesn't have a limit timed period like that of Copy AI. The overall pricing of WriteCream is also more affordable than Copy AI. Moreover the extra features in WriteCream give it an edge over all of its competitors.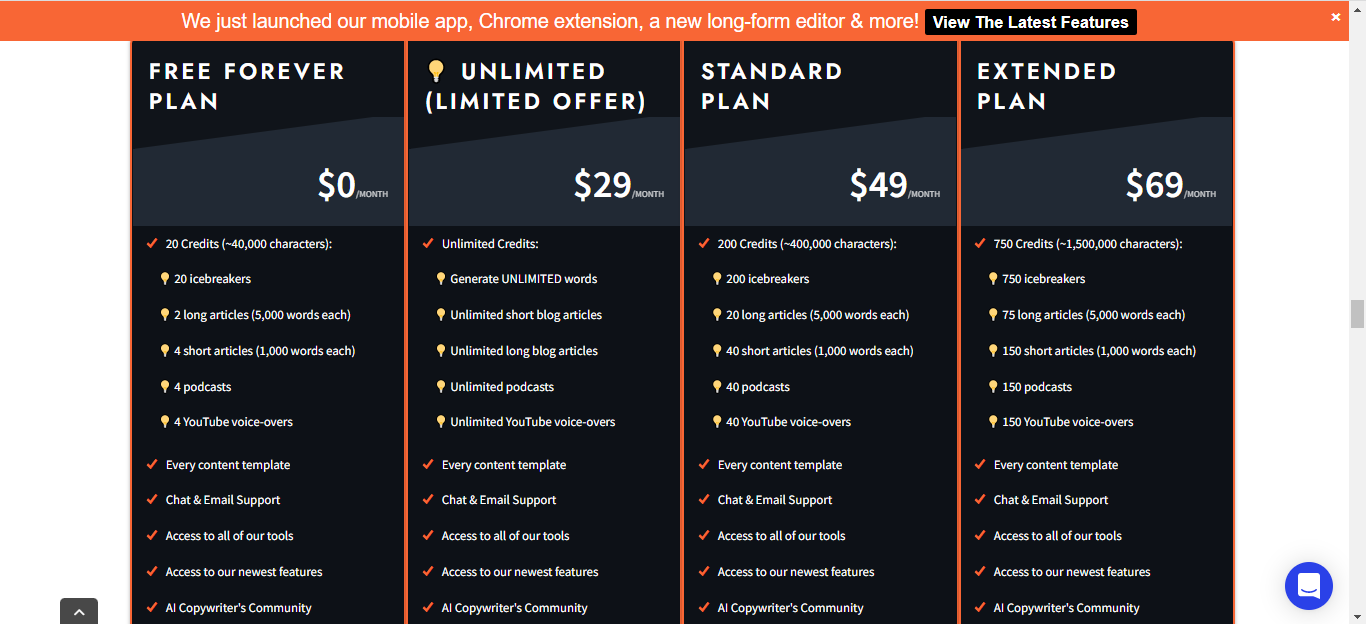 Free plan includes all features, in addition to 20 credits and 40,000 characters.
Standard Plan: 200 credits for $49/month and a character limit of 400,000.
Extended Plan: 750 credits and a character limit of 1,500,000 at $69/month. Number of image icebreakers, blog pieces, and podcasts generated from 200 to 750. It provides unrestricted access to all of Writecream's tools, as well as live chat and email assistance.
Custom Plan: Users can specify their requirements in this plan, and Writecream will create a custom price plan for them. This plan is priced based on the needs of the user.
LIMITED OFFER! WriteCream has started a limited offer at $29/month where you can get unlimited credits and accessibility to all features, apart from the email and LinkedIn icebreakers that are limited to 1,000 per month, at only $29 dollars per month. 
Exclusive WriteCream Features
Podcast Tool: Writecream's Human Voice tool lets users turn their blog entries into YouTube videos, podcasts, or voice-overs.
Copywriting Formulas:  It also has copywriting formulas integrated right into the system. Two scientific formulas are employed in its copywriting tools are the Before-After-Bridge and the Pain-Agitate-Solution.
Video Tutorials: Writecream provides video tutorials for each function. Users can become acquainted with the features without having to spend a lot of time navigating.
Image-Based Icebreaker: Writecream's image icebreakers is an unique tool. These are personalised images created by AI and used for cold outreach. Entrepreneurs and marketers are getting more interested in this technology. It's widely used by customers to make premium images with high-quality material.
Personalized features: Writecream offers emails, image icebreakers, product reviewers, and other personalized features. These features are being used by clients to greatly enhance their sales!
Plagiarism-Free Text: Writecream provides 100% unique content with good punctuation and spelling. The AI-powered tool generates a one-of-a-kind piece of content when you click the generate button.
Conclusion
WriteCream and Copy AI are two fantastic applications, each with its own set of advantages and disadvantages. However in comparision to its competitiors , Writecream, is the most reliable in terms of output quality. It has also garnered positive feedback from the digital community.
Why settle for less when WriteCream can fix all of these problems?
Even if it is new software, users have already embraced it. It identifies the user and presents them with content that is relevant to their brand and specialisation.