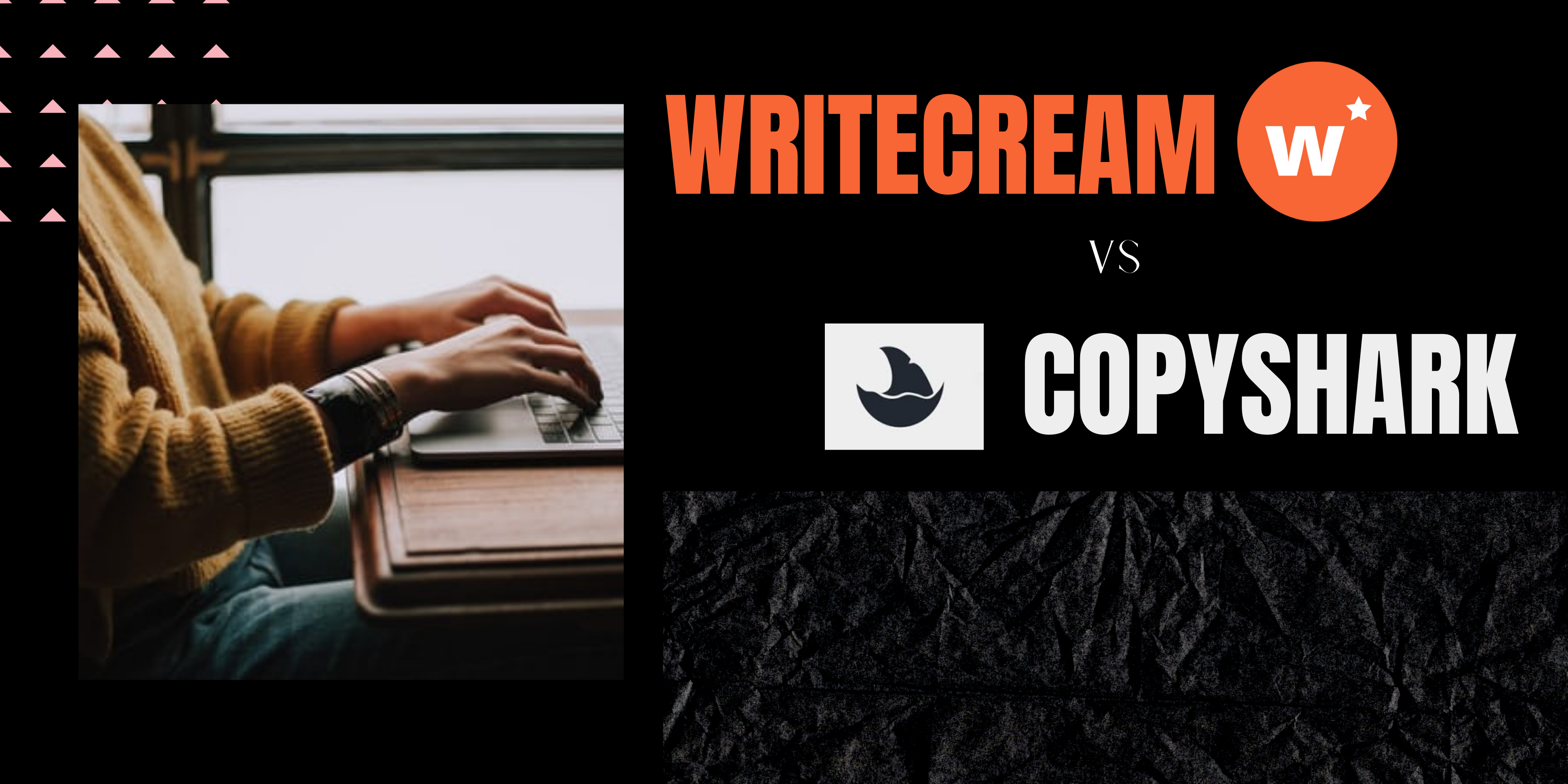 The process of creating content is time-consuming and costly. Every day, 7 million new blog entries are created, according to statistics. However, the AI Space has lately provided us with a new option. AI  tools can now assist human content creators in producing good content in much less time and for less money than ever before. Businesses, ironically, can benefit from these technologies and may not need to hire a writer at all.
When it comes to using AI writing software in such a high volume, it's vital for companies to keep ahead of the curve. You can write compelling content in minutes with the appropriate AI content writing tools that can help your business thrive.
Without a doubt, many bloggers, copywriters, and content marketers at small and large businesses are now using these Al tools for their professions, which include creating web content, blog posts, emails, and social media accounts. But where do you even begin? Let's first go through this comparison of two very popular AI Tools, i.e., WriteCream and CopyShark.ai. 
CopyShark.ai
CopyShark is a copywriting software for Facebook, Google Ads, Google Product Listings, and YouTube. CopyShark includes an AI engine called GPT-3 (Generative Preference Tradeoff – Triangular Normative Model) that can generate thousands of ad versions with varied wording and jargon that are specific to your brand. CopyShark also has a plagiarism checker, which is vital for generating high-quality ad text that is free of plagiarism. 
💡 Generate personalized emails, blog articles, product descriptions, and ads in seconds using the power of A.I
List of CopyShark features are:
Product Description Generator

Facebook, Google Ads and Headlines

Blog Introductions

Personalized Cold Emails

Social Media Replies – Quora, Pinterest

Product Descriptions For eCommerce

Sales Copy & Video Scripts
WriteCream
Writecream is a cutting-edge AI-powered marketing tool that uses GPT-3  and generates plagiarism free outputs. It further automates the writing of content for Google advertising, landing sites, product descriptions, blog posts, social media, and more. Writecream may also be used to create personalised, captivating introductions for outbound marketing campaigns.
This tool has the potential to greatly boost your productivity by generating tons of content in a matter of seconds. Writecream is a newcomer to the digital industry that is doing exceptionally well. Due to its unique characteristics, accessibility, and affordability, it has grown in popularity in a relatively short period of time.
List of WriteCream features are:
Product Descriptions: Generate descriptions for Amazon and other ecommerce products
Brand Description: Generate captivating descriptions for your website, brand or company

Facebook, Google Ads, Instagram Ads and Hedlines

: Generate ads at the click of a button Writecream by just entering product name and description.  

Personalized Icebreakers: They personalize cold emails, LinkedIn connection requests, InMailss, and Backlink Outreaches. On sending prospect credentials their AI scans and generates compelling content that is sure to bring in responses  

Social Media: Writecream can produce content for podcasts, voice notes, video scripts, social media post captions, social media product reviews, Quora answers, etc.  

SEO & Copywriting: In this arena, Writecream can produce the following:  Feature to Benefit, Before-After-Bridge, Value Proposition, Website Title & Sub-Headline, SEO Meta Descriptions 

Articles & Blogs: Writecream can produce Long-Form Editors (A.I Article Writer), Blog Ideas, Intros & Outlines, Blog Heading Expanders, Blog Conclusions, and Compelling Bullet Points.

LongForm Content: Generate long-form content like blog articles and video scripts in minutes. Writing a 1,000+ word article takes less than 30 minutes using Writecream 
Writecream lets you generate a blog from scratch in a couple of minutes. It also provides a feature to convert this blog article into a podcast which can be used  as a voiceover for a YouTube video. This is a unique feature among its competitors. Besides, Writecream's personalization tools are useful for getting prospects to accept your connection requests on LinkedIn or when you are reaching out to them via cold emails or InMails.
Review Comparison
WriteCream: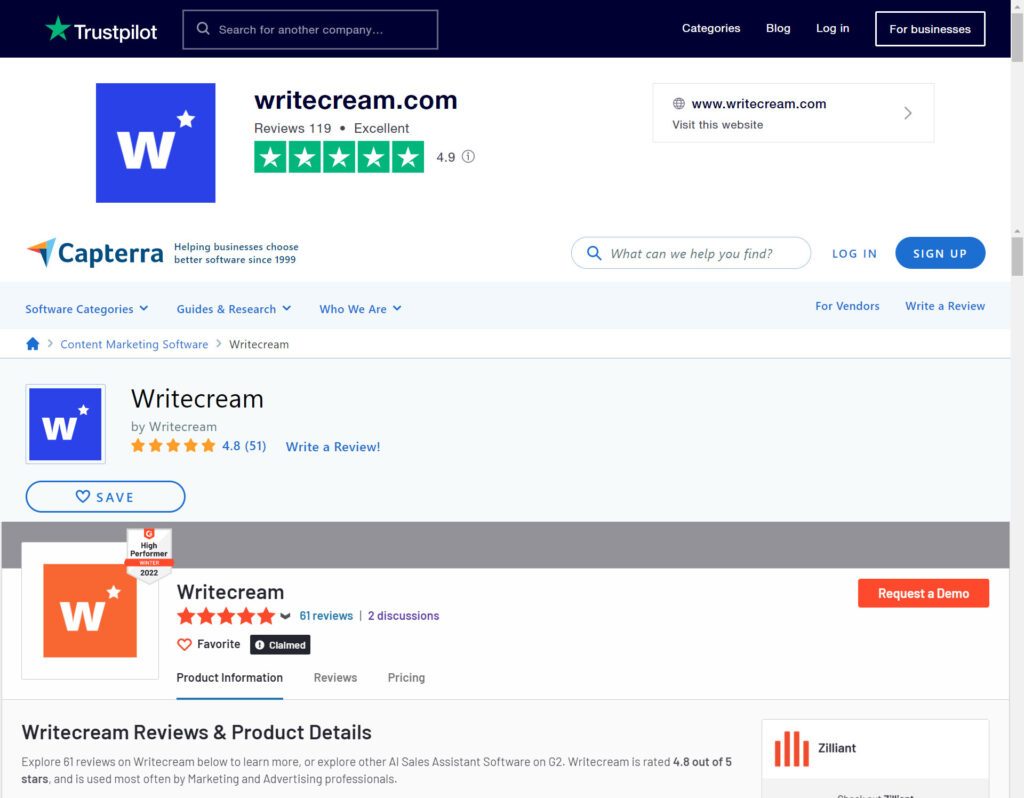 G2.com has given Writecream a 4.8-star rating on the basis of over 60 reviews. The majority of its evaluations are positive, describing it as a content generating powerhouse. Cold Outreach and other customization options are extremely popular among users. They claim it allows them to stand out in a crowd. Some reviews criticise the user interface design and credit system. However, they are all satisfied with its core function, which is an artificial intelligence-assisted writing tool. Its excellent readability and personalized writing style with very simple input has been praised by multiple users.
On TrustPilot, Writecream has reached a new high of 4.8 stars, with 114+ positive reviews. The reviews say it is an affordable yet terrific purchase that is extremely helpful when producing powerful cold emails with well-written content.
On Capterra, WriteCream has 48 reviews and a whopping 4.8 rating. Quality of writing and output, as well as linguistic support, are great benefits, according to reviews. Many have sighted it as a helpful tool for small to medium enterprises and marketing.
CopyShark.ai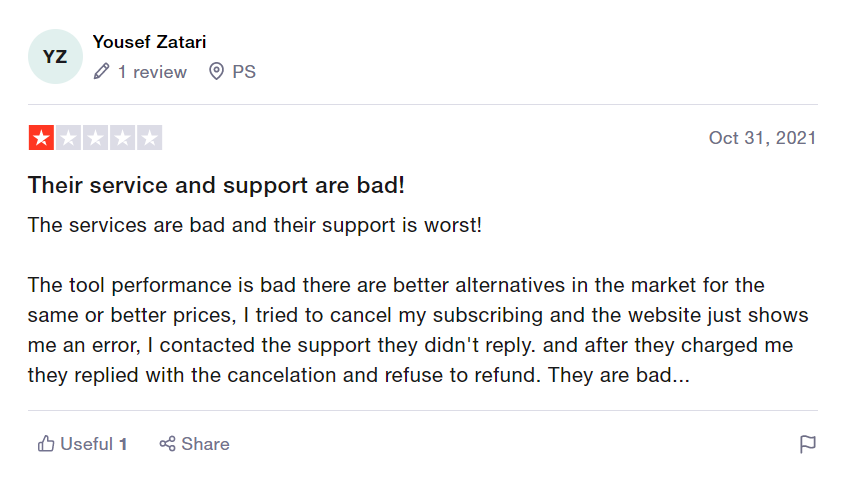 G2.com and Capterra has not reviewed CopyShark.ai. However, TrustPilot has rated CopyShark 3.9 stars based on 220 reviews, out of which 27% are one-star reviews. The good reviews have praised it's copywriting tool and how useful it is for marketing. On the other hand, the negative reviews have stated that the site has scammed them and took their money which was never refunded. Reviews have also criticised the pathetic customer service.  
Language Supported 
WriteCream:
Writecream supports 75+ languages. All of their tools, including the long-form editor (A.I Article Writer), cold email icebreakers, LinkedIn icebreakers, image icebreakers, audio icebreakers, and voice-over, have multilingual support.
Some languages supported by WriteCream are: Afrikaans, Albanian, Amharic, Arabic, Armenian, Azerbaijani, Bengali, Bosnian, Bulgarian, Chinese (Simplified), Catalan, Chinese (Traditional), Croatian, Czech, Danish, Dari, Dutch, English, Estonian, Finnish, French, French Canadian, Georgian, German, Greek, Gujarati, Haitian Creole, Hausa, Hebrew, Hindi, Hungarian, Icelandic, Indonesian, Italian, Japanese, Kannada, Kazakh, Korean, Latvian, Lithuanian, Macedonian, Malay, Malayalam, Maltese, Mongolian, Norwegian, Farsi (Persian), Pashto, Polish, Portuguese, Romanian, Russian, Serbian, Sinhala, Slovak, Slovenian, Somali, Spanish, Spanish Mexican, Swahili, Swedish, Filipino Tagalog, Tamil, Telugu, Thai, Turkish, Ukrainian, Urdu, Uzbek, Vietnamese, Welsh.
CopyShark.ai:
CopyShark supports a limited number of languages for output, lesser by WriteCram by a larger margin. The languages are: English, French, Spanish, German, Italian, Japanese, Dutch, Polish, Portuguese, Russian, Mandarin Chinese, Korean, Hindi, Arabic, Indonesian, Swedish, Danish & Norwegian, Lithuanian.
User Interface and Tutorials
CopyShark.ai:
The CopyShark platform has a clean and minimalistic appeal. It has an easy-to-use interface and it's vast range of tools are displayed in the homepage.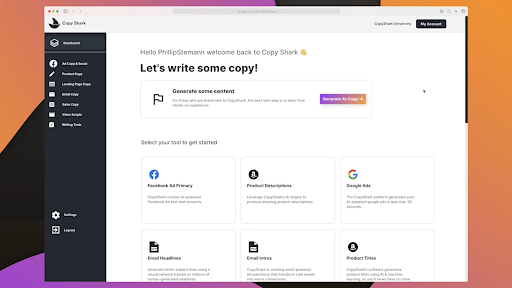 WriteCream:
The Writecream user interface is simple and straightforward. It is the content, on the other hand, that must be personalized to the user. The long-form content writer in beta testing works smoothly to create and generate material.
To access the tutorials, go to the website and look for the "Tutorials" section in the upper right corner. It leads you directly to the YouTube channel where the tutorials are available. Aside from tutorials, Writecream also includes a blog section where you can find blog posts on various tools!
On the homepage, there are also several lessons for its most popular features, such as Cold Emails, Backlink Outreach, and LinkedIn Inmails.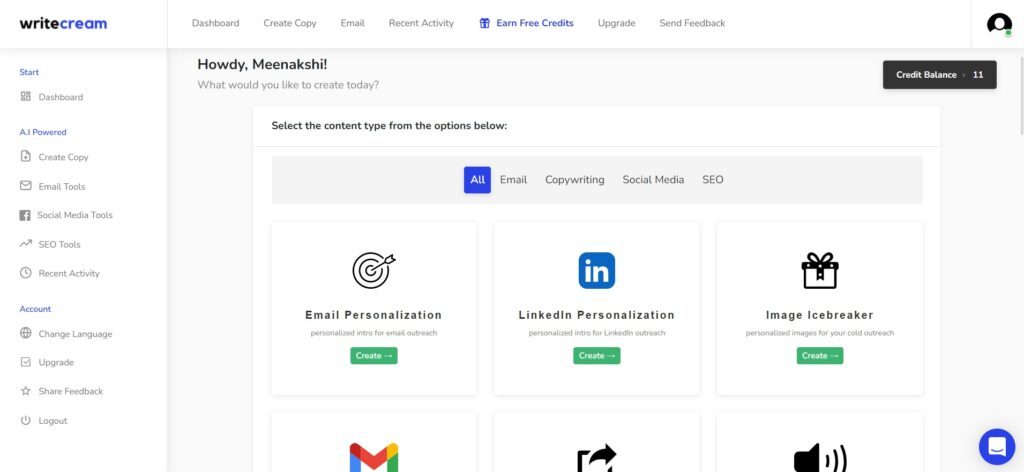 Price
WriteCream:
Free Plan

:
Writecream's free plan includes all of its features as well as 20 credits and an 40,000-character restriction. It also gives you access to the most recent features as well as live chat and email help for any questions you might have.
Standard Plan

:
This plan includes 200 credits and a 400,000-character character limit at $49 per month. It is sufficient for 200 icebreakers, 20 blog articles, 20 podcasts, and 20 YouTube voiceovers/podcasts. All features available in Writecream are accessible under this plan. This plan is suitable for freelancers, solopreneurs, and startups.
Extended Plan

:
This plan includes 750 credits and a 1,600,000-character character limit at $69 per month. It is sufficient for 750 icebreakers, 75 blog articles, 75 podcasts, and 75 YouTube voiceovers/podcasts. All features available in Writecream are accessible under this plan. This plan is suitable for marketing agencies, enterprises, and freelancers who manage multiple clients.
Custom Plan

:
If any of the aforementioned plans won't cut it for your requirements, you can contact the Writecream team for a custom plan. You can get in touch with them using the chat icon on the bottom right screen of their website and explain them your requirements. They will give a price quote right away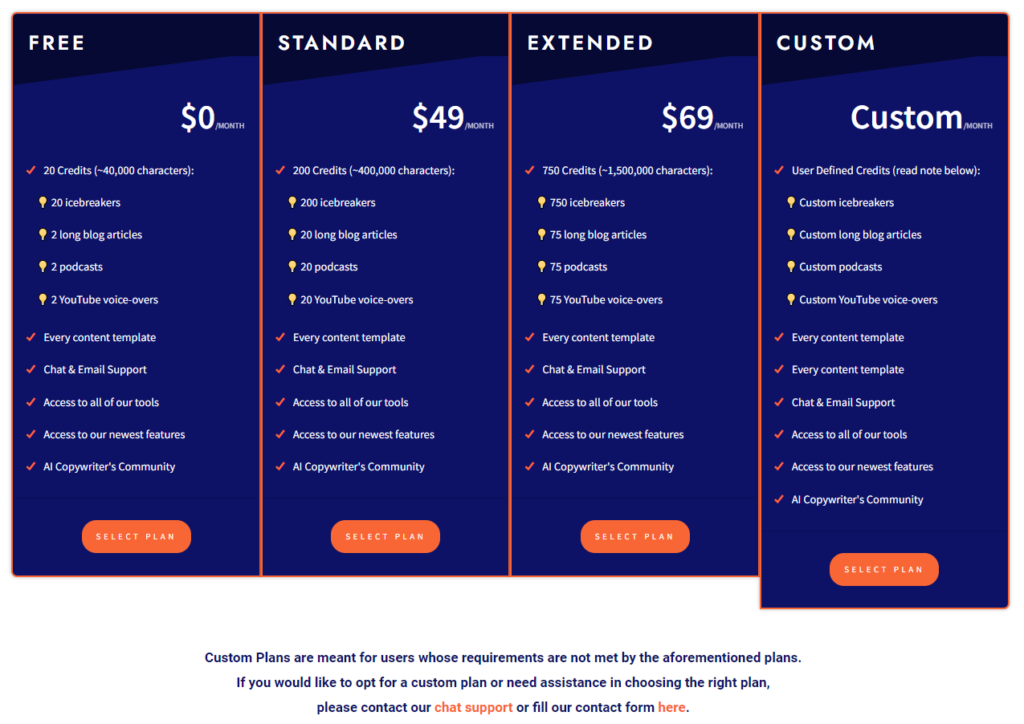 CopyShark.ai:
Copyshark has 2 major plans, viz, monthly and annual. There is no free trial in CopyShark unlike WriteCream which provides 20 credits for free. The two plans provided by CopyShark briefly:
Premium Monthly – The monthly plan comes at a price of $39/month. The features provided are 20k AI Generation Credits, Access To All Tools, and Saving those AI Generations. You get a Normal Customer Support for this price.

Annual – The Annual plan is priced at $299.99. It provides unlimited AI Generations, access to all tools and saving these AI Generations. With Annual plan comes a "premium" customer support.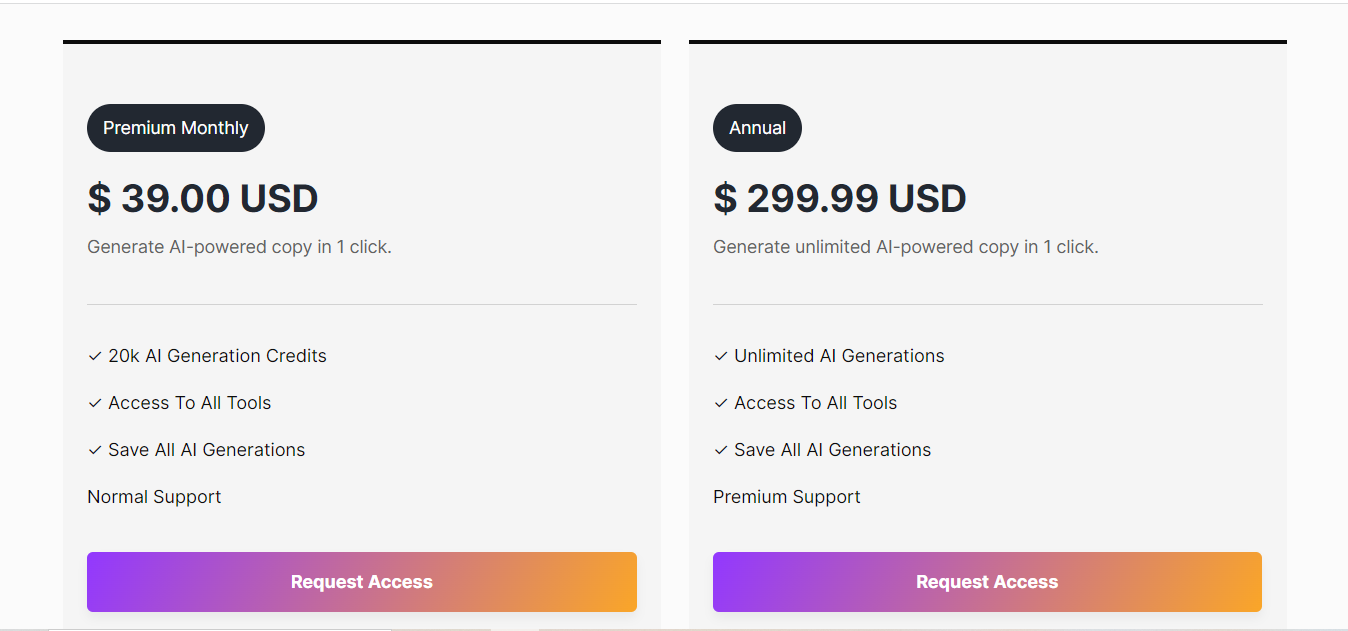 Output quality comparison
As both Writecream and Copyshark.ai are copywriting tools, they have a lot of similar features meant to aid writers. Let's see which of the two produces better results. We have compared the blog intro, SEO meta description, and Facebook Ad features on both the websites. The screenshots for Copyshark.ai were obtained courtesy of Phillip Stemann.
We have followed each output comparison with a verdict to throw some light on which tool did better and how.
1. Blog Intro
The first challenge is to generate a blog intro on "7 SEO Tips for boosting your Shopify store traffic"
For the unfamiliar, a blog intro is the opening paragraph of a blog article. Here are the outputs both the tools generated:
Copyshark.ai
Search Engine Optimization (SEO) is important for any online business. If you can't be found, then no one will walk through your doors. I've seen e-commerce websites convert a traffic source like AdWords into as much 10% of their total revenue.

I want to start by saying that SEO is not a quick and easy strategy. It takes dedication, time and effort-but the rewards can be hugely beneficial for your business growth

Since Shopify stores boast such a large user base, it's no surprise that search engines are actively crawling these websites. This leads to higher SEO rankings for pages on individual shops and overall increases your store's visibility with potential customers. But how does this happen? When you have so many different options of what your content could be about, picking the right keywords becomes key to ranking well in search engine results pages (SERPS). In today's article we'll wander through 7 SEO tips

Shopify has undoubtedly grown to be a powerful e-commerce platform. The number of entrepreneurs building their online stores on Shopify is only increasing In fact, the company is now the preferred e-commerce solution for many marketers that manage over 10 million leads each month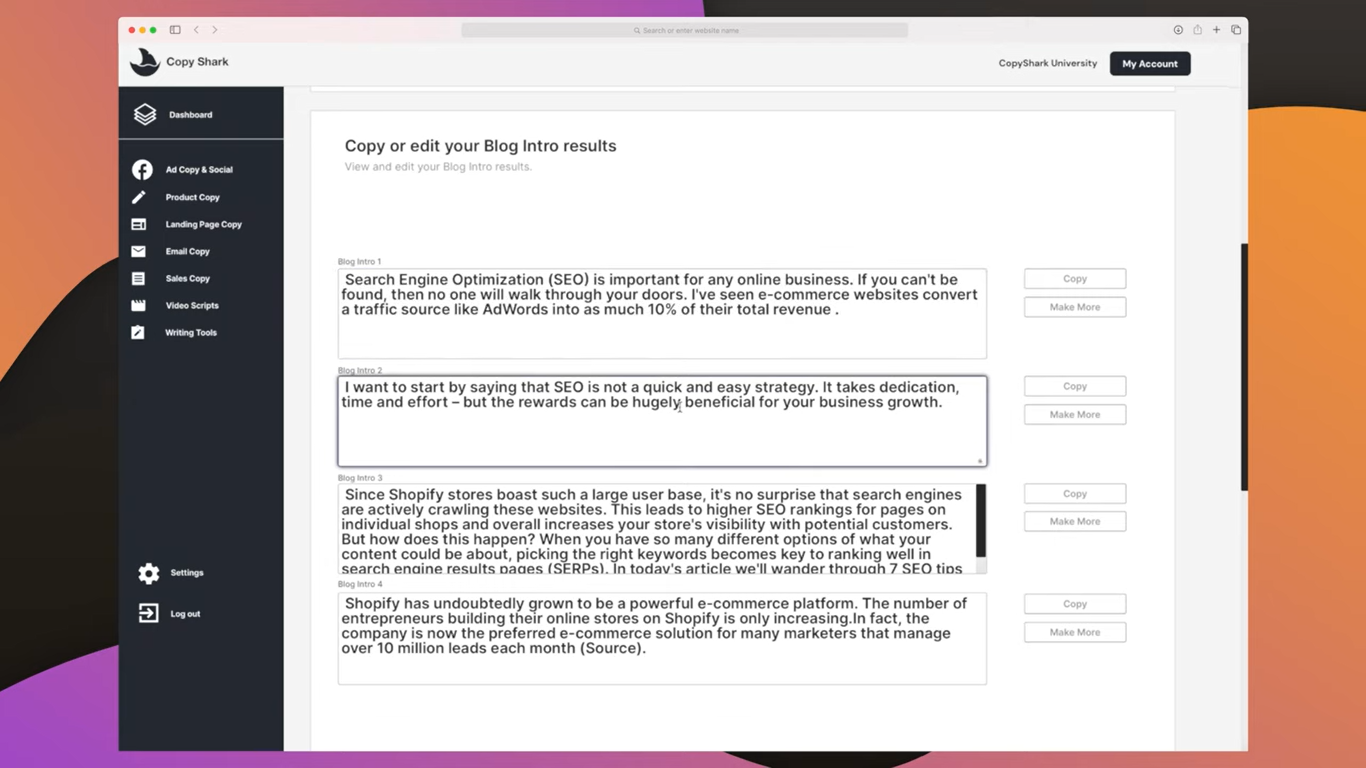 Writecream
Shopify is now used by 3.65% of the worldwide population and that's not going to change anytime soon. As more and more businesses move to the platform, the need to create your website with the use of Shopify is becoming important. There are many benefits to using Shopify, but in this blog, we are going to look at how you can leverage SEO to increase your traffic. Boosting your Shopify traffic is a quick and effective way to increase sales.

Search Engine Optimization is not just important to rank highly on search engines and increase traffic. It also generates high profit margins. SEO is a crucial component of any online business. But many Shopify stores struggle with SEO. The tips in this blog will teach you how to get your store traffic up and help you boost your profits.

The Shopify platform is one that can help you sell your products and services. However in order to increase your store traffic, you'll need to put some work into it. That work will include content creation, marketing, and SEO. But with the right planning, you'll be able to skyrocket your traffic with Shopify. This blog will explore 7 SEO tips for boosting your Shopify store traffic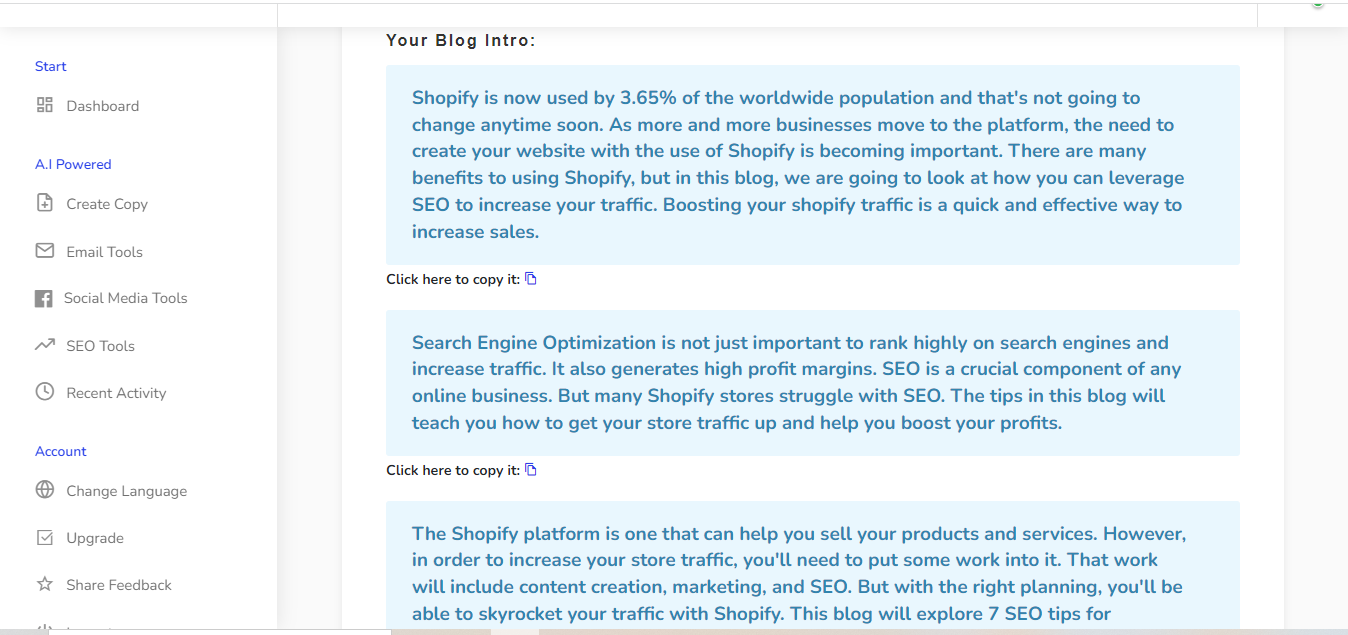 Output Verdict
Writecream clearly does better here. The initial two results of Copyshark mention SEO but fail to correlate it to Shopify. Writecream's outputs, on the other hand, cover how popular Shopify is and why it is important for Shopify stores to focus on SEO.
Let's now put both the tools through the paces of SEO Meta Description.
2. SEO Meta Description
Meta Description is the short description that appears beneath every search result on Google. Both Copyshark and Writecream have tools that automatically generate a meta description, given a product/page name and the product/page description. Both the tools were given the following inputs for generating an SEO Meta Description:
Product / Page Name: Nike
Product / Page Description: Nike is a shoe brand with millions of shoes sold, they do also sell clothing
Copyshark.ai
Title: The Mental Side of Lawsuits – Helping You Win, Even When the Judge Thinks You're Lying I Nike Meta Description: Whether you file or are served a lawsuit, Nike's elite team of trial consultants will help you find and retain key witnesses who will articulate what your brand is all about.

Title: Five years of working with Nike: Where I see the futureSE0 Description: Fast Company. "Note: I met with Conine for an SEO talk in New York City at INBOUND in September."

Writecream
Nike is a leading global footwear and apparel company, with a mission to bring inspiration and innovation to every athlete in the world. Shop women's, men's, and children's fashion, shoes, equipment, and apparel.

Nike is a footwear, apparel, equipment, and service company that sells to athletes and casual consumers. Nike is the official shoes sponsor of some of the top teams and players in the world.

Nike – the Official Site for everything about the Nike brand. Shop for shoes, clothing, and more.

Nike is a leading global brand in the sporting goods industry. Browse through our selection of shoes, clothing, equipment, apparel, and more.

Nike offers a wide range of products to make your run, workout, or game more fun. Find the latest Nike shoes and clothing for men, women, and children.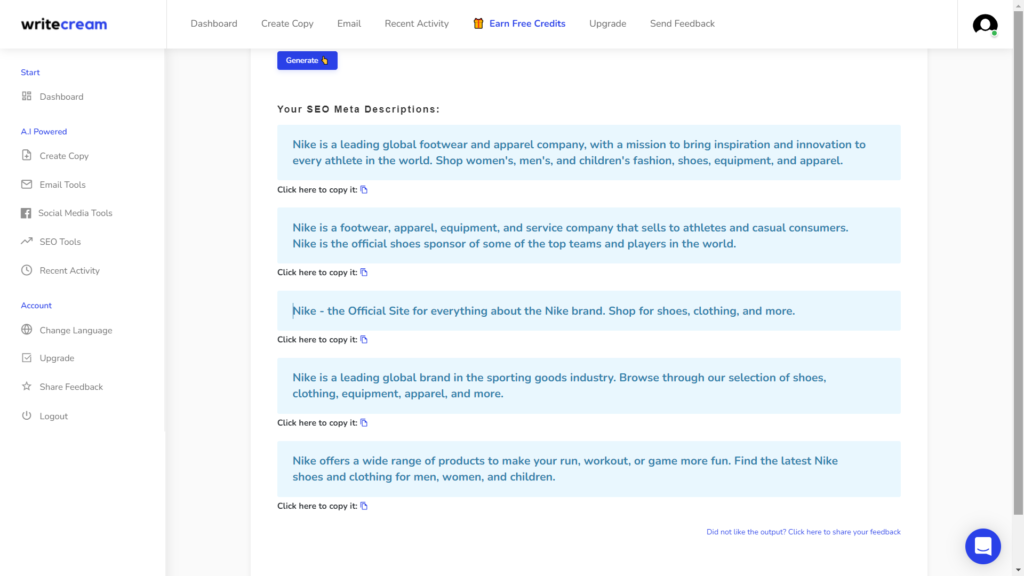 Output Verdict
Copyshark's outputs delve into lawsuits and SEO talk event, thereby missing the context altogether.
On the other hand, Writecream's outputs stay on point and clearly explain what the user can expect to see on the webpage.
3. Facebook Ad
Writecream and Copyshark feature tools to generate ad copies for Facebook. The following inputs were used for both the tools to assess the output quality:
Product Name: Adidas
Product Description: Adidas, in full Adidas AG, German manufacturer of athletic shoes and apparel and sporting goods. In the early 21st century it was the largest sportswear manufacturer in Europe
Copyshark.ai
Leadership on and off the court is a quality that all great teams need. That's why today. we're offering 20% off your purchasel
WriteCream
Shop the official adidas website for all your adidas shoes, clothing, and collections.
The latest adidas shoes and apparel are here just in time for the new season.
Shop all the latest adidas gear and get free shipping when you spend $50.
Buy adidas now and save 30% on your purchase.
Shop for adidas shoes, clothing, collections, adidas Originals, Running, Football, Training and more on the official adidas website.
Shop adidas on Facebook. 🏋️🏼‍♂️

Shop Adidas for the latest styles for every sport

The power of sport. The power of Adidas. The power of you.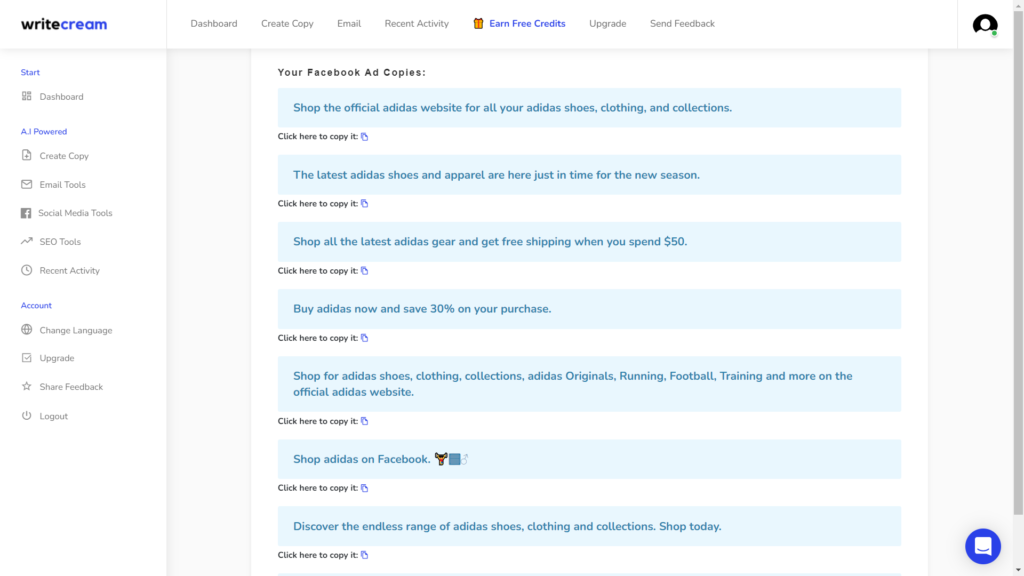 Output Verdict
Whereas Copyshark generates one output, Writecream generates eight.
Copyshark goes for the leadership sentiment and adds a 20% discount coupon. Writecream experiments with different options to entice the viewer, including offering a $50 discount, a 30% off, and explaining the range of product Adidas offers. It also tries to pull in the viewer emotionally using the brand power of Adias: 'The power of sport. The power of Adidas. The power of you.'
Both Writecream and Copyshark produce good outputs here. But if you are looking for more options, Writecream is the way to go.
Overall Verdict
Writecream simply outperformed Copyshark in Blog Intro and SEO Meta Description outputs. Both the tools did well in generating the Facebook ad copy.
Copyshark's outputs missed the context altogether in the SEO Meta Description, but Writecream stayed on point.
Writecream also generated more outputs in each case, which offer more choice.
Thus, if we were to pick one based on the output quality, it would be Writecream.
Where CopyShark.ai wins
CopyShark provides a vast range of tools, that is over 50 tools in one software. You can use the tools to produce anything from a product description to Amazon until a YouTube description for your video. It offers a easy to use interface and clean homepage. But as we saw with the Blog Intro and SEO Meta Description outputs, Copy Shark misses the mark often by going completely out of context.
Where WriteCream wins
Writecream offers a very user-friendly and well-organized UI. Its personalized icebreakers are great for cold emails, LinkedIn outreach, LinkedIn connection requests, and other sales objectives. Additionally, WriteCream can produce podcasts from blogs and can write blogs from scratch with its long form editor, that CopyShark doesn't provide. 
Which one should you go for?
Both tools have their own pros and cons, however, if personalized and top-notch content is what you're looking for, thenWriteCream is your destination!
Writecream is a one-of-a-kind content marketing solution. It's simple to use, and the AI allows for on-demand content generation. With each piece of content it creates, the AI learns and improves, making it a valuable tool for marketers who are always seeking for new ways to better their content. There are no credit card requirements, and the pricing is suitable for all budgets. The writing is of excellent quality and devoid of plagiarism.
CopyShark has a wide range of 50+ tools that offer several services but it is pertinent to mention that the output quality is average.
Conclusion
As we get closer to using AI to generate content, it's more important than ever to evaluate and choose the finest technology to help us. Both Writecream and CopyShark are useful tools, but when it comes to picking one, WriteCream has already established itself as a favorite in digital community. Use Writecream's free plan to see how adaptable this tool is.  It recognizes the user and provides content that is appropriate for their brand and niche. Writecream creates personalised content that is suitable for marketing campaigns.
Don't take our word for it. Try for yourself here!