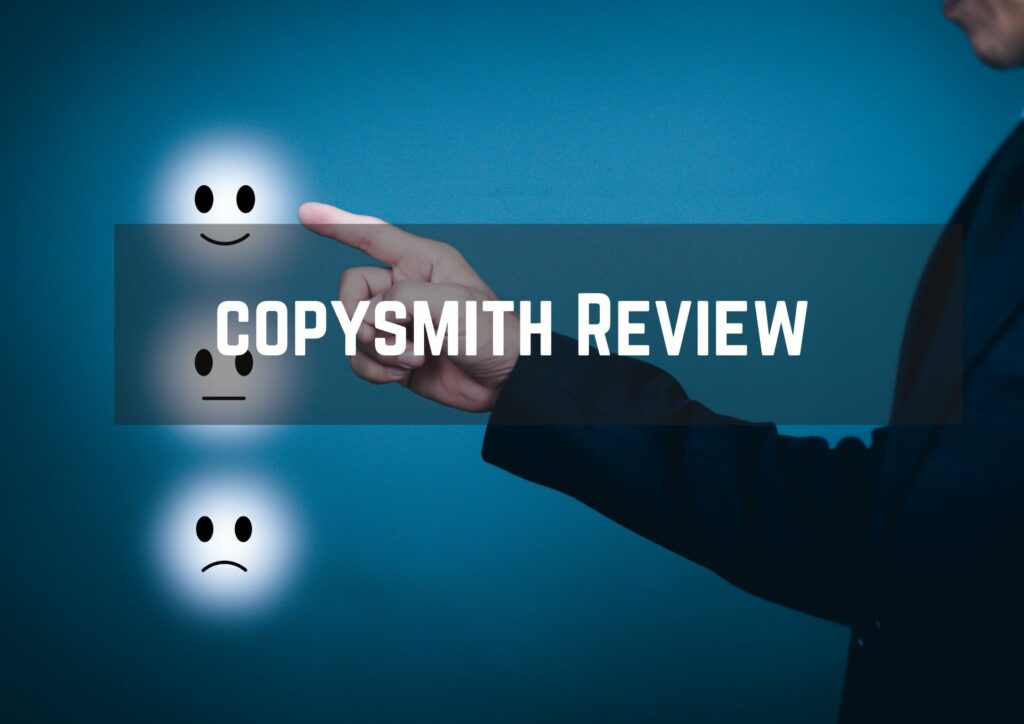 In this digital era, being a marketing executive or web admin is not ABC. From the outside, it seems like a child's game, I mean, you know how people misunderstand our job to be just about a few clicks and that's it. Only the people who are into it know what it takes for those 'few' clicks. No offense, but those few clicks can strip us from top to bottom by consuming so much of our energy and time. 
Well, thankfully technology has been kind enough to ease our lives too. With the advancement of technology, numerous apps and tools have come up that have made our day-to-day jobs automated and less time-consuming. 
Now, if you are wondering when this article is over and you get to google about that stuff then let me tell you that's not going to happen that soon because I will put before you some interesting insights into two very eminent writing tools. Any guesses? Okay, they are Copysmith and Writecream. 
COPYSMITH.ai
Copysmith.ai has lately been gaining ground as a solution to all the content needs of modern-day businesses. It boasts of its finest quality services that can not only help in beating the competition but also help in overcoming every obstacle that hinders the sales potential of a business. Here let's take a look at some of its striking features: 
💡 Generate personalized emails, blog articles, product descriptions, and ads in seconds using the power of A.I

The feature that makes it stand out amongst its competitors is its ability to seamlessly integrate with other tools to amplify the productivity of its users. It can integrate with Frase, Google Ads, Microsoft Word, Google Chrome, Zapier, HootSuite, and WooCommerce. Also, if the software of your choice isn't listed then you can integrate it with Copysmith with their API. So basically, this feature is quite a deal-breaker. 
The next noteworthy feature of Copysmith is to create content in bulk. Think of how much time it would save you. There's a bulk generation feature that can generate loads of content with minimum effort and time. All you need to do is upload a spreadsheet that contains a list of topics and Copysmith will take care of everything. The same feature is available if you are writing product descriptions. You can easily avoid the hassle of generating each description one by one with this feature.
It can help you create a Product campaign from scratch. You can easily add product descriptions, add meta tags, create pages and,  create blog articles with just a few clicks. 
Last but not least, Copysmith has a collaboration feature for both small and large teams. This means that you don't need to squander your time over scheduling meetings, having calls, and seeking approval every time you are uploading content. You can easily collect the feedback of your team members and get their approval using Copysmith's Workflow Queue. 
COPYSMITH PRICING
Copysmith.ai has a wide range of plans based on whether it is a one-man show or a large team of individuals. Not just that, they also offer plans on a monthly and yearly basis.
To begin with, they have a plan for starters that costs $19 a month. It gives access to features like integrations, in-app support, 50 credits, and 20 plagiarism checks. The same plan is available on a yearly basis which costs $192 per year and gives you the same amount of credits each month. 
Next, there's a professional plan that costs $59 a month. It gives access to the same features as the starter plan except that it gives 400 credits each month and 100 plagiarism checks. Again, it's available on a yearly basis and costs $600 per year.
Lastly, there's an enterprise plan too for large teams. To know more about this plan you need to contact the Copysmith team. This plan gives access to unlimited content creation as well as other attractive features like bulk import/export, custom templates, and unlimited plagiarism checks.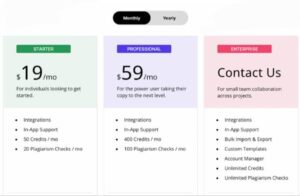 WRITECREAM
Writecream has been another game-changer in the field of AI-Powered writing assistants. It offers a bunch of tools that can do everything from creating human-like content to strengthening the brand image of a website by utilizing the efficiency of AI.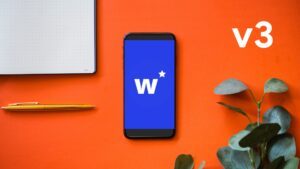 Here are some of its striking features:
Talking about writing articles, Writecream can take care of everything. From the introduction to the conclusion, Writecream can generate everything with just a little bit of input. You can easily expand your ideas and generate catchy headlines for your articles in no time. 
Not just articles, Writecream can also write email messages for your cold outreach using which you can easily reach out to your prospects. Besides messages, it can also create personalized images. 
Writecream also has tools that can assist in writing Google ad copies, compelling product descriptions, Facebook ad copy, and product reviews. 
Talking about the SEO-friendliness of your pages, Writecream has tools to check up on that too. There is a tool that you can use to write perfect meta descriptions for your pages. Again, there are tools that assist you in applying copywriting formulas to your writing. 
Lastly, there are also tools for creating personalized audio messages, podcasts, and voiceovers. Oh yes, there are also tools like plagiarism checker, summarizer, and a backlink personalization tool to write messages for your backlink outreach. 
WRITECREAM PRICING 
Now let's take a look at what plans Writecream has to offer. Firstly, there is a 'free forever' plan for those who want to try it out before buying any paid plan. It offers 20 credits a month and lets the users generate 2 long articles of 5000 words each and 4 short articles of 1000 words each. In addition to that, you get access to every content template, chat, or email support and all its newest features. 
Lately, they have been offering an 'Unlimited plan' as a limited period offer. It costs $29 a month and gives unlimited credits. Do you know what that means? It means there are no bounds on how much content you generate. You can generate unlimited articles, podcasts, voiceovers, and much more. Also, just like the free forever plan you get access to all the newest features, every content template, and customer support. 
Next, there's a standard plan that costs $49 a month and gives 200 credits. With this plan, you can generate 200 ice breakers, 20 long articles, 40 short articles, 40 podcasts, and 40 YouTube voiceovers. Besides you get access to other features same as the free forever and unlimited plan. 
Lastly,  there's an extended plan that costs $69 a month and gives 750 credits. Besides, the users can generate 75 long articles, 150 short articles, 150 podcasts, and 150 YouTube voiceovers. Oh yes, the other features are definitely included in this one too. 
WHAT IS BEST FOR YOU?
Now that's something you would like to know, won't you? Well, if you are looking for my suggestions then I would prefer Writecream to Copysmith. Why? Because it offers a lot more features than Copysmith. I mean yes, Copysmith can write a great number of articles or product descriptions for you but look at what Writecream can do. The uses of Writecream are not just confined to articles or product descriptions, you can easily write articles, generate podcasts, images, quota answers, and a lot more in one place. 
Besides its features, Writecream has a very simple and user-friendly interface when compared to Copysmith. Also, you are getting access to so many features at an affordable price and there is also a free plan offered by Writecream which is great for newbies looking to try out its services. So what are you waiting for? Go ahead and try it out! Also, don't forget to share your thoughts with us in the comment section below. Good day! 
Writecream provides 30+ tools for generating tons of content within seconds! Use Writecream to generate product descriptions, personalized emails, blog articles and much more and that too for free! Our free plan provides 20 credits every month which helps you generate 10,000 words per month!
Isn't it amazing?
To get started, register here for our FOREVER FREE plan NOW!