Emails are the lifeline of thousands of businesses. An email is what brings businesses and clients together. In 2022 every email is considered an opportunity, but is that so? For some of us, emails are something we can rattle off in minutes. Especially when it comes to certain elements like an email signature which get the least of our attention.
Lots of people fail to realize that by ignoring their email signatures they are also turning down a lot of opportunities for themselves and their businesses. A powerful email signature is a means of establishing effective communication and gaining credibility. Including a phone number or a job in your email signature can make a huge difference. Apart from that, they are a great opportunity to insert a specific call-to-action.
Well, sadly it is not as easy as it sounds. At least not everyone can be great at drawing up a perfect email signature. I know, I ain't definitely one of them! Thankfully, there are Email Signature Generators that can clear up our mess and save us enough time. This article is about one such tool that can transform your present email signature into a better version of itself. Have you heard of EmailBadge? If not, then you are at the right place! I will walk you through every little detail like its features, its pricing, its alternatives as well as what its customers say about it.
EmailBadge: An easy way to create beautiful email signatures!
Let's rewind! EmailBadge is an email signature generator created by AppSumo team, that can automatically generate creative and beautiful email signatures for your emails. It has a wide variety of beautiful templates to choose from and the signatures generated by it ensure that your email fulfills its purpose. It doesn't matter if you are a freelancer, a small business, or a content creator. EmailBadge can fulfill everyone's needs and can easily save them hours of effort. create a beautiful email signature
💡 Generate personalized emails, blog articles, product descriptions, and ads in seconds using the power of A.I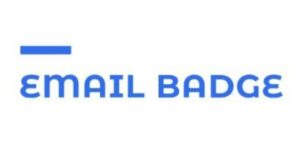 EmailBadge Features
To begin with, EmailBadge has a reduced branding feature which can be availed by users of all plans.

Secondly, it offers 10+ categories of templates so that users can choose whichever template suits their email purpose. You can also copy their beautiful pre-made email signature templates which have been created by professionals. 

Creating email designs is no longer tedious or time-consuming as EmailBadge offers a drag-and-drop builder to scale your email production and get better quality emails enriched with beautiful designs.

Lastly, what makes EmailBadge an even easy way to create a signature template is that it can easily integrate with applications like Gmail, G-Suite, Office 365, Yahoo Mail and iOS Mail. This way, it ensures that its users can use it at their convenience.
EmailBadge Plans and Pricing
EmailBadge offers 5 license tiers to its users based on their email requirements.
To begin with, the Licence Tier 1 can be availed for a one-time purchase of $19 which will give access to all the features and let the users generate 3 signatures.
Next, the License Tier 2 plan comes for a one-time purchase of $38. It also gives access to all the above-mentioned features but gives 7 email signatures to its users.
Then there's a Tier 3 plan which will cost $57 as a one-time payment. Besides the usual features, it gives 20 email signatures to its users. Lastly, there are tier 4 and tier 5 plans which cost $76 and $95 each. The tier 4 plan gives 50 email signatures while the tier 5 plan gives 100 email signatures.
Emailbadge Lifetime Deal
It almost skipped my mind to mention this fantastic deal offered by to the ysers of EmailBade. Under this so-called 'Lifetime Deal' you can get access to features like lifetime access to EmailBadge, all upcoming lifeplan updates, ability to upgrade or downgrade between the previously mentioned 5 tiers and all that just for $19 as a one-time payment.
What are the top EmailBadge Alternatives?
It's fine if you are still having doubts about using EmailBadge. I am here to take care of everything. Check out the list of top EmailBadge alternatives that you can use to create beautiful email signatures based on whichever suits you best!
Exclaimer is another email signature manager that can be used in place of EmailBadge. With Exclaimer you can create email signature templates for your emails and avail benefits like acquiring more consistency and control over the contents of your email signature.
Rocketseed is yet another email signature generator which effectively competes with EmailBadge. With it too, you can create professional signature designs, choose existing templates and ensure consistency in your email marketing efforts. Not just that, it's also compatible with popular email clients like Microsoft, Google Workspace, and Exchange which makes it even more convenient.
MySignature also has its place in the list of top email signature generators. It also helps users draw up signatures with its intuitive range of options and features. Some of its striking features include the capability of adding brand logos and social media icons that help in boosting traffic.
Lastly, there's Signature Hound which is yet another popular email signature generator suitable for email marketing. You can easily install it in your email software like Gmail, Apple Mail, etc. It even comes with instructions on how to install it and also allows you to share your signature with your team members or colleagues.
EmailBadge REVIEWS
Here's what some of its users have written about their experience on the EmailBadge website.
This user faced a minor inconvenience with regards to the email badge but that's not something that should usually bother other users. Apart from that, they also found the price quite reasonable. Here's another review.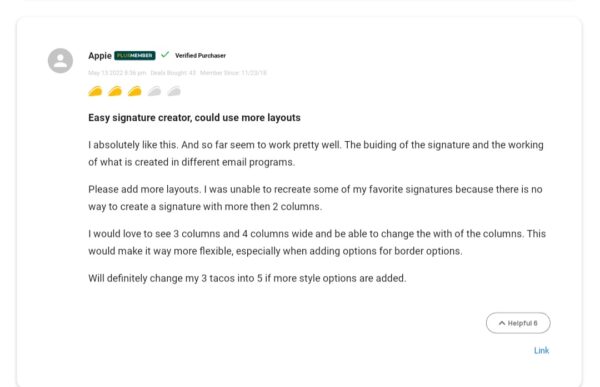 This user would love to see email signatures that expand beyond 2 columns and have more layout options. That's something the EmailBadge team needs to work on. Overall they found it really helpful.
So, that's all for now. EmailBadge could be a great choice for you if you have never used a signature generator before. As I said earlier, focusing on your email signature can open doors to a host of new opportunities for you and your business. So, do give it a try and let us know your thoughts in the comment section below. 
Thankyou for your time!
Writecream provides 30+ tools for generating tons of content within seconds! Use Writecream to generate product descriptions, personalized emails, blog articles and much more and that too for free! Our free plan provides 20 credits every month which helps you generate 10,000 words per month!
Isn't it amazing?
To get started, register here for our FOREVER FREE plan NOW!