ContentBot is a content creation tool that helps you generate different forms of content for all your content marketing needs. They have over 44,000 marketers who have used their artificial intelligence technology to augment and improve their content creation process.  
Why do you need artificial intelligence-backed content tools to help enhance your content game?  
Content is a valuable generator of prospects in multiple arenas for any establishment looking to make some sort of return. The more content you put out, the more prospects you attract. But this comes with a catch. Content creation also means a lot of hard work and time invested in churning out the best and tailored content that makes an impact. Using tools backed with the power of artificial intelligence help with this problem. Not only can you write better content that is fault-free, but you can also enhance your productivity as the services provided do more than 3/4th of your work.  
You are getting back into ContentBot which aims to empower you with technology and help you build meaningful content that will fuel your growth in productive and motivating ways. Let us look at how they do this.  
💡 Generate personalized emails, blog articles, product descriptions, and ads in seconds using the power of A.I
Who does ContentBot help?

 
Stakeholders are the primary concern of ContentBot. Who do they help?  
Founders: using ContentBot as your own AI writer, you can create content as a founder to leverage on different platforms. 

 

Content marketers: with the variety and multitude of tools and the suite of extensions that ContentBot provides, you can increase the content produced largely. 

Digital marketers: for all digital marketers trying to get maxed out content on their landing pages and ad areas, ContentBot creates a large amount of quality copy. 

Copywriters: ContentBot helps create convincing and persuasive copy to market your products and material that increases prospect hits. 

SEO Specialists: meta content and search engine optimization are one of the tools leveraged to get popular blog topic ideas and content that shows up on various prospect lists. ContentBot helps you enhance this. 

Bloggers: ContentBot provides a Chrome extension and a WordPress plugin, sufficiently increasing the quality and quantity of the output you can release in terms of blogging. 

 
What are the tools that ContentBot offers?

 
Blog Content

: ContentBot's got you covered in blog content. From full AI blog posts, blog intros, tonality setting, paraphrasing, and bullet points to format your blog content, ContentBot's got all the tools you need. 

Marketing Copy:

ContentBot helps you create and generate ad copy, brand names, slogans, product descriptions, marketing ideas, etc. 

Landing Pages:

Landing page copy an integral to any content or website creation. With ContentBot, you can create landing page copy with just the click of a button. 

Automated Inspiration:

this tool helps create automatic AI content that helps you generate relevant daily, weekly, or monthly blog topics. It also helps generate long-form content like blog posts. 

 
The star features:
AI Writer

 
Creating long-form content has never been easier. ContentBot helps you create long-form content in less than a few seconds with some great tools that can be edited, fact-checked, and published. High-quality blog posts are powered by artificial intelligence's technology and you just have to edit and hit publish.  
Here are its most commendable features:  
Generate up to 200 words every time you choose the option "Write for me."

 
Short-form templated built inside the AI Writer of outlines, listing, and answers. 

 

A "Discover" SEO tool that empowers your writing in a massive way

 

Built-in commands within the AI writer help you write better and more productively.

 
2. Copy generator tool 
With ContentBot's copy generator tool, you can generate a copy in seconds. All you have to do is to generate some input fields. Once you input the fields that will make your content tailored and bespoke, ContentBot generates blog topics ideas, intros, ad copy, and copywriting formula.  
3. 35+ highly tuned AI tools 
From blog topic generators to sales email generators, ContentBot is constantly adding new tools and features powered by artificial intelligence that will help you boost your content game.  
Types of AI content offered by ContentBot
ContentBot is constantly upgrading and adding on to the AI content types they offer to users. Here are some of their existing types.  
Blog Copy: 

Create blog copy and outlines in seconds with our AI tools

 
Topic Ideas (evergreen + fresh)

 

Full blog posts

 
Blog Outlines

 

Intros

 

Bullet Point Expansion

 

Change Tone

 

Finish the Sentence

 
2. Marketing copy: Turn to create marketing copy into a breeze with our suite of marketing tools. 
Marketing Ideas

 

Landing Pages

 

AdWords Ads

 

Facebook Ads

 

Brand Names

 

Slogans

 

Video Ideas

 

Video Descriptions

 

Page Headlines

 
Sales Copy:

Close those deals faster with our range of AI sales tools at your disposal.
Sales Emails

 

Rewriting

 

Pitch Yourself

 

Pain-Benefit-Solution

 

Pain-Agitate-Solution

 
SEO

: Create meta content in seconds and identify plagiarism problems with our SEO tools.
Rewriter

 

Uniqueness Checker

 

Change Tone

 

Page Headlines

 
Founders:

We understand that founders have 101 things to do – our Founder tools make your life easier.
Startup Ideas

 

Marketing Ideas

 

Blog Topic Ideas

 

Pitch Yourself

 

Landing Pages

 
Pricing

 
They offer three plans, a breakdown of which is given below, along with the features in each plan.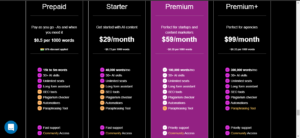 ContentBot has over 44,400 founders, content marketers, copywriters, and agencies onboarded. Penguin Random House and Streamlabs are amongst some of these. Here are some user testimonials.  
"Ashley Porciuncula 
Co-founder OrbitalChat 
This is awesome! 
This is awesome! Our team has used it and has been amazed at the quality of ideas and writing prompts it comes up with. Even the best copywriters need inspiration and know that the best ideas are yet to be discovered. I love this tool! 🌟" 
"Ayesha Adams 
Mobile Marketing & Operations, recoverdex & BFF Box 
It saved a helluva lot of time 
Well, I have to say, "WHAT TOOK ME SO LONG?!" 🤩 I Just used two credits and saved a lot of time already!!" 
"Ozioma Egwuonwu 
Chief Strategic Transformation Officer |TEDxSpeaker 
ContentBot outshines its competition! 
Right from the beginning, I fell in love with its clean design, but I became a real fan when I experienced its output. One word: Quality." 
FAQ and Customer Support 
Their website has an FAQs section on onboarding, where frequently questions are answered. These questions include if the content is original, unique and how copyright is retained, etc. They also have a dialog box on the left that works in real-time and can help with customer support. Their content policy, credits policy etc., are also explained and can be explored with this dialog box option.  
Writecream

 
Writecream is another AI leveraged powerhouse that allows you to use its multiple tools to step up your content game. It is exceptionally appreciated and also recognized amongst peer to peer review sites and users of AI powered technology for its personalization as well as outreach features.   
Where does Writecream win?

 
Writecream has a consistent performance when it comes to the whooping 4.8/5 rating on Capterra.com. Why? 
Writecream offers more room for personalization when compared to ContentBot. They also offer audio and video personalization which is not an option otherwise. Writecream's toolkit not only allows you to thus personalize text but also social media posts, ad programs etc. As a digital marketer these toolkits are great to have.  
Writecream helps you to create a blog article within minutes that can easily be edited and improved within a very short amount of time. The user interface is not overwhelming and crowded and the user experience is completely smooth and easy to follow.  
Reviews for Writecream:

 
 "The diverse range of functionality provided by the app is just amazing. I no longer have to worry about typing product descriptions or meta data for each specific products on my e-commerce site. Thanks for that. It has been a nightmare. I recommend anyone in need if the best content writing solution to try out Writecream, it's all the best." 
Pricing

 
Writecream offers the following Pricing plans 
$0/month for 20 Credits

 
20 icebreakers / 40,000-characters

 
$49/month for 200 credits

 
200 icebreakers / 400,000 characters

 
$69/month for 750 credits

 
750 icebreakers / 1,600,000 characters

 
User Defined Credits

 
User Defined character limit

 
Writecream is thus a great toolkit (itself) to have in your pocket when it comes to SEO friendly content that can get you engagement and boost your content marketing game to a different level. It is a smart choice to make after conducting and scaling its performance when compared to ContentBot. 
Conclusion

 
ContentBot is a great tool for powerful AI-backed smart engines helping with your content creation. With a versatile suite of tools and with the focus and productivity brand value of theirs, its a great gamble to get into if you're looking at powering up your content strategy and creation game. Writecream changes your copy game dramatically, and leverages advanced machine learning to write the best content for you.  
The fact that Writecream has multiple tool under their belt that help with long form content writing is an important reason as to why you should choose it over Wordtune. It has an impressive portfolio giving you a more hollistic experience. Their customer support system is fantastic and after thorough comparison, Writecream proves to be the better choice.  
Writecream provides 30+ tools for generating tons of content within seconds! Use Writecream to generate product descriptions, personalized emails, blog articles and much more and that too for free! Our free plan provides 20 credits every month which helps you generate 10,000 words per month!
Isn't it amazing?
To get started, register here for our FOREVER FREE plan NOW!