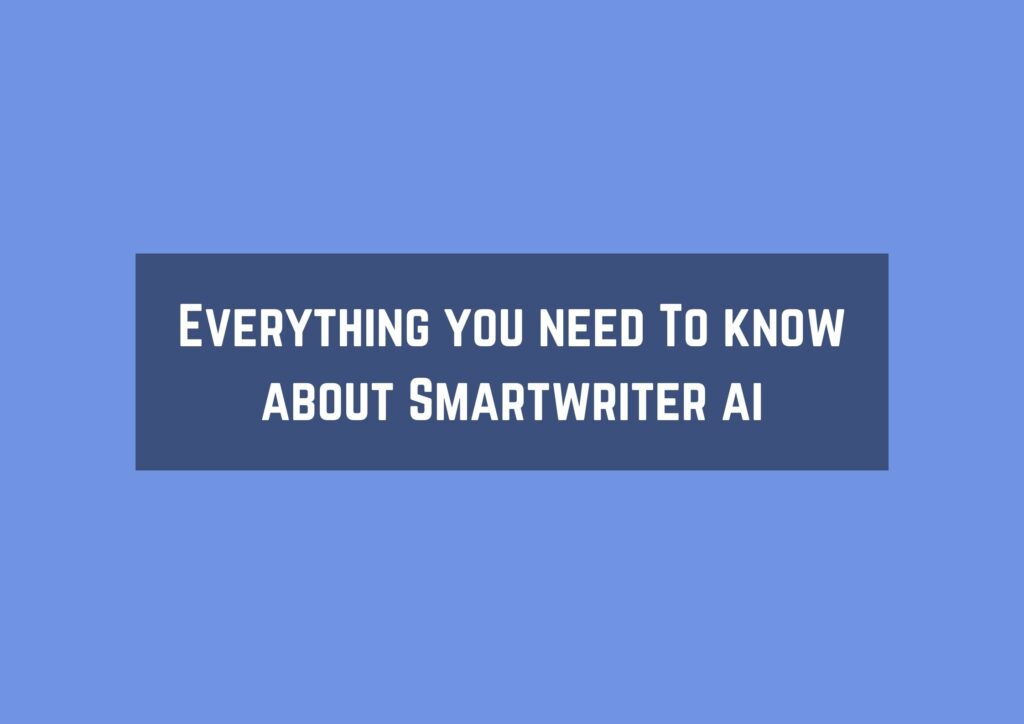 Cold email outreach is one of the most organic ways to reach out to prospective clients and convert them into leads. An important process of cold email outreach techniques the very central concept and fabric of cold email outreach is Personalization.  
Artificial intelligence nowadays has become a tool that many businesses are leveraging to stay on top of their game when it comes to Marketing and putting themselves out there. In such a situation, having an artificial intelligence-powered tool that can help you automate your cold email process easily, is a gift. Cold emails and personalized outreach tools can also be patched to other community databases and lead connection website platforms like LinkedIn. For this, some tools help you personalize your behavior on their website.  
In this article, we're going to get into a comprehensive review of one such website "SmartWriter AI" which can fully automate your writing process when it comes to personalized outreach.  
What is SmartWriter AI? 
AI-powered outreach strategy and personalization tools are smart techniques to help run your goals effectively and efficiently. Smart Writer AI is a platform that helps you do this. It powers you and your business with machine smart technology that not only gives you authentic and good content that is personalized and unique but also enhances your productivity by doing your tasks in 1/10th of the time it would normally take.  
💡 Generate personalized emails, blog articles, product descriptions, and ads in seconds using the power of A.I
 Smart Writer is available as a Web App and a Chrome extension.  
Features of SmartWriter AI 
Now that we know what exactly the platform is, let us look at the different features that it provides. These are what makes this tool great.  
1. Personalized Cold Email Outreach:
The personalized cold email outreach tool provided by Smart Writer uses a prospective client's online data to create tailored emails. It is an end-to-end personalization engine that helps you build a one-on-one relationship with your customers to scale your business with absolutely low effort, with the magic and power of artificial intelligence and machine learning.  
"I send quite a lot of emails to prospective clients and the personalization part takes a lot of time if done right. SmartWriter reduces this time considerably by generating email introductions based on several data points." 
Says Michael Mihalic, Digital Marketer 
2. LinkedIn Chrome Extension:
This feature of theirs works like a prospect information database. You can get 1000s of qualified leads from LinkedIn Sales Navigator for free. It helps you find verified emails and get deeply enriched LinkedIn data which you can use to personalize your content for companies and individuals.
"I was going to hire a salesperson and then I discovered SmartWriter. SmartWriter starts more conversations with the right people than actual people. It's a set-and-forget business development and a no-brainer for people who want to reach a specific target market in a highly personalized, yet automated way." 
Says Jonathan Sankey, Founder – CuThru Branding  
They are: 
3. Deep Enrichment:

 
If you spend 45 minutes on the research of one lead on LinkedIn this tool does it for you in 15 seconds. About a billion pages are searched per query to find the information that'll make your lead want to close their deal with you. You can enrich your entire customer resource database and management with a few clicks and have custom data on your fingertips to use to leverage new prospects.  
"SmartWriter is a brilliant AI app! Truly amazeballs! It's simple to use to generate outreach/outbound messages that are completely tailored to each recipient – whether it scours LinkedIn, their website, map listing, etc. I'd give it 10-stars if I could!!" 
Says Sherman Hu, Head of Growth 
4. Personalized LinkedIn Outreach:
This tool helps you reach out to anybody you want by analyzing your prospects and your entire LinkedIn profile and activity to create unique messages that are personalized and get you a reply in an instant. They aim to make your message most compatible with your connection. This makes it clear that you've done your research and makes you stand out from everyone else. 
"I am extremely happy with the results I have achieved with your amazing product. After a month of using it, I am capable of getting 3-4 net leads every day by sending cold emails that get responses. By using this tool all I do is create the message and SmartWriter does all the work for me." 
Says Robert Trif, Founder 
5.

Automated SEO Backlink Outreach:

 
This tool helps you boost your organic traffic and rank primarily in most search engines. It reads your blogs and understands your niche and content making personalized backlink request emails using the content in your blog to increase traffic organically and scale your clicks to get you the most reach.  
SmartWriter creates this by referencing key points in your blog. 
"I have tried a couple of solutions for creating icebreakers for cold emails, and this product is very good. It has improved a lot in a short space of time, and the intros are much more comprehensive and relevant. It's going to be very helpful for creating personalized intros for emails going forward" 
Says Jamie Capaldi, Capaldi Marketing 
Pricing

 
Now that we've seen the main features of Smart Writer AI let us look at its Pricing.
Following are its monthly plans followed by annual plans.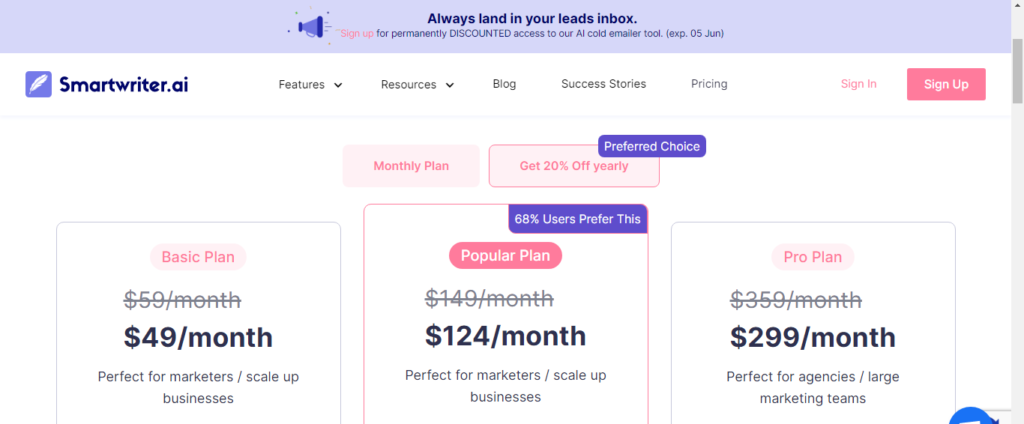 Rating

 
SmartWriter AI has pretty high ratings on trusted peer review sites G2 and Trustpilot. 48/5 on the former and 4.6/5 on the latter. They also have 200+ 5-star ratings making them a trusted platform.  

They also offer a 7-day free trial plan where you can send 1000 hyper-personalized emails per hour for free.  
Customer support and FAQs

 
Smart writer AI also has a popup dialog box on the onboarding of the website that provides a Helpdesk option that can help you with questions you might have about the tool itself or how to use and work around it.  
They also have an FAQ section on their website that answers questions on General queries, Credits/Pricing, and Billing. Their relay and reply time is prompt and most general queries are answered in the FAQs section.  
 To save time, boost your productivity, and efficiently step up your outreach game, with their range of tools and easy-to-use interface Smart Writer AI is the smartest choice to make as your AI assistant.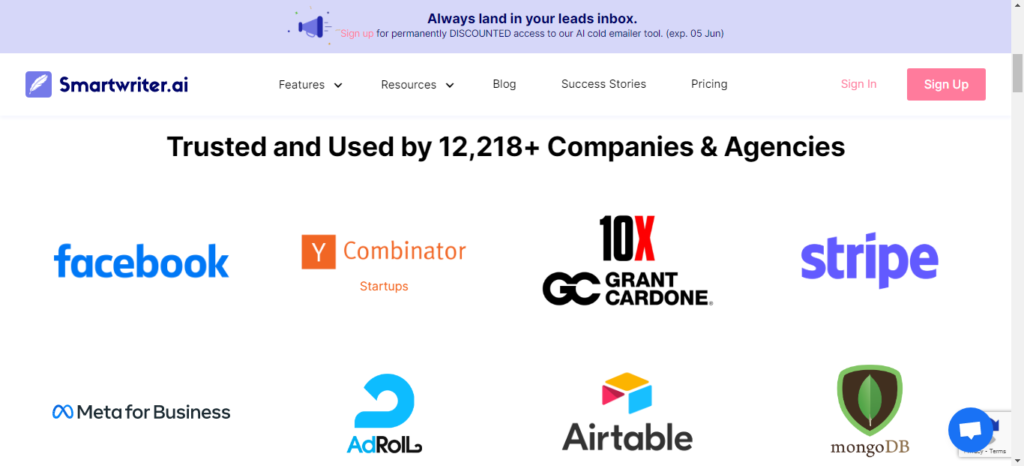 Let us now look at Writecream, SmartWriter's alternative:
Writecream is another AI leveraged powerhouse that allows you to use its multiple tools to step up your content game. It is exceptionally appreciated and also recognized amongst peer to peer review sites and users of AI powered technology for its personalization as well as outreach features.  
But where does Writecream win over SmartWriter? 
Writecream has a consistent performance when it comes to the whooping 4.8/5 rating on Capterra.com. Why? 
Writecream offers more room for personalization when compared to Smart Writer. They also offer audio and video personalization which is not an option otherwise. Writecream's toolkit not only allows you to thus personalize text but also social media posts, ad programs etc. As a digital marketer these toolkits are great to have.  
 Writecream also wins extra points on the LinkedIn outreach as they not only offer personalization but also connection requests, something that SmartWriter lacks. While the latter may provide lead enrichment and deep searches, Writecream takes it one step forward with the action of connection requests.  
Pricing 
Writecream offers the following Pricing plans:
$0/month for 20 Credits

 

20 icebreakers / 40,000-characters

 
$49/month for 200 credits

 

200 icebreakers / 400,000 characters

 
$69/month for 750 credits

 

750 icebreakers / 1,600,000 characters

 
User Defined Credits

 

User Defined character limit
SmartWriter's most popular plan is as follows:
25 free credits

 

$120 per 1,200 credits

 

$0.10

 
Clearly Writecream works better in this scenario making it the choice to go for.  
Writecream is thus a great toolkit (itself) to have in your pocket when it comes to SEO friendly content that can get you engagement and boost your content marketing game to a different level. It is a smart choice to make after conducting and scaling its performance when compared to  the alternative Smart Writer AI.  
Writecream provides 30+ tools for generating tons of content within seconds! Use Writecream to generate product descriptions, personalized emails, blog articles and much more and that too for free! Our free plan provides 20 credits every month which helps you generate 10,000 words per month!
Isn't it amazing?
To get started, register here for our FOREVER FREE plan NOW!