We are now living in a world where our expectations and dreams are high and the sky's the only limit for all of it. Being caught up in a bustling hectic schedule the entire day, many of us might not have the time to pay equal attention to all parts of the work we do. While this dissatisfaction might be bugging us and stressing us, we nowadays have started relying on technology for help. When we address the advent of technology in all aspects of our lives, it is almost impossible not to talk about the importance of writing tools based on artificial intelligence. These writing tools have made our lives easier and they are also very uncomplicated. Everyone whose field of work revolves around writing wants to put the best content out there on the internet. 
And the writing tools are one best solution and answer to all your worries! Are you wondering what these writing tools are that makes it so special? Well, let me explain it to you. These writing tools are software that help you automate and generate content for various purposes be it for your marketing, story telling, or even content for social media. They help you with brainstorming ideas and come up with unique content that is eye-catching and evokes interest in the readers. Now let us take a look at one such popular writing tool – Writesonic.
What Is Writesonic?
Writesonic is one of the best artificial intelligence based writing software that is helpful in generating content for brands, marketers and several other social media platforms. It is a copywriting tool that is commonly preferred by many people as it makes their work a lot easier. Writesonic helps you come up with content quickly even if you are going through a writer's block. Also this software is extremely good at creating content that is personalized based on your audience. Since this software is great at bringing up personally crafted content, the content too doesn't sound like it was generated by a machine. The software makes sure the content it creates appeals to the human minds and hence the users don't have to proof-read or re-write the content. This makes room for more time on the person's schedule, thereby making their job effortless and convenient. 
What Features Does Writesonic Offer?
Writesonic was launched in the year 2021, and it provides users with a variety of features that makes it one of the most favoured writing tools. This artificial intelligence based tool can write articles for blog posts. It can help you in drafting emails, drafting your marketing copies, and summarizing the blog posts. Writesonic also helps you with rephrasing old content and it can even fix your grammatical mistakes so as to make coherence. In order to make your work creative, the tool also offers a plagiarism checker which thereby makes sure that there is no other content on the internet that is the same as yours. 
💡 Generate personalized emails, blog articles, product descriptions, and ads in seconds using the power of A.I
Being in the field of writing, we all know how difficult it is to create and come up with new content on a regular basis. Being faced with this ordeal of wrecking brains to brainstorm a new idea, many people have found the writing process tiring. It is of no question that one gets burned out while writing. And this is where Writesonic provides a great relief to the users. It helps in generating good quality content that is relevant. The tool is easy to use, and you do not have to be in pro in technology to know how to operate Writesonic. They also offer a trial period, and by availing the offer you can use and check if the content quality is as great as you expected. 
How To Use Writesonic?
Writesonic uses deep learning to write content for a variety of different industries. The users can customize by choosing what industry based content they are planning to write and also choose categories from the AI that they need to focus on. The neural networks implemented in Writesonic have the ability to mimic a human. So the users do not have to worry if the content would sound mechanized, almost generated from a machine. Also along with the user's assistance, the neural networks in Writesonic will be able to generate content in real time without errors. 
As we said already, the software is extremely user-friendly. All you need to do is after logging in, you have to set up a project. Then add a title, choose the template and theme you want and add the keyword phrases that you desire to see in your content. After you are done with this process, you can click the generate button. Following the completion of this process, you can decide how one paragraph needs to flow from the other. If you do not like the content that you created, you can use the 'Content Rephraser' tool to request another tone, for example persuasive, professional or dramatic. Another easy way of generating long-form AI content in the Writesonic is really simple. First you need to click on the 'Add Content' option, then you have to fill out the spaces provided for title, description and the other keyword boxes with all the necessary information. Then click on the publish button and that's it! You have generated content within minutes. It really is that simple using the Writesonic AI. 
Pricing
Writesonic offers four plans and it also provides a free trial for new users. The basic plan costs $15 per month and it gives the users upto 100 credits, that is they can generate 50,000 words per month. The professional plan costs $45 per month and it provides unlimited credit to the users. The next plan is called the Startup plan and it costs $95 per month. This plan is for the startups and the small businesses. The best part about this plan is the availability of the SEMrush integration and high-quality content generation. The last plan is the Agency plan which costs $195 per month. The Agency plan is for the large scale businesses and agencies who need copywriting. Writesonic allows users to either use the monthly or yearly billing option.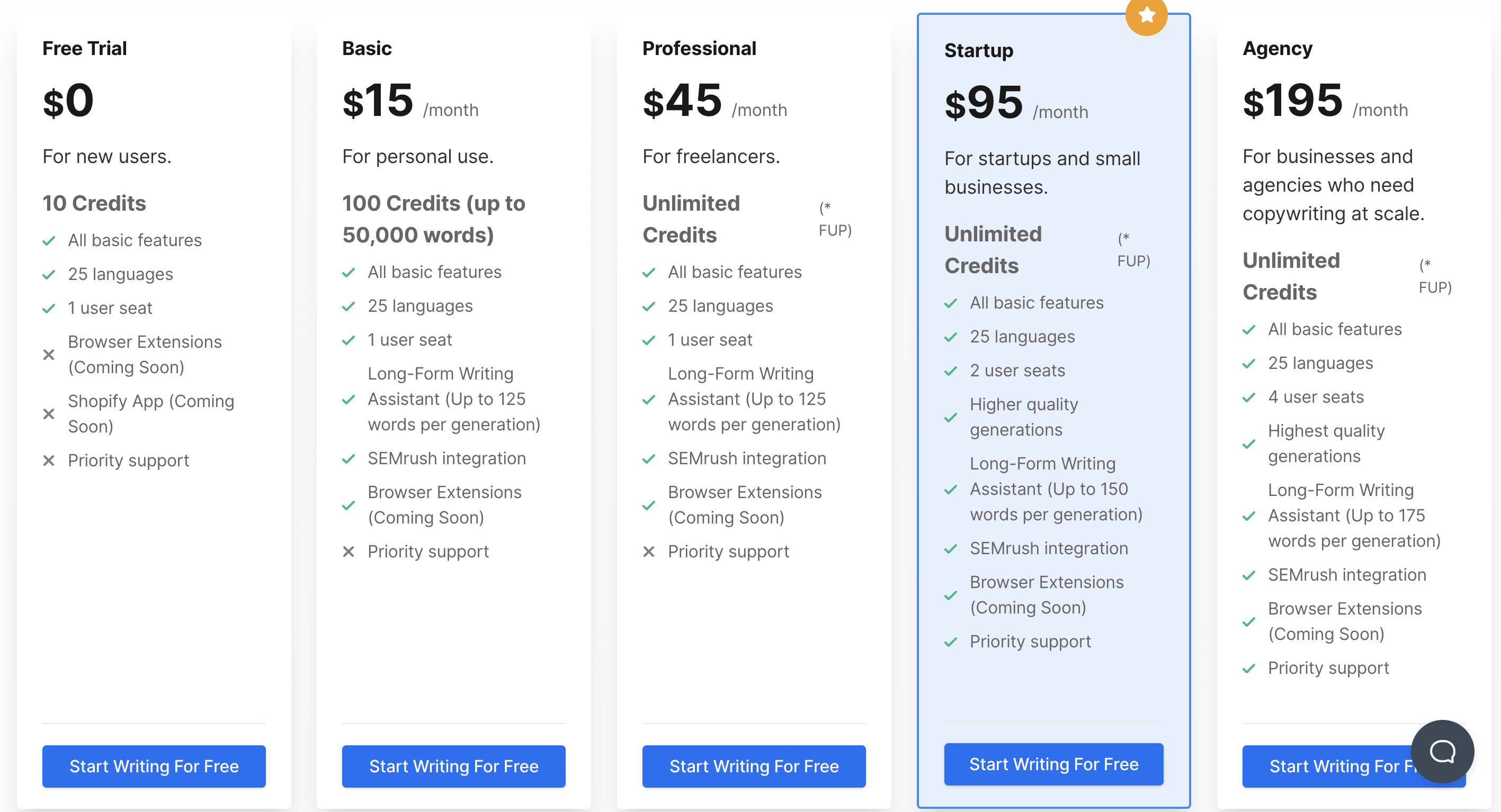 Writecream – The Alternative For Writesonic
If you are someone who has been in the writing field for quite a time, then you must be aware that Writecream is a popular tool that has been used by people for copywriting and content writing. This tool offers a free trial period and you can avail the trial version to check out the features Writecream provides. Having Writecream to your aid is a great boon because this tool will help you create content within no time. You might be going through a writer's block but this tool will help you create and brainstorm ideas from scratch. Another interesting feature of Writecream is that it will help generate personalized icebreakers for your cold emails, LinkedIn outreach, backlink campaigns, Google and Facebook ads, image and audio icebreakers. Apart from this Writecream also helps you to create content for YouTube podcasts, writing ad copies, social media content and descriptions. The Long-Form editor is the most coveted feature of this tool. Check out the Writecream AI and explore the feature for yourself before buying it!
Conclusion
Writesonic offers a diverse range of features that are captivating and easy to use too! This tool can save you from wasting countless hours that you would have otherwise spent on research, writing, editing and even keeping the tone in your content right. While the audience demands good quality content, it is of no doubt that Writesonic effortlessly provides you with the best generated outputs. To see if you wish to use Writesonic, check out the trial version and make the decision for yourself.  
Writecream provides 30+ tools for generating tons of content within seconds! Use Writecream to generate product descriptions, personalized emails, blog articles and much more and that too for free! Our free plan provides 20 credits every month which helps you generate 10,000 words per month!
Isn't it amazing?
To get started, register here for our FOREVER FREE plan NOW!