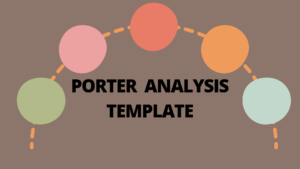 If you're working in the business sector and are unaware of Porter's Five Forces, you're at the right place. Porter's Five Forces focuses is on the key elements that exist in every industry. These key elements, if studied and implemented properly, can help any business grow in no time. Keep reading to learn all about the five forces model, along with a free template.
What are Porter's Five Forces?
Porter's Five Forces, named after Michael Porter (Harvard Business School Professor), is a tool that is used by many businesses in various fields to study their competitors and learn how to tackle changes in the market. Understanding these forces will help you improve your strategy, enhance your profitability, and help you maintain a standard in front of competitive forces. We also have a free five forces template for you. Keep reading to access it!
The Five Forces are:
💡 Generate personalized emails, blog articles, product descriptions, and ads in seconds using the power of A.I
1. Competitive Rivalry
2. Threat of a New Entry
3. Threat of Substitution
4. Bargaining Power of Supplier
5. Bargaining Power of Customer/Buyer
As we go, let us do a 5 forces analysis and find out how it works in the industry as well as how to use them to create an effective template. Keep reading to learn more!
Why do we need Porter's Five Forces?
The analysis of the Five Forces helps industries and organizations understand the factors that affect profitability, which industry has openings, which industry has reached its capacity, and how to tackle competitors, so that companies can make informed decisions.
Not only that, the Five Forces, if studied properly, can help you understand whether a certain product or service will have long-term profitability in the market or not.
It will help you analyze your own strengths and weaknesses and the amount of power you hold in the market in comparison to others. This way, you can determine a strategy that helps you succeed the most.
How to create a Porter Analysis Template?
To make a template based on the analysis of the Five Forces framework, you need to know what these forces entail. The template usually consists of these five elements and how they fit into your business expectations and goals.
1. Competitive Rivalry: This rivalry focuses on the number of competitors in an industry and how they can undermine others in the industry. If an industry has a high number of competitors who sell products similar to them, the power of the company, naturally, becomes much lesser than intended. In your template, you can analyze other companies similar to you, how they strategise their marketing techniques, and their weaknesses and strengths when compared to you. Use this analogy to come up with a more efficient marketing strategy.
2. Threat of New Entrants: A new company has the ability to undercut the capabilities of an existing company. This can happen when a young company doesn't take much time and money to succeed at the initial stage as compared to other companies in the same field. Due to this, the position of existing companies, is weakened. Study the entry of new businesses in your field. Learn how they are different from you and whether that difference affects you when it comes to profitability. If it does, try to change your strategies with the changing times. Be more consumer-friendly in your techniques.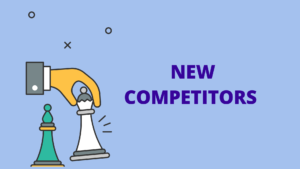 Threat of Substitution: Substitute products can be used as an affordable alternative for existing products of existing companies. This will definitely affect the revenue and profits generated from time to time. What you need to do is study whether your products can be easily substituted and, if yes, market the product in such a way that it seems to be unique. If you're a new company, you can start out by creating products that do not have substitutions. But if you are an old company, changing the products completely is not possible as it requires a lot of time and investment. Hence, focus on changing your marketing tactics to make consumers believe that there is no substitution for your product.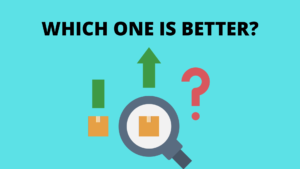 4. Supplier power: If the industry you chose has a lesser number of suppliers, then it increases supplier power and allows them to alter input costs at any time. However, if your field has a large number of suppliers, it is easier for you to chose the one that is more practical for you as well as for your customers. In the template, you can use this to study other suppliers and compare them with yours in terms of quality, affordability, delivery of service/product, effective bargaining, and so on. If you feel a change is required, learn how quickly and easily you can change suppliers.
5. Buyer power: A company with a smaller client base will have trouble getting their desired profits because the each client will have power to negotiate the prices. However, with a larger customer base, the company can produce with their prices as is, which will lead to high profits. For this, in the template, you can analyze your customer base and of those who are your competitors. If you need to increase customers, adopt new strategies to do it swiftly, for example swot analysis. To help you get started, our team has created a sample five forces analysis template. Click here to access it.
We hope this article helped you understand how you can use Porter's Analysis and create a strong template for your company. Please don't forget to leave a comment, as we would love to know your thoughts. All the best!