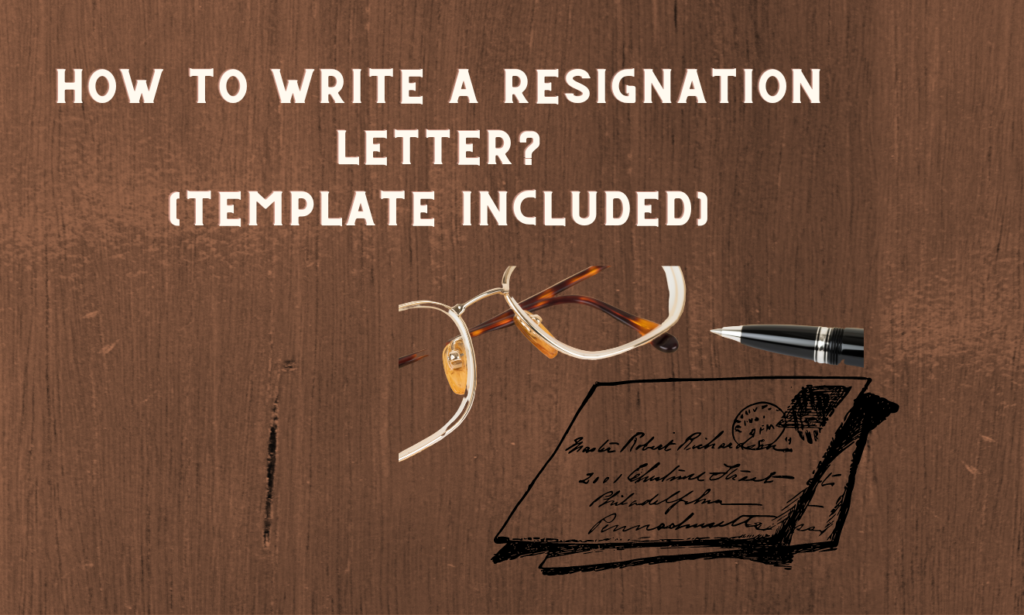 Are you sure you want to resign? The thought of resignation is never a decision to be taken in anger, anxiety or frustration. Once you have decided be confident about your decision. Before writing your resignation letter look at the easy steps mentioned in this article and try to write a perfect letter sample. You will get to know the main bullet points to mention in the letter and also the do's and don't of the letter.
What is a letter of resignation & its importance ?
It is a recognised method of quitting. A professional resignation letter should be used to give formal notice of resignation, specify the end day of employment, lay out any necessary future steps, and foster goodwill toward the employer. A resignation letter should be sent as an email to the HR department and the reporting manager. This letter informs not only the business of your intention to quit, but also your superiors and human resources so that they can start the process of filling your job with a suitable replacement.
How to write a Resignation Letter?
Step 1- Break the Ice
The first step is breaking the ice. After that try to give a clear salutation message for example,
Maam/sir/boss name,
💡 Generate personalized emails, blog articles, product descriptions, and ads in seconds using the power of A.I
I want to confirm here that I want to resign from the post. Please accept my letter as it is a formal notification of my resignation from this post.
Step 2- Give a particular Date of Release
You can give a certain date for your resignation from your post as per your convenience. You should be able to give a genuine reason for your decision. For example,
I have got some different work at the end of this month so kindly grant this resignation letter.
Step 3- Show Kindness by Thanking your Supervisor
The last thing to do is thank your boss for allowing you to serve his company.
I would like to thank you for allowing me to work for this company in the past (you can mention the period of your service at this company). It was great to work with you. I enjoyed the whole tenure of my job and appreciated the new things I got to learn. It was a really nice tenure of work for me.
I would like to mention that I learned a lot of new things. I can proudly carry with me all the happy moments I captured here.
Step 4- Wrap it up with a Good Note
During my official period, I will make sure to hand over every charge to the newcomer. I will train them to the utmost level so that they will also be able to do their best. Please tell me if I can do anything else for the smooth running of the company during my stay.
I wish the company reach new heights and my teammate's wealth and health. I hope to stay connected with you all afterwards too.
Step 5- Your Contact Information
You can write your details including your address and contact number if have not mentioned these things in the first part of the body. The details can also include your current company and the position if any.
Step 6- A Final Salutation
With regards,
Yours truly,
(your name)
(former designation)
Resignation Letter Do's and Dont's
Do's
Write a resignation letter.
Mention all company belongings.
Complete all projects left out.
Assure a smooth transfer of your duties to your new colleague.
Delete personal files and emails if any.
Dont's
Never leave without saying goodbye.
Don't discuss your new job or company unless asked.
You should keep in mind that you will not any negative statements about anyone.
Don't leave without prior notice.
Resignation letter with a reason for their leaving the company
It's not always that you have to give a reason for leaving your job but sometimes giving the reason before leaving is important especially when you have a genuine reason to speak about. Here are some of the examples where we have tried to show you how to mention your reasons for quitting your job.
To join New job resignation letter example: You can use this kind of sample to make your employer understand that you have been offered a new job opportunity.
Career change resignation letter: Basically when you want to switch your career field from one domain to another.
Career growth resignation letter: Leaving a job because you want to search for more good opportunities over different companies.
Relocation or shifting to a new place resignation letter: If you and your family are moving to a new place. This sample letter will help you write this kind of resignation letter.
Other not-so-common reasons can be Personal and family issues, maternity leave, voluntary retirement, etc.
Examples of resignation letters
An example of an immediate formal resignation letter
Here is an example of how to write a letter of resignation.
Dear Jolly,
I would like to inform you that I am resigning from my position from the (current post ) with the (company name). I understand that there are some legal procedures and I must grant a two weeks' notice prior and I must go through but I'm breaking the rules due to some personal reasons.
Please let me know how to assist this for smooth transition of mine. I am grateful for getting an opportunity to work here, pleasure working area, experience to work with new people, the staff and you. I learned a lot of new things from this place. Please accept this letter under immediate action. Till the last working day of mine i would like to train other team members of mine. I would be obliged if maintain a positive relationship and the professional courtesy after my job tenure is over. I also want to apologise for any inconvenience you may go through during this period of my resignation.
Sincerely,
Bella Hatch
Above you saw a professional resignation letter template now learn some points from this simple resignation letter written on the ground of personal issues.
Sample resignation letter (personal reasons mentioned)
Dear Mr./Mrs.(recipient's name)
I would like to inform you of my resignation from my position(current post ) with the (company name) due to some personal reasons. I understand that there are some legal procedures I must go through but I'm breaking the rules due to some personal reasons.
Please let me know how to assist this make the transition easier for me. I am grateful for my service period, the experience i have gained, opportunities for professional meetings, the workplace, the team for the past and you. I learned a lot of new things from this place. I wold like to take this opportunity to thank you for allowing me to grow not only professionally but personally also. I have enjoyed every bit of my service tenure as a (your current designation in the company). I am grateful for the time. Wishing you all the best for your new colleagues. The company reach new heights this coming year. Please accept this notice under immediate action. I also want to apologise for any inconvenience you may go through during this period of my resignation. Please give me the next two weeks from the date of the official notice to find a suitable replacement. I would be really obliged of you suggest me reference down the line about the various other jobs matching my domain.
Let me know if I can help you by any means till the last day of employment.
Sincerely,
(your name and the former designation if required)
Summing up with the bullet points to remember for the resignation letter
Overview
Break the ice(the first paragraph).
mention a particular date of release.
show kindness by thanking your supervisor.
wrap it up with good terms.
contact details.
Ask to ease the transition process.
Thank your employer.
Hand in your resignation letter to the head of the office.
This is the whole overview of a standard resignation letter of what to include in a resignation letter. Learn how to write a resignation letter in a formal way with all professional courtesy. It will help you smooth en your resignation process. These are a must. In this article, we have covered the tips and tricks the do's and the donts and everything you need to write in your resignation letter.
Here we have prepared a well-versed free downloadable resignation letter sample. Free Resignation letter template.