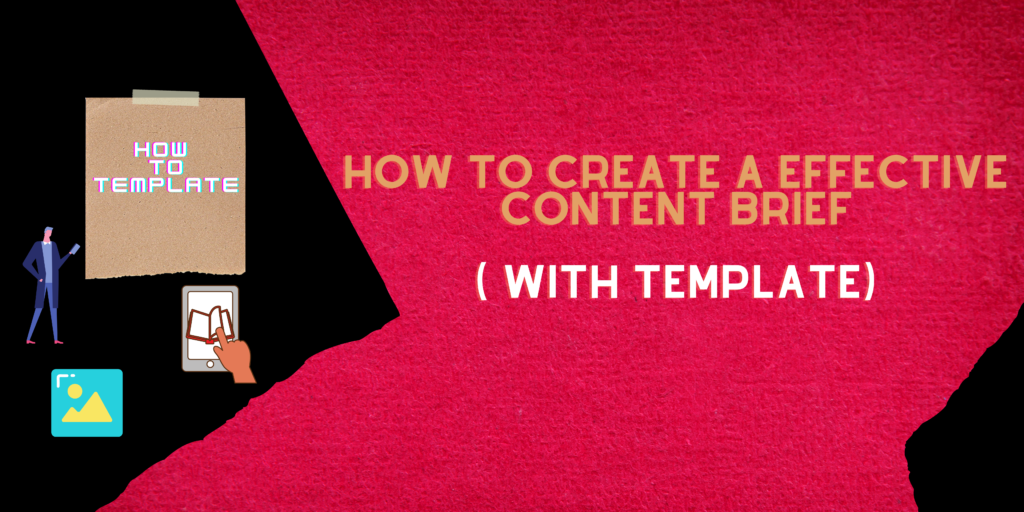 The toughest work in content writing is usually the starting process. A good start to the content needs a healthy direction towards it. There would be some ideas already existing in your mind about how your content should look. Passing those ideas to your writers and implementing them is a great battle. It's never an easy task, and not even the best writers find it easy to deliver an effective content brief.
As a good content writer providing a strong base for the article is our first need. But what does it takes to deliver a strong content brief? What are the necessities of pitching solid content? We will dive deeper into these facts in this article.
What is a content brief?
The content briefing is a set of rules or instructions for the writer to understand and create a masterpiece. It can be any kind of write up- a blog post, an e-book, or social media content. The contents containing visual representation and filming are called creative briefing. Only the write-ups are referred to as content briefs. These are called content-making strategies for writers. 
A well-researched content brief contains all information needed to be focussed. It provides ideas about the topics to be written about, length and the word limits, SEO, guidelines, and many more. Different businesses have different needs; hence the content briefing templated would differ too. But what's common for all the writers is the clarity, needs of the writer up, and the goals. 
💡 Generate personalized emails, blog articles, product descriptions, and ads in seconds using the power of A.I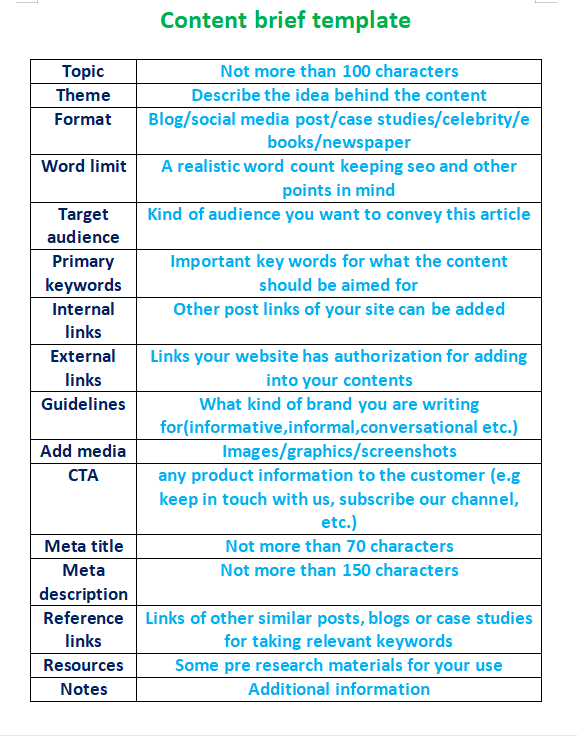 What are the needs for making content briefs?
Content briefs are the details of what you want from your write-up and what are the levels it should stand out.
help the content writers stick to the relevant points by saving your time and effort.

clarity about what your expectations are from the content.

minimize the miscommunications between you and the writer.

streamlining the content goals if you have many writers to work with.
 Explaining the rules or important points to the writers verbally can lead to missing points in the middle. Discussion should occur, but points should pen down everything for a systematic function.
What are the key points in the Content briefing?
Irrespective of what the content should look like, there are a few key points for every good content which never change they are:
Aim of content
Every content should have its aim and plan, which the other writers should follow. The goals are to be clear to the writers from the content briefing itself. For example, if the content is about a recipe, then the writer should explain the ingredients and the cooking process well.
 Similarly, each different content type demands a different approach.
The target audience
Your target audience tells you what to write and what level should be maintained. For example, you are writing generalized content for the public about a general issue. Your tone should be polite, and your words should be simple and energetic. The writer should be capable enough to change their tone, style, and language.
 Knowing the crowd, you are writing for helps you know whether the write-up should sound technical or simple. 
The main theme
Writers should be able to know what's the main theme of the write-up. But liberty can be given to them with the writing part that anything more creative not mentioned in the content briefing allowed to be added. Writers should take care of the SEO part.
Guidelines
Every piece of write-up you are preparing should satisfy the brand's tone. The old writers are acquainted with the guidelines, but for the newcomers, it should be mentioned in the content briefing. Mention whether your brand is a formal and official organization or a friendly one. They should know whether to add humor, informative sentences, tight lines, or a complete professional line. 
SEO guidelines
The content briefing should also mention the facts you want in SEO. Certain keywords, links, or sentences will draw the audience's attention and even the write-up length. SEO wholly decides your website ranking and visibility on the first page, so keep it good. Besides content briefing, you can also mention a different briefing only on SEO requirements.
Visual/images work:
You must mention it separately if you want to add some graphics or visual representation to your write-up. You must explain the number you want the images and where they should be placed. The content briefing should also explain the type of relevant images, whether a screenshot from a webpage, phone/laptop, or custom-made images.
Call-to-action
The content briefing must include call-to-action in business or sales kind of content. This content requires that the customer visiting their webpage be directed to their product page via an e-book or links provided. The writers should be given prior information about the CTA and what facts it will carry in these contents.
Deadlines
A deadline should always be there for completing a write-up. It increases the speed and accuracy of getting the work done. But the deadline should be realistic enough to finish the work on time.
The deadline mentioned in the content briefing should always be a little time before the actual publishing time. It will help you to review and reedit the write-up if needed.
How do you make a content brief for writers?
It is not as simple as it looks. Writing something precisely with putting all the relevant information within it is difficult.
The content should not be too long or not too short. There are chances that when it is too short, there are chances of missing some information. Too long briefs may result in writers leaving it in the halfway reading.
Your work is to create an ideal content with every piece of information precisely written. But well-written content needs some steps to be followed. They are:
Research
Though research is a part of the writer's job, a little research about the topic should be done by you also. If you have some content ideas before you write up, you might be able to do a better review.
Try to find some good resources which you can share with your writers. If you have some good references for the writing style you want from your writer, you should mention them in your content brief. Prior research about that content also gives you an idea about what your competitors are up to.
Important things to be penned down first
List down all the important things you want your writer should know .recheck and review all the points to see if you haven't missed anything. 
A separate content brief template
You can create a generalized content brief that can be reused for every kind of content. It will be both a time and energy savior. Prepare different kinds of content briefs. Blogs and e-books are two different kinds of things, so they need two different content briefs.
You can keep changing or evolving your content levels, but a strong base is most important. 
Learn from the feedback
Feedback about work is necessary, and learning and modifying are required. You actively provide the content briefs to the writers, and the writers write the content accordingly. You can take feedback from the writers about the kind of information the content briefs is providing you. Is it enough to write good content, or does it need any modifications? 
SEO briefing
SEO content briefing mainly works to improve the ranking and visibility on google. The briefing will tell the writers the key facts they need to increase their ranking.
But it is advisable to make a different SEO content briefing alone. An ideal SEO content contains the following things-
Primary keywords
Keywords play an important role in ranking content. It helps in increasing SEO score on google. You should note down the keywords you want for your content during your research.
You can mention the keywords in your briefing. What kind of keywords must be written like header, footer, or in the medium body.
Length of the content
An ideal length of content depends on the first-page search for that topic on google. It would help if you took a note from them. Informative content can be lengthy, but a social media post caption would always be short and crispy.
Content structure
An ideal structure for writing contents include subheadings, bulleted lists, numbered item, and subtopics explained precisely.
It would help if you mentioned in your SEO content briefing where writers should use H2 and H3 headings. None of the subtopics should be long enough.
Inbound links
Adding links to your content helps increase the ranking and visibility of content. You can mention the kind of links the writers can use. You can use the authorized sites to add links to your content.
A simple and effective content briefing or a "How to" template must have these pieces of information present in it:-
Overall view

Resources

Seo briefing

Media
Here is a sample content briefing template we created and tried to cover almost all necessary points. Click to download. 
Summing up
A well-written content comes from the deeply analyzed content brief. You are making your life a lot simpler than ever. The content briefing is time and energy-saving, which gets your boring work done in no time. Content briefing helps the writers to get a clear view of the content. It helps them to focus on the key points.
By utilizing a less amount of time and using a good content brief tool, you can significantly improve the levels of the content.