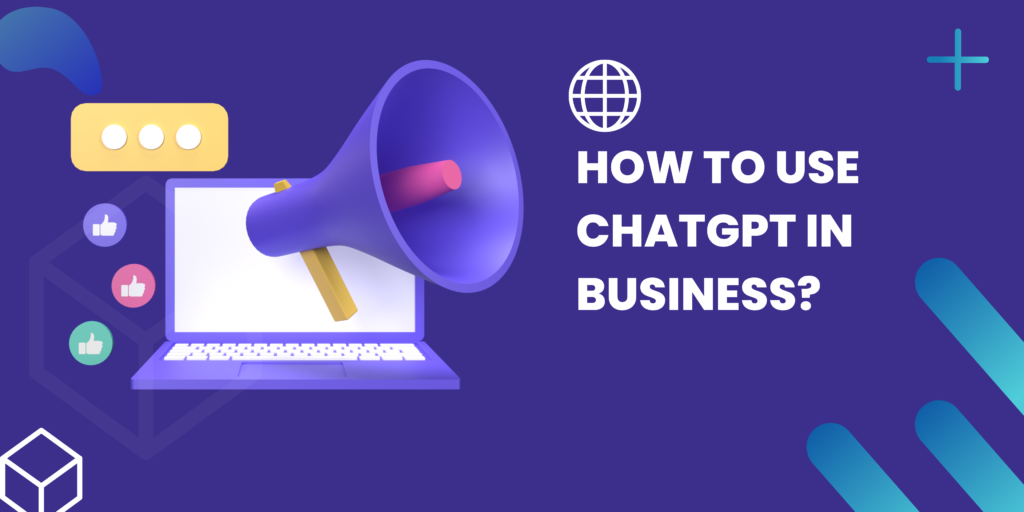 ChatGPT is a chatbot that can help with customer service, conversation, and information gathering. It generates responses tailored to the user's input using natural language processing and GPT-3 technology.
ChatGPT can handle a wide range of queries and provide real-time responses, making it an invaluable tool for businesses looking to improve their customer service experience.
How you can use ChatGPT
Sign up for a ChatGPT account or download the app from the App Store or Google Play.

Configure your ChatGPT settings, such as the chatbot's language, response time, and tone.

ChatGPT can be integrated into your website's chat function or social media channels.

Input specific prompts or queries into ChatGPT and wait for it to respond.

As needed, review and edit the response to ensure accuracy and relevance.

Repeat the procedure to help with customer inquiries, content creation, and information gathering.
How can companies use ChatGPT for content marketing?
Companies can use ChatGPT for content marketing by leveraging its natural language processing and GPT-3 technology to create engaging and relevant content for their target audience.
ChatGPT can help businesses create content tailored to their audience's specific interests and needs, increasing the likelihood of capturing their attention and driving engagement.
💡 Generate personalized emails, blog articles, product descriptions, and ads in seconds using the power of A.I
ChatGPT can also help with content research and curation from various sources, allowing businesses to develop a consistent and valuable content marketing strategy.
You should fully understand how ChatGPT can assist you in producing and curating content as a content marketer. ChatGPT's natural language processing and GPT-3 technology enable it to generate engaging and relevant content based on user input. Additionally, content marketers can leverage various online tools to check their website's organic traffic, allowing them to measure the effectiveness of their strategies and make data-driven decisions for further optimization.
Top benefits of ChatGPT for businesses
Quick responses to customer inquiries allow live customer support representatives to concentrate on more challenging or specialized tasks.
Content generation: The capacity to produce interesting and pertinent content based on a particular input and user interests, raising the possibility of engagement and boosting traffic to a company's website or social media channels.
Research and content curation: The capacity to look for and select relevant content from a variety of sources to aid companies in developing a coherent and effective content marketing strategy.
Customer engagement: The capacity to help a business increase its online presence and customer engagement through social media engagement or by offering discussion starters on a website's blog or forum.
ChatGenie by WriteCream
If you write for a blog or create content, you may look for a new subject to write about. Start with Writecream, an AI-powered tool that enables you to produce tonnes of content in a matter of seconds if you want to create content in a hurry. Start with a word, phrase, or concept. A new web page, blog post, blog entry, or e-book can be made quickly. The Writecream's Chatgenie tool includes all of these features.
In this blog post, you'll also learn how to use this tool by linking your Google account to its Chrome extension.
Benefits of Chatgenie for business
Since ChatGenie automates the purchasing process, customer questions are not as much of a problem. Customers can easily browse stores powered by ChatGenie, from product viewing through checkout and delivery.
The ordering process has been streamlined so merchants can no longer track orders manually. Merchants are informed of all incoming and outgoing orders via the ChatGenie Dashboard. Additionally, customers are informed of the status of their orders.
With the help of ChatGenie, online retailers can conduct business inside the most popular apps in the world. It functions somewhat as an alternative to a company website! It becomes much simpler to turn users of your social media pages into paying customers.
Merchants can view analytics in the ChatGenie dashboard to see a sales overview, including information on bestsellers and which products are in short supply.
Customers can browse store items in a live catalogue that retailers can launch. Products can even be categorized, with variations like colours and sizes being noted.
ChatGenie does not charge partner merchants any commission fees. This means they can stop worrying about losses being taken from their profits.
Conclusion
ChatGPT can handle a variety of queries, and real-time responses are available. Through the use of GPT-3 technology and natural language processing, it generates responses that are customized to the user's input. The chatbot can be incorporated into your website's live chat feature or social media accounts.
Online merchants can conduct business inside the most widely used apps by using Chatgenie. Customers can easily browse ChatGenie-powered stores, from viewing products to checking out and receiving their purchases. The ordering process has been streamlined to eliminate the need for merchants to track orders manually.