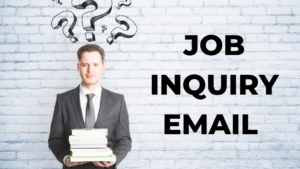 Your ideal job is clear to you. Your job application is prepared, and you've prepared your talking points for the interviews and job opening. All that's left to do is to wait for the position to go on the market. But that's not how it works every time.
You don't have to continually refreshing the job search page in hopes of finding an opening for a position or firm in which you're really interested. The majority of experts concur that at least 70% of open positions are never published, so if you aren't proactive, you might be passing up your ideal career without ever realizing it. That's when you should send in a job inquiry email.
What is a Job Inquiry Email?
Emails with employment inquiries are forwarded to companies with unlisted job positions. Job applicants can write an email, which includes their résumé, describe their qualifications, and indicate their desire in working for the organization inside these communications. A hiring manager is more likely to notice your resume when there are no openings. As soon as the business starts conducting interviews to fill available positions, they save the resumes they like to a file.
When you're attempting to get your CV in front of organizations that may not even be in the recruiting process, a job inquiry letter is a fantastic tool to employ. Contrary to popular belief, employers don't usually post job advertisements as soon as a position becomes open. You may get an edge over other job seekers by sending a job enquiry to organizations before they have a chance to start looking for applicants.
💡 Generate personalized emails, blog articles, product descriptions, and ads in seconds using the power of A.I
Why should you Send a Job Inquiry Email?
A wonderful method to introduce yourself to a firm and make contact is by sending a job inquiry email. Sending an unsolicited enquiry demonstrates your sincere interest in the organization and elevates your candidacy. Additionally, you may take use of the email to arrange a meeting to ask more questions about the position and talk about where you could fit. Sending a job enquiry email gets your name and qualifications in front of that company for potential employment even if they don't currently have any openings, or at least none in your field of expertise.
A letter of inquiry is a useful tool for getting in touch with a business. Sending the letter, which was not requested, demonstrates initiative and a sincere interest in the organization. A letter of inquiry can be used to arrange an informative interview with human resources or senior staff in addition to asking about open or future openings.
A letter of inquiry can help you stay on the company's radar when possibilities that are right for you occur, even if they may not be recruiting right now or may not have a position advertised that is ideal for you.
How to Write a Job Inquiry Email?
Write a Job Inquiry Email using the following steps:
1. Investigate the company. Even if you might email a company you know with a job query, do further research on them. Explore their history, company structure, and, if available, the names of executives or recruiting managers by going off of their own website. If you are familiar with the recipient of your email, including pertinent information about them or their hobbies will help you catch their attention. For instance, you may learn from reading a hiring manager's biography that you have a passion for tennis. Mention it in the question and cater to their whims.
2. Draft a preliminary version. Consider your email job enquiry a professional document. Write several draughts and carefully revise each one, showing genuine interest. Sentences or phrases that go off subject or seem unprofessional should be cut, while helpful material should be included. Consider this email to be the company's first interview with you since it serves as their introduction to you.
3. Write a hook sentence. A excellent job inquiry email will clearly describe its purpose in the subject line. Make sure to introduce yourself and state that the purpose of your communication is to inquire about a position. If at all feasible, briefly describe your interest in this particular business as well.
4. Talk with a formal tone. Keep your language professional even if you are sending this email to a contemporary company that employs a conversational tone in their marketing. You are not addressing them as a marketer or prospective client. Instead, you're treating them as a business expert who may someday stand in for them. Keep a professional manner and tone throughout, treating this email like an interview as you would have in previous phases.
5. Include your résumé and cover letter. Remember to include a resume and cover letter in your email before making a job enquiry. Although you could include your credentials and talents in the body of the email, employers frequently have queries that can only be answered by resumes and cover letters. If they don't currently have any vacancies for you, they at least have your resume on file in case they do in the future.
SAMPLE TEMPLATE:
Greetings, (Contact Name)
We appreciate you considering our job query. Since I've been following your business for a while, I've been amazed by its expansion and record of creative success.
I've worked in the [company's business] for [number of years] and am now interested in finding fresh and original ways to use my knowledge and expertise. I think my special set of skills can really benefit [business name] and contribute to its long-term success.
Over the past [number of years] I have worked as [job title or titles]. I have continually worked to promote business objectives, boost output, and improve the working environment throughout my career. List one or two particular achievements that I successfully managed in my present position and how they benefited the business. I'm hoping I can provide your company the same kinds of advantages.
It would be a privilege for me to meet with you to discuss future employment vacancies, career prospects, and how my abilities may assist the business at [company name]. In preparation for such a visit, I am ready to give you any further information you might want.
Here's a copy of my resume which contains all the details you might want to know about my previous experience with other organizations. (Attach your resume)
I really anticipate hearing from you.
Sincerely,
Your Name
Contact Email
URL for LinkedIn profile
Mobile Number
A professional job inquiry email is a terrific method to get your ideal job while applying for positions. You need to make the greatest first impression you can because the hiring manager will not have spoken to you previously and this is a cold email.
If you can actively "sell" yourself in a clear and succinct manner, as well as demonstrate why you would be an addition for the organization, you are more likely to get recognized. After all, the more appealing you come across as a candidate, the more probable it is that you'll land that crucial job interview.
That was all for now. We hope you found this article helpful. Please don't forget to leave any comments or questions you have for us down below. All the best!