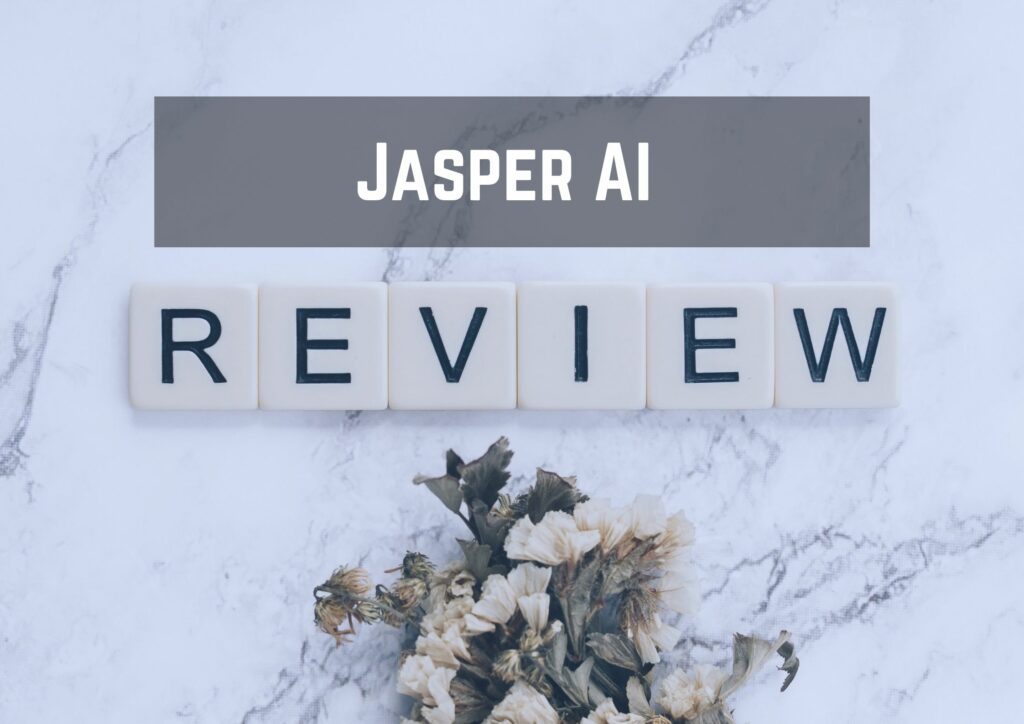 Looking for a comprehensive review on Jasper AI? This post will help you out.
Jasper AI is an AI writing software that aims to improve article creation faster. 
Fact-checking and regulating the quality of content is required for all AI content creators. Jasper, on the other hand, can write remarkably good copy. When broken down sentence by sentence, you may quickly construct long-form content that appears to be quite strong. It is possible to generate a long-form weblog using AI using Jasper templates and recipes.
Now, let's get started with the review.
💡 Generate personalized emails, blog articles, product descriptions, and ads in seconds using the power of A.I
Jasper AI Overview
Jasper AI is a copywriting software that combines AI and ML to generate engaging, appealing text for your blogs, landing sites, social media, advertisements, marketing emails, and more, enabling you to write 5 times more content in half the time.
By using this tool, you can speed up the generation of 100% unique and new material for your blog or site. In 2022, this AI content creation software will be a show-stopper for any organisation and marketer. Nowadays, Jasper AI content writer is in high demand among digital content providers, influencers, bloggers, and email marketers looking to save time and cost.
Jasper AI Features
Jasper.ai also has the following features and benefits:
Improve AI content to rank for important keywords

Write and translate content in 26 languages

Create Quora or Review responses

Create blog ideas 

Content improver 
Who Should Use Jasper AI?
Is Jasper AI a good fit for you? Check it out below:
Bloggers

 
If you're an independent blogger or a company looking to add a weblog to your website to increase organic traffic, Jasper AI is the solution for you. You will be able to develop SEO-optimised blogs that will rank on Google and deliver thousands of more visitors to your site each month with Boss Mode.
Entrepreneurs

 
If you are a businessman, Jasper.ai can assist you in easily growing your firm. With 50+ copywriting options to pick from, you're bound to find a few that you can utilise to produce appealing AI copy to attract a larger audience.
Marketers

 
If you're a marketer, you'll like Jasper's dozens of copywriting options for producing ads, influencing your audience on social media, and creating marketing emails.
Agencies

 
If you run a content creation agency, why not employ your Jasper AI tool to help you generate attractive copy for sales funnels, webpages, or social media posts? It's like adding a pro copywriter to your team at a fraction of the price.
Jasper AI Pricing Plans
Jasper AI provides 2 types of plans for generating content: Starter plan and Boss mode plan. Both offer varied pricing and features that you can choose from based on your needs and desires. If you've already decided to use Jasper AI to develop your content, let's go over the starter and boss mode plans in detail, including their features and cost.
Jasper Starter Plan
The basic subscription with Jasper.ai starts at just $29 per month. You can use this type of approach to produce brief copy such as headlines, tweets, and product reviews. This Jasper Starter Plan has a monthly word limit of 20,000 and unlimited logins.
Price: $29 per month ($24 per month if billed yearly)
Features: 
Short copywriting

Good context

50+ Templates available

25+ languages

Auto-save
Jasper's Boss Mode Plan
Marketers and content creators are the most likely to use this plan. The boss mode subscription is ideal for creating lengthy content such as blog posts, surveys, emails, and tales. Jasper's boss plan starts at $59 per month and includes a monthly word limit of 50000 words as well as unlimited logins.
Price: $59 per month ($49 per month if billed yearly)
Features:
Writing long content

Great context

50+ templates

25+ languages

Documents

Jasper commands

SEO mode

Recipes

Plagiarism checker

New bonus! Grammarly

Auto-Save

Revision history
Jarvis AI Pros and Cons
Pros
 Dashboard is simple to use

Get started at just $29 per month

Free trial available 

100% Money Back Guarantee

Unlimited user logins
Cons
The starter plan doesn't have Jasper commands and plagiarism checker 
Best Jarvis AI Alternatives
Now, let's take a look at the fierce rivals of Jarvis AI:
#1. Writecream
Writecream is an AI writing tool that uses artificial intelligence to help you generate cold emails, podcasts, voiceovers, icebreakers, sales pitches, and blog posts. It allows you to quickly create marketing materials, sales emails, and internet content. You may use Writecream to build personalised icebreakers that will help you enhance your sales. You may create a unique introduction for each of your applicants based on their employment, education, and expertise and include it at the start of your email or text message. 
Simply enter the link to your prospect's site. Following that, Writercream's AI will scan it and create a convincing icebreaker to tempt them to respond and increase sales. Enter the link of a blog, and the platform will assess the content and the author's point of view before creating a unique message to attract their attention. You may also generate long-form material, such as blog entries and video scripts, in minutes. Check out this comparison for more details!
#2. Rytr
Rytr is an AI content creator and copywriting tool that helps you create high-quality content for the least amount of money, time, and effort. You simply select your content type, enter some basic information about the topic, and Rytr generates excellent content for you in seconds. It is an intelligent writing software that can create any content for you. It aids in putting a stop to every writer's worst nightmare: writer's block. 
#3. Writer
Writer is an AI-powered copy editing tool that helps authors with spelling and grammatical issues. The most significant advantage of Writer is that its edits are based on the team's own language and vocabulary, making them more accurate throughout the firm. The tool benefits the entire team by increasing vocabulary and resolving grammar and spelling errors. Aside from that, the software provides a Writer Styleguide function that allows customers to create a writing source for their whole organisation and automate writing guidelines.
Writer users can share their lists of words and dictionaries with others in the organisation. The tool provides a complete list of dos and don'ts for writers to follow, along with examples. It also assists authors in providing accurate pop-up messages in anything they write. Finally, this writing programme may be coupled with various platforms to create emails, papers, sales and marketing concepts, and so on.
#4. Sapling
Sapling is an artificial intelligence-powered writing assistant designed for customer-facing teams. It may generate customised responses and learn from your conversations. It can help users improve their spelling and grammar as well as their typing speed. It is intended to work with all message channels, including live chat, email, and social network messaging. Sapling helps users to manage huge inbound conversation quantities smoothly by minimising repetitive operations, minimising mistakes, enhancing efficiency, and ultimately assisting in the achievement of customer happiness.
#5. WordAi 
WordAi is an AI writing software that helps writers improve the quality of their phrases by rewriting them with artificial intelligence. By analysing how one word interacts with the others, the software rewrites complete sentences and paragraphs. It discovers the best methods to rewrite the content depending on what it genuinely means. WordAi totally converts the sentence into a new one that Google cannot identify as spun material. This AI-powered tool reads phrases as if they were human, accumulating facts and information.
Conclusion
Overall, the Jasper AI solution is an excellent choice for individuals looking to save time and money by exporting their content. This tool will assist you in producing high-quality material with few typos, all while lowering your risk of making errors when writing.
Looking for a better alternative? You can go for Writecream which is listed #1 on our list. It is a free tool that allows you to quickly write content for your site. Writecream is also the greatest content marketing solution. You can create material in your native language. It is a content creation tool that can assist you in increasing social media engagement and search engine results.
Writecream provides 30+ tools for generating tons of content within seconds! Use Writecream to generate product descriptions, personalized emails, blog articles and much more and that too for free! Our free plan provides 20 credits every month which helps you generate 10,000 words per month!
Isn't it amazing?
To get started, register here for our FOREVER FREE plan NOW!