Building out an article or piece of content takes time, requires creativity, and you're never quite sure if it will work or function the way you want it to. The product being reviewed today is called NeuroFlash, and it can not only assist you to create content but also the appropriate kind of material for the keywords you want to target. To make sure that your keywords are simple to read and use, you may even run them via NeuroFlash.
You can create content with NeuroFlash and within NeuroFlash, among other things. Without further ado, let's walk you through the features of NeuroFlash.
What's NeuroFlash?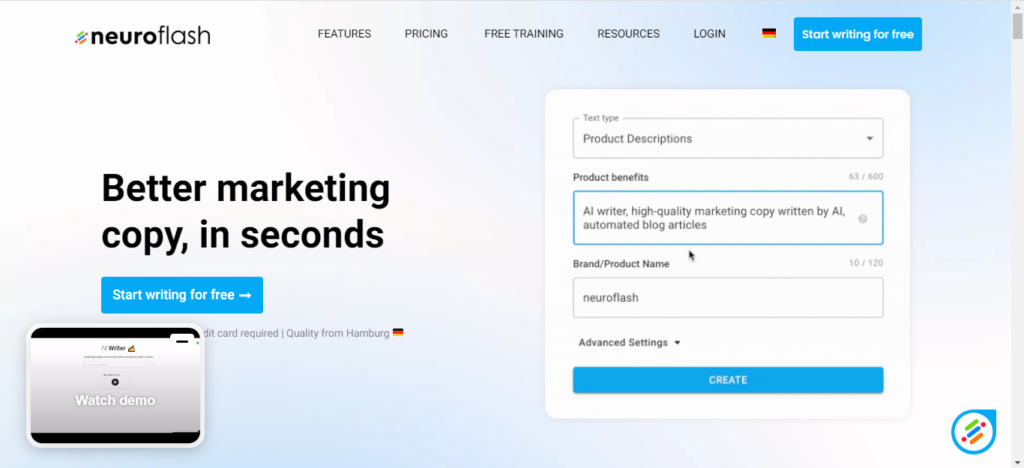 Neuroflash is a piece of software that assists content writers in coming up with new ideas for articles by automatically creating content ideas based on keywords. It is a content generation tool that makes it simple to come up with fresh content concepts quickly.
A neuro-fuzzy logic-based content generator called Neuroflash analyses user interaction and produces content in accordance with the user's preferences. As it can produce content for a wide range of consumers, it is helpful when you need to create content for various audiences.
💡 Generate personalized emails, blog articles, product descriptions, and ads in seconds using the power of A.I
Features:
Long and Short form text types: Neauroflash provides 50+ long- & short-form text types to accelerate your copywriting in 8 languages. These are the following text-types it provides
Value Proposition – Formulate an inspiring and appealing value proposition to persuade customers and gain their trust.
Customer Service Answer – Answer customers' diverse questions quickly and efficiently with an AI-generated customer service response.
Personal bio – Update or create a personal bio to better present yourself in your job applications.
Interview questions – Have imaginative and original interview questions created to get the jump on potential applicants.
Press notification – Create an interesting and engaging press release that is guaranteed to attract readers' attention.
Job ad – Create an appealing and interesting job ad that will attract the attention of potential applicants.
Youtube Video Description – Create an engaging Youtube video description to enhance the quality of your videos and offer the best content to your followers.
Youtube Video Script – Create a unique Youtube video script to enhance your video quality and provide the best content for your followers.
Instagram Caption – Create an interesting and original Instagram caption that keeps your followers engaged and encourages them to view your post.
Twitter Post – Create an interesting and original Twitter post that keeps your followers engaged and encourages them to read what you share and so on.
Blog Post: Another great feature of Neuroflash is that it can be used to create a blog post. So, if you're a blogger looking to produce a new blog article, you can use this smart AI technology to do so. It aids you in writing the following:
Blog Post Title
Blog post outline
H2 paragraph
Product Description
Plagiarism – Neuroflash provides a function that detects plagiarism. Simply paste your marketing copy into Neauroflash after you're done creating or modifying it.
Neuroflash offers Tester Pro features to predict newsletter performance, email opening rates, and lead generation. Finally, the Explorer tool can reveal new content ideas for users. It also provides consumer insights into marketing messages to increase their effectiveness.
Pricing
Neuroflash provides a free-trial of 2000 words. You can try it out for free before deciding whether or not to subscribe and there's no need for a credit card. The following are the plans provided by Neuroflash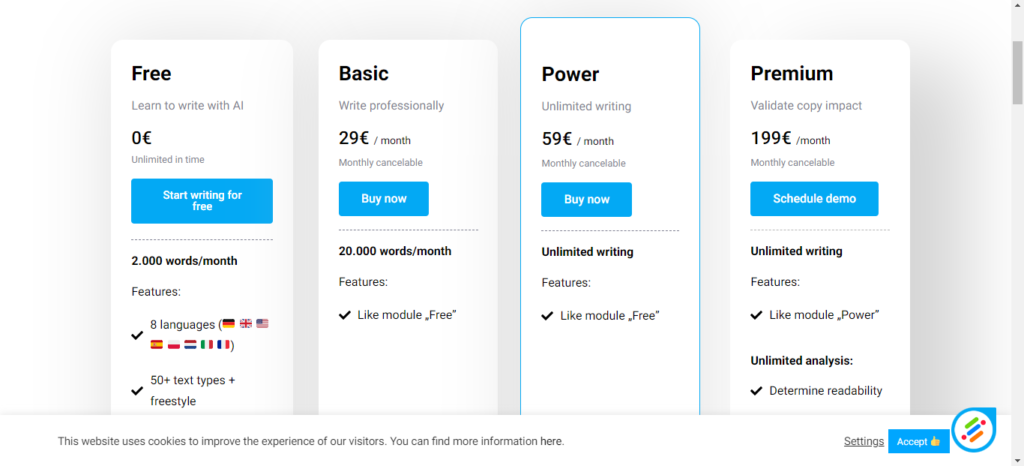 Free
2000 words per month
8 languages
30 text types + freestyle
Social media/blog post
Rewrite and summarize
Set tonality
Continue writing
Basic
29€ / month
20,000 words per month
All free features
Power
59€ / month
Unlimited words per month
All free features
Premium
199€ / month
Unlimited words per month
All Power features
Determine readability
Prediction of the effect of indirect messages and brand values
Pros
Many functionality and usability
Tutorial videos available in case of any trouble
Cons
UI can be confusing to most users
They do not have many languages. It provides only 8 languages
It doesn't have a mobile app
Neuroflash doesn't have a browser extension
Neuroflash Alternative: WriteCream
Despite having many useful features for copywriters, marketers, business owners, and content creators, Neuroflash has certain downsides. It lacks any voiceover features and is limited to 8 languages. Often, Neuroflash produces useless results, wasting resources and money. Small business owners may find the plans unsuitable because they are highly pricey. Additionally, using the software can be challenging due to the abundance of functions.
Fortunately, there is AI-assisted software called WriteCream that can fix all of these issues!
What is WriteCream?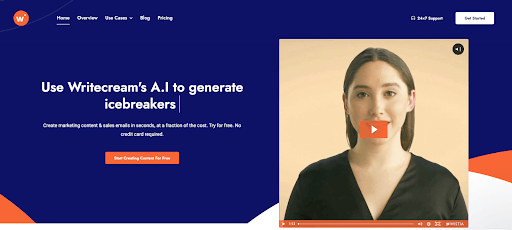 Writecream is another AI-powered platform that writers and content marketers utilise to tackle all of their writing issues. It helps them with all aspects of writing, including creating personalised emails and messages for cold emails and LinkedIn outreach as well as ideas for blogs, website text, social media posts, and more. This technology has the ability to greatly improve your productivity by creating vast amounts of information in a couple of seconds. A newcomer to the digital sector named Writecream is succeeding surprisingly well. Owing to its unique qualities, accessibility, and affordability, it has seen an increase in popularity in a relatively short period of time.
Why is WriteCream better than Neuroflash?
While Neuroflash only supports 8languages, WriteCream supports 75, offering versatility.
Neuroflash lacks voiceover and podcast features that make it easy to quickly add audio to videos.
WriteCream's overall cost is less expensive than Copy AI's. Additionally, WriteCream's extra features offer it an advantage over all of its rivals.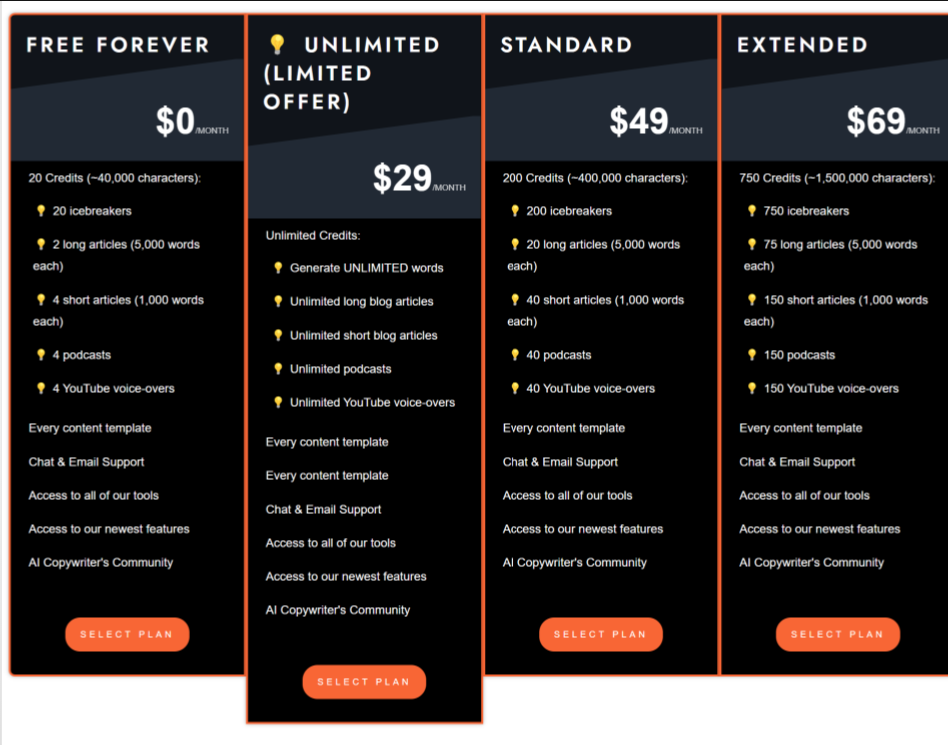 The free plan comes with all features, 20 credits, and 40,000 characters.
Standard Plan: 200 credits for $49/month with a 400,000 character limit.
Extended Plan: 750 credits with a 1,500,000 character cap for $69/month. 200 to 750 podcasts, blog posts, and picture icebreakers were produced. It offers live chat and email support, as well as full access to all of Writecream's tools.
Custom Plan: With this plan, users can detail their needs, and Writecream will develop a custom price plan for them. The cost of this plan is determined by the user's requirements.
Exclusive WriteCream Features
Podcast Tool: Writecream's Human Voice tool lets users turn their blog entries into YouTube videos, podcasts, or voice-overs.
Copywriting Formulas:  It also has copywriting formulas integrated right into the system. Two scientific formulas are employed in its copywriting tools are the Before-After-Bridge and the Pain-Agitate-Solution.
Image-Based Icebreaker: Writecream's image icebreakers is an unique tool. These are personalised images created by AI and used for cold outreach. Entrepreneurs and marketers are getting more interested in this technology. It's widely used by customers to make premium images with high-quality material.
Personalized features: Writecream offers emails, image icebreakers, product reviewers, and other personalized features. These features are being used by clients to greatly enhance their sales!
Conclusion
Despite having a lot in common, Writecream trumps Neuroflash thanks to its unique features like ice breakers and audio scripts. The SEO optimization is also considerably improved while using Writecream. Users may find that Neuroflash's services are expensive and limited, despite the fact that it has some features that make it stand out from other solutions on the market. Writecream is a better choice in this regard because it provides a wide range of features at a reasonable cost.
Check out both, then make your own decision!
Writecream provides 30+ tools for generating tons of content within seconds! Use Writecream to generate product descriptions, personalized emails, blog articles and much more and that too for free! Our free plan provides 20 credits every month which helps you generate 10,000 words per month!
Isn't it amazing?
To get started, register here for our FOREVER FREE plan NOW!