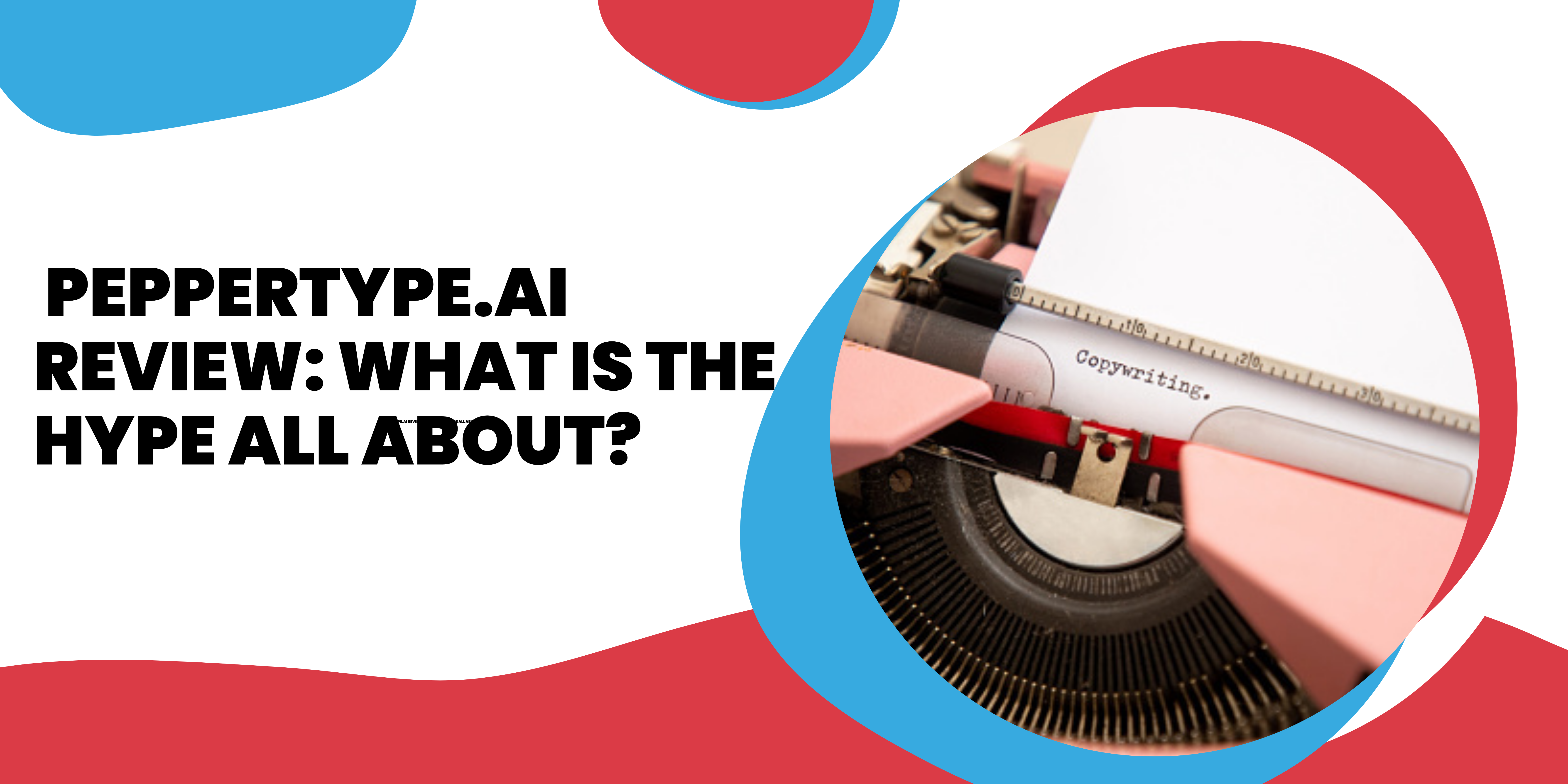 Are you looking for an honest review of Peppertype.ai?
If you answered yes, you've landed at the right page.
If you are an online marketer or a blogger like me, you must occasionally struggle to come up with content ideas. This is a problem that every online marketer or blogger has to deal with. Don't worry, we've got you covered. Meet Peppertype.ai, an AI Writing platform.
Peppertype.ai might be the tool for you if you've ever felt that your brain is a blank slate. Peppertype.ai is a software powered by artificial intelligence that can create content for every occasion. You can either use the pre-built templates or choose from a number of customized pieces of content that are tailored to your needs. Peppertype ensures that no matter how many times you use it, new ideas will always emerge because the AI never runs out of inspiration – so stop suffering from writer's block and give Peppertype a try!
💡 Generate personalized emails, blog articles, product descriptions, and ads in seconds using the power of A.I
What is Peppertype.ai?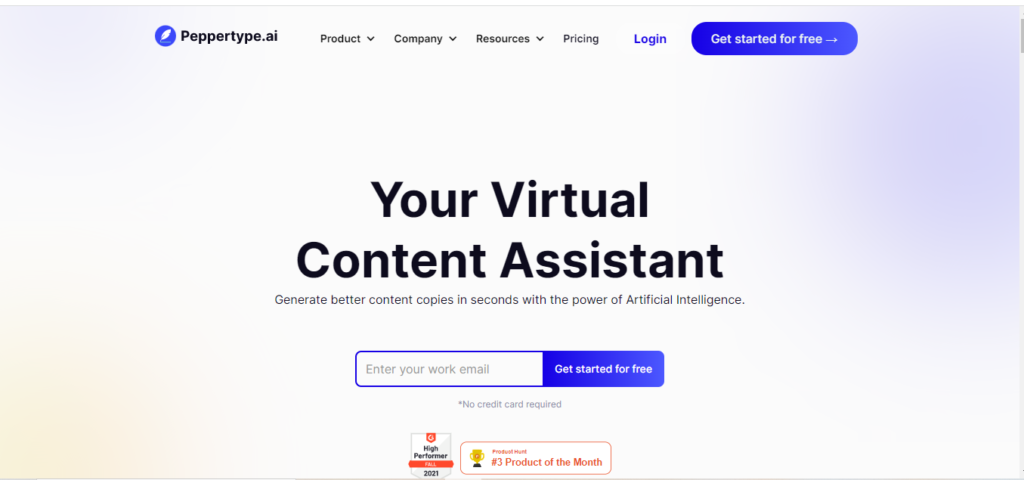 Peppertype.ai is a web application that uses AI and machine learning to automatically generate and expand data and texts. It may generate text for posts on social media, blog entries, news, product reviews, and other purposes. You can build a new project, enter data, or use templates to get started.
You can choose from hundreds of pre-written templates that are fully optimised and suited to your needs with Peppertype! This accelerates the procedure, allowing you to create a copy in only a few clicks.
Peppertype.ai Features
Peppertype has a large selection of templates and ideas, making it simple to pick what works best. It's unique content generator uses Artificial Intelligence (AI) technology to adapt to the way humans write, and it offers some really intriguing features to play around with.
Peppertype may be used to write product evaluations, spruce up blog entries, make articles for your website, produce social media postings, develop website content, and much more. Businesses, bloggers, writers, content creators, social media managers, marketing managers, and social media specialists can all benefit from Peppertype. It allows you to create dozens or even hundreds of articles at once. You can even make tutorials with it! The options are limitless.
This software has the following features:
Blog Ideas and topics
Blog Introduction, outline, conclusion
Blog Main content
SEO optimized Meta Title
Social Media Captions
One-liner Tweets
Engaging Tweet Ideas
Facebook Ad Primary Text
Facebook Ad Copies
Youtube Video Topic Ideas
Youtube Video Descriptions
Amazon Product Title
Amazon Product Features
Amazon Product Description
Content Expander
Informative Quora Answers
Website Headline Copy
BAB Copywriting
Brand & Product Description
Compelling Bullet Points for Email
E-commerce Product Description
AIDA Copywriting
Content Rewriter (Improver)
Product Review Generator
Feature to Benefit Copywriting
PAS Copywriting
Other Useful Features
1. Social Media Content Creation
Regular social media posting is critical for every business, and and the content needs to be engaging for your business to grow. Peppertype enables you to create visually appealing and engaging social media content. Even if it employs artificial intelligence, you can rest assured that you will receive the best content.
You can utilize it as a writing companion if you wish to get an idea for social posting. You can tweet on your account with a single click. Peppertype allows you to create any type of social content, which saves time.
2. Blog Content
If you're a blogger or writer, then you'll understand that there are instances when we can't think of blog themes or when we forget about the blogging structure and end up in a writer's block. With the help of Peppertype you can easily generate blogging ideas, as well as a good content structure.
Here are some features that Peppertype covers-
Generating blog ideas or topics.
Blog title.
Meta description.
Blog Intro
Peppertype does all of this for you, letting you focus on more important tasks and saving your time.
3. Content Creation for SEO
In order to rank on Google, properly optimized content is becoming increasingly important. Any company that wants to raise brand awareness must use SEO. Peppertype aids you in creating content that is search engine friendly and beneficial to your website.
This tool will guide you through the process of optimizing content and the entire website. Simply enter your brand or product name into Peppertype, and it will generate a meta description and title for you in a matter of seconds.
4. Ad Copy for Marketing
Running an ad without engaging ad copy is a waste of money and time because no one will click on it. As a result, peppertype included this capability so that anyone may easily construct an ad copy.
It helps you organise your content by using distinctive bullet points and a visually appealing framework. Peppertype gives you the opportunity of writing a product review with useful information.
If you're an affiliate marketer, you can use this content writer tool to quickly create product reviews and write product descriptions.
5. Excellent Framework
A robust framework might make your job easier when it comes to efficient marketing. Peppertype enables you to develop a framework that converts well. It can aid you in selecting an appealing plan that will propel your organization or internet trip to new heights.
Most people overlook this aspect, but if you take the initiative, you will easily outperform your opponents. Peppertype employs artificial intelligence to choose the ideal strategy for you. All of the tactics have been tested and are certain to work for your company.
6. Support
You can seek assistance with any issues that you are concerned about. You can send an email directly using their email option. The Peppertype team is quick to answer to emails.
You also have the option of providing feedback and suggestions to help enhance the service quality. In general, the support system is excellent.
Pros of Peppertype.AI
The output is of amazing quality.
A total of 30+ article templates are available from Peppertype AI.
Peppertype creates unique content that is free of plagiarism.
Active Peppertype AI's Facebook page
It's great for making short-form content
Cons of Peppertype.AI
Lacks a long-form content producer.
Sometimes the content generated is factually inaccurate.
Assumes that all content is being produced for a certain product.
Given the lack of long-form content creators, the pricing is exorbitant.
Lots of typos and errors.
Pricing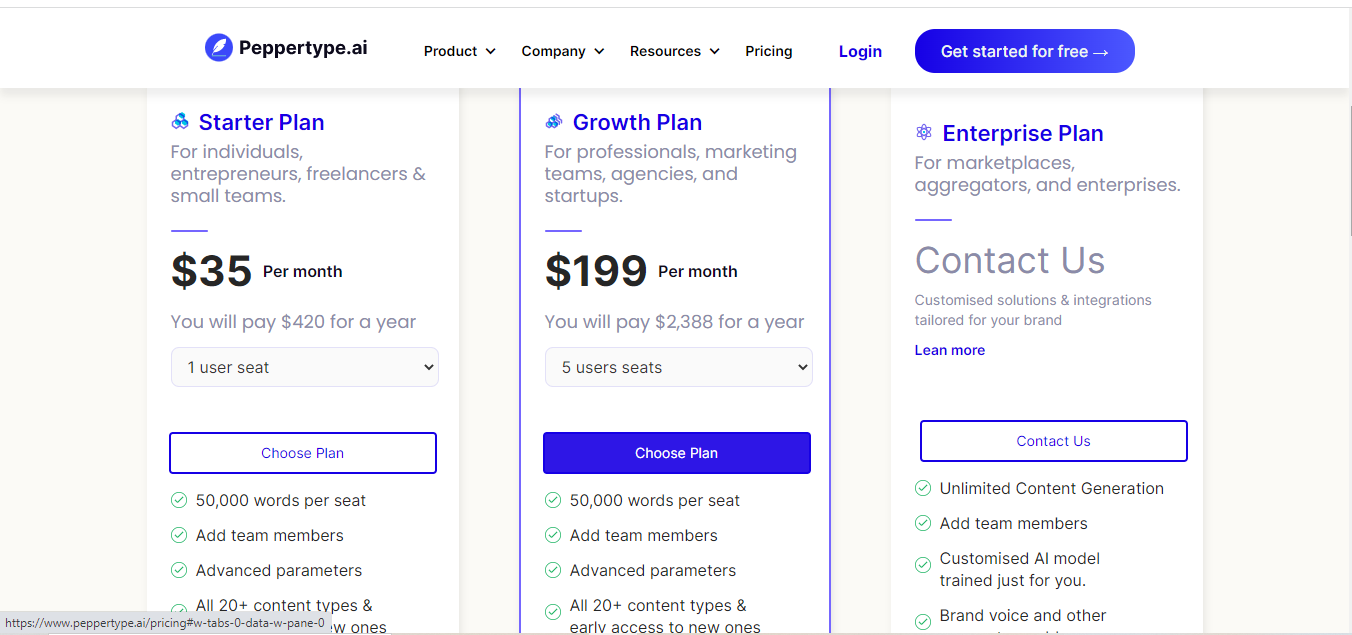 The starter plan, the growth plan, and the enterprise plan are the three options offered by Peppertype AI. The starter plan starts at $35 per month and includes nearly all of the essential features that most businesses require. You can also get a discount if you pay for a year in advance, bringing the monthly cost down to $25.
Aside from the features included in the Starter plan, the Growth plan at $199/month adds the option to collaborate and share results, as well as provide controlled access and the opportunity to download the results.
The other two options are only necessary if you're a large company with several content creators working on the same project at various levels.
The enterprise plan, as the name implies, is for large businesses. It includes advanced features such as custom AI models that have been trained and a human quality check. This isn't for small to medium-sized businesses with a few employees. Peppertype isn't a free artificial intelligence writer. As a result, there is no free plan. It does, however, provide a 10,000-word free trial to allow you to evaluate Peppertype's quality.
The Perfect Peppertype.ai Alternative: Writecream
In spite of the awesome features that Peppertype offers, it suffers from some drawbacks as well. Peppertype frequently produces irrelevant results, resulting in credit waste. S mall business owners may find the plans unsuitable due to its high cost, given the lack of long-form content. Long-form content, such as blog posts, and emails, is essential for any business in the present times. This form of copy is in demand no matter what the industry is. Unfortunately, Peppertype.AI does not support long-form blog posts.
The solution to all of these problems is Writecream and is a perfect alternative. It has a vast number of features which can overcome all these issues.
What is Writecream?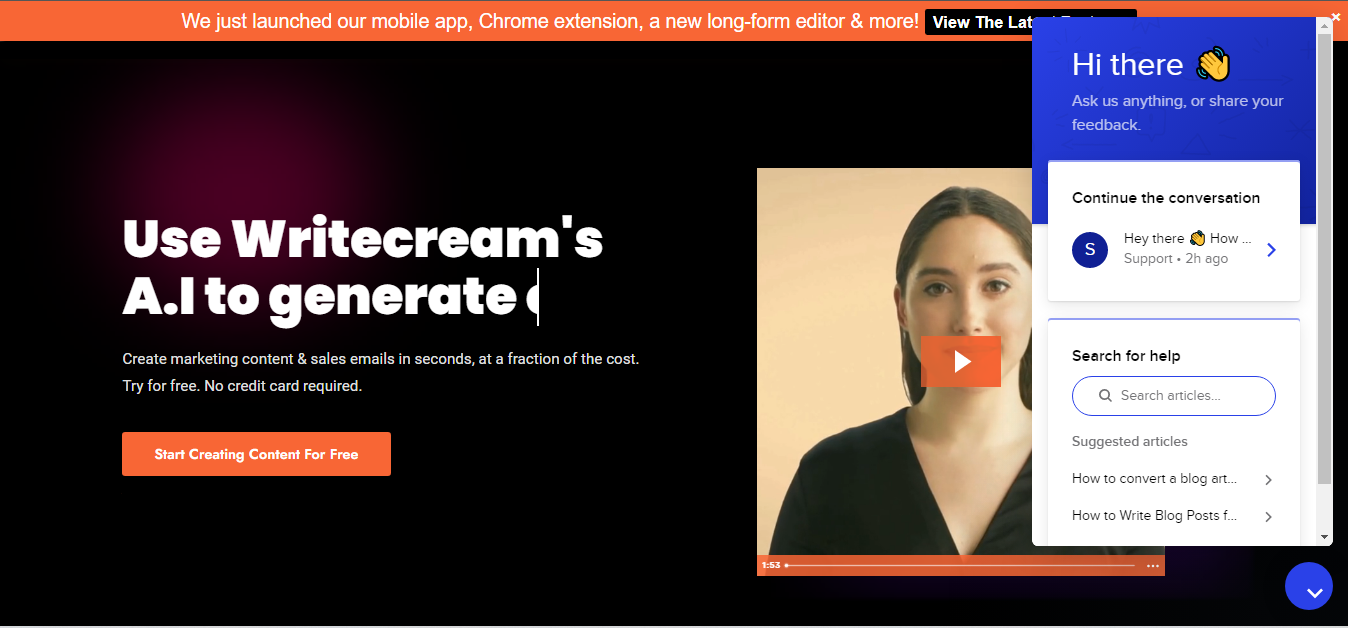 Writecream is an AI-powered platform that writers and content marketers use to solve all of their writing problems, including personalizing introductions and messages for Cold Emails and LinkedIn Outreach, coming up with blog ideas, website copy, social media material, and more. This software has the ability to significantly boost your productivity by generating large amounts of content in a couple of seconds. Writecream is a relatively newcomer to the digital market that is doing exceptionally well. Due of its distinctive characteristics, accessibility, and affordability, it has grown in popularity in a relatively short period of time.
Reasons why Writecream is better than Peppertype
Writecream's AI Article Writer assists with the creation of long-form content, such as articles and video scripts, in minutes. A 1000-word article takes Writecream less than 30 minutes to write. However, Peppertype.ai lacks a long-form article writing feature, which is a significant drawback.
Writecream's output is significantly superior and without any of plagiarism, punctuation errors or typos.
AI is missing the Podcast and Voiceover features, which allows you to add audio to your video with just a few clicks.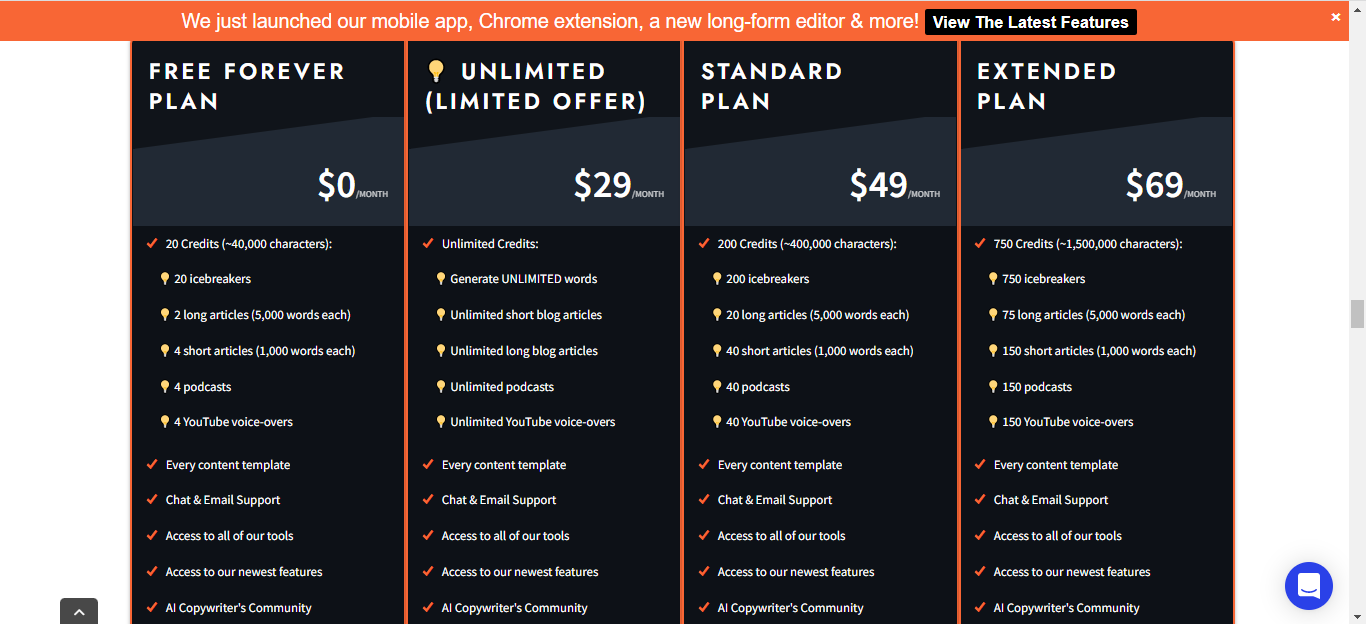 Writecream's free trial feature gives users access to the latest features as well as live chat and email assistance and it doesn't have a limit timed period like that of Copy AI. On comparison, Writecream is more affordable than Peppertype. Below is the pricing and plans of Writecream:
Free Forever: It includes all features, in addition to 20 credits and 40,000 characters for free, as the name suggests.
Standard Plan: Offers 200 credits for $49/month and a character limit of 400,000.
Extended Plan: This plan includes 750 credits and a character limit of 1,500,000 at $69/month. Number of image icebreakers, blog pieces, and podcasts generated increased to 750. Moreover, it provides unrestricted access to all of Writecream's tools, as well as live chat and email assistance.
Custom Plan: This allows users to specify their requirements, and accordingly Writecream will create a custom price plan for them
LIMITED OFFER! Writecream has started a limited offer at $29/month where you can get unlimited credits and accessibility to all features, apart from the email and LinkedIn icebreakers that are limited to 1,000 per month, at only $29 dollars per month.
Exclusive Writecream Features:
Video Tutorials: The website has video tutorials for each of its features. That way users get easy access and don't waste a lot of time becoming familiar with the features.
Writecream's image-based icebreakers are a one-of-a-kind tool. These are AI-generated customised visuals that are used for cold outreach. Users can use this feature to create premium images with high-quality content.
Copywriting Formulas: WriteCream comes with copywriting formulas built right in. The Before-After-Bridge and the Pain-Agitate-Solution are two scientific formulas used in its copywriting tools to give the most effective output.
Personalized features: Emails, image icebreakers, product reviewers, and other personalised features are available through Writecream. Clients are utilising these features to significantly increase their sales!
Writecream's Human Voice tool can help users convert their blog posts into YouTube videos, podcasts, or voice-overs.
Original Content with Correct Punctuation and Spelling: Writecream produces 100% unique content with correct punctuation and spelling. When you click the Create button, the AI-powered tool creates a one-of-a-kind piece of content.
If you're short on content ideas and don't have the time to come up with them yourself, AI tools can come in handy. These days, marketing is all about content, and having fresh, fascinating, high-converting material on all of your web pages has never been more crucial. Peppertype.ai is a useful tool that produces high-quality short-form content. It does not, however, have a long-form content creator. On the other hand, Writecream overcomes all of these lacunae. Writecream is the most dependable due to its output quality, features and ease of access.
Try out Writecream today and let us know what you think about it!
Writecream provides 30+ tools for generating tons of content within seconds! Use Writecream to generate product descriptions, personalized emails, blog articles and much more and that too for free! Our free plan provides 20 credits every month which helps you generate 10,000 words per month!
Isn't it amazing?
To get started, register here for our FOREVER FREE plan NOW!