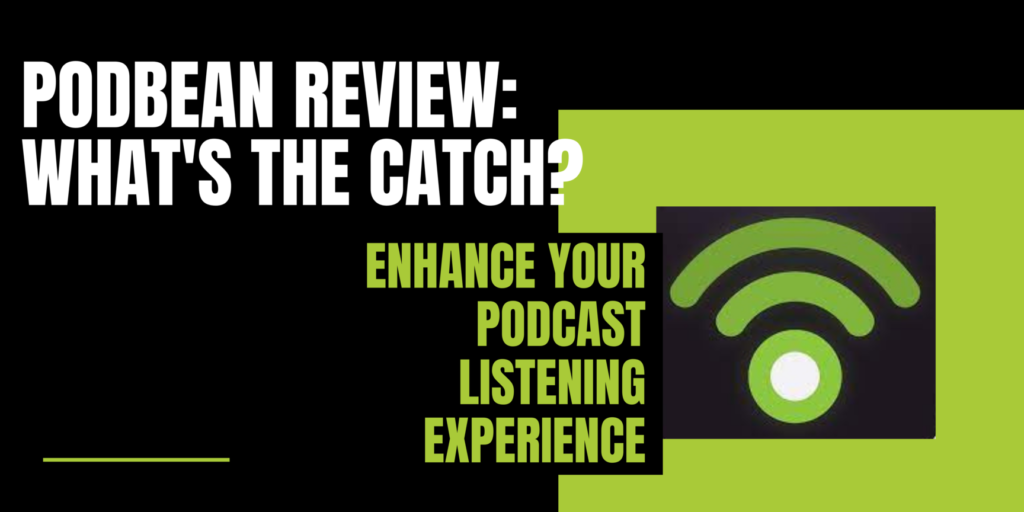 SECTION 1: Introduction to Podbean
Before we get into the details of the Podbean review, you should be aware that we've all heard the slightly pejorative remark that "everyone these days runs a podcast." But I've found myself saying, "everyone runs a podcast media host these days" in recent months. 
Every week, it seems like a new media presenter emerges, promising fortune and glory to anyone who podcast with them. Many of them, predictably, vanish as quickly as they arise.
Let's start with a quick overview of Podbean's function in the medium.
A media host is a service that allows you to create a podcast series, upload episodes, and have your podcast appear on Apple Podcasts, Google Podcasts, and Spotify.
💡 Generate personalized emails, blog articles, product descriptions, and ads in seconds using the power of A.I
Because your podcast "lives" on your media host, you must pick wisely.
On a lousy media host, you can have a great podcast, but if that media host goes out of business, your podcast will be lost forever.
And that, in my opinion, is one of the major advantages of Podbean's years in the medium. They have a successful and long-term business model. They don't appear to be on the verge of losing interest or committing financial suicide anytime soon.
Podbean has grown from its humble beginnings in the early 2000s to become one of the most well-known podcast publishing and monetization businesses of the last decade. With a variety of configurable hosting options, Podbean handles all of the difficult responsibilities of maintenance, publishing, and analytic analysis in one simple interface.

Podbean is a simple, user-friendly interface that allows anyone to get started right away. A simple point-and-click interface with expanded sharing and embed options allows you to promote, manage, and edit podcasts.
Podbean also has one of the most popular audio apps on the iOS and Android app stores, in addition to these publishing tools. Simply by hosting on Podbean, you may immediately broaden your audience.
Flat-rate subscriptions with possibly unmetered bandwidth, free storage, and in-depth analytics are available from Podbean. After getting your feet wet, you may use the service's inbuilt monetization toolsets to boost your earnings.
Podbean is, in a nutshell, an all-in-one platform for organizing your podcasts. Podbean makes publishing, distribution, marketing, and even live-streaming a breeze.
SEC TION 2: Prime Features That  Make Podbean Important For You
Whether you're a complete rookie or a seasoned podcaster, the PodBean app has a robust set of features to help you succeed.
Here's how it works:
-Publication of Content
This task is simple with the PodBean app – and it's free!
Keep in mind that the free plan limits your bandwidth to 100 GB per month. Your storage capacity is good for a total of five hours. Those restrictions are lifted when you upgrade to a paid licence version.
Uploading your episodes is a breeze with PodBean's simple user interface. You may schedule podcasts ahead of time and set the exact date and hour. The PodBean apps for iOS and Android allow you to publish your content on the go.
-Domain Integration 
While you're setting up your account with PodBean, they'll give you your subdomain. It will take you to your free website, which you may personalize and design as you see fit. You're not obligated to use the PodBean subdomain; you can always switch to a different one later.
Hosting is available indefinitely
You get unlimited audio hosting if you upgrade to the least premium plan (Unlimited Audio). Video hosting is also available with the more expensive Unlimited Plus package. So there's no need to be concerned about storage any longer!
PodBean, on the other hand, makes no mention of an uptime guarantee, which is something that podcast providers anticipate. That implies you won't get a refund if your website goes down.
-Easy Distribution 
This hosting provider also handles dissemination through an RSS feed that connects you to:
iTunes or Apple Podcasts

Spotify

Google Play a search engine

Google Podcasts is a service that allows you to listen to

YouTube

The PodBean App is a program that allows you to listen to podcasts on your phone
And more! 
Your episodes can also be shared automatically on Facebook, Twitter, WordPress, Tumblr, Youtube, and Spotify. You can also use PodBean badges to direct visitors to your podcast page. MailChimp allows you to send email updates to your subscribers about new episodes.
Website for Professional Podcasts
Your podcast website is an important aspect of your brand identification since it allows you to identify yourself to your listeners and make your content easily accessible. All of PodBean's plans include a website, which is a great feature.
Still, there's a downside. 
Many users have expressed their dissatisfaction with the customizing possibilities in their PodBean reviews. When you upgrade to a higher-end plan, you get additional alternatives.
On your PodBean podcast website, you can change the following:
The image in the header

The image in the background

The favicon for the podcast site

The hue of the PodBean audio/video player

The typeface and color of the podcast title

The typeface and color of the episode title

Widgets for the sidebar.
On the plus side, it's a rapid approach to establishing an online presence that doesn't require any coding knowledge.
Streaming in real-time
For a more engaging approach to your audience, this podcast app now allows live streaming on desktop and mobile. You can make it an invitation-only event with a cost, or make it open to anybody who is interested.
Your audience can communicate with you via live chat, phone calls, or virtual gifts. Virtual presents generate PodPoints, which may be redeemed for cash and unique host perks.
What does this mean for you? 
You can earn titles — the silver and gold medals in live streaming on the PodBean podcast platform — based on the quantity of PodPoints and live shows you receive each month. Medals come with benefits such as being highlighted on PodBean banners and being at the top of the live stream list.
There are even more advantages:
A maximum of 1500 or 5000 listeners is set for silver and gold medal hosts, respectively. Regular presenters must deal with the listener cap of 200 or 500 (Unlimited Plus Plan only).
Analytics 
You must be aware of your podcast's performance trends in order to develop your podcast and obtain a better understanding of your audience. Fortunately, all PodBean plans provide a set of useful statistics and analytics tools.
Do you want to take a closer look? 
In PodBean analytics, you may track the following charts and stats:
Chart that shows how things are going.
Where does your audience originate from when it comes to user interaction?
Downloads according to the time of day

Sources can be downloaded

The top ten episodes

Retention of users

Listeners on a regular basis.

Google Analytics is also supported by PodBean.

The best aspect is that you don't need a bachelor's degree in statistics to comprehend them. The clear and intuitive design of the charts makes them simple to understand. Everything is covered in detail in the Help section.

Meta Tags for SEO
You may make it easier for people to search for and locate your podcast by using the SEO (Search Engine Optimization) Meta Tags plugin. On the PodBean app for PC, this plugin is free and available on all plans.
It allows you to add custom meta tags to the header of your podcast website.
Your podcast site will stand out in search results if you use the right keywords, titles, and descriptions. As a result, there will be more potential listeners!
Monetization
If you have a paid plan, PodBean provides a wide selection of monetization options to help you profit from your podcasts. This feature set has received positive feedback from a number of users, as seen by their PodBean reviews.
Let's take a look at what's going on here.
Marketplace for Advertising
To be eligible for sponsorship, you must first sign up for the PodBean advertising marketplace. You have complete control over the ad time slots, and you may opt out at any moment.
Poids 
You may conduct and manage your ad campaigns with dynamic ad placement. GEO Targeting is a major PodAds feature that allows you to run advertisements that – surprise, surprise – target certain geo-locations.
Program for Patrons
If you don't want to rely on PodBean's advertising services, there's always the patron programme, where your fans can contribute monthly contributions to help you out. You set up reward tiers for your patrons and financial targets, much like on Patreon. Users of the Unlimited Plus and Business plans are the only ones who can utilise this function.
Premium Audio Streaming
With the Premium Podcast feature, you can set up a PodBean premium channel that your listeners can subscribe to for a one-time fee.
SECTION 3: A Brief Intro To Podbean Podcast App
The PodBean apps for iOS and Android are also well rated. Many consumers have appreciated PodBean for listening to their comments in their reviews.
Given those positive first impressions, I had high hopes for the Android app, and I was not disappointed.
Overall, it's simple to use and responsive, with a night mode that's pleasing to the eye. Podcasts can be listened to on the go, downloaded, followed live feeds, and even recorded and edited.
Based on your listening habits, the PodBean podcast app provides you with personalized recommendations. On this front, though, the algorithm is a bit hit-or-miss.
It's fun to group episodes into personalized playlists and have various user options for each podcast. As a result, you'll have a more personalized experience. The noise-canceling and volume-boosting features are also useful.
The editing is a little shabby, but I can forgive it because it's more of a side feature anyhow. You can add background music and sound effects to your recording, as well as separate and merge audio tracks.
In reality, whether you're a listener or a creator, this podcast app is well worth your time.
SECTION 4: Guide On How Can You Use Podbean
Want to give PodBean a spin?  
If you follow these three steps, you'll have your podcast up and running in no time.
Set the general information for your podcast.
To begin, you must first create an account. After you've created a PodBean account, go to General Settings by clicking the Settings icon. On that page, you can fill out the following information: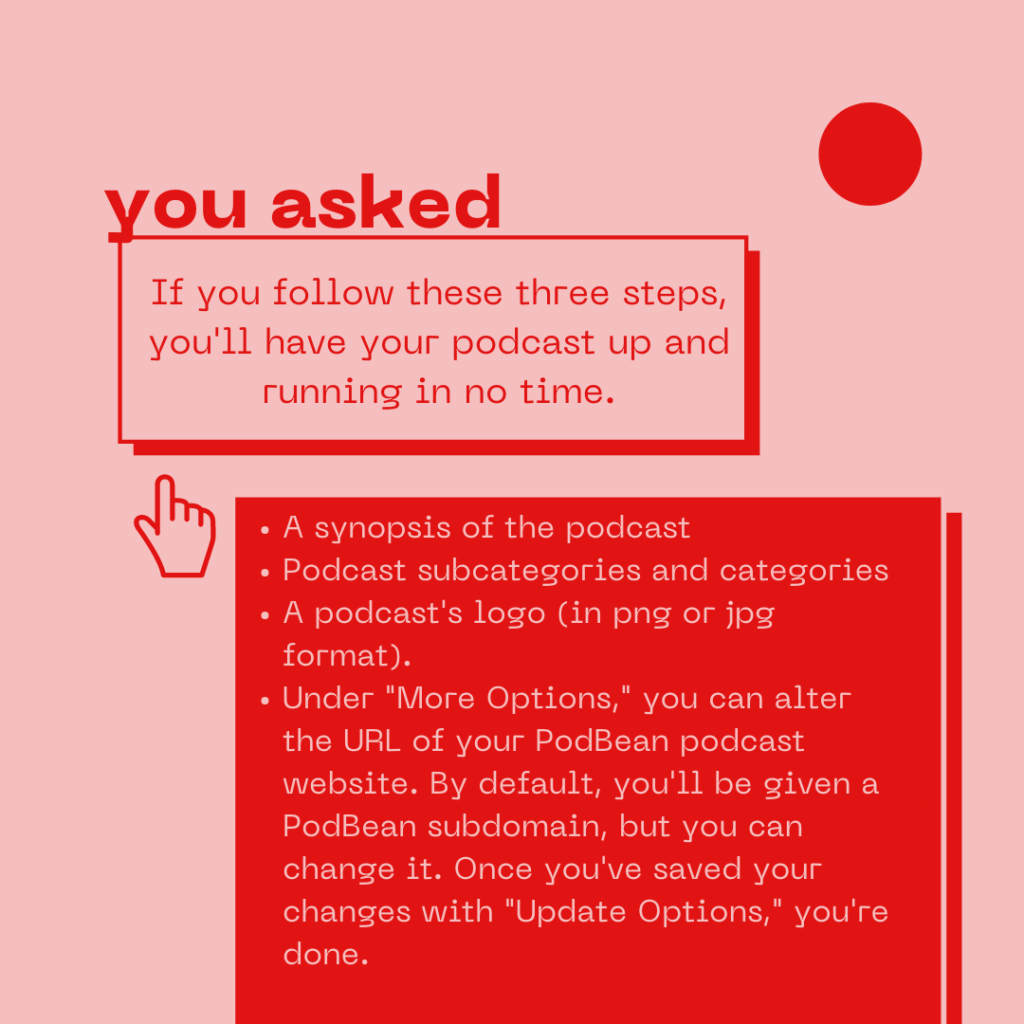 A synopsis of the podcast

Podcast subcategories and categories

A podcast's logo (in png or jpg format).

Under "More Options," you can alter the URL of your PodBean podcast website. By default, you'll be given a PodBean subdomain, but you can change it. Once you've saved your changes with "Update Options," you're done.
Make a podcast website with PodBean. You can customize your header image, background image, theme color, and more, as indicated before in this PodBean review. When you're happy with the changes, click "Submit."
Put Your Episode Out There
Now that you've got the fundamentals in place, all you have to do is post your audio or video episode. Go to the Episodes List page and select "New Episode" to upload your file.

You have the following editing options:

The title and synopsis of the episode

The genre of the episode (free or PodBean premium)

The artwork for the episode

The labels.

Finally, click "Publish," and you're done!
Isn't it simple?
SECTION 5: Do This If Ads are not your cup of Tea.
Ads aren't the only (or, in many cases, the best) option to monetize your podcast.
However, all methods of monetizing podcasts need the presence of an audience and the production of consistently high-quality content.
Podbean provides several different monetization options if you're willing to put in the time and effort, so let's look at them as part of this Podbean review.
Model "Patron" from Podbean
For their members, Podbean has their own Patreon, which is oriented toward podcasting and handled in-house.
Listeners can become financial subscribers to your program by pledging a monthly payment.
You can create reward tiers and goals, modify pledges, and raise donations right from the podcast app with Podbean Patron. It simplifies things for your audience to support you. 
Premium Content 
Another monetization option is the ability to sell premium content on Podbean easily. 
This could be a series of "archived" episodes that have been packed together, or it could be a series of ongoing extra episodes. It's entirely up to you to select what kind of premium content you provide.
Podbean also allows you to sell in a variety of ways. You can sell individual additional episodes or seasons of shows, or you can provide a membership. And, once again, everything fits together perfectly with the app.
The revenue share for Podbean is presently fixed at 15%. As a result, you get to keep 85% of your subscriber or sales revenue. By any standard, that's a sizable chunk of change, and it's a nice bonus for attaching this Podbean review to.
SECTION 6: The Plans and Their Pricing on Podbean
It's free to get started with PodBean, but they have several paid plans that you should consider upgrading to. 
Basic – Free 

Unlimited Audio – $9/mo 

Unlimited Plus – $29/mo 

Business – $99/mo 
The PodBean free plan only allows MP3 files and has a storage limit of 500MB and a bandwidth restriction of 100GB (which roughly translates to 7k to 10k downloads).
PodBean's paid unlimited plans start at $9 per month when paid annually, and include unlimited storage and bandwidth. A branded or mapped domain name, a custom site design, and monetization possibilities are also available. You'll need the Unlimited Plus subscription ($29/mo) if you wish to upload videos. The Business Plan, which costs $99 per month if paid annually or $129 per month if paid monthly, is a good option for businesses. This plan is for large networks and offers individualized customer service. In addition, the Business Plan provides capabilities that major enterprises require, such as multiple user logins, content segmentation, and comprehensive engagement data. Platform as a service (SaaS). The only option that allows you to remove Podbean's branding is the Business Plan.
SECTION 7: Advantages and Disadvantages of Podbean
Podbean is a fantastic platform for people who are just getting started with podcasting, distribution, and revenue. It's simple to make a nice webpage, embed your audio, and distribute your podcast across all major platforms using simple tools.
All income techniques are incorporated in the service by default, which delighted customers appreciate. The service takes a thorough approach to deal with all of the technicalities of podcasting that you'd rather ignore, allowing you to focus on creating high-quality material.
However, Podbean's biggest advantages are also its worst drawbacks. Some users have expressed dissatisfaction with the service's simplicity, particularly as the podcast site would be limited in comparison to a WordPress site.
Others are concerned that Podbean lacks increased security features, backups, and no guarantee of site availability. It's possible that more experienced developers will be hired.off investing in the best hosting service for their needs. 
SECTION 8: The Ultimate Podbean Features
Podbean includes a slew of useful features. Its purpose is to make podcasting more user-friendly. As a result, its features mirror this purpose by providing a simple and fast workflow.
Podbean provides a variety of configurable hosting options that make podcast distribution simple. These designs include tools for publishing as well as task management. Furthermore, analytical tools provide useful information about your overall performance.
Aside from the tools, Podbean's user interface is well-designed and provides a pleasant experience. Most tasks can be completed with just a few mouse clicks. As a result, you will save a significant amount of time and work.
For Apple and Android smartphones, Podbean now has an audio app. As a result, you'll be able to access your files and work on the go. When you combine it with its low prices, Podbean provides the whole package for any podcaster.
Things I Like About Podbean (Podbean Review)
Podbean is jam-packed with valuable features. So, this software has a lot to recommend it. Here are a few of my favorite Podbean features.
Beginner-friendly: Podbean is really simple to use. This makes it an excellent option for anyone eager to try something new. Its reputation as a superb beginner platform is bolstered by its free plan and reasonable price. Podbean has a G2 rating of 4.7/5 stars, indicating that it is a customer favorite
Landing page: One of the most appealing features of Podbean is the ability to construct a landing page for your podcasts. If you already hold a domain, you can also alter the landing page's domain. This functionality is available on all Podbean plans, including the free one.
Simple distribution: Podbean takes pride in its ease of use. Adding episodes to any platform is simple. You may also use email integration to update your audience about new releases.
Integrated monetization: For podcasters, Podbean's integrated monetization opportunities make it an excellent alternative. You can earn through a variety of methods, and the entire procedure is simple.
Podbean Review – What I Don't Like About It
Podbean is a fantastic podcast hosting platform. However, no platform is perfect. For some folks, there are a few aspects of Podbean that are deal-breakers. Here's a list of things I'd want to see Podbean improve on.
Limited website customization:

 For your landing page, Podbean provides a selection of modifiable layouts. However, it only allows you to make minor changes. There isn't a whole lot of room for personalization.
No backup option:

 Podbean does not have a backup option. As a result, if you lose your work in the middle, there is no way to recover it.

Return period: 

Podbean has an extremely short refund period, despite its inexpensive plans. As a result, individuals who wish to try out premium plans have a limited amount of time to decide if Podbean is the correct platform for them. Furthermore, according to a few customer evaluations, Podbean's cancellation and refund policies are a little hazy.
Review of Podbean: Features I Wish Podbean Had
We now have knowledge of Podbean's flaws. Let's take a look at what Podbean can do to make it more appealing.
Data Sync: Including an online sync tool might help you avoid losing your work due to interruptions. Users can thus relax without worrying about losing their unsaved work.
The majority of Podbean's collaboration capabilities are only available in the Business plan. Individuals and small organizations can benefit from adding some team elements to lesser plans.
SECTION 9: Have A Glance At These Alternatives Of Podbean
As great as Podbean is, it may not be the best option for everyone. If you feel like Podbean is not for you, you should check out some of these Podbean alternatives. 
Anchor: Anchor is a free alternative to Spotify that is well-integrated. However, it lacks numerous advanced features offered by Podbean, such as advertising and integration capabilities. Furthermore, Podbean's customer service outperforms Anchor's by a wide margin.
Cast: Casted specializes in B2B marketing and has features that cater to that demographic. It does, however, lack some B2C functionality.
Transistor: Transistor places a premium on collaborative features that might benefit larger businesses. While Podbean is simple even for beginners, getting used to Transistor may require some prior knowledge and experience.
Captivate: Captivate prioritizes growth over anything else. For seasoned professionals, it is a viable option.

Writecream: Create podcasts with Writecream in just a nick of time.
SECTION 10: Final Verdict
So, what's the judgment on this PodBean evaluation?
The platform has a free version that isn't just available for a limited time, forcing you to upgrade to paying plans. It's a totally acceptable alternative for anyone interested in dabbling with podcasting.
Another huge bonus is that you may get limitless hosting with the smallest priced package. When you add in the in-house monetization opportunities, it's easy to see why it's one of the most useful podcast hosting services.
Let's move on to the disadvantages.
It's an odd omission for such a service to have no uptime guarantee. I've also experienced problems with the website's limited customising options. It's inconvenient that you have to switch to a more expensive plan for cosmetic adjustments that aren't as simple as changing the colour scheme.
Similarly, the fact that live chat assistance is only available as part of the most expensive Business package is discouraging. This option was previously widely available, according to other PodBean evaluations.
In a word, I can confidently recommend the PodBean app to anyone searching for a reliable and efficient podcast host. It allows you to have fun while making your fantasy podcast without having to worry about the technical aspects.