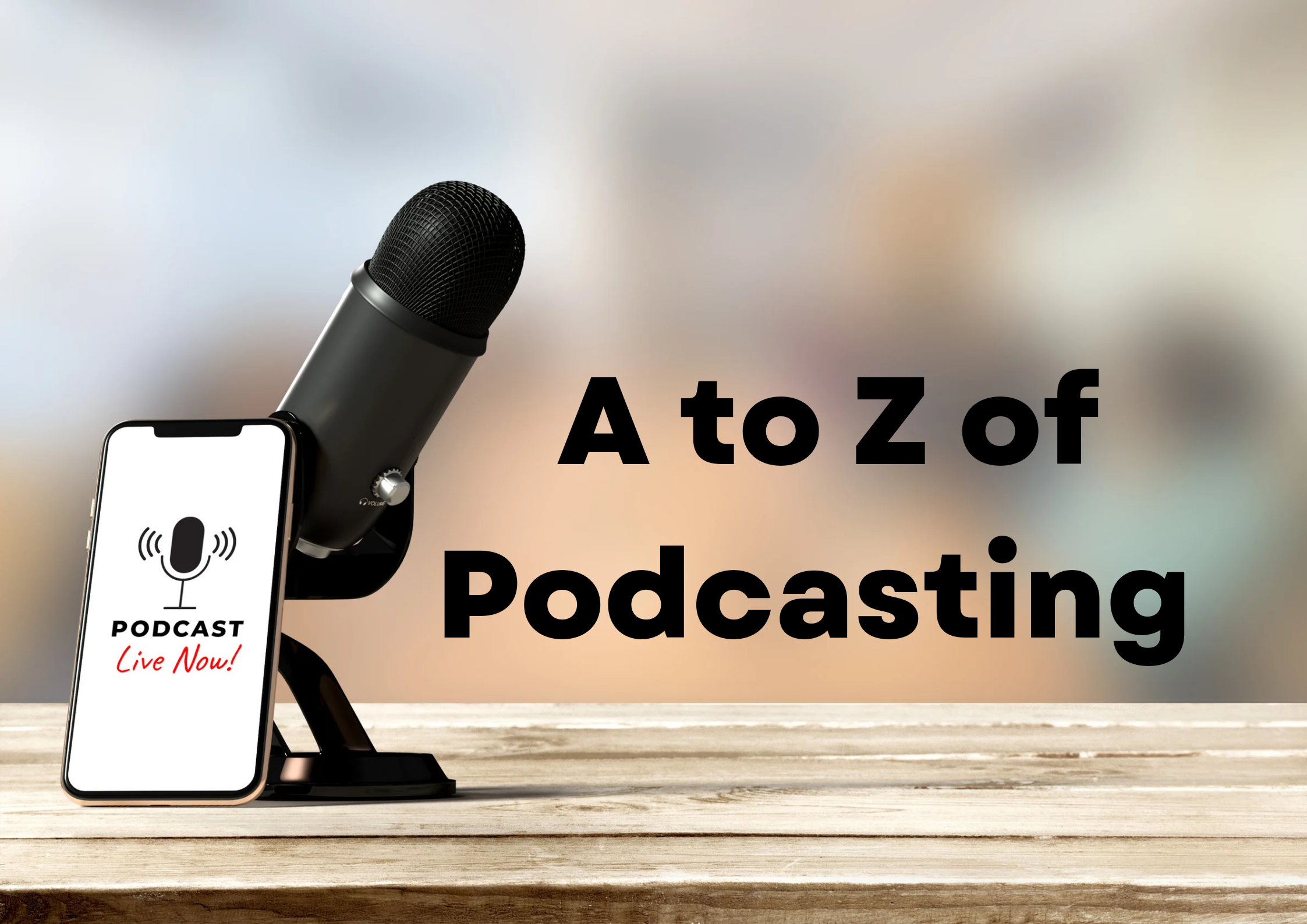 Podcasts are digital files about your favourite TV shows, books, topics, and anything under the sun. You can listen to a podcast online or even download it to listen on the go. The name 'podcast' may cause dread in people, and often this thought arises that doing a podcast is an unattainable goal. Podcasts have been on the rise recently because many people are shifting from traditional radio usage to podcasts. Are you interested in podcasting? Did you figure out the message you want to convey through your podcast? Even if you have determined the basic idea, does creating a podcast bring an indefinable fear in you?
Well, if that's the case, I have some good news for you! You have just stumbled upon the right place. In this article, we have compiled together a detailed guide to buy a podcast starter kit that works fine for any budget. If you are planning to work on this podcast all by yourself or a team assisting you, but you are unclear about what to buy, we have done the groundwork for you.
Why are podcasts gaining attention now?

Podcasts in the last few years have gained attention among the global population. It is said that 31% of people living in the United States have listened to podcasts at least once a month. In addition to these statistics, it is said that nearly 51% of Americans above the age of 12 have already listened to podcasts. From these details, we can infer that podcasting can be a great marketing strategy for your content. Here's a list of reasons why podcasts have the upper hand. Podcasts are a great tool that is powerful and capable enough of conveying information and messages to people. One major reason behind the rise of users listening to podcasts is that it is fun, and people can listen to it anywhere. You don't need to give your undivided attention while listening to a podcast, unlike how you do while watching a YouTube video.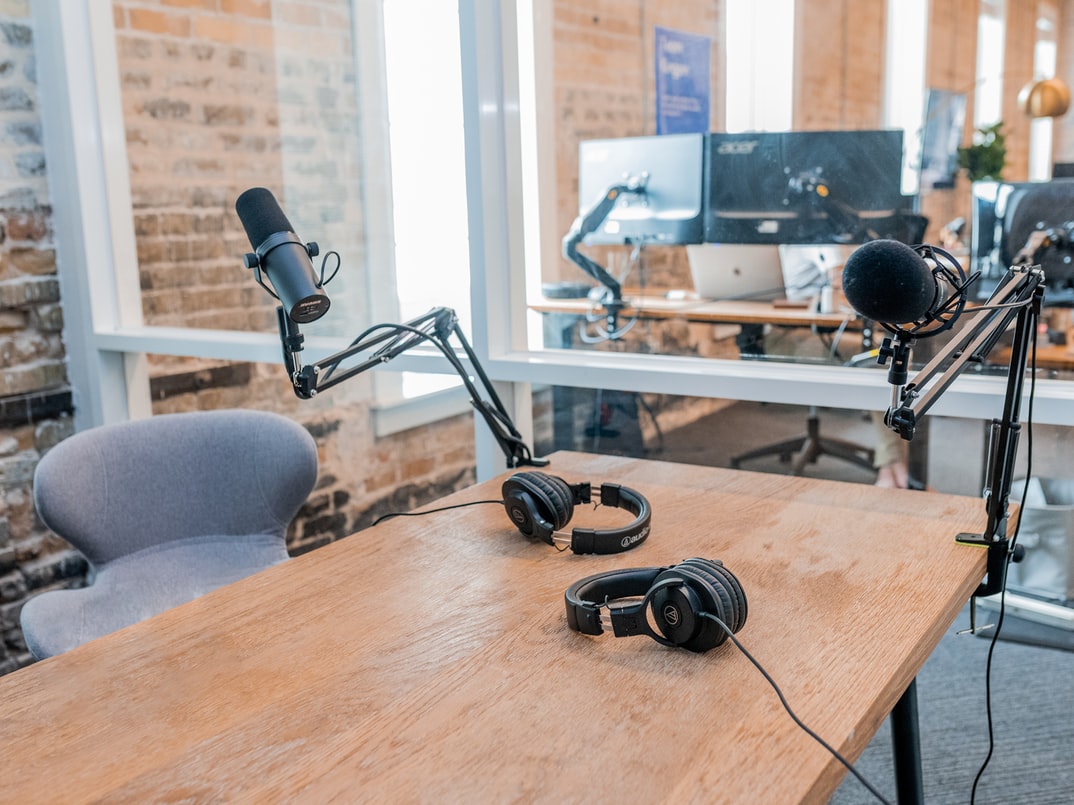 Many people have chimed in that listening to a podcast is like listening to a friend talk about their favourite topics. One can learn and consume lots of content and gain information effortlessly by listening to podcasts. You might be skeptical about how podcasts will help create a loyal audience. It might be difficult at the beginning to have stable listeners. But, once the audience finds your podcasts relatable and fascinating according to their interests, they will turn to your podcasts at all times. Podcasting will help you have an extra edge over bloggers and other content creators. Similar to using social media for promoting, podcasts are used as a platform to broaden your audience.
The production cost to start a podcast is comparatively way less than editing and making a video. You don't need to worry that only if you have high-end equipment will you start a podcast. You can start a podcast with the most basic equipment you can afford and work your way up. Podcasts can be done all by yourself, or if you have plans to create your podcast with team members, you can go for it. But before creating a podcast, have this in your mind that you need to narrow down the subject of your podcast, and also, you need to be truly aware of what you share with your audience. We saw the basics of podcasting in the previous paragraphs; now, without further ado, let's get started on what podcast kit you need to buy.
Ideas before buying your podcast starter kit
Now that you have decided on what you want to convey to your audience, here are some key details that you need to ponder before buying a podcast starter kit.
💡 Generate personalized emails, blog articles, product descriptions, and ads in seconds using the power of A.I
Before starting with podcasting, you need to jot down and fix the budget. Plan it by thinking about what you have on your mind for the long run and choose to invest carefully. If you have a very restricted budget, then look to begin your podcast with what you have. A person who has prior knowledge and knows their way in podcasting can even manage with equipment in good working condition. If you want to continue podcasting in the future and you have no worries about investing, then watch out for the list of some good equipment mentioned later in this article.
You might think why having an aim for a podcast is necessary before even starting a podcast. The aim for your podcast and budget are quite intertwined. How? You might wonder. Well, here's the reason. If you want to podcast for fun and keep the podcast's contents in a light-hearted manner, you can plan on buying budget-friendly equipment. On the other hand, if you want a podcast to be a path to launch your career, or if you are planning to begin a podcast as a side project, then you need to invest in proper studio-quality equipment.
It is important to understand that your podcast format is linked with the equipment you are about to purchase for podcasting.
Monologue/ Solo Show Set-up
When you consider doing a podcast yourself, you don't have to worry about the podcast equipment. You can spend a minimal amount of money buying equipment. The upsides to doing a solo podcast are that you don't have to fret about the planning and recording. With this being said, you need to be aware that the pressure of managing and doing the podcast is all on you.
Guest (more than two people) Set-up
When planning a podcast with guest speakers, you need to buy the required equipment to fit everyone's needs. In a guest set-up, there are several ways to use different podcast formats.
It is usually done in the presence of your friends or colleagues.
This type of podcast is done when you invite a speaker or guest to your podcast and interview them.
One does this podcast while discussing it with many guest speakers.
You can create a documentary by compiling excerpts from the interviews, studio recordings, and conversations you had with speakers.
Audio-Visual Quality
Whenever you are doing a podcast, always make sure that you don't compromise on the audio or video quality. Imagine you putting in days of hard work in recording a podcast only to find the final recording available in low quality. Whatever your budget is, there is a better product for your budget available in the market. You need to be patient and search for the right product, but when it is fixed, you are all set to go. Here's an additional tip for you, you can do remote recording while connecting with international speakers.
Equipments Required
This is a list of fundamental equipment you need to have when starting a podcast
Microphone
The pivotal equipment to begin your podcast is the microphone. Only when you have a good quality microphone can you capture the audio perfectly and deliver it to the audience. There is no specific microphone you need to use for podcasting. Below is a list of microphones and their descriptions. Check it out and decide for yourself which mic you prefer.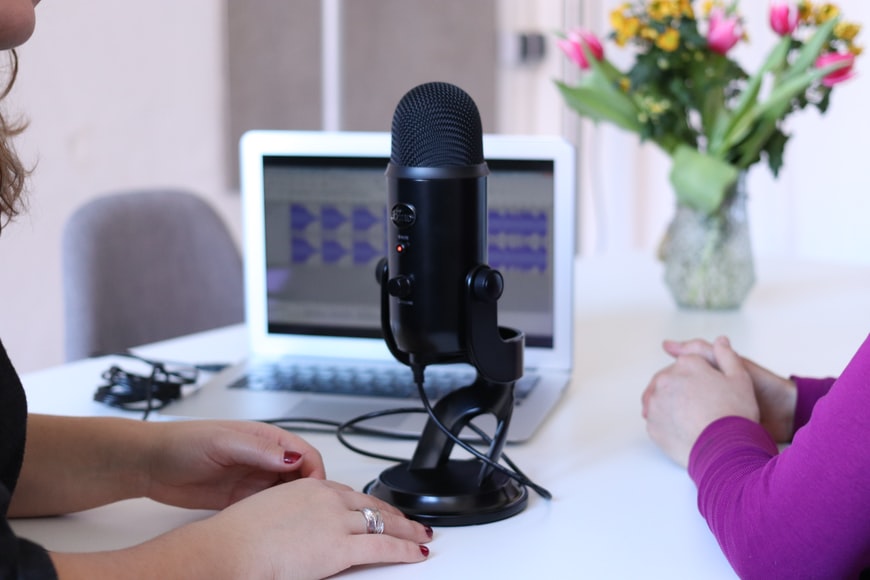 USB vs. XLR Microphones
USB Microphones (condenser mics) can be connected directly to your computer, and their usage is similar to the other USB devices you use. And they are pretty easy to use.
XLR Microphones should be connected to a mixer and connected to your computer. These XLR mics are a great option if you are starting a podcast with multiple speakers because when you connect this mic to a mixer, you can toggle different audio levels.
But before you want to buy an XLR mic, remember that these mics are on the higher end of the budget. If you are on a tight budget, consider twice before investing in this microphone.
Condenser vs. Dynamic Microphones
These microphones are used to capture more delicate sounds and higher frequencies. They have the potential to pick up clear and detailed sounds.
The condenser mics are suitable for studio applications because they capture voices with amazing clarity. Some might think that these microphones are a bit unnecessary for podcasting, but it is your personal opinion whether to buy them or not.
Condenser mics are not suited to extremely humid environments.
These microphones can capture high volumes without distorting and keeping them as original as possible.
They can eliminate background noise, but beginners might have trouble initially adapting to this microphone.
These microphones, unlike the condenser microphone, can handle humidity very well.
Headphones
Headphones play a very significant role in your editing process. Headphones allow you to closely hear the audio and help to make changes to the audio quality if required. Since you will be wearing headphones for a prolonged period, it is vital to choose good-quality headphones.
Closed-back vs. Open-back Headphones
Open-back headphones have sound-generating systems that make you open to the outside world. Though by using these headphones, you hear more ambient sound, there is a higher risk of sound bleed.
Closed-back headphones seal you away from the outside world. This means that you hear less ambient sound and prevent leakage of sound. But closed-back headphones are mostly preferred for podcasting.
Wired vs. Wireless Headphones
To choose between wired and wireless headphones depends totally on the person's likings and habits. If you wander a lot and don't like the cables hanging anywhere around your neck, wireless headphones are the best choice. But while carrying wireless headphones, you need to check now and then if your headphones are charged.
Laptop
You will need a laptop to work on your podcasts and make edits. Is the question of choosing a laptop (Windows or Mac) or PC bugging your head? Well, it is all down to what your budget is and your preference. You can opt for either the laptop or PC, but make sure that whatever you use has plenty of storage space.
DAW (Digital Audio Workstation)
This software is used to record, edit and produce audio for your podcasts. While choosing a DAW software, think about these questions and then buy.
What price are you willing to pay for the software?
What features do you expect from DAW?
Have you used DAW before? If so, are you willing to buy a DAW software with a similar interface?
If you are planning to buy a new DAW software, are you ready to invest time and energy in learning to use the software?
Audio interface
Audio interface is necessary if you are using the XLR Microphone. This interface converts analog signals into digital signals and sends them directly to your computer.
Podcast Starter Kit
As I said before, there is no right or wrong equipment. Consider planning according to your preferences and budget before proceeding to buy.
Budget-friendly podcast starter kits
For Solo Set-up-
Microphone
Blue Yeti Nano USB Microphone
Price – $99
Connectivity – USB
Type – Condenser
Audio-Technica ATR2100x-USB
Price – $99
Connectivity – XLR/USB
Type – Dynamic
Note: You might need a mic stand with this handheld mic
Samson Q2U Handheld USB Mic & Podcasting Kit
Price – $99
Connectivity – USB/XLR
Type – Dynamic
This equipment bundle also includes the following
Desktop mic stand
Mic Clip
USB & XLR Cable
Stereo Headphones (closed-back)
Microphone Sanitizer
Headphones
Audio Technica ATH-M30x
Price – $69
Closed-back
Circumaural
Wired
Sony MDR-7506
Price – $98
Closed-back
Circumaural
Wired
Blue Yeti Blackout USB Mic Kit
This kit is suitable for beginners as well as intermediate-level podcasters. It has an amazing mic that allows you to control the audio output. The disadvantage of this audio kit is that it has cheap volume control buttons.
PreSonus StudioBox Studio Ultimate Bundle
This kit has everything you need. It is even compatible with most Windows and Mac devices. But the only problem is that it is not easy for beginners to use. You will have to spend some time watching tutorials and learning how to use this kit.
Behringer Podcastudio USB Bundle
This podcast starter kit is all you need to record high-quality audio at home. It is the ultimate solution for people podcasting for the first time. This kit has a 5-input, 2-bus mixer with a preamp and 2-band EQ. This kit also includes the XM8500 microphone, HPM1000 headphones, and a USB audio interface with two inputs and outputs. This, too, is compatible with most Windows and Mac devices.
Focusrite Scarlett Solo Studio Kit
This kit has a CM25 XLR mic, cable, clip and Focusrite interface. You get a 48V phantom power supply, a pair of RCA unbalanced outputs, and a pair of HP60 headphones. They are compatible with Windows and Mac. If you have long-term podcasting plans, you can invest in this starter kit.
Laptop
There is a wide range of laptops available at your disposal, be it Windows or Mac. But the cheapest model available if you want a Mac is the Macbook Air.
Asus VivoBook
Price – $349
Operating system – Windows 10s
Manufacturer – Intel
Screen size – 15.6 Inches
MacBook Air
Price – $999
Operating system – MacOS
Manufacturer – Apple
Screen size – 13 inches
DAW
Garageband
Free with all Mac computers
Easy to use
Familiar interface
Audacity
Free to use
Learning to use it can be difficult
Strong features
More than Two speakers Set-up –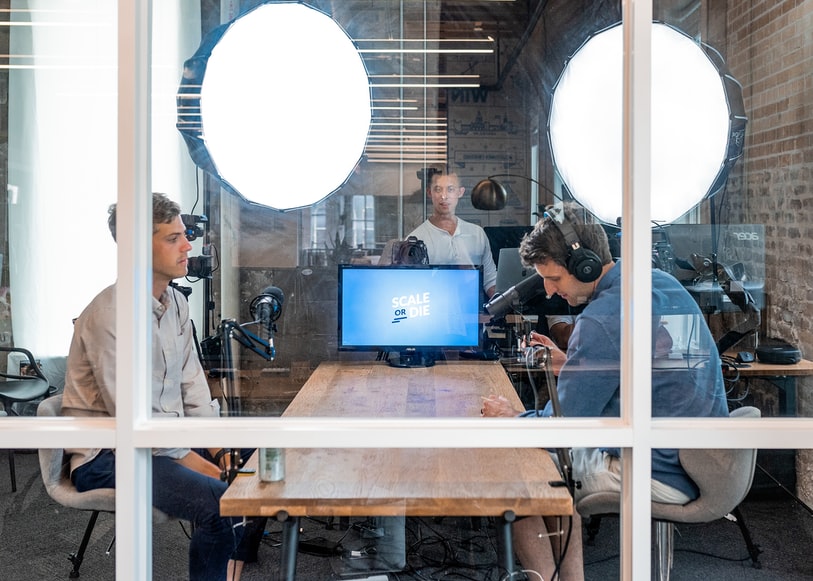 Audio Mixer
If you have XLR mics, then you need an audio mixer for you and your fellow speakers-
Yamaha MG10
Price – $153
4 Microphone inputs (XLR/Jack)
Connectivity – USB
Zoom PodTrack P4
Price – $215
4 XLR Microphone inputs
Records all inputs as separate tracks
Also doubles up as a USB audio interface and can record up to four local participants.
Headphone amplifier
This enables you to plug in multiple headphones and monitor audio in real-time
Behringer HA400 Microamp 4 Channel Stereo Headphone Amplifier – $26
Remote Set-up for more than Two Speakers
If you have speakers internationally, to allow your podcast to go seamlessly, you need the remote set-up
Zoom
Zoom is commonly used, and it has an inbuilt recording function. It allows you to record freely for up to 40 minutes. If there is a poor network connection, then there are chances that your recording will not be in HD. You get your recording only after the session has ended. And often, there is a risk of your file being lost, and you cannot afford to take such chances.
Riverside.fm
Riverside.fm is the best to record your podcast in full HD. The internet connection has nothing to do with your recording while using this. It can even record up to 4K. Your recording is uploaded while the session continues, preventing data loss. The basic subscription is $7.5 per month.
No Budget Constraints Starter Kits
Solo Set-up-
Microphone
Shure MV7
Price – $249
Connectivity – USB/XLR
Type – Dynamic
Shure SM7B
Price – $399
Connectivity – XLR
Type – Dynamic
Headphones
Bose Quiet Comfort 35
Price – $268
Closed-back
Circumaural
Wireless
Sennheiser HMD 300 – XQ-2
Price – $295
Closed-back
Circumaural
Wired
Laptop
16" Macbook Pro with Touchbar
Price – $2799
Operating system – MacOS
Manufacturer – Apple
Screen size – 16 inches
DAW
Adobe Audition
Has outstanding editing capabilities and functionalities
Little difficult to learn
Price – $29.99 / month
Logic Pro
Advanced production software
Familiar interface
Price (Available only for Macs) – $199
Hindenburg Journalist Pro
Designed specifically for podcasts, interviews, and radio
Straightforward interface
Multi-track recording and improved editing capabilities
Price – $375
More than Two Guest Set-up
Audio interface –
Rode Rodecaster Pro
Price – $499
3 XLR Microphone Inputs
Bluetooth functionality enables to record phone interviews directly
Can add pre-recorded sounds
Remote Recording Software –
Riverside.fm
As we saw earlier, for a better podcast, Riverside.fm is the one for you. The basic subscription begins at only $7.5/month. Try it out for yourself with their free trial!
What else is necessary to start a podcast?
While creating a podcast, editing the audio is very important. To make this work easier, you can rely on Audacity, which is free software. Once you know how to use Audacity, you are good to go in podcasting. If you find using Audacity difficult, you can opt for Ality. This software is simple to use, and it gets your work done quickly. Adding music isn't necessary for a podcast. But sure, it will give your podcast an extra edge and make it unique. You can use the following options to add music
Shutterstock – starts at $19 a month
Epidemic – starts at $13 a month
Storyblocks – starts at $19 a month
When making your podcast available in Spotify or Apple iTunes, you need to add cover art. And for this, you can use Canva or hire a professional designer from Fiverr. You will also need a podcast host to upload all your podcast files. You can benefit by using Buzzsprout, which is low-cost but highly valued.
Starting a podcast might be daunting, but once you practice podcasting, you will get over your fears. Looking at the wide range of options available, you might be naturally overwhelmed to process all the details. It is your podcast; choose how you wish to invest and create the podcast.