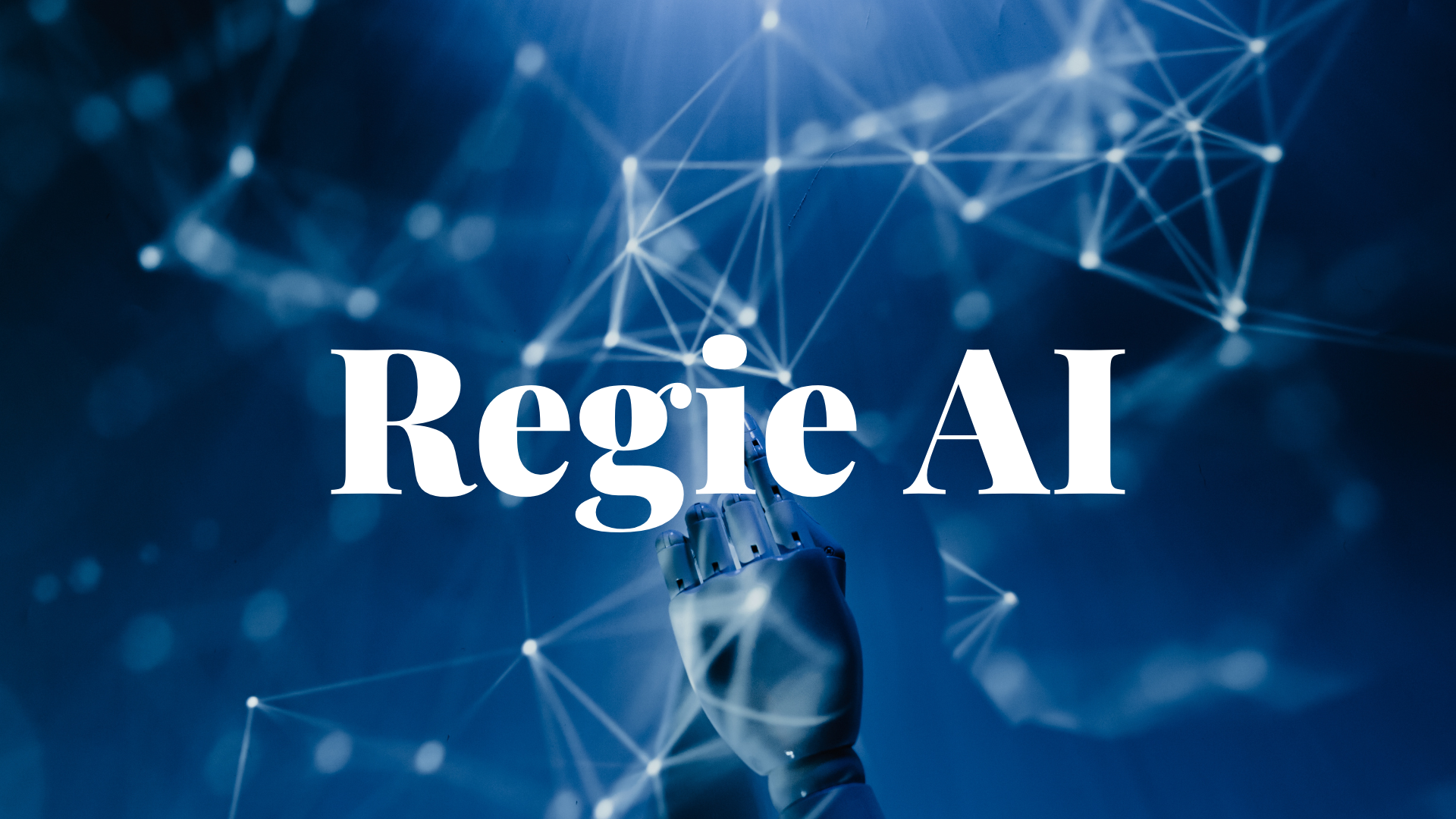 Here is a one-stop solution to all your problems: 'Regie AI.' Nowadays, there are many talks about emerging technologies such as Artificial Intelligence, Blockchain Technology, and Machine Learning. So far, in many areas, these technologies have shown their real calibre, be it in the automation of ticketing windows, algo trading, ai based robots, cryptocurrencies, and many more in times to come. No matter how advanced technology is, everything will stop if no data is available to be worked. So, we can say that Data is the new fuel of this modern era.
Lots of shifting is taking place from traditional practices to modern business. During the good old days, there was face-to-face interaction; all the dealing was done physically and much more. But now, due to other factors, the enormous contribution of Covid-19 has shifted everything online, and most businesses are being done online. Thereby, a prominent community is also participating. And in this way, the competition has also gone up. All organizations want to compete with compelling content to attract customers and consumers to their brand or product. Here the role of platforms like Regie.ai comes into the picture. Let's deep dive into this platform and learn more about its pros & cons and what its customers are saying.
What is Regie AI?
Regie.ai was founded by Srinath Sridhar and Matt Millen, in 2020, and is headquartered in San Francisco. The company's profile is very diverse providing an all-in-one solution, Regie.ai is an ai content platform that provides different kinds of services to businesses using generative AI, which helps correctly align quality content workflows, thus assisting organizations in increasing their revenues.
It makes it very smooth and straightforward for the sales and marketing team to generate a well-structured campaign, manage and store the same for further process and proper messaging across the groups, and help with the appropriate analysis of the tasks performed. It can be easily used by enlisting regie.ai in the chrome extension. In accessible language, we can say that teams can easily create custom sales sequences and marketing content using Artificial Intelligence.
💡 Generate personalized emails, blog articles, product descriptions, and ads in seconds using the power of A.I
Regie AI Features
Regie.ai uses generative AI to streamline all content workflows of enterprise revenue teams. Regie.ai focuses on Account-based marketing wherein a particular segment of customers is targeted; regie ai works with the sales team to best fit the accounts and turn them into customers. It uses Outreach, SalesLoft, or HubSpot features. Thus, reducing the cost involved in outsourcing writing.
Regie's provides a good baseline and set us up for consistent results. Helpful for the go-to-market teams trying to boost engagement and optimize the impact through inmail prospects and personalization. It can be said to as designed for marketers and sellers.
Regie.ai also uses a content creation and management strategy to attract, engage and hold the users and marketers using different means such as articles, posts, videos, and other modes of spreading awareness about the brand and product, thus helping the organization widely in terms of increased sales sequences.
Regie.ai has the characteristics of Data Analytics, a technique in which data are stored in a database management system, also known as a data warehouse, and is used for detailed data analysis. The pattern of data conveys meaningful information, which is used for sound decision-making processes. It is one of its AI toolkits, used for different types of customer prospecting techniques such as sales email copy, sequence writing and many more. thus, helpful for anyone trying to maximize impact and execute consistently throughout.
Regie.ai has access to the user's inbox to analyze emails, access important collateral, research a prospect, and more without switching tabs or playing the copy & paste game.
Regie.ai also has a Customer Data Platform feature that combines data from different platforms to form a single centralized customer database, thus helping to understand all interactions with the products or services. By leveraging this, it can create several personalized marketing campaigns such as proper communication with its customers. Which can be said to as best practices industry-wide.
Regie.ai is an automation platform it provides a Content rephrasing tool used to change the sentence into its correct form changing sense this way it helps in content creation thus producing quality ai content.
Regie AI Pros(its contribution to the content management system)
There is an effortless integration with Outreach, the organization's primary tool for messaging. It automatically suggests and generates Outreach sequences for marketing campaigns, thereby increasing the reach to prospective customers.
This platform is a blend of many tools and thus helps make the processes easy with achievable targets. This way, it has helped reduce the time, which otherwise consumed a lot of time to do all the tasks with the less efficient result.
Custom sales sequences are one of the most applaudable things for Regie.ai, creating entire sales sequences in minutes using regie has been overall a wonderful experience.
There is continuous upgradation in the Regie AI platform; it keeps updating its features and tools with the industry's requirement to serve with outstanding performance and increase the organization's sales.
By using the tools of Regie AI, many organizations have already benefited and achieved milestones.
Regie.ai is a true example showcasing the power of ai, Regie.ai has a modern gtm team involving all the ai and best practices tools to create sales and marketing content using the content creation and management system. Inserting all these practices anyone trying to scale sales can benefit a lot, especially the gtm team can easily create different types of marketing campaigns. This way compelling content to reach their customers.
Using regie.ai's tools has reduced the challenge for content marketers and copywriters and has proved to very efficient ai system.
Regie.ai is very popular across teams in organizations as it motivates the workforce with the satisfiable result.
Gpt-3 powered SaaS platform has already raised $ 10 million in Series A funding backed by scale venture partners' participation from foundation capital, day one ventures, south park commons and other prominent angel investors. The same has been featured in Crunchbase an investment tracking platform.
Regie AI Cons
As said, everything has two sides, good and bad same is applicable in this case as well. There are not very big issues in this case. A few intervening functions need to be customized for better results.
It has been found that there is approx. to 70% of language tone which it has needed to be formal and may not be suitable for specific industries.
It has also been found that with limited channel diversification, the ai copywriter designed for marketers sometimes may not be that effective for those trying to scale sales developments.
Regie AI Pricing
There are four types of Plans in terms of Pricing. They are as follows:
The first is Free Plan; the perks include 100 credits (1 credit = 1 prospect lookup), one outbound campaign type, and 50+ AI Toolkit Templates.
The next one is the Pro Plan which includes all the perks of the Free Plan plus 2000 credits per month, an unlimited number of campaigns, 50+ campaign workflow templates, and A/B Testing, the charge for the Pro Plan, is $29 per month if billed annually otherwise $59 per month if billed monthly.
The third one is Small Business Plan which includes all the perks available in the Pro Plan plus 1 to 5 team members, 2000 credits per member per month, 1 shared team workspace, Team comprehensive content management system, Sales platform integration, and Access to self-guided onboarding material and support chat. The charge for this Plan is $89 per month, billed annually.
The fourth and full-fledged package Plan is Enterprise Plan. It includes all the perks such as 10+ Team members, Unlimited Credits, an Enterprise Content management system for all teams, Campaign and document performance insights and Dedicated Customer Success Manager, Quarterly Business reports, Single Sign On (SSO), and many more. The Plan is more flexible and has many security features. It is a pocket-friendly tool excluding the need for expensive software.
Regie AI Reviews
Let's review the reviews of the customers who have used the Regie AI platform.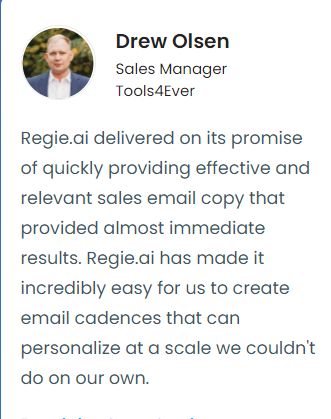 This user has found the Regie AI platform very helpful. As per him, this platform delivered its promises effectively, and it was elementary to use the tools. Here there is another review.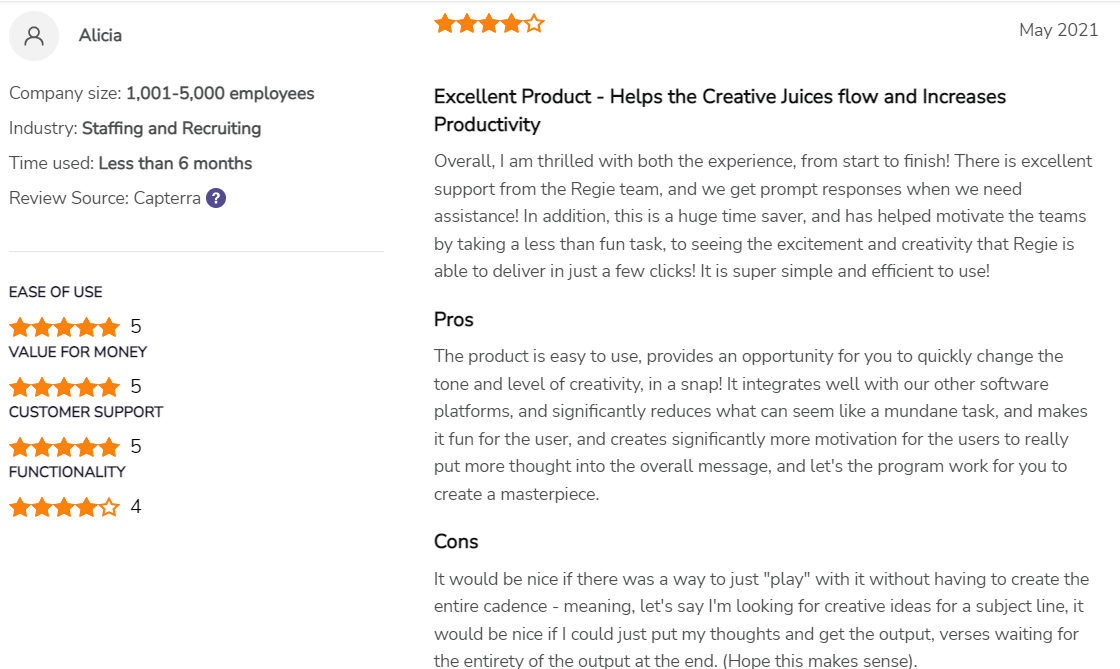 According to this user, this platform integrates well with other software and is easy to use. On the other hand, the user is also expecting a play button to get customized results which could be a more severe con. It can be made available by the platform with some modifications in it. Here is one more review.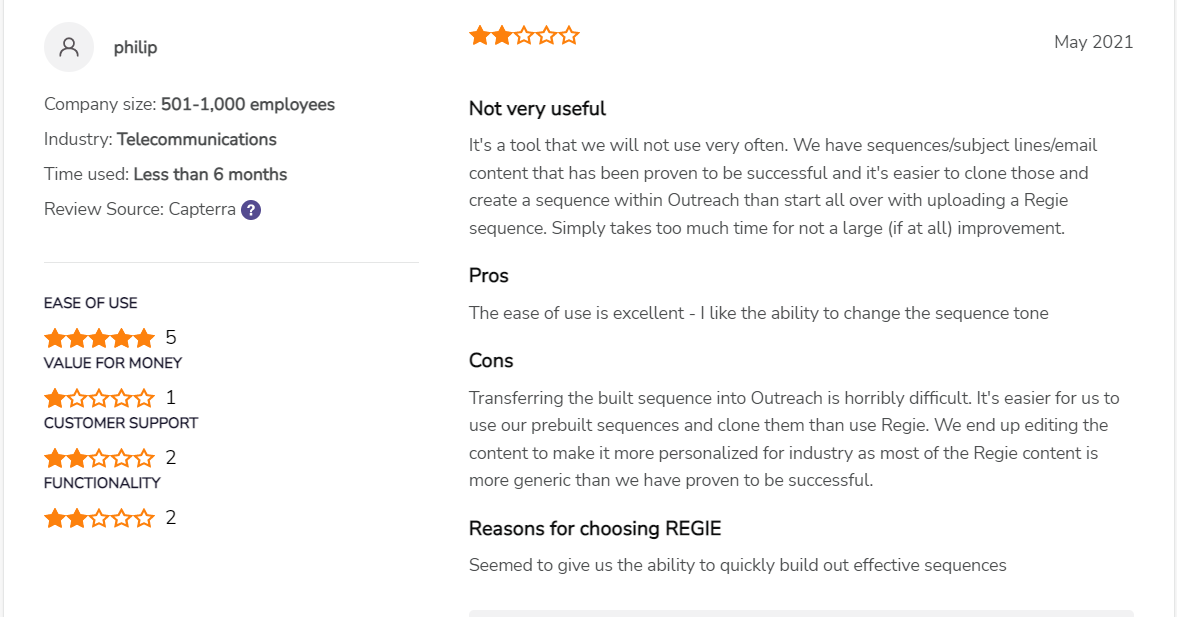 According to this user, it is used sparingly though its ease of use is excellent, with some difficulty transferring the built sequence into Outreach. The touch patterns for the campaigns are designed in such a way that the reach is maximized and communicates with their customers effectively.
We hope to have been able to describe everything very. Regie AI has many uses in different forms and is very suitable for all organizations looking for a target audience. This way, it will help them in incredible conversion and increased sales. So, explore this platform and let's know your views in the comment section below.
Thanks for reading!