Emails have a vital role to play in our sales campaigns. Yet, certain obstacles prevent marketers like us from reaping the best out of such a powerful marketing tool. The problem with emails is that 1 out of every 5 email addresses is either fake or isn't being used by the users anymore. This calls for a means to eliminate such email addresses from our sales campaign lists. That's where an email verification tool comes in handy. 
Also known as an email verification service, they are an effective way to segregate real email addresses from non-existent or dubious ones and carry out an in-depth analysis of an email within minutes. But, that doesn't sound like something you and I can do on our own. For this, we use email verifiers that can automatically do all the heavy lifting for us and save us time. This article is about one such software. You must have heard of Reoon Email Verifier. You haven't? No worries, this article will enlighten you with all the important stuff like its features, its pricing, and what its customers say about it. So, let's begin, shall we?
REOON EMAIL VERIFIER: Bulk Email Verification 
Reoon Email Verifier is an email-verifying software developed by the AppSumo team to help users easily verify email addresses in bulk and helps them get rid of invalid, spammy, and unsafe email addresses. 
WHAT ARE THE FEATURES OF REOON EMAIL VERIFIER? 
Here are some of its striking features that make it super easy and convenient to verify email addresses. 
💡 Generate personalized emails, blog articles, product descriptions, and ads in seconds using the power of A.I
VALIDATION OF MTA AND SMTP
Reoon conducts a thorough validation of both the MTA(Message Transfer Agent) of the domain as well as the SMTP(Simple Mail Transfer Protocol) of individual email addresses. Also known as Mail Exchanger, MTA is responsible for sending email messages from the sender to the receiver. Reoon verifies the MX record of the MTA to ensure that the domain is capable of receiving emails.  Also, Reoon carries out the validation of SMTP of individual mail addresses to ensure the address responds to the SMTP requests. SMTP is a communication protocol for electronic mail transmission.  
Reoon promises their flawless and accurate email detection services. Their unique algorithm can detect disposable and temporary email addresses with utmost accuracy. They even allow their users to verify some temporary email addresses using their service and compare the results with their competitors.
 

AN ALL-IN-ONE EMAIL VERIFIER
The best thing about Reoon is that the mail service or domain of the email addresses doesn't matter as it can easily verify dresses from all domains like Gmail, Yahoo, Hotmail, and Outlook.
Reoon offers API support in two different modes. Don't have much time? Go for the Quick Mode. With Quick Mode, you can verify the email addresses of your customers in less than a second. They term this feature as Live API Email Validation. The second one is the Power Mode which will conduct an in-depth analysis of every email address.Besides, Reoon can also verify bulk emails at lightning speed. They have a multi-server setup that can verify thousands of addresses in no time with the closest server possible. 
To save you more time Reoon provides results with automatically categorized emails based on their status. Their system allows users to download specific kinds of results which saves more time.
Reoon matches every email address with their list of spam traps and complaint email database to prevent users from sending emails to such email addresses and save effort. 
REOON EMAIL VERIFIER: PRICING 
Before I move on to the paid plans, let me tell you that there is a free tier available for new users. It includes all features like bulk email verification, live API validation, and free 100 lifetime credits. Lifetime credits are credits that never expire and will remain in your account as long as you haven't spent them. Using this free tier you can easily verify up to 600 email addresses every month. 
Now, moving to the paid plans, Reoon offers two kinds of paid plans to its users. One gives lifetime credits and one gives daily credits which renew every day. 
The Lifetime deal offers lifetime credits and costs $12 which is a one-time payment. It also includes all the features mentioned above and gives 10,000 credits to its users. 
Lastly, there's a Daily Credits Plan which can be availed for $9 per month. For this, a user has to pay every month. It also gives access to all the features mentioned above and 500 credits that renew each day. 
WHAT DO USERS SAY ABOUT REOON EMAIL VERIFIER?
Here are a few reviews from their site in which its users have said about their experience. 
Take a look at this review. This user comments about how Reoon's user-friendly interface makes the entire process extremely quick.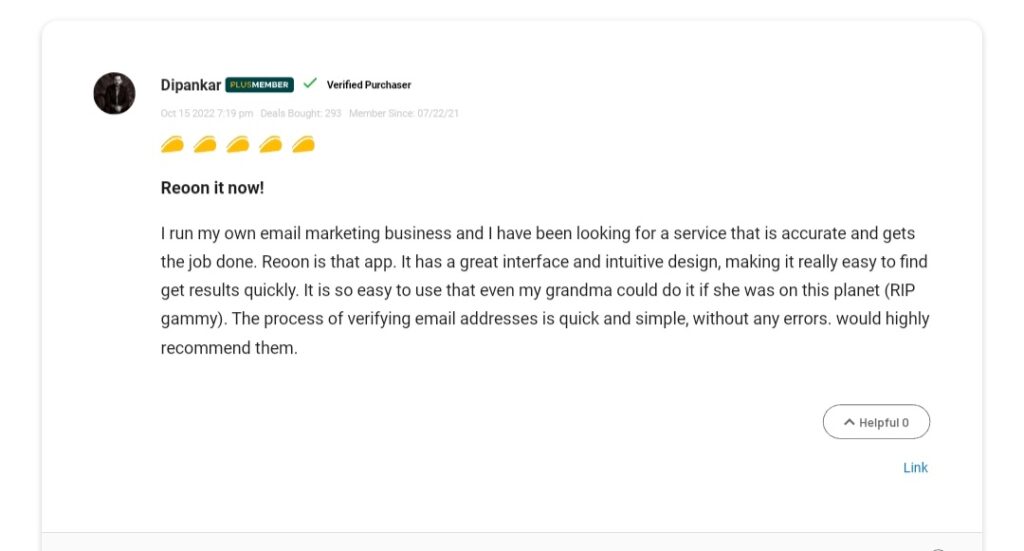 Here's another review from a user who found it useful for cleaning their email list of wrong or misspelled email addresses.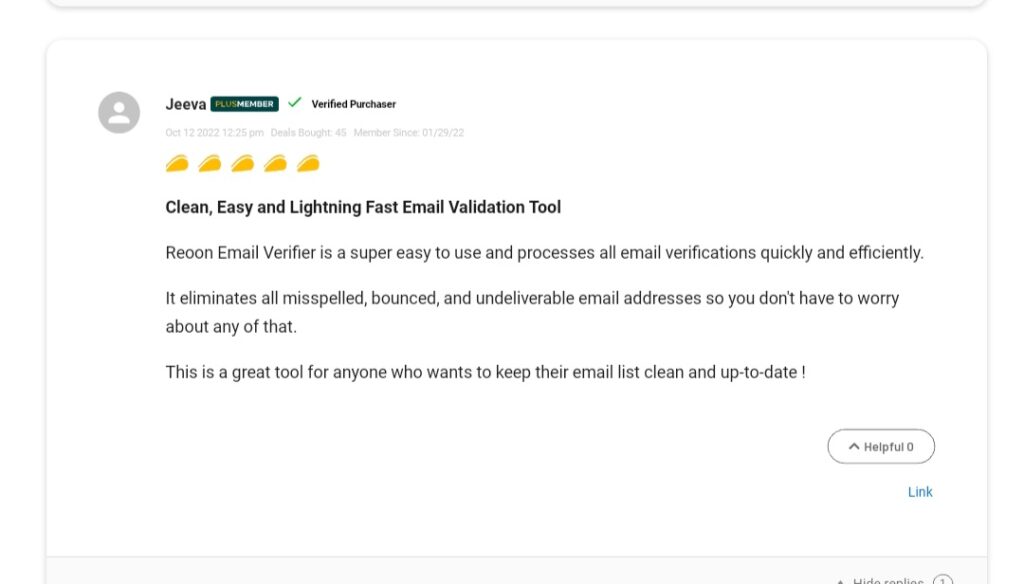 Here's one more review which says how a user found Reoon helpful in preventing SMTP transaction bounces.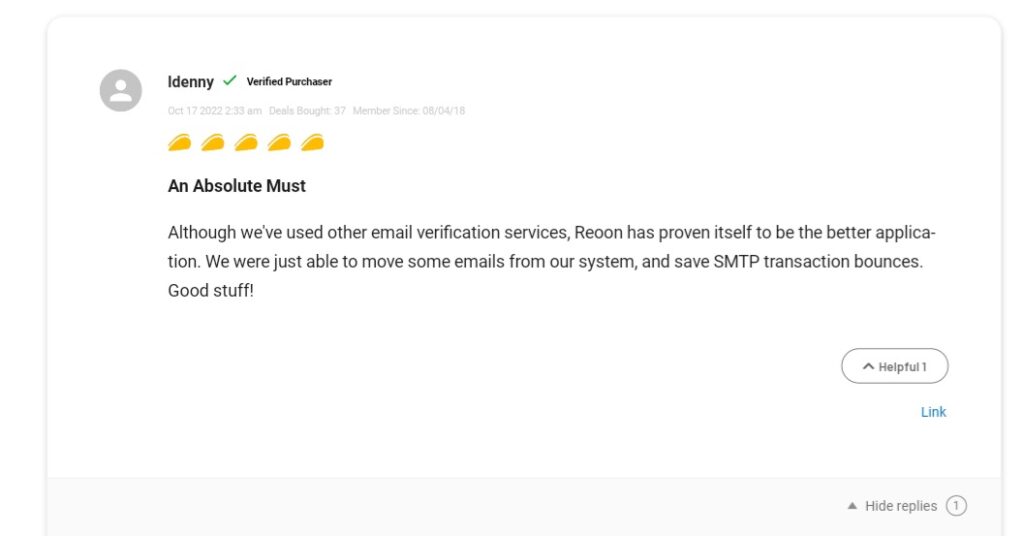 So, that's all for now. Reoon can be a great choice for marketing agencies, small businesses, and those engaged in email marketing. One can save a lot of time by getting rid of unwanted email addresses. Besides, it can also integrate with Excel so that just makes it an even better choice.
Anyways, I hope you found this article helpful. Do try out Reoon and let us know your thoughts in the comment section below. 
Good day!