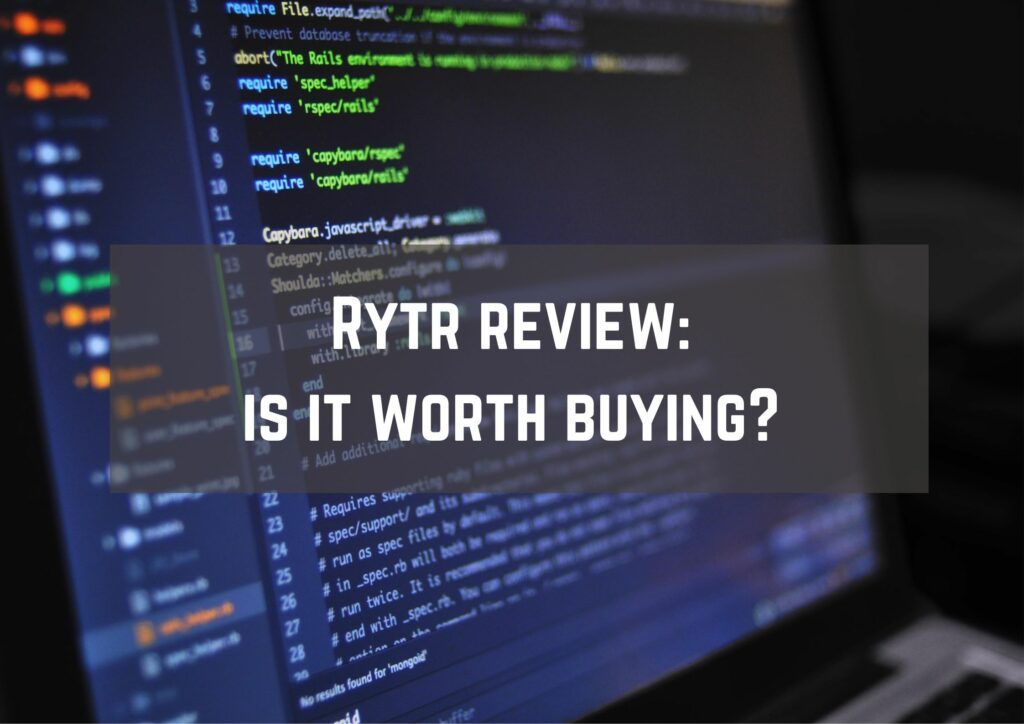 Are you looking for a low-cost but powerful AI writing assistant? If yes, you've come to the correct place. Rytr is an AI writing application that helps to write content for you automatically. AI-based writing tools are being used by bloggers and marketers all over the world to generate content automatically. Rytr is a reasonably priced AI-powered writing solution for producing high-quality content.
What is Rytr?
Rytr is an AI writing software that helps you create high-quality content for the least amount of money, time, and effort. It assists you in developing content that converts and fills your pocket with less work and in a short period of time. You simply select your content type, enter some basic information about the topic, and Rytr generates excellent content for you in moments. It is an intelligent writing assistant that can create anything for you.
You can direct Rytr to create the type of content that you desire, from advertising copies to mails to quality content. Rytr is quick, responsive, and mobile-friendly, making it an excellent solution for any type of blogger, marketer, or enterprise. Rytr provides a demo edition for users to try and test its features, as well as a premium version for professionals.
How Does Rytr Work?
You must first sign up for a free trial before selecting your preferred language. The tone would be the next factor you should decide. The process becomes increasingly simpler from there.
💡 Generate personalized emails, blog articles, product descriptions, and ads in seconds using the power of A.I
Select Your Use-Case
This is where Rytr's creative powers come into play. As previously said, this AI has a wide range of applications. They include blog ideas, product reviews, landing sites, and testimonials. You should go to the article type you wish to create and tap on it.
Input For Context
The next thing is to add some contextual input. This is critical since it helps the AI comprehend the context you want to include in your post. 3 to 4 lines of description is sufficient. That's enough for Rytr to understand the message you're trying to convey.
Let It Write For You
After completing the preceding steps, you can take a step back and witness Rytr work its magic. Since Rytr generates content in seconds, this can happen so quickly that you may not even notice. Once you've created your blog post or landing page, you may go through and tweak the content; nevertheless, this isn't normally necessary because Rytr generates grammatically perfect articles.
Rytr Features
Now, let's look at the key features:
1. Easy to Use Interface
Aside from continuously supplying you with quality content, Rytr has another outstanding feature that makes it so renowned among content generators..The user interface is visually beautiful and simple to use. Even if you've never used an AI writing assistance before, you can be confident that you'll have a pleasant experience with this one.
All of the tools and features are strategically arranged on the dashboard to make it even easier to create content.
When using the AI, you can choose between full screen and the popup menu. Rytr now has a highly sophisticated layout, which most content creators love.
2. Multiple Languages
Rytr supports the following languages:
English
French
Arabic
Hindi
Hebrew
German
Italian
Chinese
Korean
Polish
Norwegian
Indonesian
3. Output Variants
There may be occasions when you require several texts from a single blog post, title, and context. Rytr excels at providing you with several output alternatives.
This AI allows you to select as many output variations as you desire.
When you are on the free version, it will cost you extra, which is why it is recommended that you get a premium subscription if you ever need to publish such content on the site or blog.
This function also has another advantage in that it allows you to refute something that most writers find difficult.
If you generally write a piece of content on your own, you know how difficult it is to develop many text variations from a single topic, context, and idea.
4. Team Management
Most internet firms nowadays prefer software that allows for team collaboration, and Rytr is no exception. You may handle team members and their payments through a single account on this platform.
Their team management feature is pretty effective and useful when working as a group or running a marketing firm. You can work on numerous projects at the same time, and each member can have their own areas to focus on.
5. SEO Analyser
If there is one thing which all digital content writers and market experts have in common, it is that their PCs and smartphones are loaded with SEO writing software.
Obviously, due to the nature of their job, every individual who works with digital content must have the most up-to-date SEO software, grammar tools, and plagiarism checks, among other things.
Rytr makes your job as a content creator easier by delivering all of the tools you'll ever need.
How to Get Started?
Working with Rytr is a piece of cake! Within minutes, anyone can create the writing of their choice. To get started with Rytr, follow the steps outlined below.
Step 1: Pick a language from the drop-down menu.
Step 2: Choose a tone for your content.
Step 3: Select the type of content you want to create.
Step 4: Enter up to 50 characters for a keyword or key phrase.
Step 5: Enter the maximum limit (three) of versions you want to produce.
Step 6: Tap on 'Rytr for Me.' Now, wait for the magic to happen.
Rytr Pricing Plan
Rytr offers a single premium plan for $29/month that includes access to:
24 use cases
21 tones
29 languages
And unlimited characters!
It also has a free plan with all of the functionality except a character limit of 5000 per month.
| | | |
| --- | --- | --- |
| | Free Plan | Paid Plan |
| Pricing | $0 | $29/month |
| Characters/month | 5k | Unlimited |
Rytr Pros & Cons
Check out the pros and cons to know if this tool is right for you:
Pros
Rytr provides you with access to over 20 different writing tones, ranging from casual to instructive, humble, urgent, and more.
The capacity to create text in over 30 different languages
Rytr has a built-in plagiarism detector that helps you easily spot plagiarised work. It also has a free plan for everybody that makes it possible to create up to 5000 characters every month.
To write high-quality text, you may utilise proven copywriting formulas such as the AIDA and PAS frameworks. It also includes an SEO analyzer that allows you to easily locate better keywords.
Provides plugins that are functional with popular platforms like Shopify, WordPress, and others.
Premium community support is available.
Cons
With the Saver plan (which costs $9/month), you can only produce up to 50,000 characters, or roughly 7000 words per month.
Rytr Alternatives
#1. Writecream
Writecream is the perfect alternative to Rytr. It allows you to get from a product title to a blog post, YouTube video, or podcast in minutes. You can create all 3 in under 30 minutes! You can create a 1,000-word original content in thirty seconds using this AI Article Writer. If you want to grow on the generated content, just use the Long Form Editor, which includes cutting-edge capabilities such as Summarize, Rewrite, Expand, and a plagiarism detector.
Writecream can also help you with sales and marketing automation. Your client receives hundreds of emails per day, and their brains have evolved to ignore them. Writecream was designed to create individualised, tailored introductions that entice users to open, click, and reply. It can examine your prospect's webpage or LinkedIn profile for the most crucial information and then compose the best cold emails for you. There are over 40 tools available for efficient cold outreach, SEO, and marketing initiatives.
Click here to try Writecream now!
#2. Linguix
Linguix is a clever content writing assistant software that assists you in creating smooth phrases by correcting them, making them clear, and offering appropriate recommendations. You can create any type of content such as short-form content and long-form content. The content quality produced is satisfying. Users can design their own snippets, assign them a shortcode, and then click a few buttons to automatically embed the template. This powerful tool is a free Chrome extension that allows users to verify their grammar and sentence structure on millions of other sites in real time. The application is more than simply a grammatical checker; it gives users advice on how to make their text clearer, more appealing, and less cluttered. The design is straightforward, appealing, and user-friendly. If advanced tests for context, punctuation, sentence construction, and grammar are required, users can upgrade to Linguix Premium.
#3. AISEO
AISEO is a copywriting software designed specifically for freelancers, content writers, marketing experts and content managers to help them create original and compelling text for their blogs, articles, assignments, and social media. This application with a variety of parameters can convert your thoughts into blogs and write for you with the click of a button. This smart writing assistant tool wants to make copies for you, but not just any copies, but ones that are unique and 100 percent plagiarism free. It is an excellent tool that makes use of artificial intelligence and has been trained with correct direction on how to create SEO optimised text, ensuring that you always obtain SEO optimised copies. It also provides long form assistance, which increases the pace and quality of your blog posts by a factor of ten.
#4. WriterZen
WriterZen is a cloud-based platform that provides organisations with centralised access to SEO tool for writing and optimising website content for blogs. It is one of the best content writing tools in the market. Natural language processing (NLP) functionality enables professionals to identify plagiarism across text and determine attitudes automatically. WriterZen provides organisations with income estimations based on defined SEO goals, as well as user insights to assist them in developing content strategy. Managers can use the internet to research trending keywords, assess high-performing topic groups in a brain map view, and develop content outlines for reference purposes.
#5. Grammarly Business
Grammarly Business is a fantastic tool for teams who serve departments such as human resources, marketing, and sales. Individuals of a team can use this to produce error-free and trustworthy business writings with a sense of professionalism. The program also assists writers in terms of engagement, tone, clarity, and correctness. It ensures active integration with Microsoft Office tools, email clients, online browsers, and so on. Furthermore, data kept within Grammarly Business is encrypted using 256-bit AES, and data in transit is encrypted using SSL/TLS. Grammarly Business has several functionalities for administrators, including the ability to add, transfer, or deactivate accounts, manage responsibilities and permissions, and analyse performance statistics displayed by individual users. Grammarly Business can be used by teams of 50 or more people from a single account.
Conclusion
Rytr is an excellent affordable AI writing tool but it lacks in many areas. So, if you are looking for a better alternative with better features than Rytr, you can go for Writecream with your eyes closed. Writecream is not only an creative content AI writer but also a one-of-a-kind content marketing solution. It provides a wide variety of marketing solutions for larger businesses and business owners. It's easy to use, and the AI enables on-demand content development. It is best of business idea pitches. The AI learns and develops with each type of content it makes, making it a vital tool for companies that are continuously looking for new ways to enhance their content. There is no need for a credit card, and the pricing is affordable for all budgets. The writing is of high quality and free of plagiarism.
Try Writecream today with the free plan!!
Writecream provides 30+ tools for generating tons of content within seconds! Use Writecream to generate product descriptions, personalized emails, blog articles and much more and that too for free! Our free plan provides 20 credits every month which helps you generate 10,000 words per month!
Isn't it amazing?
To get started, register here for our FOREVER FREE plan NOW!