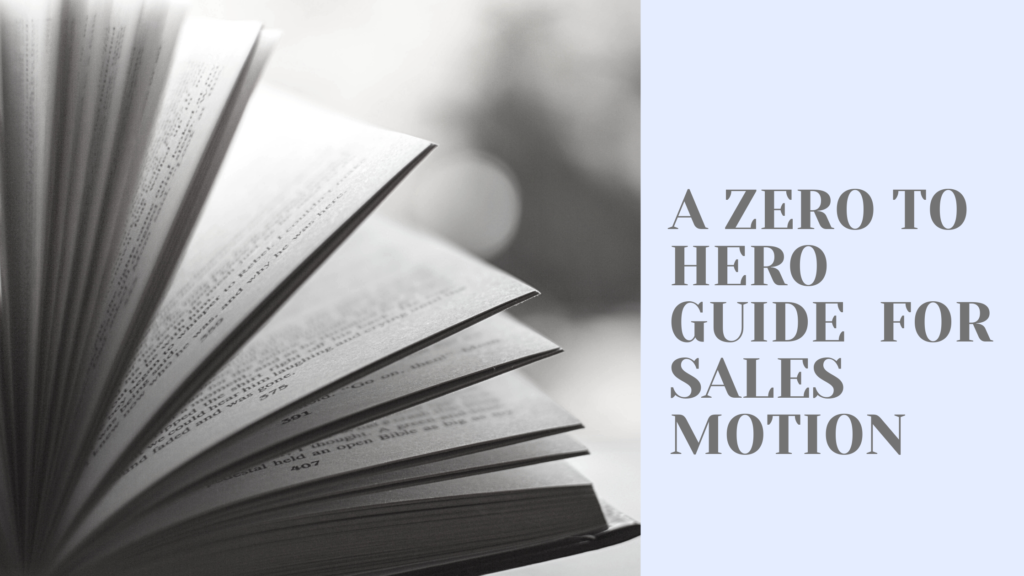 The first time I saw the word "Sales Motion" I had no idea what it was.
It took a little research to figure out that it is the process of "a continuous, intentional, and planned approach to winning new business."
It's also an analogy for how you convey your message to potential customers. The process of "convincing through continuous, intentional, and planned approach" is what you should aim to do every time you talk to your reps.
By definition, Sales Motion is a combination of actionable steps and a company's overall sales strategy used to market a product or service to its prospective customers. Depending on the nature of the company performing it and the prospects, sales motions can vary.
💡 Generate personalized emails, blog articles, product descriptions, and ads in seconds using the power of A.I
A sales motion is the lifeblood of a company's sales activities. It entails the specific measures that a company's salespeople should take, also known as a sales process, as well as the sales philosophy that should lead those processes, referred to as the sales methodology. It is basically a set of actions used to sell something.
Sales and Marketing are an essential part of every business. After all, the success of the business depends on this very concept. Therefore, it's necessary that businesses understand this concept thoroughly for its successful application.
In this guide, we are going to look at what a sales motion is, what the best pitches are, and how to choose one. This blog will explore the various components of sales motion and how to choose one with real life examples.
Components of Sales Motion
Goals and expectations are added to provide salespeople a clearer picture of how they should be carrying out their sales efforts and whether they're doing them correctly or not.
There are two major components that come handy in order to create an effective sales motion!
1. Sales Process
The term "Sales Process" is a set of actionable and repeatable steps which a sales team takes to convert their leads. It's a structured framework of concrete actions which the salespeople can follow to close deals successfully.
This further entails a six-step process. These steps are:
Prospecting
Connecting and Qualifying
Researching
Presenting
Handling objections
Closing the deal.
These steps are flexible enough to be molded according to the needs of the business.
For example, let's say you're creating a sales process for a company that sells B2B cloud computing products.
According to the six step process, the first step will be prospecting which would include interfacing directly with the customers in order to promote your product.
The sales representative would then connect with the company to gather more information about the needs and requirements of the prospect. They would also ensure whether the lead is worth qualifying. They ask thoughtful
questions to understand what they want from a cloud computing solution.
The next step would be to perform a thorough research about the company's operations. After this, the sales representative would prepare a presentation for its prospects. He would also handle queries and objections if any.
Finally, after performing the above steps successfully, the rep would close the deal.
This is how the whole sales process works!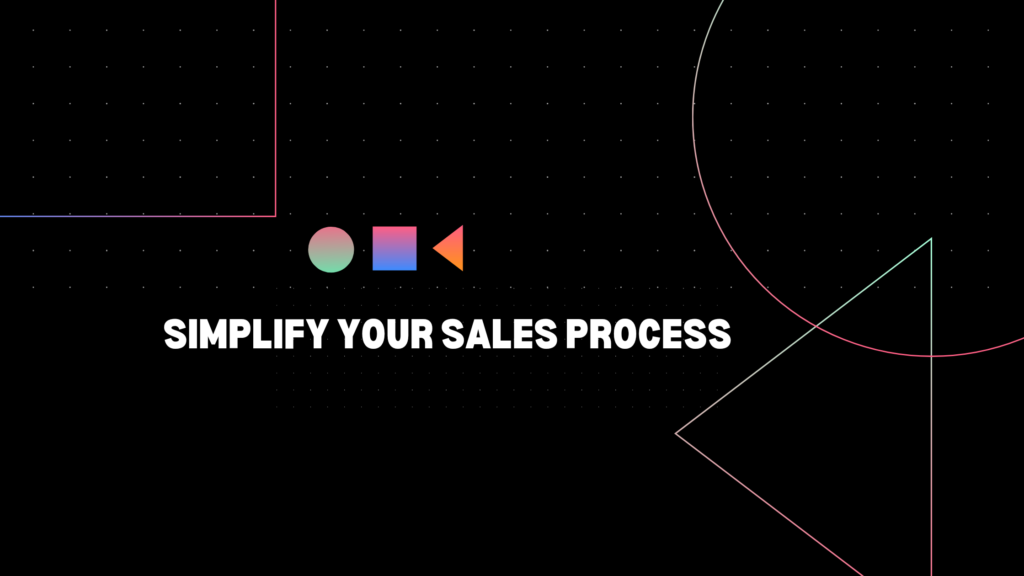 2. Sales Methodology
The second component of Sales Motion is a Sales Methodology. It basically sets the foundation for how your sales process should be carried out. A sales methodology helps in understanding a basic approach which the salespeople should adopt in order to convert their leads. There are a number of sales methodologies affecting the buyer's experience in different ways.
For example, methodologies for:
buyer's economic situation
bringing attention to the bigger picture
honing in on specific pain points
or any other context that might influence how a buyer makes decisions.
Let's take an example of a popular sales methodology called The Challenger Sales Method. This method encourages the salespeople to follow a teach-tailor-take control process.
Teaching prospects valuable context about larger business issues, new ideas and insights that extend beyond the product or service in question.
Tailoring their communications to suit their prospects. They ensure they're speaking to their specific needs and interests of the customers. This depends on the amount of and quality of research done on the prospect.
Finally, they take control of the sale. They're not afraid to push back on their customer — focusing more on making the sale than being liked.
Therefore, combining the above two components i.e. an effective sales process along with a sales methodology helps in lead conversion by creating an effective Sales Motion.
3. Choosing the Right Sales Motion for your Business
The best sales people don't just sell!
They build relationships!
They keep the customers happy and satisfied with their services to ensure repeated sales.
But how do they do this?
The answer is of course, Sales Motion!
They first identify and focus on the sales motions that are best for their product/service, team, and the customer.
But the question is how to choose the best sales motion to suit your business and client needs.
There are various types of Sales Motion. In this section, I'll be discussing the four most effective strategies used by businesses world wide and which are known to generate amazing results. These are:
1. Field sales (outside sales)
Field sales or outside sales, as the name suggests, is the traditional face-to-face sales we all are aware of since time immemorial.
This involves a physical interaction between a salesperson and a potential customer to discuss needs, budgets, volumes, prices, requirements, timelines, and other contract details.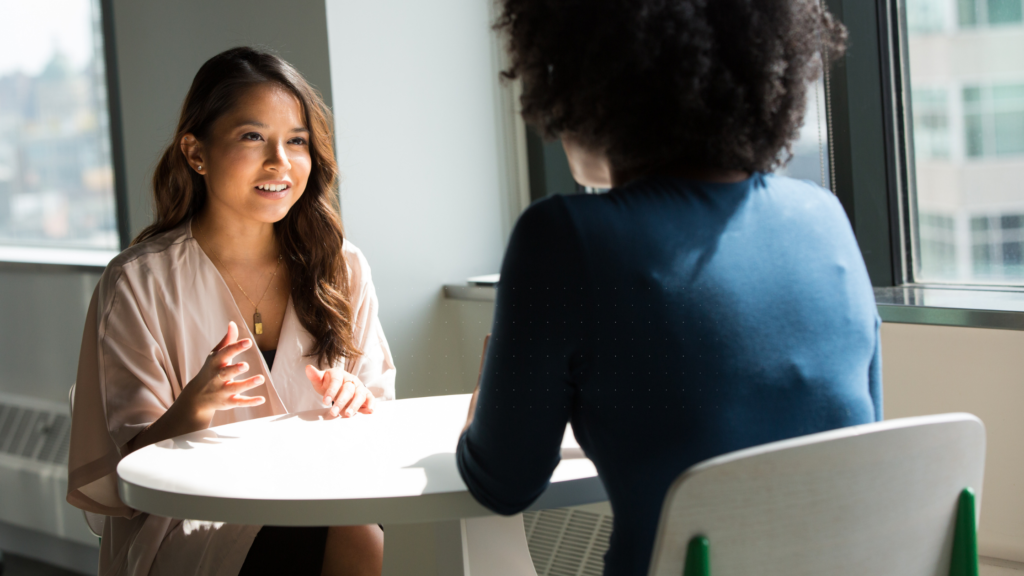 This is still considered the most effective way to build trust and create a solid, fruitful business relationship even after everything has gone digital these days where people prefer to meet virtually.
This strategy is best for:
Companies with large enterprise or government customers.
Companies with small customer counts and large annual contract values.
2. Inside sales
Inside sales or remote sales is the virtual equivalent of field sales where the client and the sales representative meet virtually through platforms like cold calling, video conferencing, etc.
The sales representative would then perform product demonstrations, and schedule a series of onboarding sessions. This method helps in widening customer reach which is not possible in field sales.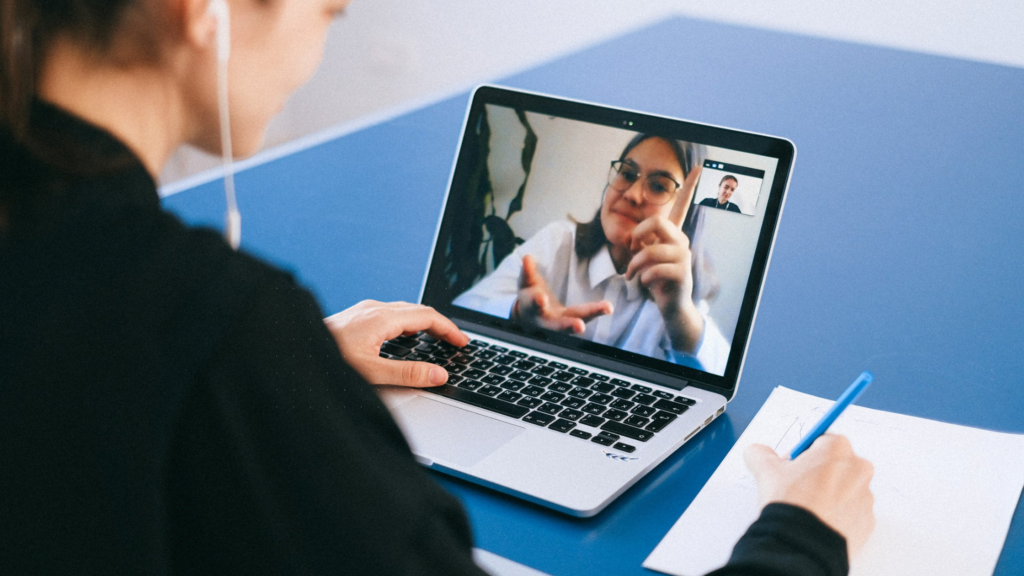 This strategy is effective for:
Companies with mid-market enterprise customers
Companies with 100-1000 customers and mid-range annual contract values ($10,000 – $100,000).
Companies that offer a solid base product with extra functionality/customization
Companies working on the customer end of the supply chain (distributors, retailers, end-users)
Companies operating in well-digitized industries (media, IT, finance, professional services)
3. Low Touch Sales:
This strategy is also named as tech touch. This takes advantage of technology to minimize actual human interactions. Only one or two human interactions happen during the customer's journey and rest all happens over a software.
This method can actually increase the company's capacity manifold to convert leads and ensure repeated sales.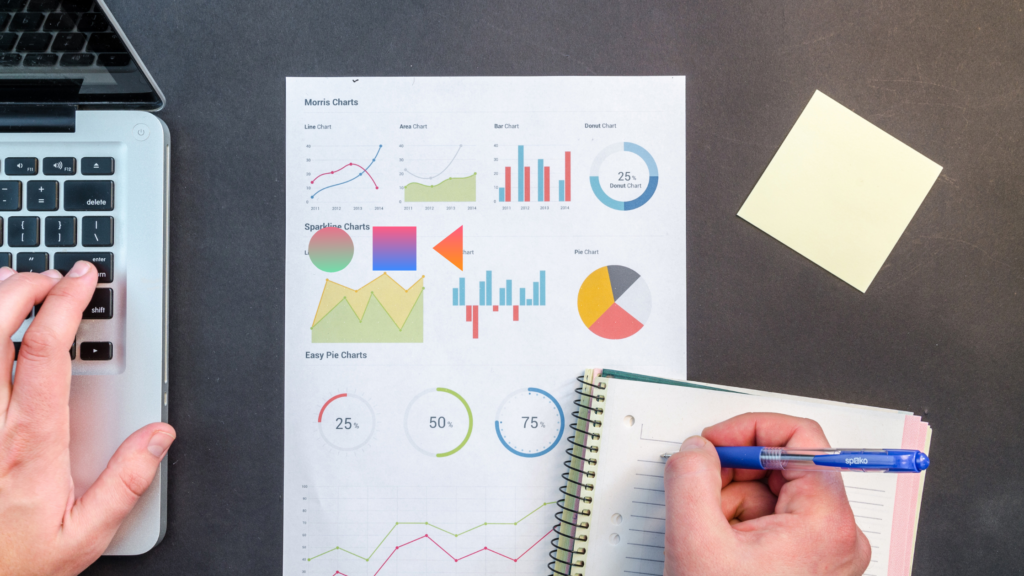 This is most suitable for:
Companies with small to mid-market customers.
Companies with 1,000+ customers and small annual contract values ($1,000 – $10,000).
Companies with several variations of the base product with little-to-no customization.
Companies in very close proximity to the end-user.
Companies operating in well-digitized industries (media, IT, finance, professional services).
4. No Touch Sales:
Last but not the least, No Touch Sales as the name suggests, involves zero physical interaction with customers. This is actually a dream for every business.
The goal is to create a pipeline so smooth that no human interaction is needed to land and retain new customers. All the sales motion marketing efforts lead to conversions with the need of zero calls, product demos, or onboarding sessions.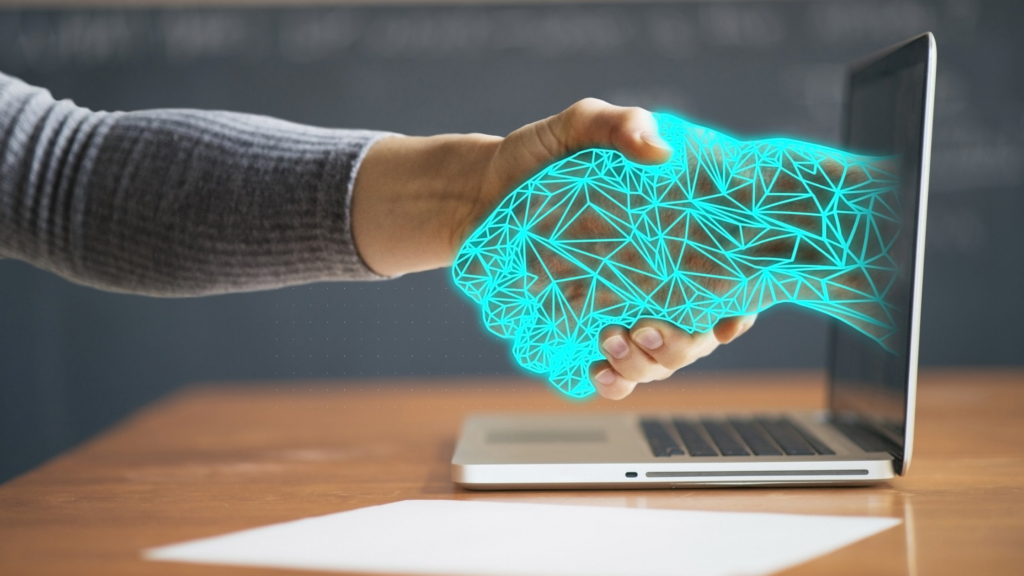 But this strategy is suitable for only companies that meet very specific criteria like:
Companies with small business customers.
Companies with 10,000+ customers and micro annual contract values (<$1,000).
Companies with a simple, single product (no customizations).
Companies serving end-users.
Companies operating in well-digitized industries (media, IT, finance, professional services.
Customer Success as a Sales Motion
The sales process is evolving for the better. The way software companies are marketing their services is rapidly changing.
One of the major reasons for this evolution is the Product Led Growth (PLG).
Customer success is a prerequisite for a successful sales motion strategy. It is also a prerequisite for revenue and profit maximization. There are some points about customer success selling mindset that are required to be kept in mind like:
Your first transaction with a customer is the smallest one: As I said that times have changed, the software business model of the past has transformed. Earlier it was all about big multi-year deals that locked in lots of money upfront but it's not the same case now. Nowadays the first transaction is generally the smallest one where software companies offer free trials for a specific duration.
The Total Addressable Market of your territory is equal to all the future products they will buy from you: The identity of a hit sales motion strategy is repeated business. When your prospects convert into customers, you expand your territory.
Grow or Die: If your customer isn't growing, they will eventually churn. With the advancement in technology and innovation, the variety of the products and services have also increased in the market. A business needs to ensure repeat business. So if your customers aren't growing with your business, then they are eventually dying.
The success mantra for any organization is to figure out where they fit in this world and who owns what part of the customer base.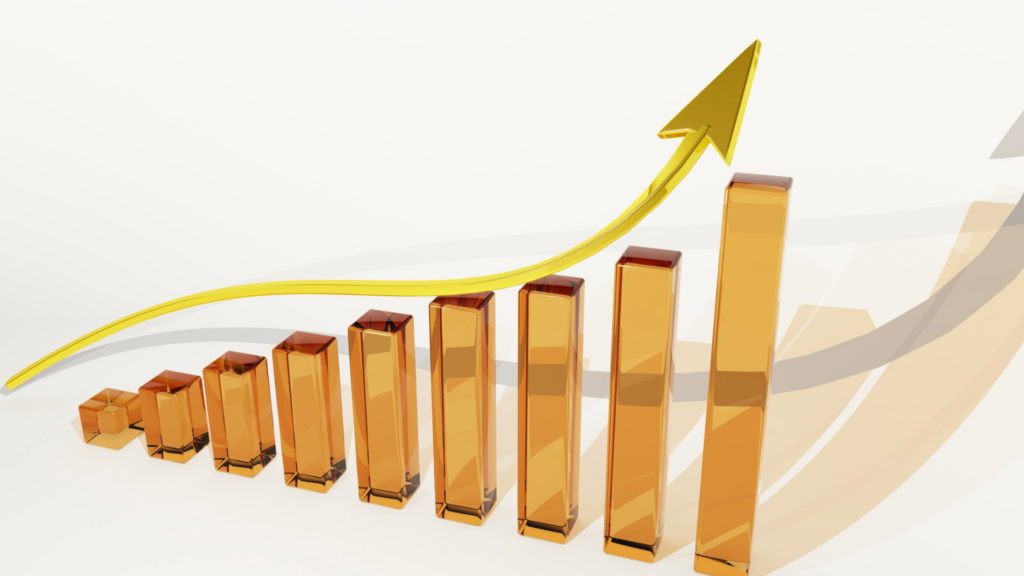 Sales Motion for a Product-led Company:
An important question is how can a product-led company leverage the power of sales motion strategies?
Many product-led companies start out purely product-led. There may be some light sales assistance, but the bulk of new customer acquisition comes from a self-service online channel.
To start, it's important to understand the types of sales motions that may or may not fit a specific product-led situation.
1. Self-service:
The classic product-led sales motion strategy is self-service. The users just sign up for a free account and start trying out features of the software. They do not interact with any other person. Rather they self-assess the product, answer their questions themselves through use or maybe sometimes use the support system.
2. Sales-assisted:
Many product-led companies have prospects who are "ready to buy" inbound leads. These are leads who want to purchase but for whatever reason, they can't, or won't buy online.
A sales or finance assistant always helps the users in the purchase process. These customers can be expanded by a customer success, sales motion strategy.
3. Inbound:
If a company is doing any type of online marketing it is likely generating leads.
You can think about marketing lead generation in two categories.
Marketing generated leads (MGLs): Warm (or lukewarm) potential prospects.
Marketing-qualified leads (MQLs): Hot leads
4. Outbound:
Outbound is a sales strategy to prospect into companies that are not yet customers, and
not yet leads but are potential ones.
Of the various sales options, it is the least efficient one as it can take
significantly more effort to make contact with cold leads who are not yet aware of the company or the product.
Although it's usually the least efficient option, it can be used very effectively to target specific types of ideal accounts that may otherwise be hard to reach with marketing alone.
I hope I have shared enough insights about a Sales Motion strategy and how to deploy one.
But wait!
What if I tell you that you can enhance your sales strategies with the power of AI?
YES! You're right!
Artificial intelligence technologies have been evolving and incorporating various business arenas to cater to the problems of the world.
AI is the future of Marketing!
In the Sales and Marketing field, there are a number of smart technologies under AI that can directly impact your sales career.
If you harness the power of AI for sales efficiently, your performance improves by a considerable margin. The techniques that artificial intelligence for sales use predicts the leads that clients are most likely to buy from you.
AI also helps your sales company keep track of sales performance and optimize the prices of products and deals according to the market trends.
But the question is how can you leverage the power of AI for your business!
Don't worry! I have the perfect answer for this question and that's "Writecream".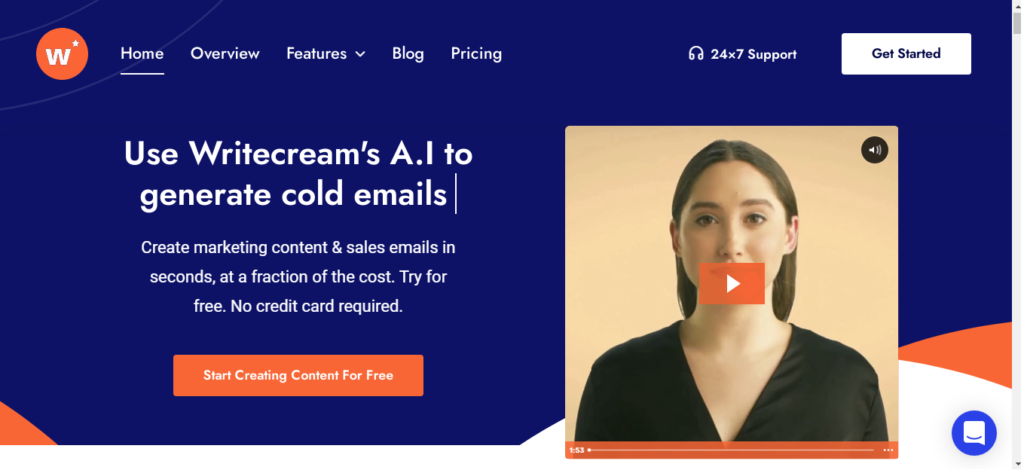 Writecream is a powerful tool that helps to solve various problems of businesses through effective writing cases in order to solve your writing problems.
It has various features like cold emails, LinkedIn personalization, image icebreakers, website copies, brand or product descriptions, Google and Facebook ad copies, SEO meta descriptions and much more!
You can also check a  comprehensive review here about Writecream to know more about this AI powered tool!
All these features when used strategically can help generate tons of content and ideas to accelerate your sales process!
The best thing about this AI powered tool is that it not only offers so many services but offers them for FREE. You can sign up for a  free account at Writecream. Your main dashboard appears. Select any tool of your choice and get started with your writing journey.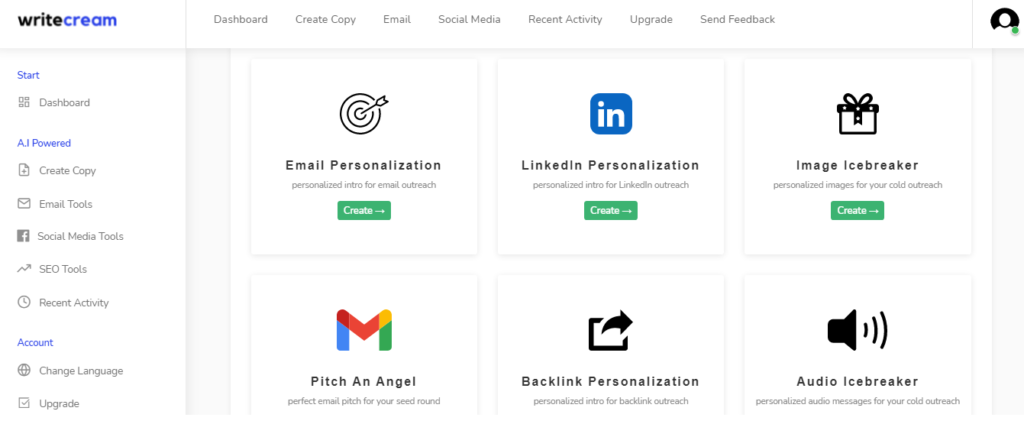 Also, I would like to share some of the amazing features of Writecream.
1. LinkedIn Personalization:
This feature helps in creating personalized introductions for LinkedIn Outreach. Businesses do pitch their customers through LinkedIn. They may also secure important connections like similar businesses, investors or people who are beneficial for their business. This requires a short and crisp introduction with an impressive pitch.
2. Backlink Personalization:
Another amazing feature is Backlink Personalization. This helps in generating personalized introductions for backlink outreach. This helps in diverting traffic to your website. When the traffic rates increase, the chances of getting increased lead and conversion rates also rises.
Conclusion
So these were some of the personalization features that I used and got tremendous results. I hope you're excited to give them a try!
Sales motion is a fundamental part of modern day sales. Sales motions are a way to convey a message to your prospect. They are a way to show a person a product or service and to get them to buy it.
Using this simple strategy can give you tremendous results!
I hope you enjoyed my zero-to-hero guide for sales motion. I know that many people aren't familiar with this idea, so I wanted to do a blog about what it is and how to choose one.
Now that you know what it is and how to choose, I hope that you feel a little confident in your decision to choose a sales motion!
Let me know your thoughts in the comment section below!