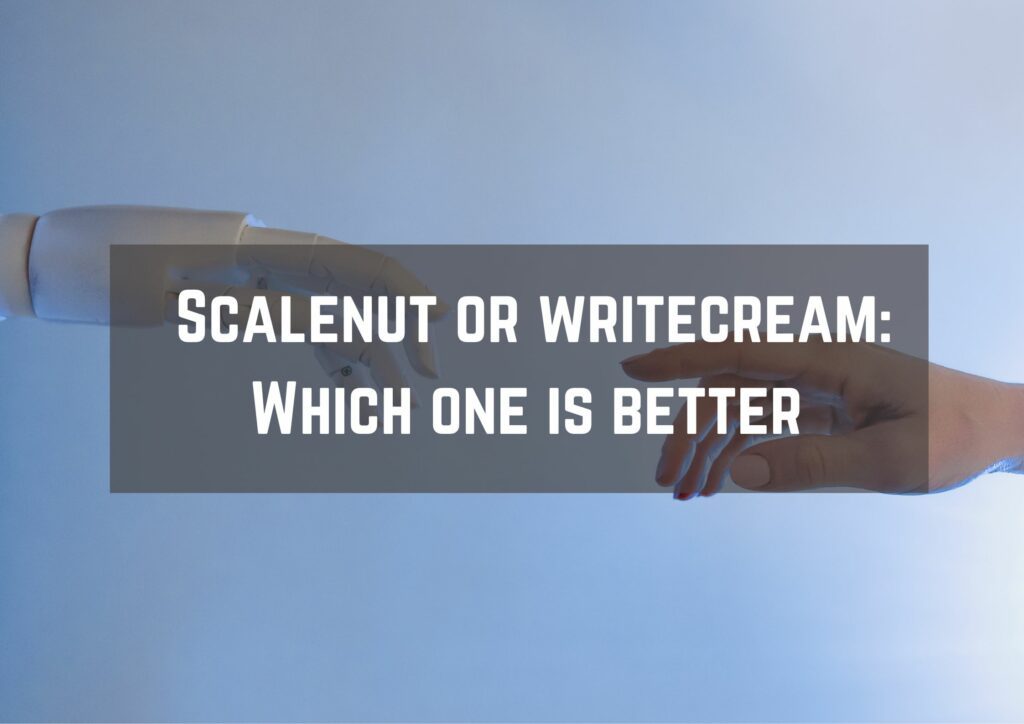 With the advancements made in the world of machine learning, AI-powered copywriting tools have taken the market by storm. One such tool that stands out among its competitors is Scalenut. Along with AI, Scalenut leverages NLP to create both long and short-form content that is guaranteed to rank higher in search engines. It enables the content creator to improve the quality and the overall yield of the content.
In this article, we will take a look at the features of Scalenut and also how it compares to its counterpart Writecream in terms of output quality, user interface and available tutorials.
Features
If you head on to the Scalenut website, you will be amazed at the multitude of options that are available at your disposal. From creating high-ranked content with the help of the AI-powered SEO assistant to creating scripts for your videos on YouTube, there is not much that Scalenut doesn't cover.
1. SEO :
With Scalenut, content creators don't have to worry whether their content would appear among the top search results anymore. The tool focuses on creating SEO focussed content outlines as well as on providing full-fledged content reports thanks to the NLP-powered engine that it supports. With the help of the cruise mode feature, Scalenut will also provide creators with a carefully created workflow that allows you to have smooth sailing while writing your blog/article.
💡 Generate personalized emails, blog articles, product descriptions, and ads in seconds using the power of A.I
2. Copywriting:
Along with creating SEO centred content, Scalenut also assists the user in generating articles by creating introductions, blog titles and sentences. What makes it attractive is that it comes with tools to convert complex sentences into simple and easy to read versions. Another extra feature is the tool's ability to convert active to passive voice and vice versa. If in case you are stuck in a dilemma wondering what to write about, Scalenut will also help you generate ideas which can be extremely helpful when writing blogs for your brand or product.
3. Video content:
Scalenut is also equipped with the feature to help make your life easier if you are a video content creator. Powered with the latest technology, you can generate scripts and outlines for your videos to follow. It also generates creative and engaging descriptions as well as titles fitting for your videos.
4. Advertisement copies:
Creating and running Google ads couldn't get more simpler with Scalenut. Now you can generate high converting ad copies for your marketing campaigns and not just that but it will even create descriptions as well as headlines for them. Similarly, Facebook ads and Linked ads can be generated with Scalenut which are also guaranteed to boost your conversion numbers.
5. Email copywriting:
For marketing and sales professionals, Scalenut also ensures captivating Email subject lines as well as compelling emails that will no doubt increase the response rates to your cold emails.
6. Other features:
Apart from the above services, users can also create compelling Social Media posts for various platforms. Coming to brands and their products, the tool is also equipped to generate descriptions for your products as well as create genuine catchy responses for reviews.
Output quality comparison with Writecream
The first thing you can notice when using the AI content writer in Scalenut is the creativity of the results. The sentences appear well-formed and depending on the user's requirements might not need much editing after. The major drawback here would be a lack of options to choose from which many users could find unattractive as a feature. On the other hand, Writecream provides multiple results giving the user the freedom to choose and edit later on. Along with this Writecream also manages to create creative articles while giving a human touch to them.
User interface
The user interface at Scalenut is quite basic and yet a bit complex to navigate. Although one can eventually find the service or feature that they are looking for, it might seem a bit tricky for first-time users. This was the case with me as I had to take a hard look for a few minutes before I could navigate to the desired location. Although it is not necessarily a major drawback, new users might find it a little complex initially.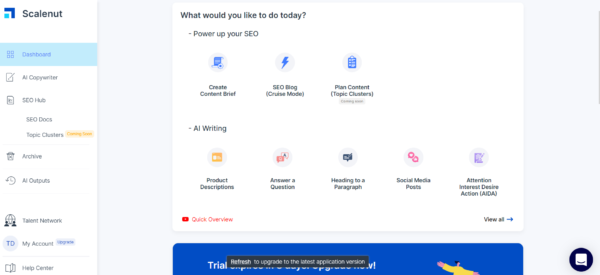 Writecream on the other hand has a very simple yet attractive design that is very user friendly. It doesn't take too long to navigate through the dashboard and the presentation of the home page is quite vibrant as well. Users can find the feature they are looking for by just scrolling through the home page in a matter of seconds. Overall, Writecream scores better than most of its competitors including Scalenut when it comes down to user interface.

Tutorials
Scalenut has a wide array of tutorials available online on its official YouTube channel. Almost every aspect of the tool has been covered for new users to get a better understanding of the workings of the tool. Apart from the official videos, there are many other reviews and tutorials also available by other content creators.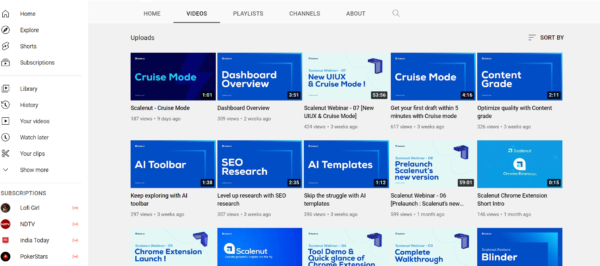 Similarly, Writecream also covers each and every feature with a systematic explanation of its tool on YouTube. Although the user interface of Writecream makes it extremely simple for users to utilize the tool, the tutorials available no doubt make it a far simpler job to get an idea regarding the basic components. Ultimately there are quite a few options for both Scalenut and Writecream in regards to tutorials and how to videos.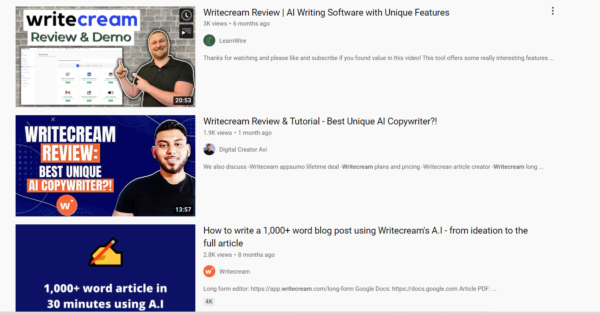 Reviews
Regarding user reviews which are fundamentally the most important aspect any potential user should have a look at before choosing any tool, both Scalenut and Writecream have overall good reviews from its users.
With an average rating of 4.8 on Trustpilot.com, Scalenut users have been more or less satisfied with the services the developers have been able to provide. Users have mentioned how it is a cheaper and better option when compared to a few of its counterparts on the market as well. The tool also has an average of 90% of people claiming it to be an excellent option.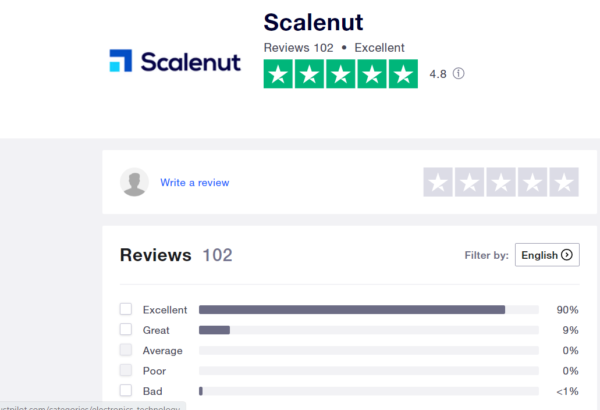 Similarly, Writecream also a whopping 93% per cent of the users claiming it to be an excellent tool with barely and bad reviews. With an average rating of 4.9, it is quite evident how the tool has been effective amongst content creators and similar professionals alike. One thing that stands out is the varying levels of reviews left by users from different fields, whether it be marketing or copywriters.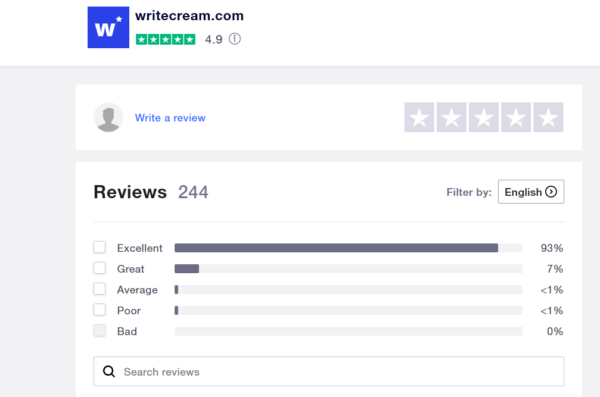 Conclusion
Both Scalenut and Writecream are quite competitive and in most probability are the benchmark at which AI-powered tools should perform. With similar features that provide the best possible outcome, the tools can be separated mostly on the user's preference and requirements. Although if you are a new user, Writecream is clearly the better option owing to the simple interface along with the multiple options that is usually given to the user. Scalenut is a slightly cheaper alternative, but if you are looking for the best quality content-wise with the freedom to choose from multiple outputs, Writecream clearly has an upper hand in this regard. Both the tools have an option for a lifetime free subscription which you can opt for if you wish to make a decision on which tool to go for.
Writecream provides 30+ tools for generating tons of content within seconds! Use Writecream to generate product descriptions, personalized emails, blog articles and much more and that too for free! Our free plan provides 20 credits every month which helps you generate 10,000 words per month!
Isn't it amazing?
To get started, register here for our FOREVER FREE plan NOW!