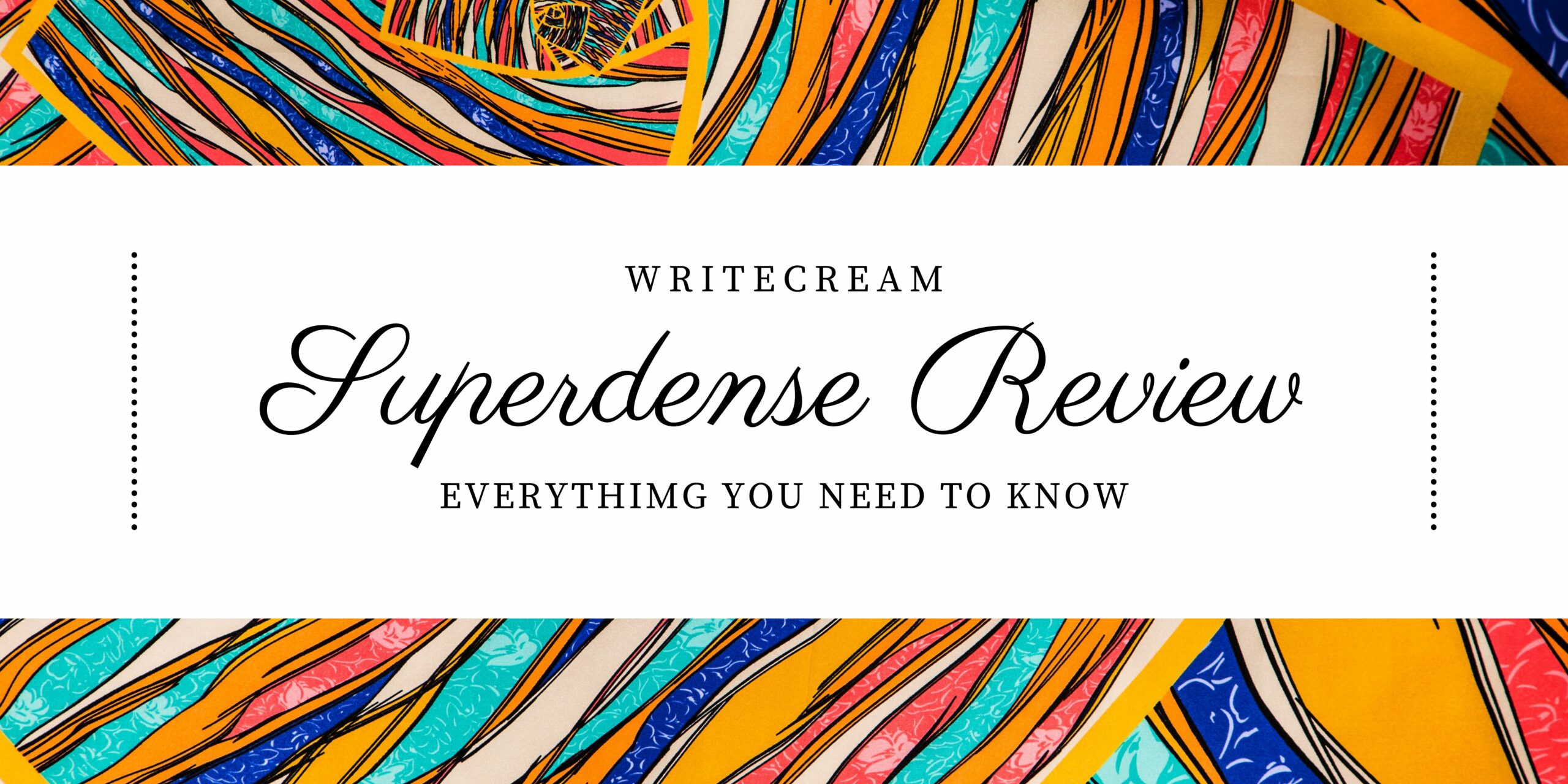 One of the key prerequisites for optimal levels of productivity while working online is a distraction-free atmosphere. People hardly ever use any desktop-based or on-premise applications now that the cloud space has significantly evolved over the previous ten years.
The majority of work is done through a browser, which also presents the maximum chance for distraction because your personal activities could easily interfere with your professional environment. What if there was a tool that could help you manage all of your bookmarks so you could share or keep all of your personal and work-related URLs separate in their own folders?
This is what Superdense promises. Does it really stand out? Let's find out with this Superdense Review.
Features
It can be quite difficult to manage thousands of bookmarks, especially if you use many different browsers and devices. However, with Superdense it is not. This bookmark manager is your one-step solution.
💡 Generate personalized emails, blog articles, product descriptions, and ads in seconds using the power of A.I
Superdense is a compact library for your bookmarks that replaces the traditional method of locating (and forgetting to apply) them and is the manager for all your browsers. Just add the links and access your favourite web apps and sites from anywhere with your Superdense account. Simply enter the site address to include it on your individual page; no technical or design knowledge is required. You may add hundreds of your favourites without having to scroll or search because it only shows the icon (or favicon, as they are formally known).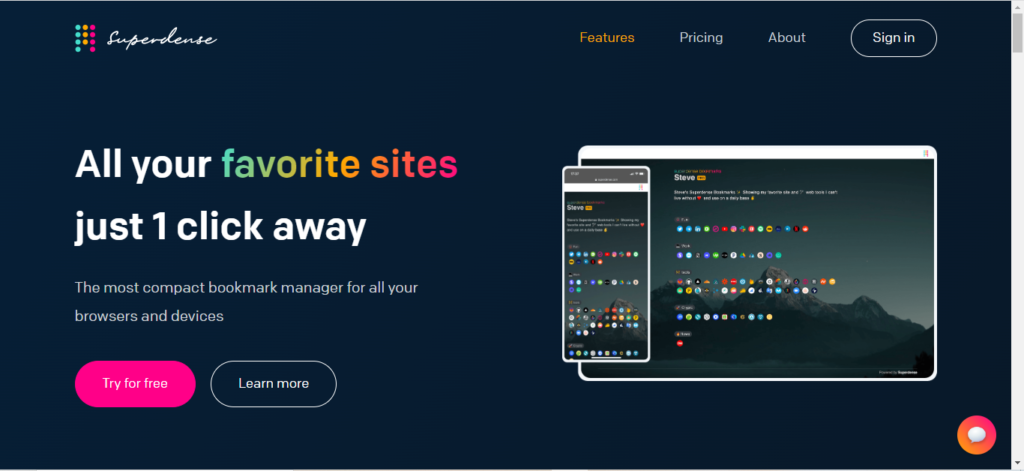 Pick the sites that you frequent the most. Your go-to Youtube page, or Wikipedia article, it gives you easy access to all. The highest quality favicon from that site is fetched as soon as you input the Web address. If the domain's icon has already been downloaded, load an optimized copy from their worldwide CDN. Supredense helps you access bookmarks across every browser.
Create categories to organize bookmarks in the way you see fit. By simply clicking and holding each favicon to move it to the desired position, you may edit the page to reorder bookmarks and categories. A bookmark can be moved from one category to another by dragging it. You can share your bookmarks, and all your favorite sites are just 1 click away, be it your phone or browser, never miss out on any bookmark again.
What makes Superdense unique?
Supredense uses favicons instead of words. By concentrating on one important component—favicons—Superdense is unique in a way that it is optimized to display as many bookmarks as possible in the smallest amount of space, on the homepage. You probably have more than 20 tabs open before you finish your morning cup of coffee.  How do you know which tab to click on your browser? This is where the favicons of Superdense come to play.
This software retrieves the highest quality version for each domain and subdomain and saves it on a global CDN. Retrieving only needs to be done once; subsequent bookmarkers of the same website will automatically receive the cached and optimized version.
Features
Bookmarks – Create bookmarks for your favorite sites that you visit most frequently.
Categories – Create categories to help you organize your bookmarks in the way that works best for you.
Drag and drop – Edit the page by clicking and dragging each favicon to the desired position to reorder bookmarks and categories.
Custom icons – These can be uploaded; a placeholder icon will be displayed so that you can add your own picture.
Privacy settings – Change the privacy settings by marking certain categories as private or public based on your requirements.
Share and inspire – An excellent one-pager to promote all websites related to it.
Price
Free Trial – Unsure about the software's ability to meet your needs? Give it a try then!  Get a free trial deal of Superdense at no cost.
Solo – Offers a richer bookmarking experience at $3/month, billed yearly. Features provided
Unlimited Bookmarks
Unlimited Categories
Public & Private Categories
3 Spaces
Themes
Public page bio
Team – Perfect for smaller teams or family individual accounts at $12/month, billed yearly. Features provided
Unlimited Bookmarks
Unlimited Categories
Public & Private Categories
10 Spaces
Themes
Public page bio
5 Team Members
Company – Individual pages for up to 25 users within your organization at $49/month, billed yearly. Features provided
Unlimited Bookmarks
Unlimited Categories
Public & Private Categories
Unlimited Spaces
Themes
Public page bio
25 Team Members
Custom Branding
Custom Domain
Reviews
1. G2
Supredense is rated 5 stars based on 8 reviews on G2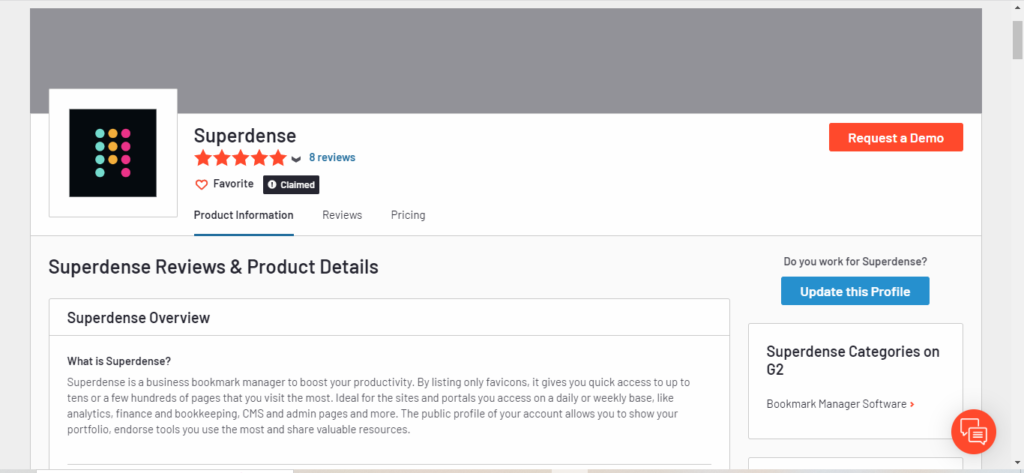 2. Producthunt
Superdense is rated 5 stars based on 18 reviews on Producthunt.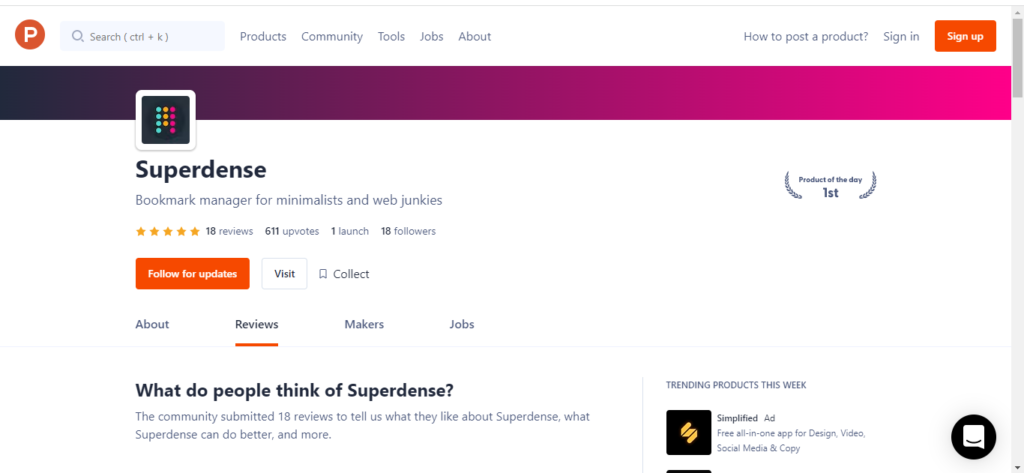 Conclusion
Superdense is a fantastic platform for showcasing your work, endorsing the technologies you favor, and motivating others with useful resources: You can create a beautiful one-pager to promote all websites related to it by dedicating a profile to your business, your hobby, or any other topic you want.
Writecream provides 30+ tools for generating tons of content within seconds! Use Writecream to generate product descriptions, personalized emails, blog articles and much more and that too for free! Our free plan provides 20 credits every month which helps you generate 10,000 words per month!
Isn't it amazing?
To get started, register here for our FOREVER FREE plan NOW!