SEO optimisation, or Search Engine Optimisation, is an important tool for websites and individuals who own businesses. Individuals and organisations who want to direct traffic to or 'clicks' to their forums can use Search Engine Optimisation to relay people to their website to convert them into customers from prospect viewers and visitors.

Computers use algorithms to bring prospects to websites. Usually, through these binary algorithms, computers can dictate the behaviour of individuals and groups who search for specific keywords or phrases on the internet. Using this data, website owners can use specific keywords and phrases that rank high by optimising SEO.



Surfer SEO
Surfer SEO is a tool that can map on-page that helps you optimise search engines for better rankings and visibility. Content writers and bloggers can use this tool. SEO optimisation has multiple elements like:


Keyword density
Meta tags
Meta descriptions
Images
HTML Codes, etc.
Surfer SEO analyses these different factors in content and increases the visibility of your content through apt optimisation to improve your ranking on search engines.




Features of Surfer SEO


1. Content Planner: This feature allows you to intricately plan your content and strategise on how to optimise it to be the most productive for your business. You can enter relevant keywords and topics, after which you can strategise your content. On the dashboard, with the easy-to-navigate user interface, you can also categorise your ideas based on their intent and search volume.
💡 Generate personalized emails, blog articles, product descriptions, and ads in seconds using the power of A.I
Once you enter your head keyword, Surfer SEO will bring in a large amount of relevant content that will boost your content presence. Inside the content creation planner, you can also track the progress of your writing process. Using this tool will help you dominate the niche your website is involved with and also boost your relevancy. 

2. BRIEF: AI Outline: This feature helps use the mega helpful tool of artificial intelligence and machine learning to format optimised content into paragraphs automatically. Another great feature this tool provides is the adjustment of tonality and voice. You can tailor your content to apply and impact a certain sect of the audience, be it general readers, a knowledgable audience or a casual blogger. Once you adjust your requirements, you can just quickly copy and paste the content you have tailored. This also enhances your productivity. 

3. Content Editor: This tool helps you write your content with guidelines and a format to help fit a structured framework. The Content Editor on Surfer SEO works hand in hand with their stellar technology, which goes one step beyond keyword density. They use AI tech to check the importance of each word you use according to your niche on your competitor's page.
Once this is recognised, the most effective and efficient guidelines to make your content stand out.
You can also assess how good and heard your content is with a function called "Content Score" that rates your content in seconds. Once your content has a competitive Content Score with no red lines, you can hit publish for your content to shine!
You can also rank the keywords you use in one place on your user interface. A "multi-keyword analysis" function helps you assess your keywords to estimate how much you can direct organic traffic to your website without any hassle.


4. Audit: An audit check means a full sweep on everything you generate. On Surfer SEO, there are three elements to this.

5. Repurpose old content: See how you can efficiently work on some old content for it to rank and be visible in current times.

6. Find SEO errors: This function lists the potential errors and mistakes you've made based on keyword analysis and other metrics required for increased organic traffic.

7. Whitelabel SEO Audit: This tool uses insights without explicitly stating your different tools. It creates tasks under your domain for anyone.
Surfer SEO makes the taxing and lengthy auditing process short and sweet. While auditing may take away a chunk of time, resources and horsepower, Surfer SEO automates most functions. They call this "the king of efficiency and the quickest of quick wins."
Your Google Analytics tell you how you perform and extensively talks about the specific changes you should make to your content to perform better when compared to your competitors. It answers questions like if you should cover particular niches, remove certain topics from being covered and focus on specific keywords.




Free tools available on Surfer SEO


1. Keyword Super Extension: This function on Surfer SEO immediately boosts your content game with the power of relevancy. This is a time-saver function (and is free!). Once you enter a keyword, it shows you the monthly volume of keyword searches for that particular keyword. This helps you decide whether to leverage a particular keyword and include it in your content. 

Another great function of the tool is that it suggests similar keywords and ranking relevance. Discovering similar keywords means your opportunities at ranking high and being visible increase exponentially. Once you discover the cluster of relevant keywords, you can include them in existing content, blueprint them for upcoming content or plan them as key tools for future use.


2. Content Editor Extension: This on-page extension allows you to patch a content editor to WordPress or Google Docs. Once you attach the extension to Google Chrome, you can create content without trouble. You don't have to worry about copy-pasting for error checks. The formatting remains unchanged and easy to follow. Surfer SEO says that their tools adjust for you instead of adjusting and channelling your content according to their tools.

3. Free AI Outline Generator: Once you avail of the tool, you can get guidelines and frameworks of formatting for your content by just entering topics or keywords. You just have to enter your requirements, and the AI generator formats a paragraph with requirements for your writing area.

4. Grow Flow: This tool is mainly to deal with insight provision. To match up with the fastly growing market and trends, weekly data-driven SEO insights are provided for busy and quickly growing companies. This tool is mainly to do with strategising growth on your platform.



Pricing
Now that we know the different features Surfer SEO offers (both paid and free), let us look at the pricing plans.
You can choose from two broad payment sections: Monthly and Annual plans. Under these, you can pick from three plans: Basic, Pro and Business.


1. The Annual Plan (17% off)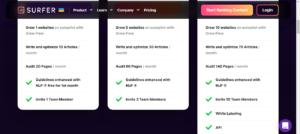 2. The Monthly plan





Customer Support
Surfer SEO has a dedicated dialogue box on their onboarding page for customer FAQ, queries and support. Its user interface allows for the analysis of many metrics and is very user-friendly.



Ratings
Let us look at Surfer SEO's ratings on leading peer review sites for software tools G2 and Capterra.

1. G2

Surfer SEO has a 5/5 star rating on G2 and a badge carrying an accolade of the "Leader" Summer 2022. Here are some reviews:


#1 What do you like best?

I love the content editor. With SEO results taking days to weeks to months to show potential positive or negative progress, the content score is displayed and changed in real-time as you add keywords or headers that it believes will help you rank better. Seeing that green score is an immediate reward that helps me keep going.

What do you dislike?

The cost is slightly high for an individual like myself who runs a small blog that doesn't even earn anywhere near the $59 subscription fee. Hopefully, I will see it pay off over the next few months.

#2 What do you like best?

Surfer is fantastic for organising my thoughts, helping me to work out the right order to tackle topics in, and then optimising my writing to ensure the best possible outcomes for keywords and related terms. It highlights competitor articles and gives helpful advice on the structure.

What do you dislike?

The tool is a little pricy for the number of content pieces you get a month – it's easy to breeze through the allowance in a few days. There also doesn't seem to be a way of adding keywords to the content editor once you've started creating the piece, which can be frustrating if the piece grows beyond its original scope.


2. Capterra

Surfer SEO has a 4.9/5 rating on Capterra with 222 reviews.

Here are some of its pros listed on the website:

"Surfer makes it very easy to evaluate your articles against the top-ranking articles on Google and see the areas that you can focus on improving your articles."

"The content writing feature is fantastic. The suggestions for keyword density are so useful."

"I like how the content editor helps me write better posts and pages for my website; it helps me write content that gets indexed and gains traffic."
Writecream as an Alternative
Writecream is an AI powerhouse that helps with smart content writing using artificial intelligence and machine learning. They have a very easy-to-use and navigate user interface that is not crowded and helps with smooth workflow. 

Writecream offers a great digital toolkit for marketers and business professionals who want to make an impact with their content. Here is a list of Writecream's features:
Personalized Icebreakers: They personalize cold emails, LinkedIn connection requests, InMailss, and Backlink Outreaches. On sending prospect credentials, their AI scans and generates compelling content that will bring in responses.

 
Generate long-form content like blog articles and video scripts in minutes. Writing a 1,000+ word article takes less than 30 minutes using Writecream 
Writecream also uses GPT-3 like Shortly AI and generates plagiarism-free outputs.

 

Ads: They also produce Facebook ads, Instagram ads, and Google Ads. With the click of a button entering the company's name and what it does, Writecream creates ads instantly.

 

Articles & Blogs: Writecream can produce

Long-Form Editors (A.I Article Writer), Blog Ideas, Intros & Outlines, Blog Heading Expanders, Blog Conclusions, and Compelling Bullet Points.

 

SEO & Copywriting: In this arena, Writecream can produce the following:  Feature to Benefit, Before-After-Bridge, Value Proposition, Website Title & Sub-Headline, SEO Meta Descriptions

 

Social Media: White cream can produce content for podcasts, voice notes, video scripts, special media post captions, social media product reviews, quora answer assists, etc. 

 
Ratings
Writecream has a rating of 4.8 stars on G2, the software peer-to-peer review website and a 4.8 review rating on Capterra. 
Here are some listed reviews:
#1 "First AI Writer On The Go"
What do you like best?
I'm usually a hands-on writer, but I was so busy with other projects that I needed a way to get more leads and start more email conversations. Writecream is a great solution because it takes the personalization and customization of an introduction and applies it to my cold emails. I'm sure it has saved me hours of writing, and it helps me get my email templates just right.Review collected by and hosted on G2.com.
What do you dislike?
I do hope that they improve social media writing and adding features like maybe one liners to easily post on platforms like Twitter, quotes or GIF generator, and a social media posting tool to push that generated content to different platforms on the go.
#2 "Best AI writing software"
What do you like best?
It is so quick. It works faster than other software in the market.Review collected by and hosted on G2.com.
What do you dislike?
There is a limit on words and the limit is a little low.
Pricing

 
Writecream offers the following Pricing plans 
$0/month for 20 Credits

 
20 icebreakers / 40,000-characters

 
$49/month for 200 credits

 
200 icebreakers / 400,000 characters

 
$69/month for 750 credits

 
750 icebreakers / 1,600,000 characters

 
User Defined Credits

 
User Defined character limit

 


Conclusion


The hype is worth it for all the noise Surfer SEO makes in terms of being a stellar optimisation tool. Most social media and content game peers seem to be using this app for all their organic traffic-related subscription and enhancement services in the market. A yes to go for!
However, Writecream seems to be a better alternative. The lower prices and more versatile toolkit provides many tools you can choose from to produce the best kind of content you wish to churn out for your business or service. Writecream no doubt has a good track record, especially with the extremely high rating and efficiency it works with, especially with reviews testifying the same. 
Another place where it wins is the smooth and simple user interface that is easy to navigate compared to the overwhelming number of service toolkits that other extensions or providers offer. 
Writecream is the way to go!
Writecream provides 30+ tools for generating tons of content within seconds! Use Writecream to generate product descriptions, personalized emails, blog articles and much more and that too for free! Our free plan provides 20 credits every month which helps you generate 10,000 words per month!
Isn't it amazing?
To get started, register here for our FOREVER FREE plan NOW!