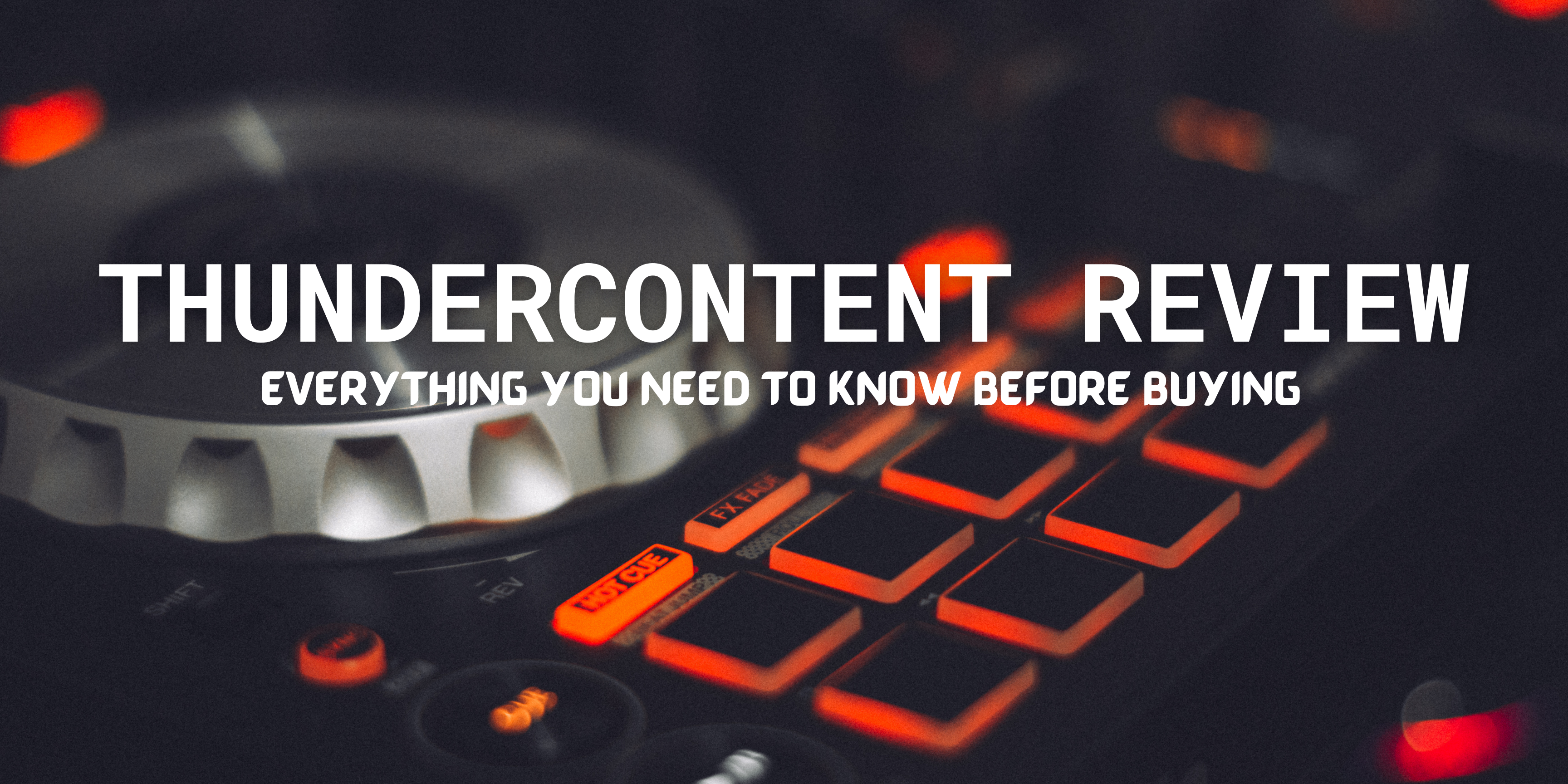 Artificial intelligence is reshaping the content marketing landscape. Content marketing is an important part of every company's or product's marketing strategy. It is the use of digital marketing tactics to develop and manage content that is valuable and relevant to your target audience. More organizations are changing to stay ahead of the competition due to the rising emphasis on content marketing to promote sales and long-term consumer value.
To use these AI copywriting tools, you don't need to be a marketing expert or an expert in AI writing. They're made with writers in mind, and they make it simple for anyone to create interesting, high-quality material without any technological expertise.
These tools can help you take your business from excellent to great by giving you the tools you need to create more content than you ever have before. One such tool is Thundercontent, let's go through its review in this article.
What is Thundercontent?
Thundercontent is a software that can create content for you. It will write an article for you based on the information you provide.   The AI-based tool can understand your needs and provide you with the information you seek.
💡 Generate personalized emails, blog articles, product descriptions, and ads in seconds using the power of A.I
Furthermore, the text created by this program is unique and perfectly readable. In fact, many famous names in the world of blogging and content production are currently using it. It's a fantastic time-saver, and it can spare you the trouble and anguish of writing hundreds of articles.
Thundercontent is an artificial intelligence (AI) content generator and audio converter. Using Thundercontent to fix your writing challenges is a simple process. For decades, content marketing has been a cornerstone of marketing strategy. Thundercontent assists in the creation of engaging and effective content that attracts readers. The problem of developing creative and compelling content is put on pause with this technology.
Thundercontent Features: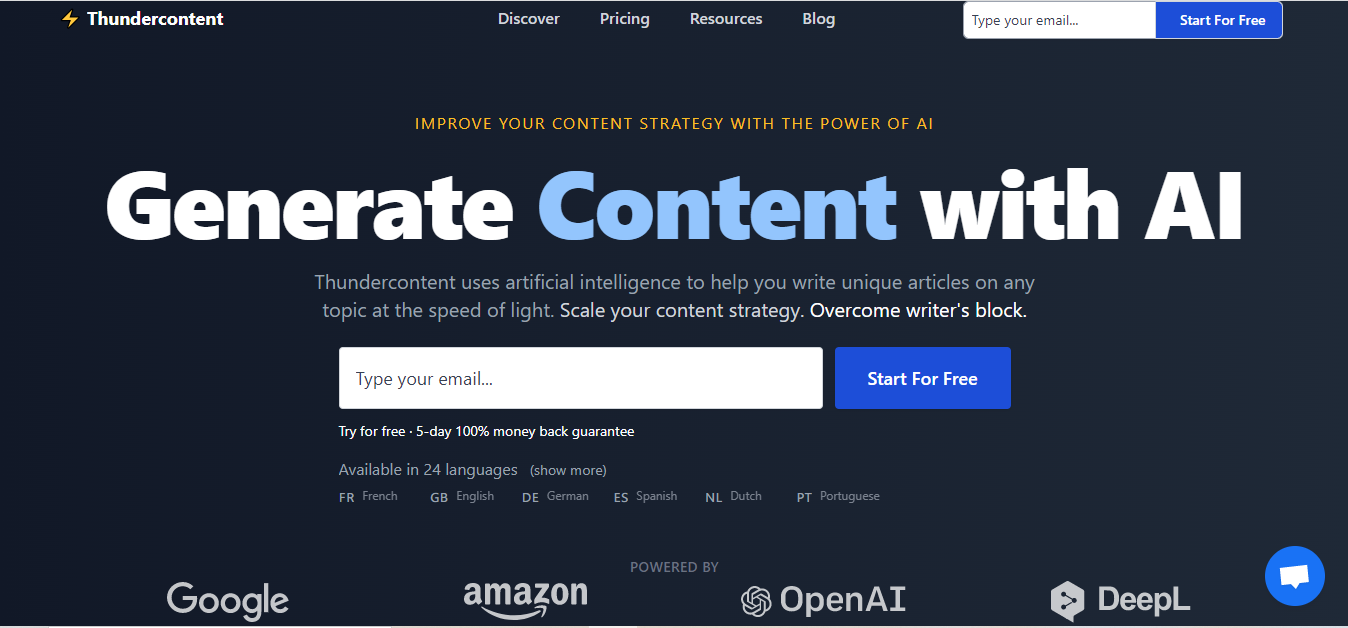 Here are some of the important features that make this product a one-stop-shop for all your content-related issues.
1. Assistant Writer AI
Thundercontent's most notable feature is its AI writing helper, which can create content for you. This AI assistant can grasp your intent and compose content based on it, whether you're a newbie or an experienced writer.
2. Original Content
Thundercontent produces original content that is free of plagiarism. This software may also produce content in a variety of formats, including blogs, articles, reviews, product descriptions, and more.
3. Any Format Can Be Exported
You can also export all of your content in a variety of formats using Thundercontent. For instance, you can quickly download a document in PDF, Text, Doc, or Docx format. This application may even export HTML or Markdown versions of the content.
4. Create a blog post with a title, an introduction, and content
Another fantastic aspect of Thundercontent is that it can be used to create a blog post. So, if you're a blogger looking to produce a new blog article, you can use this smart AI technology to do so. It aids you in writing the following:
Blog Post Title
Content of the blog post
SEO meta description.
Headlines
Conclusion
5. 13+ languages supported
What if you need content that isn't written in English? Thundercontent is perfectly capable of completing this task for you. There are 13+ well-known languages for which content can be developed.
6. SEO optimization feature 
The most crucial aspect of blogging is SEO. You must optimize your content for SEO in order to ensure that it ranks well in search results. Thundercontent's SEO optimization tool comes in handy here.
7. Features of AI Audio
There are some exciting AI audio features that can help you in addition to the above features. You can get a voiceover for your content with the AI Audio function.
8. Manage Workspace
Thundercontent allows users to quickly arrange their content. All of the search results are displayed in document format, and you may move among them to refer to past work.
9. Live Support
Thundercontent's display screen also features live support. This assists clients in resolving any questions they may have while utilizing the tool. With a premium account, your questions are dealt with on a first-come, first-served basis.
Pricing
Thundercontent provides a free-trial of 500 words. You can try it out for free before deciding whether or not to subscribe and there's no need for a credit card.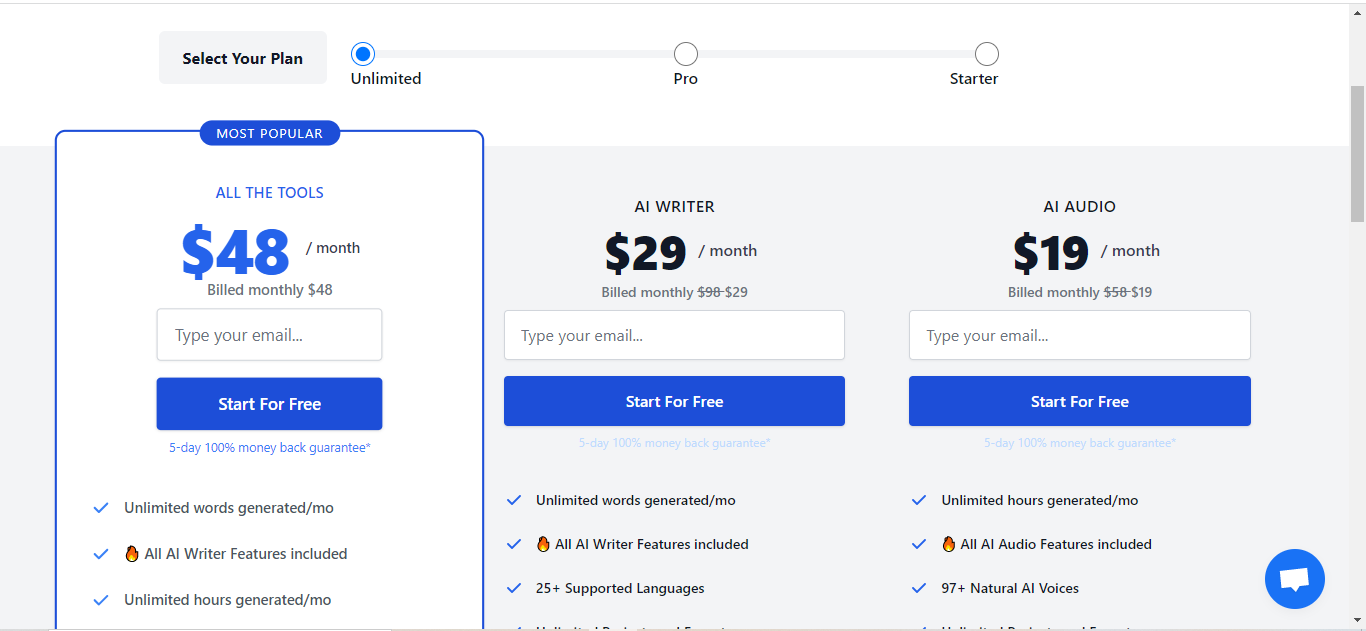 Following the trial, you can pick between three different deals:
Starter Plan: It has a monthly cost of $12. It includes a word limit of 10,000 characters, as well as 1 hour of AI audio and other useful features.
Pro Plan: This $24 monthly plan includes a 50,000-word limit and 5 hours of AI audio.
Unlimited Plan: This package is $48 per month and includes no word limits and unlimited voice hours.
Pros of Thundercontent:
The content is of excellent quality.
The customer service is great, it is available 24/7
The AI audio feature is a one-of-a-kind feature that helps you save time.
Cons of Thundercontent:
It can only be used on a computer (not accessible through mobile)
Long-form content is not of great quality
Some features are only available to premium subscribers.
The Perfect Alternative of Thundercontent: WriteCream
People like Email marketers, web copywriters, and freelance content writers may benefit from Thundercontent. It's also a good option for entrepreneurs who need to develop short text content. The software generates innovative, captivating ideas and copies for your emails, blogs, and social media posts.
While its output isn't always relevant, it's decent enough to get your creative juices flowing and get you out of a rut. An alternative such as WriteCream is recommended for companies that require more robust writing.
What is WriteCream?
Writecream is an AI-powered tool that helps writers and content marketers address all of their writing obstacles, such as personalizing introductions and messages for Cold Emails and LinkedIn Outreach, brainstorming blog ideas, website copy, social media content, and more. It generates massive amounts of information in a matter of seconds, and it can greatly increase your productivity. Writecream is relatively newer to the internet industry, but it is thriving. It has increased in popularity in a relatively short period of time due to its distinctive traits, accessibility, and affordability.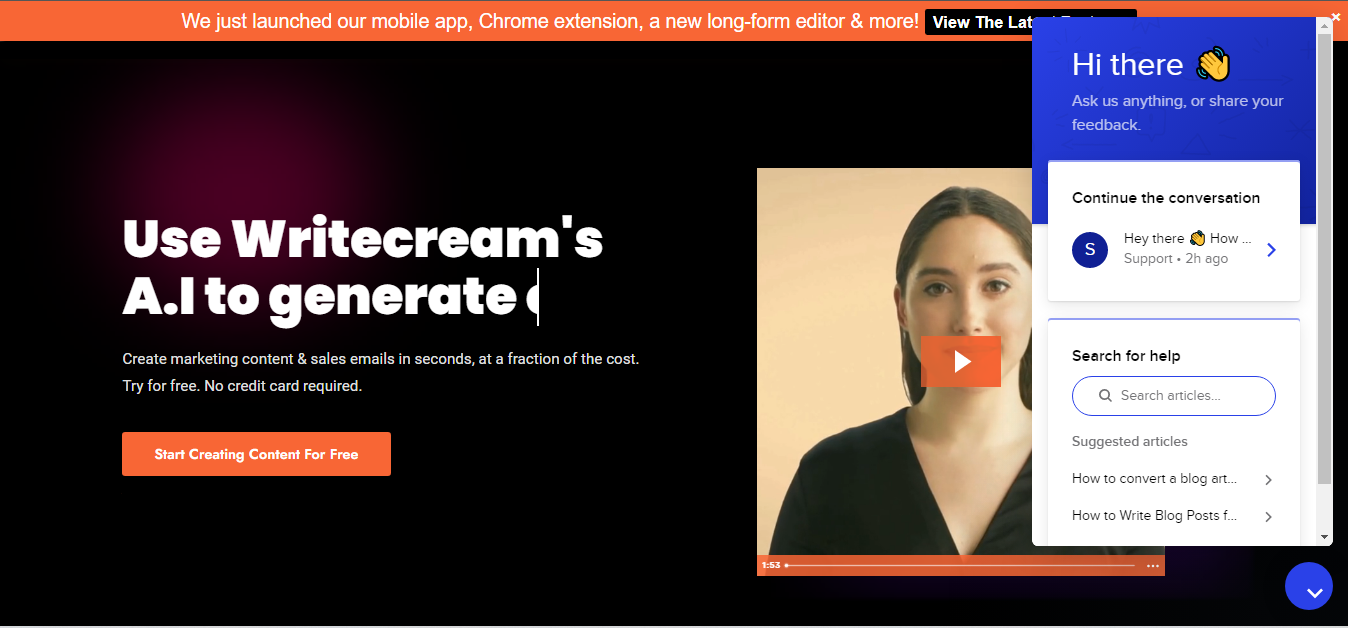 Where does Writecream wins?
WriteCream's output is far superior and free of plagiarism, punctuation mistakes, and typos
WriteCream can be used in on phone, unlike Thundercontent. You can download WriteCream's Mobile App on Google Play Store.
Thundercontent doesn't have the Podcast and Voiceover tools, which allow you to quickly add audio to your video.
WriteCream supports 75 languages, whereas Thundercontent only has 13 languages to choose from.
The quality of the long-form content output of Theundercontent is average and still in the developing stage.
Overall, WriteCream's pricing is less expensive than Thundercontent. Additionally, WriteCream's unique characteristics set it different from the competition.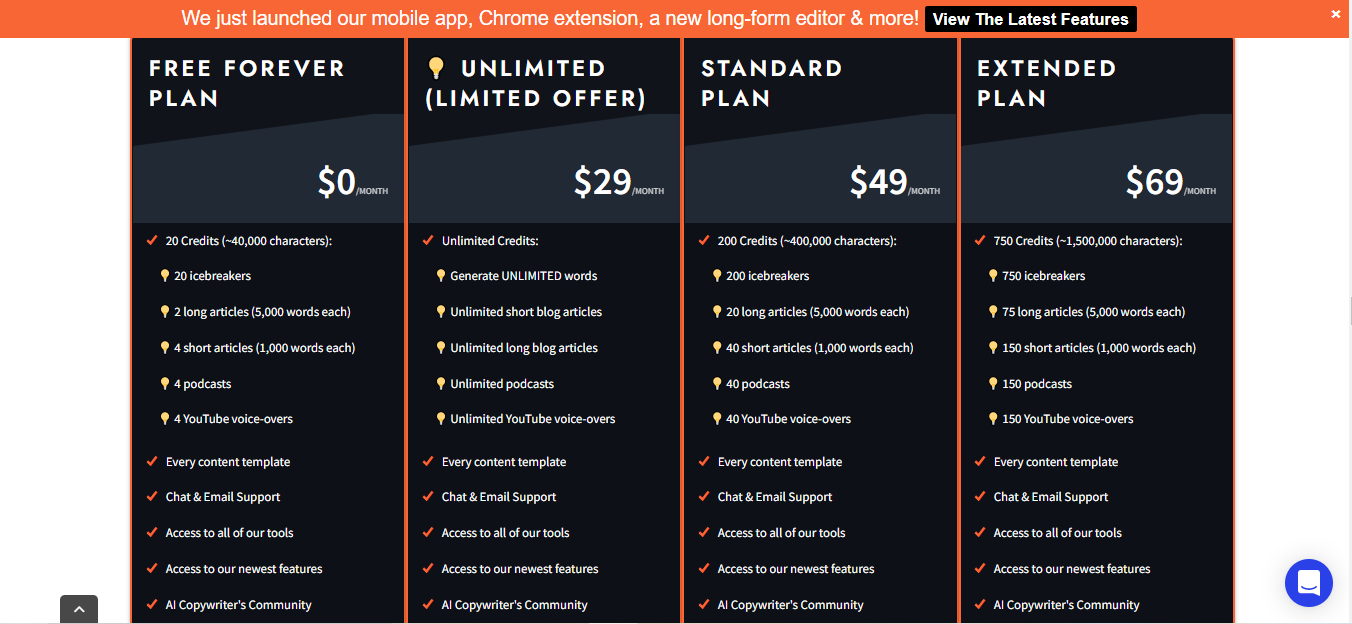 The free plan allows you to use all features as well as receive 20 credits and 40,000 characters.
Standard Plan: $49/month for 200 credits with a 400,000-character limit.
Extended Plan: $69/month for 750 credits and a character limit of 1,500,000. There were between 200 and 750 image icebreakers, blog entries, and podcasts created. It provides you complete access to Writecream's features as well as live chat and email assistance.
Custom Plan: With this plan, users can simply indicate their requirements, and Writecream will design a custom price plan for them. This plan is priced according to the user's requirements.
Exclusive features of WriteCream:
Image-based icebreakers from Writecream are a one-of-a-kind tool. These are AI-generated personalized images for cold outreach. This tool allows users to make premium photos with high-quality material.
Copywriting Formulas: WriteCream comes with built-in copywriting formulas. Two scientific concepts employed in its copywriting tools to produce the most effective output are the Before-After-Bridge and the Pain-Agitate-Solution.
Personalized features: Writecream offers emails, image icebreakers, product reviewers, and other individualized features. These features are being used by clients to greatly enhance their sales!
Podcast: WriteCream helps you convert a blog post into a high-quality podcast with ease. Pauses, breathing effects, and other effects can be added. It's never been easier to start a podcast!
Conclusion
AI programmes can help you come up with content ideas if you're going through a writer's block and don't have the time to come up with it yourself. Content is king these days and having new, interesting, and high-converting content on all of your web pages has never been more important. Thundercontent   WriteCream due to its exclusive features and affordability has placed itself as a favourite amongst its competitors. Because of its output quality, features, and ease of use, Writecream is the most dependable.
Writecream provides 30+ tools for generating tons of content within seconds! Use Writecream to generate product descriptions, personalized emails, blog articles and much more and that too for free! Our free plan provides 20 credits every month which helps you generate 10,000 words per month!
Isn't it amazing?
To get started, register here for our FOREVER FREE plan NOW!