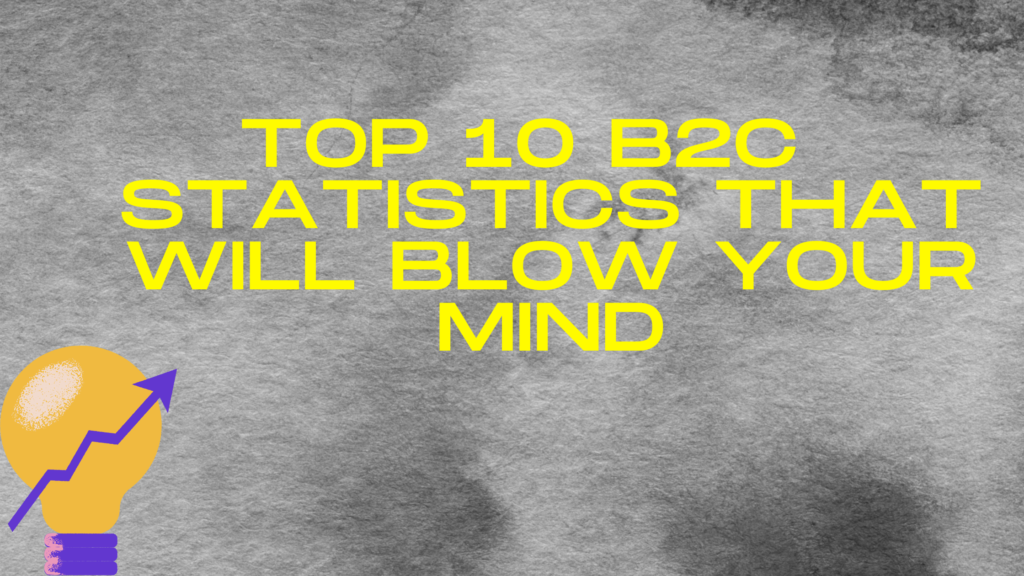 A large portion of the e-commerce market is dominated by the well-liked B2C sales model. B2C sales originally referred to brick-and-mortar stores that sold goods directly to customers. Then, in the 1990s, the dot-com boom gave rise to the online shopping era and a more direct means of selling to customers. B2C, or "business-to-consumer" sales, is a retail strategy in which companies sell products directly to customers for their own use. B2C sales sell their products directly to the end user through online stores or physical locations, skipping over third-party merchants or wholesalers in the process. A growing number of B2C businesses are beginning to understand the value of internet content and are utilizing it to spread brand recognition, foster client connections, and advertise their goods and services. Understanding B2C is crucial because it enables companies to choose the best marketing strategies for their target market of end-user consumers (individuals who utilize a certain product). B2C marketing is used by businesses to attract customers, spark interest, and boost sales. Businesses might lose millions of dollars on ineffective marketing initiatives that have little impact on their ability to increase sales if they don't understand the business-to-consumer model. Understanding B2C sales also enable business owners to enhance the customer experience, which influences whether customers come back to their establishment to spend money.
B2C firms include, for instance:
Online retailers: B2C e-commerce businesses sell goods to online customers directly. Because it gives customers a place to make direct purchases of goods and services, even an online store that functions as a third-party seller falls under the B2C category.

Automobile manufacturers: Every automaker offers its goods directly to customers. Anyone can acquire a car by walking into a dealership. But if the automaker sells its goods to rental firms, that is regarded as a business-to-business (B2B) exchange. Read our comprehensive guide to learn more about B2B sales.

Restaurants: Due to their direct sales to customers at physical locations, fast food chains make excellent examples of B2C businesses.

Streaming services: On-demand media streaming websites also fall under the B2C category because they cater to broad demographics and offer customers convenient media viewing options at affordable prices.
Many manufacturers have always marketed their goods via physical stores. Retailers gained money by adding a markup to the amount they paid the manufacturer. But after the internet arrived, things changed. There were new companies that offered to sell to customers directly, eliminating the merchant as a middleman and lowering prices. Businesses raced to establish an online presence in the 1990s during the crash of the dot-com boom. Many merchants were compelled to close their doors and cease operations. B2C businesses with an online presence still outperform their conventional brick-and-mortar rivals decades after the dotcom boom. Early dotcom boom companies like Amazon, Priceline, and eBay have survived. They have since built on their early achievements to transform industries.
The majority of businesses employ one of five different online B2C business models to reach consumers.
💡 Generate personalized emails, blog articles, product descriptions, and ads in seconds using the power of A.I
Direct marketers The most typical method for consumers to purchase things from online merchants is this one. These could be producers, small businesses, or even just online storefronts for department stores that sell goods from various producers.

Internet middlemen. These are intermediaries who function as a bridge between customers and sellers but do not own the goods or services they offer. These include websites like Expedia, trivago, and Etsy.

B2C driven by advertising. In this technique, free content is used to draw users to a website. These visitors then encounter digital or internet advertisements. The sale of advertising, which sells products and services, makes use of high numbers of web traffic. Media websites like HuffPost, a popular site that combines advertising with its native content, are one example.

Locally based. Marketing and advertising professionals benefit from websites like Meta (previously Facebook), which create online communities based on common interests. Websites frequently target advertisements depending on the demographics and geography of their users.

Charge-based Netflix and other direct-to-consumer websites impose a fee for users to view their content. Additionally, the website might charge for much of its material while offering some of it for free. The New York Times and other sizable publications frequently employ a B2C fee-based business model.
Some statistics related to B2C in 2022 are:
57% of consumers are willing to exchange information for customized offers:
Particularly after a year and a half of doing the majority of their shopping online, consumers now demand tailored marketing experiences. 57% of consumers, according to a recent study, will exchange their information for customised offers. In addition to improving the entire customer experience, personalization gives marketers better data to use when making business decisions (e.g. predict consumer action).
50% of consumers anticipate using BOPIS (Buy Online and Pick-up In-Store):
Customers are starting to shop in person again, although many will still order online and pick up in-store. In fact, 50% of customers anticipate that this summer, they would shop mostly in brick-and-mortar stores. Retailers should make sure their customer service is on point (both online and offline) and that customers can quickly find what they're looking for. This entails guaranteeing prompt fulfillment (usually within 1-3 hours) and providing customers with a variety of product options and pick-up options. For instance, select the option to have the item(s) shipped directly to the store if it is not currently available for pick-up at your neighborhood store.
Online buyers aged 18 to 34 will choose pay-by-installment services in 49% of cases:
Younger generations are interested in "buy now, pay later" options for online shopping as a means of avoiding credit card debt. In fact, at least half of online consumers between the ages of 18 and 34 will use pay-by-installment services this summer. All of this means that as millennials and members of Generation Z boost their discretionary spending over the summer, the brands that are prepared to provide a range of payment options will be in the best position to succeed.
62% of millennials plan to continue spending on necessities:
This summer, compared to past ones, US consumer spending is predicted to alter. 62% of millennials who have reduced their spending due to the pandemic plan to continue focusing mostly on necessities. Instead of eating in, half of this group will order takeout or have food delivered from restaurants (once or twice per week). Groceries, alcoholic beverages, and cosmetics will make up the final top expenditure categories. When developing your summer marketing strategies, keep these spending patterns in mind. Create messaging around the products these groups are most likely to buy during this transitory period by segmenting different groups based on their needs and wants.
When buying, 59% of buyers take the brand's mission into account:
The social injustices that occurred in the summer of 2020 and COVID-19 gave brand purpose more attention. The smartest marketers "will recognize where they fit into customers' lives and they'll discover inventive ways of integrating into the conversation," according to Hootsuite's 2021 Social Trends Report. Long beyond the summer of 2021 (and beyond), consumers will continue to demand brands speak up and take a stand.
49% of B2C companies outsource content marketing:
The main purpose of content is to draw in and gain the trust of target audiences by demonstrating knowledge and creating authority. Organizations may develop thought leadership within their industry, increase brand recognition, improve organic search, and attract and convert leads with the help of consistent, high-quality content. Recognizing the importance of content, 49% of B2C companies have decided to outsource content marketing.
54% of B2C content marketers noted that their budgets stayed unchanged, while 27% saw an increase and 18% noted a reduction in their expenditures:
Contrary to what many inexperienced marketers believe, content marketing is frequently less expensive than conventional marketing strategies. Content marketing may significantly lower the number of money marketers spend promoting their companies because it is successful, simple to get started with, and popular with customers.
65% of B2C businesses are found to be visual- learners:
B2C businesses can keep in mind while formulating their strategies that presenting information using graphs, charts, tables, etc, will definitely do their business better!
Today, there are more than 100,000 B2C e-commerce companies operating in the US alone:
B2C businesses are growing around the world at an increasing rate. In the USA alone, there are over 1 Lakh B2C e-commerce companies. This excludes B2C businesses, which are using traditional strategies and do not use e-commerce.
The B2C retailer category had the highest revenue share of 99.4% in 2020, and it is anticipated that it would maintain its hegemony throughout the projected period:
Over the projected period, retailers' categories are anticipated to be driven by a rise in mobile transactions and internet banking.