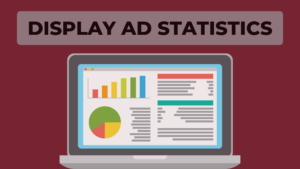 The Digital Advertising sector is buzzing with a variety of ads. Marketers no longer have to rely on a single platform or ad campaign to get their desired chunk of audience. With so many platforms and advertising methods coming up every year, it is one hell of a task to choose what's best for you. 
Speaking of that, thousands of people seem to be dangling between display ads and search ads. What's been the most contentious topic is whether search ads are better or Display Ads. Well, there's not one answer to that. Honestly, in my eyes, it is totally subjective as your choice wholly depends on your goals and the stuff you have been expecting to advertise. Whatever be it, I am not here to make that choice for you. This article is solely about some must-know Display Ads Statistics, as well as some basic information covering the ins and outs of it. 
What are Display Ads?
For those who are still wondering what they are, well, you must have seen how some ads pop up while you are browsing through some site or social media platforms. Yes, you guessed right! Those are what we call Display ads. They don't appear as a result of some specific research because, as a user, you weren't exactly looking for that Ad, but it still pops up in an attempt to create a demand.  That's what we term as a Display ad. 
The point where you draw the line between Search ads and Display ads is where it shows up on its own or as a result of a particular query you googled. I think, now, you can differentiate between them. Anyways, let's get to the point. From now on, I will be focusing on the primary intent of this article, which is to dazzle you with some jaw-dropping insights into Display Ads. So fellas, Keep reading!
💡 Generate personalized emails, blog articles, product descriptions, and ads in seconds using the power of A.I
Spending Analytics
As per reports by Statista, most of the ad spending in the Display Advertising sector will be generated in The United States, while in the year 2021, the global spending on banner ads was 64 billion dollars.
The total spending on display ads is estimated to reach $155 billion in 2022. Besides, Statista also predicts an annual growth of 7.91%, with a market volume of $226.80 billion by 2027. 
Besides, Statista also predicts that by 2027 the total ad spending on banner advertising through mobile will be $167.80 billion. Now that we are into it, let's take a look at the figures gathered by Statista. To begin with, the ad spending for mobile in the year 2020 was $75.02 billion, while that for Desktop was $40.90 billion. The same for 2022 was $108.60 billion and $46.47 million, respectively.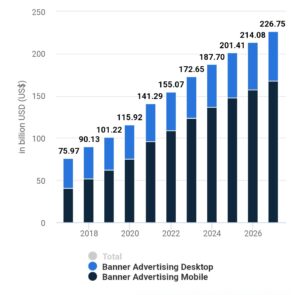 A noteworthy fact about Display Ads is how popular they have become in Europe. It's not my opinion because, just like you, I was also taken aback by the numbers. As per Statista, total ad spending on display ads was 33.9 billion euros in 2020, which rose to 45.6 billion euros in 2021.
Platform/Network Analytics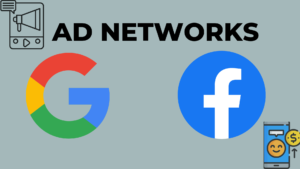 Google's Ad network has attracted billions of advertisers since it rose to fame. I think you, too, might be considering Google Ads for your display advertising. Well, according to Google, your Display Ads can appear on more than 2 million websites and 650,000 apps across its network. 
According to both WordStream and Store Growers, the average CPC for display ads on Google's Ad network is $0.63. This is relatively low, given the average CPC for search ads is $2.69. 
Talking of Facebook, the average CPC for display ads is $0.80, whereas the average CPC for Facebook ads across all industries is $1.72.(Source: WordStream)
General Statistics
It nearly slipped my mind to write about the Click-Through Rate. According to Hubspot, the average CTR for a search ad is 1.91%, and that for a display Ad is 0.35%. Likewise, according to WebFX, the average CTR for search ads is 3.17%, and that for display ads is 0.46%. 
According to Bannerflow, mobile display advertising accounts for the most amount of Display advertising. And why won't it be? I mean, millions of people have already ditched their desktops and switched to mobile phones for browsing, so it's pretty obvious. Besides, Bannerflow also mentioned in its report that the top 5 sizes for creating banner ads were those among mobile sizes. 
Nowadays, marketers using Display Ads are switching to videos because of their capacity to engage more audiences. It's not my word, but what research shows. Again Bannerflow claims that in 2019, the banner ads that used videos had a 68% better CTR. The same for 2020 was 85%.
So, those were some noteworthy facts about Display Ads. Well, the numbers might seem discouraging, but you shouldn't so easily give in to the so-called norm that calls out Display advertising to be a waste of money. Thousands of companies have witnessed a great ROI on their Display Ad campaigns and still prefer to go for that. 
In a gist, display ads are worth your time as they have countless benefits. For instance, Display ads can be made visually appealing, which will increase their retention value. Secondly, such ads usually appear on sites that are in some way related to what those companies are offering. So basically, you are just in the nick of time with your product or service. 
Another benefit of using the Display network is that your advertising campaigns are not just limited to keywords. You can also pick the websites and markets that suit you best. Lastly, you can easily retarget your audience as you will be able to know what went wrong the last time they visited your site.
Ergo, Display Advertising is worth a shot! The CTR might be abysmal in the initial stages, but with the right strategies, you can definitely reap the best out of it. Anyways, that's all for now. Hope you enjoyed reading this article!
Wish you all the best! Oh yes, don't forget to leave a comment below.