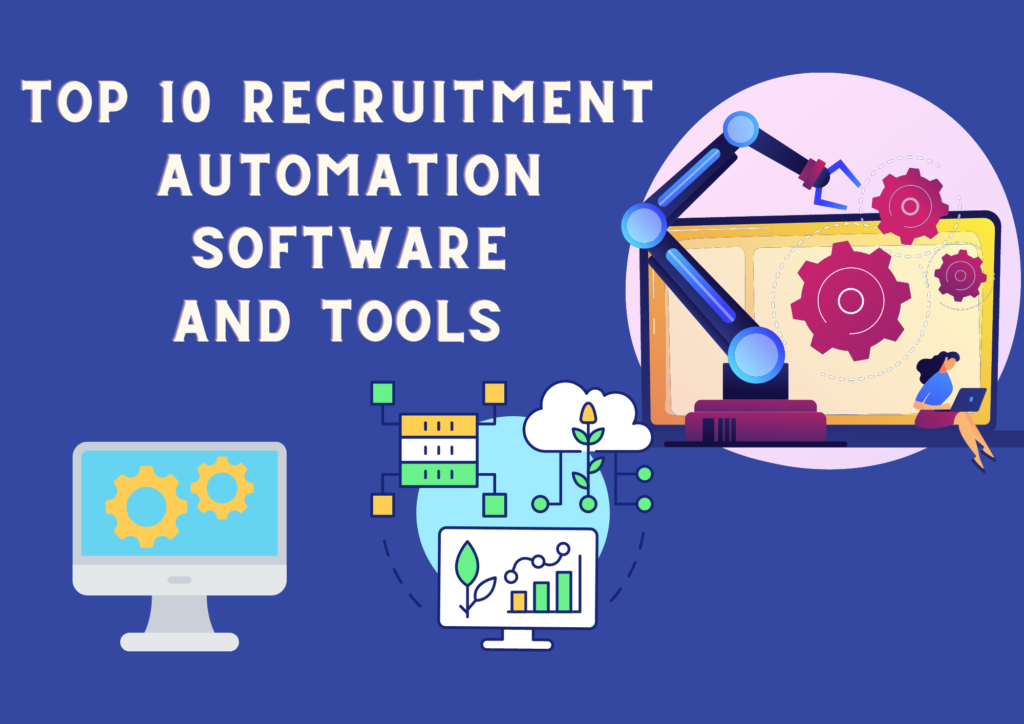 A single vacant post may draw a large number of candidates, providing you with a large number of resumes to sort through. As a result, the procedure can be time-consuming and overwhelming, resulting in hurried decisions impacting the company's performance. The creation of recruiting automation systems has made the hiring processes for recruiters easier. There are no longer any time-consuming procedures, which frees you up to focus on other crucial issues. Additionally, these recruitment tools have made it simpler for businesses to weed through a large pool of candidates and hire the best.
Choosing the right recruitment automation is the most important work to do. Here in this article, we have added every latest tool which can be helpful to automate your recruitment and tools.
Recruiting automation tool
Employment agencies and other businesses use technology to automate processes during the hiring process. When properly executed, several outcomes could be:
decreased cost per hire 

decreased time to hire

greater fill rate
Automating some jobs will save time as you won't have to do them manually any longer. Typically, recruiters would carry out a lot of tasks by hand. They no longer need to perform some jobs thanks to automation. And that is how you make time available to accomplish more. The most common technologies used by those that create automation tools that help create machine learning, predictive analysis, and AI (Artificial Intelligence).
💡 Generate personalized emails, blog articles, product descriptions, and ads in seconds using the power of A.I
How Should Your Agency Pick the Best Recruiting Automation Software?
The management of all recruiting tasks, including locating prospects, developing talent pools, and enhancing communication methods, is made easier by recruitment automation software. When hiring managers have access to technologies like AI resume parsers, automated job postings, and interview scheduling, they can concentrate on interacting with top prospects and enhancing their recruitment brand.
How does recruitment automation work?
Your recruiting process can automate in various ways by helping you find the best candidates.
Computerized Resume Mapping
Developing a matching algorithm that matches resumes and candidates in a matter of seconds is ongoing. Additionally, you can occasionally change the matching algorithm on your own. Additionally, by altering the algorithm, recruiters can improve the likelihood of discovering excellent matches that are specifically suited to the requirements of their clients.
A lead generation programme
Numerous salesmen must speak with a variety of prospects to generate leads. Typically, salespeople attend networking events, get business cards, research contact information online, and enter it in a list (or apply social selling if they are lucky).
Mass emailing (automated)
You can make significant time savings by using automated bulk emailing!
Would you write to each candidate individually?
Do you have to review each resume, copy the email address, and send an email to everyone on the list?
Sales Purchasing
Recruitment sales might be challenging if you need the necessary tools. Salespeople are constantly required to send several emails to numerous prospects. They must first locate contact information, establish a mailing list, and send a generic message to this single mailing list. And as a result, they will receive little feedback.
Arranging interviews
Sending a link where the applicant, customer, or you may schedule a meeting is considerably simpler than communicating back and forth between you three.
A Job Description: What Is It?
A job description is a document that outlines the crucial qualifications, responsibilities, and abilities needed to carry out a particular task. How success is determined in the position will be covered in a thorough job description so that it may be used in performance reviews.
Job requirements, job openings, job ads, job profiles, JDs, and position descriptions are other names for job descriptions (job PD).
Recruitment Team
Do you work for a group of people hiring new personnel? If so, you know how challenging it is to think of a memorable name for this kind of squad.
Typically, various organizational departments make up recruiting teams. They consist of things like
HR

marketing

sales

finance

operations.
Each department is responsible for carrying out its own set of tasks.
Stages of the Recruitment Process
1. preparation.
2. sourcing
3. screening.
4. choosing
5. arranged.
6. onboarding.
What is a recruitment funnel?
A recruiting funnel is a structure that outlines each stage of the hiring procedure from beginning to end. The candidate pool is reduced as they progress through the hiring process until one is chosen.
The steps of the recruiting process are generally as follows:
Knowledge 

Attraction 

Application

Selection 

Recruitment
Best Recruitment Automation tools for 2022
Numerous recruitment platforms and software are available, so picking one that will work with your organization's requirements might take time and effort. But do not worry; we have listed the top hiring tools for 2022 that you should strongly consider. The tools listed below are the best and will cater to your needs whether you plan to hire one candidate or several.
1. Jobvite
Huge businesses that often hire a large number of individuals use Jobvite. It interfaces with applicant tracking systems (ATS) to give the finest candidate results. Additionally, job seekers will benefit from a rewarding experience, aiding recruitment marketing.
Core Qualities
Flexible system for talent acquisition

Professional assistance to enhance the hiring process

Marketing for hiring

Onboarding

Communication control

Analytics and Reporting

candidate development
2. SmartRecruiters, Inc.
One of the best modern, enterprise-grade tools to think about in 2022 is SmartRecruiters. The product has artificial intelligence and candidate engagement tools to give the modern workforce the greatest hiring capabilities.
Core Qualities
Buying directly

Management interview

Employer reputability

Job posting advertisements

Internal movement

Candidate administration

Using social media
3. Zoho Recruit
This web-based application also includes an applicant monitoring system to simplify your hiring process. To ensure that you identify the best candidates utilizing a single platform, it offers HR tech solutions for both in-house HRs and temporary workforces.
Core Qualities
Checks of the past

Employer reputability

candidate evaluation

Communication control

Management interview

Tools for reporting and analytics.

Interim portal
4. Seek out
Seek out is one of the greatest AI-powered platforms for finding the most qualified individuals. World-famous brands rely on this solution to meet their employment goals with the greatest outcomes. SeekOut's cutting-edge talent 360 platform, which enables recruiters and hiring managers to diversify their talent streams, is one of its most outstanding features. Additionally, the technology promotes applicant engagement and lessens biased hiring, which is crucial for identifying the top prospects.
Core Qualities
AI search filters

Analytics and reporting for talent

Increase hiring diversity Candidate engagement

ATS and employer branding are integrated
5. Comet
Comet also interfaces with the applicant tracking system used by your company to guarantee accurate hiring. Its user-friendly and straightforward design platform may be adjusted to the needs and scale of every firm.
Core Qualities
Candidate evaluation

Management of interviews and communications

Employer reputability

Mobile assistance

Analytics and Reporting

Collaboration in hiring
6. SAPSuccessFactors
It is the top provider of Human Experience Management globally (HMX). Using this function, you may interact with potential employees and choose
them based on their moral principles. To ensure that it reaches its performance objective, SAPSuccessFactors also persistently motivates job seekers.
Core Qualities
Incorporates ATS

Onboarding

Performance supervision

Candidate monitoring

General opinions of the workforce

Payroll administration
7.iCIMS Talent Cloud
ICIMS is the go-to source for recruitment solutions for numerous globally renowned businesses, including some of the Fortune 100. The software meets all organizational needs by attracting, engaging, hiring, and progressing the best-qualified employees.
Core Qualities
Applications administration

Candidate evaluation

Candidate monitoring

CRM

Feedback control

Management interview

Employer reputability
8. Jobsoid
For all of your hiring needs, Jobsoid provides a full recruitment solution. Managing candidate applications and placing jobs on multiple employment boards, you with a one-stop shop for anything you need, from connecting with your candidates to working with your team.
Core Qualities
Advertisements for jobs across platforms

Employer reputability

Sourcing and managing candidates

Tracking of candidates

Management interview

Analytics and Reporting

Marketing for Hiring
9.PeopleFluent
Depending on your employment requirements, this application, PeopleFluent, is made for organizations of all sizes and makes things simple and quick. It is a top-notch tool that many firms utilize while searching for internal or external applicants.
Core Qualities
Background investigation

Management interview

checking references

Web-based self-service Onboarding

Employer reputability

Tracking of candidates
10. Hiring
Diversification is necessary to draw in qualified applicants. Hiretual engages the applicants, which makes hiring simple.
Core Qualities
CRM

Candidate administration

Management interview

Resume review

Employee orientation

Integrations with employer branding in ATS

Variety of tools

Analytics and Reporting
Job Boards of 2022
Job boards are the greatest way for businesses and job seekers to connect online.
1. It Is undoubtedly among the greatest locations for job searching. Indeed is frequently mentioned when you ask people to name a job board.
2. Google for Jobs is a function that is already built into the main Google search engine.
3. The most well-known social network for professionals is LinkedIn.
4. ZipRecruiter's employment board enables companies to publish jobs on many job boards, including ZipRecruiter.
5. Monster has a strong resume database and is a great employment board for various positions.
6. The American job board Lensa has more than 10 million users.
7. A job board for lucrative positions is called Ladders.
What does recruitment software entail?
Hiring managers and human resources specialists may manage the whole employee lifecycle using recruiting software, from finding top applicants to onboarding new hires.
Right recruitment automation software is sometimes called an applicant tracking system (ATS). However, this classification has become obsolete as technology has advanced. An ATS is a vital component of recruitment software, although it is only a small portion.
Top five benefits of recruitment automation
1. Saves time; 
2. Significantly improves hiring quality; 
3. Your Time to Fill Decreases 
4. You Ultimately Give a Good Candidate Experience
5. It reduces unconscious bias.
Benefits of recruitment automation tools in 2022
Software to automate recruitment streamlines the employment process for hiring managers and recruiters. With this solution, manual applicant sourcing is no longer necessary because it automates the entire recruitment process.
Manual hiring procedures might delay organizational performance, which can take days or weeks. Time is saved by automating the hiring process because the program can handle most of the work.
Increases the experience of job applicants
The best thing about recruiting automation solutions is how it helps businesses and enhances the experience of job seekers. Candidates will benefit from quicker answers and increased visibility during the hiring process.
The hiring procedures are made easier by the artificial intelligence function in recruitment automation software. Automating the entire procedure makes candidate screening and interview management easier.
The recruiting automation system aids in enhancing the reputation of your business. Thanks to HR tech solutions, you can draw in some of the most sought-after job seekers.
Outstanding Candidates

The top recruitment automation tools can screen job candidates to match an open position.
List of the best-recruiting apps
These apps can help you optimize your recruiting rate in your organization. You can meet some of the best in the business over here. They are:
LinkedIn

Indeed

Workable

Breezy HR

Calendar

Magical

ApplicantStack Onboard
These deliver the best candidates, having the best talent and expertise in the required domains.
Summing up
You are losing out on many advantages if you have not used the best recruitment tools and tactics in your company. The resources are useful for recruitment marketing, which attracts a wide range of customers, including future employees. Many firms have successfully attracted and hired qualified applicants thanks to recruitment automation technology, which has decreased employee turnover and enhanced productivity. Nearly all of the subjects have been covered in this article. Also, very welcomed is any more information. It may be posted in the comments area.