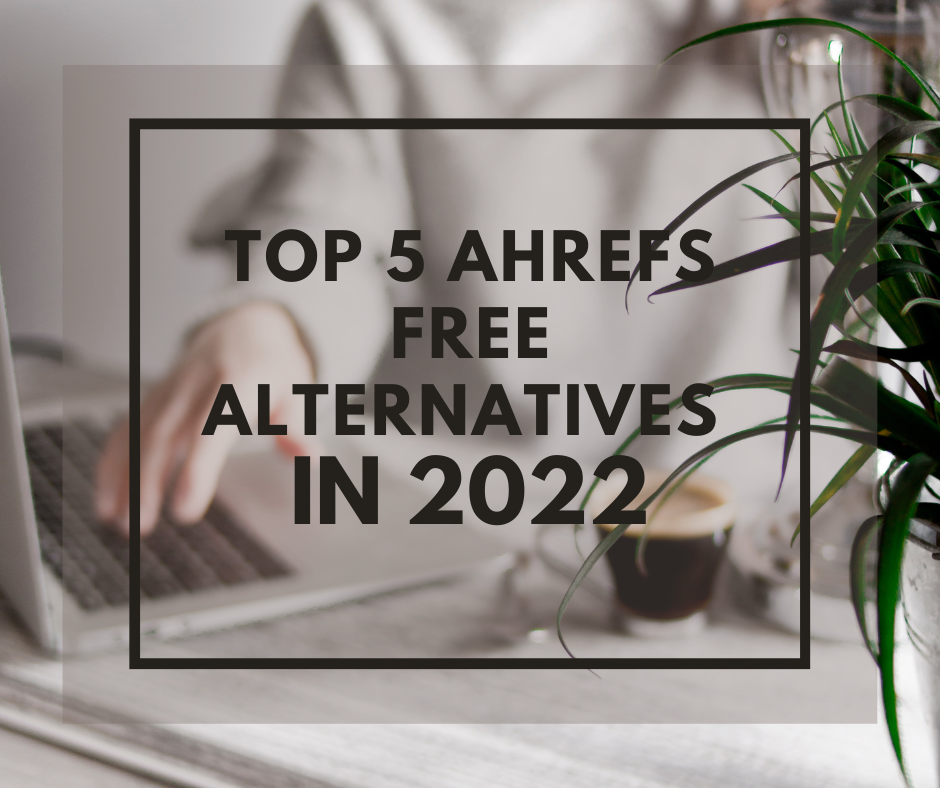 SEO optimisation is one of the most important tools to master when marketing and selling your business or service in the most rewarding way possible. For this, there are a bunch of tools that you can leverage. These can be tools that help with keywords, tags, your search engine visibility or your rankings on any search engine website.

Ahrefs are toolkits or libraries of various functions and niches that work as a suite of essential features that professionals can use to boost their SEO game.
In 2022, Ahrefs, no doubt, is an important asset to have. Let us look at the Top 5 Ahref's free alternatives in 2022.


1. Keyword Surfer

2. Google Keyword Planner

3. BiQ

4. Moz

5. Semrush


Now let us look at the unique analysis tools individually.



1. Keyword Surfer


Keyword Surfer is a Chrome extension you can add to your Chrome browser. The working of the extension is also smooth and straightforward, all you have to do is look up a phrase, and all relevant keywords show up on the right side of your screen. Once done, you can copy and export these relevant keywords onto your spreadsheets or download them as files. It is a 100% free extension that can be added to your browser and search for relevant keywords through volumes of data.




2. Google Keyword Planner


Google's Keyword Planner is one of the free tools that efficiently and effectively do the following for you:


💡 Generate personalized emails, blog articles, product descriptions, and ads in seconds using the power of A.I
Targets the right audience
Get authentic and unique keyword ideas
Set up from even your mobile
Show results in different languages
See how your rival PPCs perform.
Strategise on how to stand out
The process follows making a Google Ads account and researching keywords for your search campaigns. This free tool is used to discover new keywords related to your business and estimate how many clicks and explorations they will bring in.
Following are some benefits you can avail yourself of from this tool.

1. Discover new keywords: Find out what is trending and use relevant keywords related to your niche.

2. View monthly searches for a more longshot view, look at what keyword gets how many searches weekly.

3. Determine costs: see the average cost you might incur to display a specific ad.

4. Organise keywords: See which keywords go into what respective categories.

5. Campaign Creation: Use your keyword planning to create new campaigns based on informed keyword searches.


3. BiQ


BiQ is a one of its kind SEO suite that has democratised pricing. It includes multiple features in its suite; here are some of the most important features:


Keyword Intelligence: BiQ's Keyword Intelligence tool works on a ranking basis. You can choose a keyword for yourself and look at its performance. Once you look at the performance value of a specific keyword, you can decide whether or not to use it in your strategy. You can choose based on the ranked list if you have multiple keywords or are deciding on various keywords. More value on the keyword means more traffic.
Content Intelligence: BiQ's content intelligence, as the name suggests, enhances your content and makes it bespoke and intuitive from the drafting stage to the final stage. It also has a WordVector analysis feature that ranks your content and builds against the top 10 content produced about your keyword.
Rank Intelligence: This ranking tool creates a hierarchy of all keyword rankings on the search engine. Once this is done, it's easier for you to plan which keywords to give more attention and personalisation to which will show up more and be more visible.
Rank Tracking: BiQ's Rank Tracking system helps to rank and monitor your website's visibility and performance in search results. Not only does this create a hierarchy based on impact, but it also summarises the gains and losses of the specific keywords. This provides a first mover advantage where you can take action if your competitors lift the keywords. Once you do this, you can also plan your keywords for the future, so your rankings soar.


4. Moz


Moz is another suite of SEO tools that helps you increase traffic visibility and rankings with their suite of SEO tools. Here are all of their most prominent features:


Keyword Research: Keyword Explorer, Moz's keyword running tool, has been in the SEO process since 2004. It streamlines your process and finds out what works for you and what doesn't, according to the trends. It helps prioritise and build the most comprehensive SEO tool.


Rank Tracking: Relevant keywords improve site traffic to your website, and the rank tracking feature of Moz tracks competitors' keyword rankings and helps you create strategies to enhance your own.


Site Crawl: Site Crawl helps with your website health. You can find and debug the site's health when receiving a large amount of traffic. You can also index your site or rank it on search engines. Broken redirect links, wrong patching of backlinks etc., can also be fixed with Site Crawl.


5. Semrush


Ten million working professionals are said to use Semrush. It is a suite of SEO tools that have won various international accolades to back up its efficiency. The library of tools in Semrush has over 55+ utilities. Let us look at the main features of this suite:


Keyword Research
On-page SEO
Competitor Analysis
Content Marketing
Local SEO
Rank Tracking
Social Media Management
Competitor SEO Analysis
Content Creation And Distribution
Semrush is an undeniably versatile and rewarding tool suite for all your SEO needs. The ten listed on top do not even cover the SEO requirements it begins to cover.
Writecream
Writecream is another suite of tools that help with SEO. Some of the free tools they have on their forum serve different purposes. 
Backlink Personalisation Assist: When you enter a link to a blog or website, you can allow a personalised message for backlink outreach. Different messages are made if you click the 'Generate' button—these AI-generated outputs in just 5 minutes. 
Meta Description: Their SEO Meta Description tool helps you generate amazing descriptions for your work. Once you enter your product description and your brand's value, a meta description of relevant keywords and phrases is generated immediately. 
Website Title/Headline: It is often difficult to think of snappy headlines or website titles that capture people's attention and keep them engaged. Writecream's AI SEO tool does this for you fast and efficiently. The Headline generator tool creates catchy headlines for free. 
Website Sub-Headline Generator: Once you enter the product or brand's URL and a description, the best sub-headline pitch is created, and output is generated.  

Thus, Writecream can create easy SEO optimisation tools. It takes as quick as 5 minutes to use these tools and create the best SEO content that is most rewarding!
Writecream provides 30+ tools for generating tons of content within seconds! Use Writecream to generate product descriptions, personalized emails, blog articles and much more and that too for free! Our free plan provides 20 credits every month which helps you generate 10,000 words per month!
Isn't it amazing?
To get started,  register here for our FOREVER FREE plan NOW!