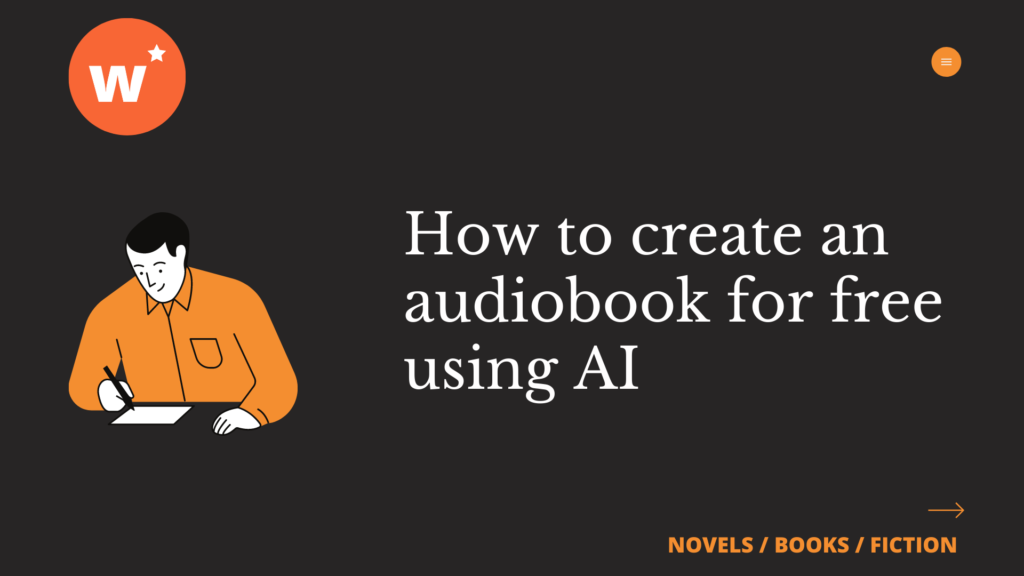 It's undoubtedly true that the markets for audiobooks have skyrocketed in the past few years. This alone is proof enough that there is a wide scope for digital marketers to use audiobooks to capture a large share of book-lovers who are obsessed with audiobooks. 
You are right in saying that listening and reading are completely different avenues. Well, let's take a look at why audiobooks could be a better alternative for targeting a chunk of the audience that prefers listening to reading. Firstly, audiobooks have a greater capacity to hit at the listener's emotional core. This incites a more personal response on the part of the listener. Secondly, your audience can multitask while listening to your book, unlike reading a hard copy. Lastly, audiobooks let you add life to your content. You can add expressions, use voice notations and add the personal touch to make it more appealing. 
You must have read the last article I wrote on how you can generate a book of yours using AI. If you haven't, then here's the link to it
After reading the article, you must have familiarised yourself with how you can use Writecream to create a book in minutes. Well, today, I will teach you how to create an audiobook out of the book you create using the 'Long Form Editor'. Here also, we will be taking the help of one of the many AI-powered tools of Writecream. 
💡 Generate personalized emails, blog articles, product descriptions, and ads in seconds using the power of A.I
It is the 'Create A Voiceover' tool that helps you generate a human-sounding voiceover in minutes. All you need is just an input that is well written, and you can get your voiceover that is based on your own preferences. Let me walk you through the steps!
Firstly, open the Writecream website and sign up for a free account. Once you have signed up, you will land on the main dashboard that has a bunch of tools.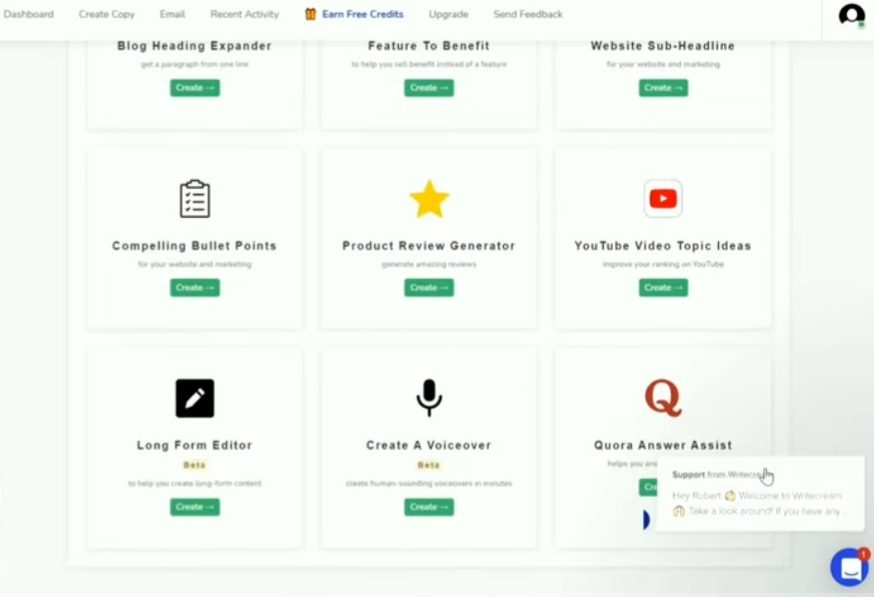 After landing on the main dashboard, scroll down and choose the 'Create A Voiceover Tool'. 
Once the tool opens, you need to add the text you want to convert into a voiceover. After putting in the text, you can choose the language and voice that best suits you. Even if your text is in English, you have the option to select a different language to generate a voiceover.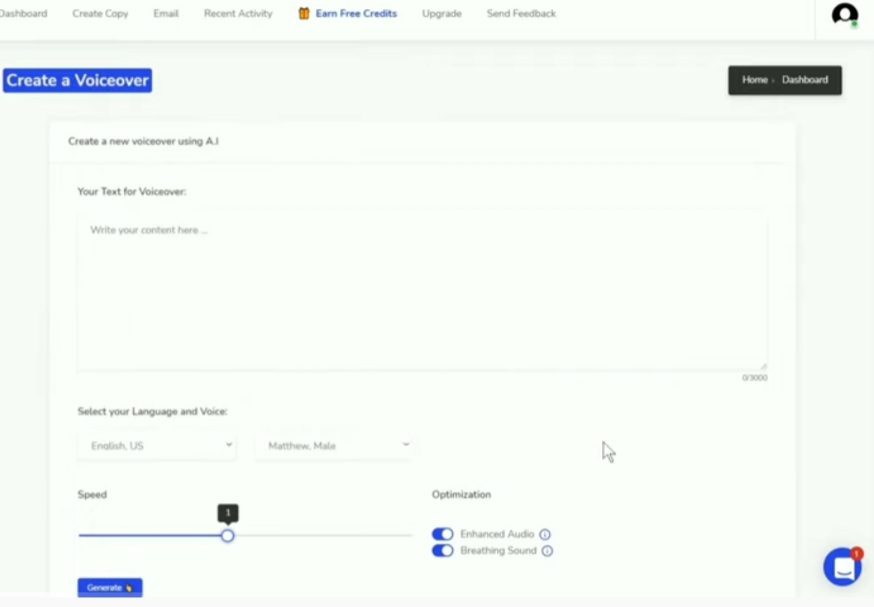 Lastly, you need to select the speed of your audio and the optimisation preferences. I would recommend that you keep the speed at 1.1 and let the optimisation settings be as they are. Rest assured, click on 'Generate'. 
There you go! Your voiceover is ready in a few seconds. You can download it by clicking on the download icon in the top right corner. 
Well, that was pretty simple. However, there are certain points to consider. Firstly, the text that you will put in for creating a voiceover must not exceed 3000 characters. However, your book is going to be a lot bigger than 3000 characters. So, how can you create a voiceover out of a book? I have got the solution right here! 
All you need to do is split the chapters of your book and create different voiceovers for each one of them. If your chapter exceeds 3000 characters, then you can further split it into subparts and create the voiceovers. 
Now you must be wondering what you will do with so many voiceovers? Well, I have got that covered too. All you need to do is use a tool called Audio Joiner that lets you combine the numerous voiceovers you create using Writecream into a single voiceover or podcast. You can add as many tracks as you desire and join them. It's simple and easy to use. Here's the link to access the tool :
Another thing to keep in mind is the flow of your article or book before you turn it into an audiobook. For example, if there is a heading or subheading, you can replace it with a sentence so that the flow of the article doesn't break. Another thing you could do is remove any numbered lists and replace them with words like 'Firstly' or 'Secondly' . 
That's all about creating an audiobook using 'Writecream'. I hope you will like it!