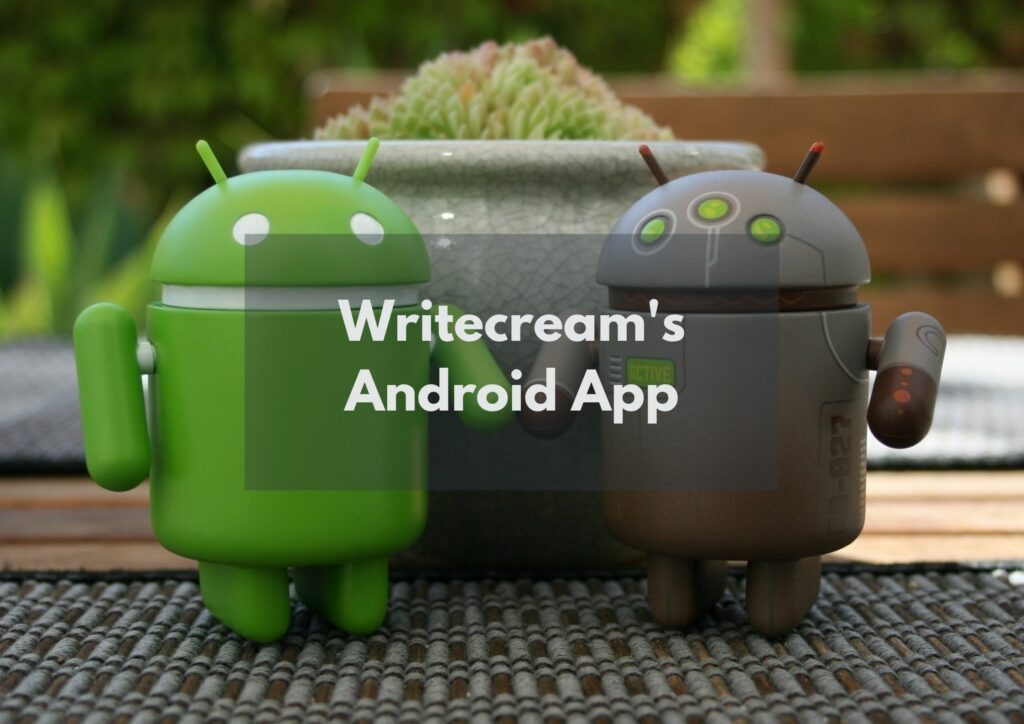 Writing is one of the most important skills in today's world. The best people in the world who develop their writing skills and the most brands in the world that win the hearts of the people are writers. So, you should know how important it is to be a good writer. But, it's not always easy to write a lot. When you need content fast, you turn to writing services, but they're expensive and not always easy to come by. That's why we created Writecream, an AI tool and app that helps people create content they want to share, on demand.
From creating content for Instagram to writing blog posts, the Writecream platform meets the demands of content marketers and helps them create attractive and engaging content in less time. 
In this blogpost, you'll also see how you can use this tool through its android app.
Step 1.
Download the Writecream app from Google Playstore using this link:
💡 Generate personalized emails, blog articles, product descriptions, and ads in seconds using the power of A.I
https://play.google.com/store/apps/details?id=com.app.writecream
Step 2.
Sign up or Login to your account and this is how your dashboard appears: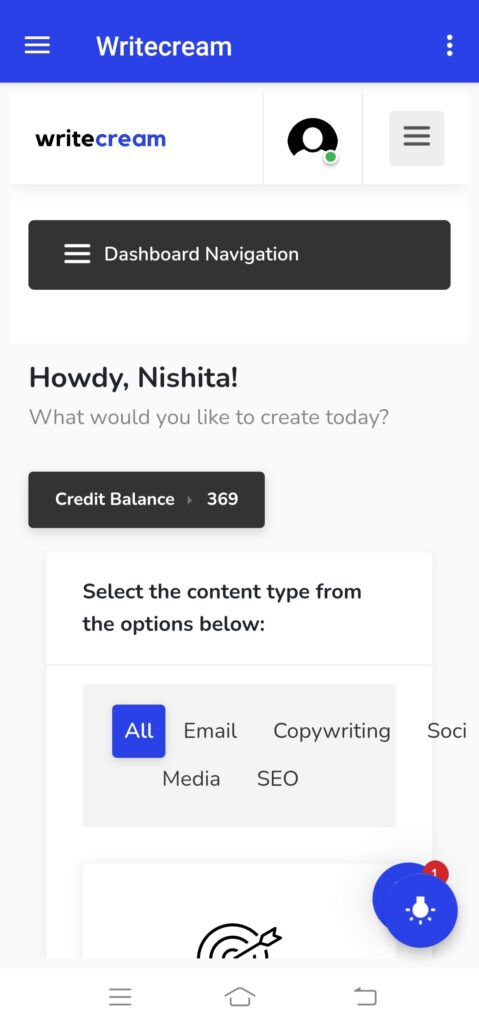 The interface is pretty much similar to the desktop site. The only difference is the horizontal and vertical display ratio.
The menu bar at the leftmost corner at the top shows all the tools, language and account setting options and other general setting options.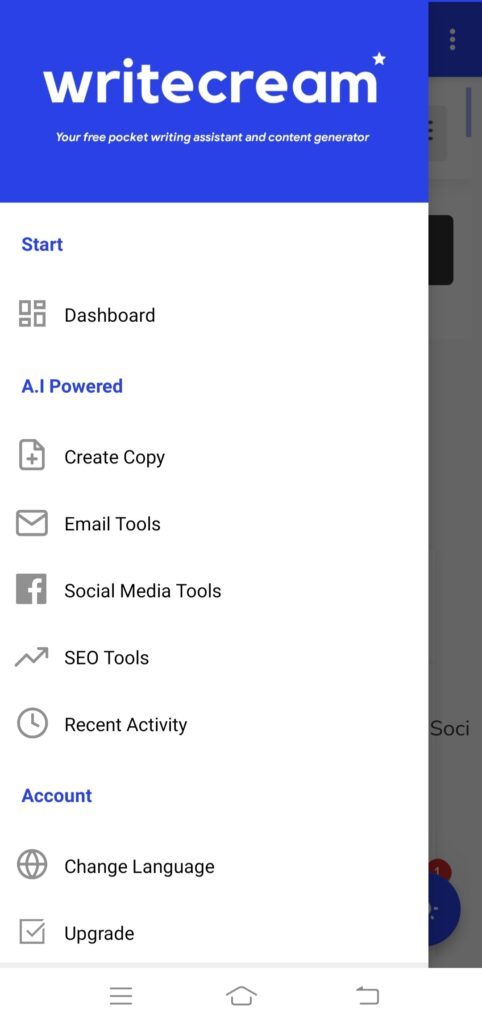 Step 3.
The next steps are similar to the ones we perform while using Writecream on the desktop.
Choose the use case of your choice, enter the product/brand name and a one-line description and click on the generate button. Your results will be displayed in a nick of time.
You can copy the outputs you like or you can also regenerate outputs for more results!
Features of the Writecream App:
1. 30+ Tools: The Android app of Writecream has all the tools and use cases that are available on the desktop site.
You can generate content for:
Email Introductions

LinkedIn messages

Blog Ideas

Blog Introductions

Blog Outline 

Long form editor

Social media captions

Website Copy

Digital Ads for Google and Facebook

Product Descriptions

Product Reviewer 
And many more….. 
All these tools can be used to generate a variety of content in 75+ languages. 
2. Less Storage Space Required: The app is super-easy to use and is also space-friendly. It.doesn't take a lot of storage on your device. 
3. Excellent Reviews: The app has 4.3 star ratings and 100+ Downloads in just a few months of its launch!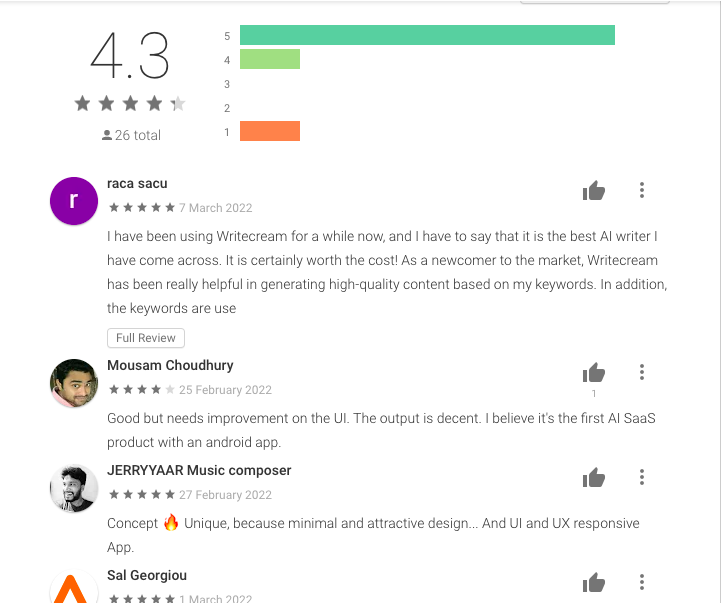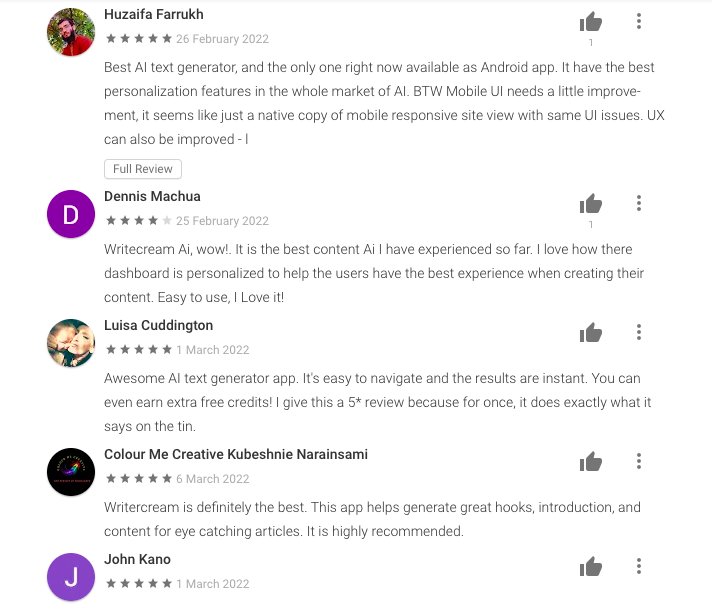 4. Dark Mode Option: Writecream's app also comes with a dark mode feature. There are a lot of advantages to using dark mode, like extended battery life and reduced glare and blue light exposure. Using dark mode can extend your battery life by up to 30%, which means you won't need to charge your phone as often.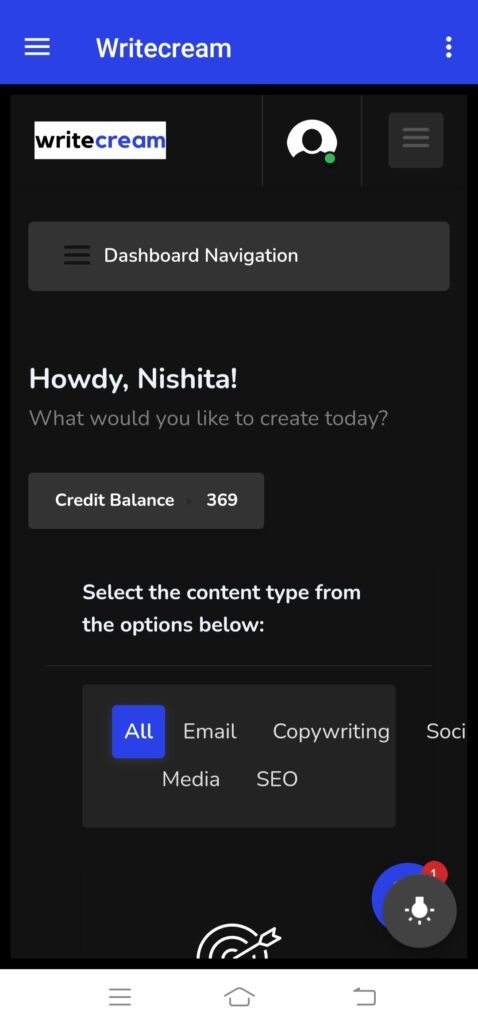 5. Tutorials: The tutorials option in the app redirects the user to Writecream's youtube channel that has all the tutorials available on the channel.
6. Live Chat Support: Just like Writecream's website, the app also has the live chat support option where the team is available 24*7 to solve their customers' queries.
7. Upgrade: The app also has the upgrade feature with which you can upgrade your plan according to your requirements. 
Overall, the app works similar to the website. It is the ease of use that makes it attractive and more user-friendly.
A well-designed mobile app can perform actions much quicker than a mobile website and this is exactly what Writecream's app offers. So what are you waiting for?