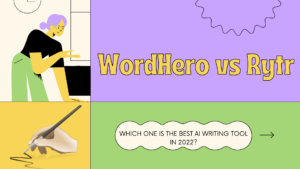 In this article, we will discuss briefly about WordHero vs Rytr: Which one is the best AI writing tool in 2022?
WordHero is an AI-powered content creation tool. We can create different content using this potent tool, including emails, blog introductions, music lyrics, product reviews, and many more. The main goal of this tool is to be simple and quick for anyone to produce content. It presently receives over 10,000 active users, and its AI creates more than 100 million words each month.
On the other hand, the tool Rytr creates content using AI. It is an AI writing assistant. Any written material can be produced automatically using this platform for content production. It can be utilised for enjoyment or promotion. Rytr can quickly and affordably write unique, compelling copy for anything from emails and blogs to advertisements and social media.
The Primary Features of WordHero
WordHero offers an absurd 108 different languages, for example, Hindi, as well as many other regional Indian languages, such as Gujarati, Bengali, Sindhi, Marathi, Tamil, Telugu, Malayalam, Punjabi, Oriya, etc.
When writing, the tone significantly impacts how your message is received. It aids in causing the readers to feel the way you want them to. You can manually enter the style you desire for your material in the available empty text section of WordHero.
WordHero features more than 65 use cases that can be tailored to various content-related groups of individuals.
The Primary Features of Rytr
Unlimited Monthly Word Production (With Unlimited Plan).
Writing In More Than 30 Languages With Access To Over 30 Use-Cases.
20+ Writing Tones Are Available.
Integrated Plagiarism Detector.
Entry To A Premium Community.
Make Up Your Own Unique Use Case.
A Dedicated Account Manager For You.
Priority Email And Chat Assistance.
WordHero Pricing
WordHero is presently offered for $348/year (Rs.27,709/year) with an annual membership or $49/month (Rs.3901/month) when paid monthly. You have infinite content generation and 108 language writing capabilities with this plan. Along with it, you gain access to WordHero's long-form editor and keyword assistance, as well as all the writing tools. However, once you subscribe to WordHero, you will be charged the same monthly fee until you cancel.
💡 Generate personalized emails, blog articles, product descriptions, and ads in seconds using the power of A.I
They only accept credit card payments at of right moment. WordHero offers a 14-day money-back guarantee so that you can test out its features and capabilities. They will refund your entire amount if you are unhappy with it or decide not to subscribe.
Rytr Pricing
The following three pricing plans are available from Rytr.
Free plan: Everyone can use this plan for FREE. This is the ideal plan if you are new to AI writing tools and seek free trial writing software because you will receive the following features.
Generate 5000 Characters Per Month.
Obtain 30+ Use Cases.
Write In Over 30 Different Languages.
Access To Twenty Or More Tones.
Integrated Plagiarism Detector.
Entry To A Premium Community.
Saver plan: For $9 a month, you can write up to 50,000 characters (roughly 7000–8000 words) each month with this plan. The following characteristics are included in this strategy.
Monthly Production Of 50,000 Characters.
Obtain 30+ Use Cases.
Write In Over 30 Different Languages.
Access To Twenty Or More Tones.
Integrated Plagiarism Detector.
Entry To A Premium Community.
Make Up Your Own Unique Use Case.
Endless plan: If you wish to write an unlimited number of words, this is your best option. It costs only $29 monthly and covers the features listed below.
Make As Many Characters As You Want Each Month.
Obtain 30+ Use Cases.
Write In Over 30 Different Languages.
Access To Twenty Or More Tones.
Integrated Plagiarism Detector.
Entry To A Premium Community.
Make Up Your Own Unique Use Case.
Responsible Account Manager.
Priority Email And Chat Assistance.
If you want more savings on Rytr price plans, proceed with their yearly goals.
You only pay $90 yearly for the saver plan (2 months FREE).
You may get an unlimited plan for $290 annually (2 months FREE).
Pros and Cons of WordHero
Pros –
Free of plagiarism content is produced.
Several templates are available.
It can aid in improving your content writing.
The workspace is simple to operate.
Rapidly new features are being added.
It enables you to produce articles quickly and of any size.
Create as much stuff as you want each month.
Cons –
Unable to obtain for free.
Still a work in progress.
Material battles with extensive structures
Sometimes, created content, significantly longer structures, can be inaccurate.
More time to take the place of human writers.
Pros and Cons of Rytr
Pros –
Provides you with articles automatically.
With Rytr, you may choose from more than 20 writing styles: informal, informed, humble, urgent, and more.
It can provide material in over 30 different languages.
It provides a built-in plagiarism detector that makes it simple to find stolen content.
Everyone can utilise Rytr's free plan, which allows for creating up to 5000 characters each month.
Make advertising for social media.
Create blog entries.
Produce emails.
Write a script and describe the video.
Create high-quality content using tried-and-true copywriting techniques like the AIDA and PAS frameworks. Offers an SEO analyser that makes it simple to locate more effective keywords.
Provides plugins that work with well-known platforms like Shopify, WordPress, etc.
Access to first-rate community assistance.
Cons –
There are far fewer word credits available with the Saver plan ($9/month), as you can only produce up to 50,000 characters per month, or roughly 7000 words.
 WordHero
Vs.
 Rytr
WordHero contains 64 content templates in total, covering practically all use scenarios.
Rytr only had 38 content templates available. However, they permit the creation of unique templates.
It takes effort to utilise WordHero. Its short-form templates and long-form editor are both simple and readily available.
Rytr also offers an easy-to-use UI. In a single document, it blends short-form and long-form content. Either of them is simple to use.
As such, WordHero is pricey. The Lifetime Price Of $89 makes it a fantastic deal. (To access the Long-form editor, you must purchase two codes.)
Rytr's free tier is highly constrained. Although it offers very reasonable paid plans, they cannot be compared to WordHero's Lifetime Deal.
They only offer assistance for a brief period each day of the week. The service may occasionally need to be faster. Email and a help manual are provided as options for customer support.
Several customer service methods are available, including online guides, chats, a degree of expertise, and a helpline. They will make every effort to contact you as soon as they can. They have open communication channels at all times and are approachable via email.
The design of WordHero is also reasonably straightforward. The website is easy to navigate and manageable. It also has a white background, but instead of being bold like yellow, it is covered in a range of blue hues.
Rytr's creators sought clarity, cleanliness, and minimalism with a dash of life. The website's background is white, with tabs and labels written in various tones of black and yellow.
Which is superior between WordHero and Rytr in 2022?
Rytr may be the finest choice if you're seeking a solution to meet your content needs. Although it costs more than WordHero, it has more features and superior customer service.
WordHero can be a better option if you're searching for something that doesn't require a developer or designer to create new material. At first look, it appears to be cheaper than Rytr and to have fewer features, but Rytr is also easier to operate and requires less upkeep (which requires coding).
WordHero only produces content for particular businesses, such as banking or travel, whereas Rytr can create quality content for any industry and any material. Before crafting the final piece of writing on Rytr's platform utilising their editing tool, you can select from various templates and customise them.
It is important to remember that both platforms provide comparable functionality:
Producing quality content based on the terms you enter in your search.
Writing blog entries using pre-existing themes.
Rytr is a tool with more incredible features.
It is inexpensive and straightforward to use.
Rytr is more adaptable than WordHero because it offers a variety of content development choices.
Rytr's user interface and design are superior to WordHero's, so artists and non-artists who require assistance with content creation will find it appealing.
For authors and content marketers seeking an AI solution designed specifically for content generation, Rytr is the better option. WordHero may be helpful for some customers and has fewer usage restrictions, but Rytr is a better investment.