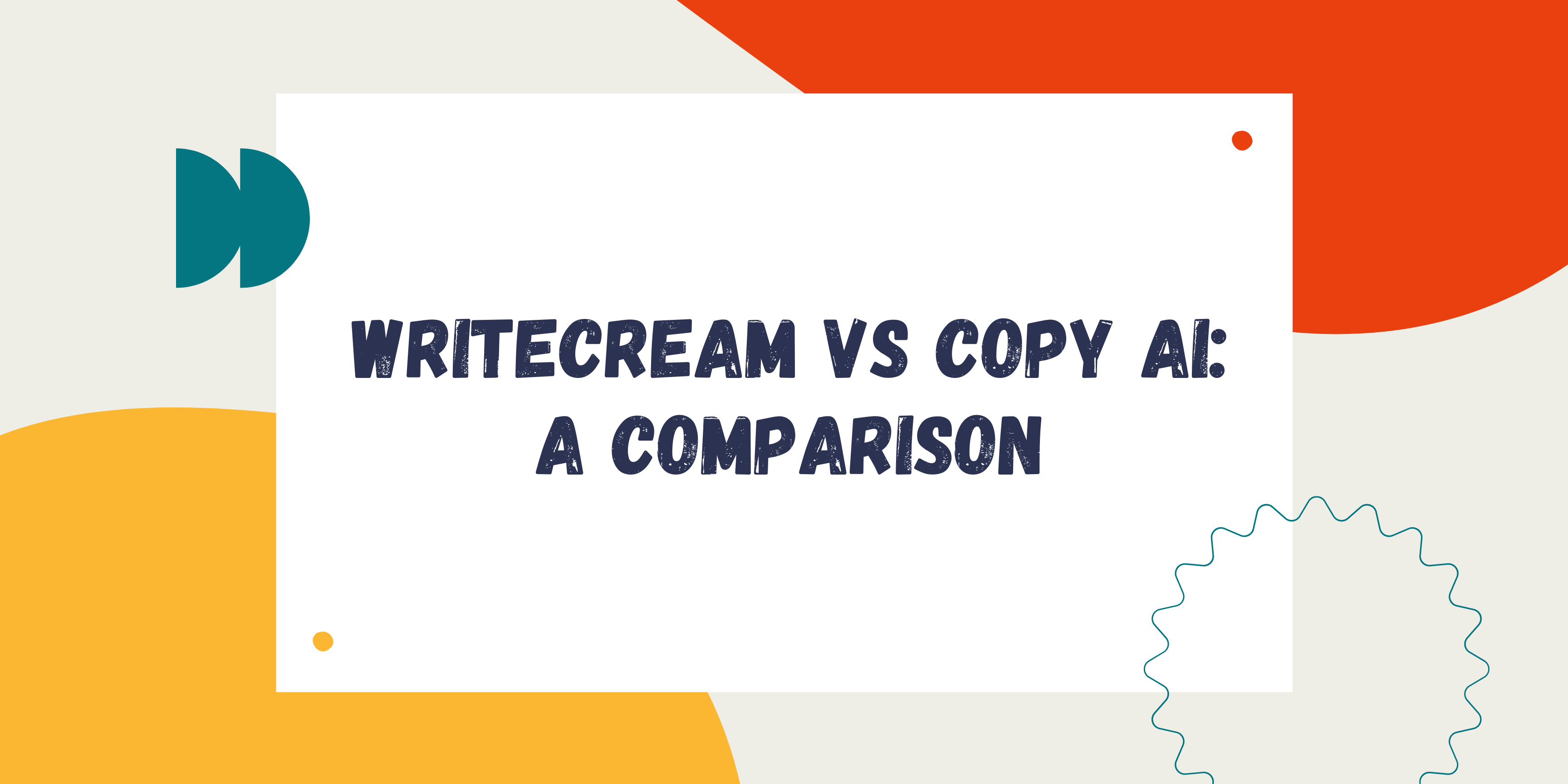 The buzz surrounding AI-powered text generation is massive, and a variety of tools are now widely used for day-to-day activities in fields such as content marketing. Creative writing is a difficult task. There's a lot of labour involved in writing product descriptions or PPC advertising, and the repetitive nature of the jobs might sap your creativity.
Could you give a bot a few instructions and have it generate compelling content while you focus on other important tasks? Well, owing to AI tools powered by machine learning, it's now achievable. Let's understand how it works and how it could revolutionise your marketing strategy.
Natural language processing tools are used to produce AI content. You must first pick what you want to write about and what kind of information you require. It could be anything from a blog article to an introduction. The AI tool is then given some settings to follow. For instance, suppose you want to send a compliment to someone on LinkedIn.
After receiving the instructions, the computer creates content based on these characteristics by evaluating similar preexisting information from the internet and transforming it into something unique and plagiarism-free.
💡 Generate personalized emails, blog articles, product descriptions, and ads in seconds using the power of A.I
What Are the Benefits of Using an AI Copywriting Tool?
Marketers and copywriters may be interested in AI copywriting tools for a variety of reasons.  First and foremost, AI Tools save time. These tools can evaluate data far faster than people, allowing them to generate complete articles almost quickly. They also work around the clock, so you can create content while you sleep!
Consider the ease with which AI tools can be used. If you need bulk material, such as product descriptions, it can handle it for you, freeing you up to concentrate on more time-consuming marketing activities like lead generation and KPI tracking.
Finally, AI tools can help you overcome the dreaded "writer's block" that every writer faces. Whether you need assistance with brainstorming ideas or creating content, an AI tool can help you get back on track.
Copy AI
Copy.ai is a service that uses artificial intelligence to make copywriting simple by effectively writing it for you. It allows you to create written content in a matter of seconds and ensures that your work is as accurate as possible.  Copy.ai is a content creation platform powered by artificial intelligence that claims to help users generate better content. They advertise themselves as a "automatic creativity tool" for "generating marketing copy."
List of Copy AI features are:
The tool has certain unique features that assist you in creating appealing blog openers. Copy.ai will provide you with the best options for a catchy opener that are informative, tone-friendly, and plagiarism-free.

There are over 60 templates available to let the tool write copy that is tailored to your needs. Digital ad copy, social media content, website content, eCommerce copy, blog material, and sales copy are all examples of content you can write.

Ideas for a Blog: Use copyAI to generate a list of potential blog topics.

Descriptions of Products: You can use AI-generated product descriptions in your Amazon or other eCommerce descriptions.

Instagram Captions: Create a list of potential Instagram captions for your photos

Bullet Point to Blogs: Simply provide a set of bullet points to Copy.ai, and content will be generated automatically.

Ad copy : You can use CopyAI to make ad copies for Facebook, Google, LinkedIn etc.
WriteCream
Writecream is a cutting-edge AI-powered marketing tool that automates the writing of content for Google advertising, landing sites, product descriptions, blog posts, social media, and more. Writecream may also be used to create personalised, captivating introductions for outbound marketing campaigns.
List of WriteCream features are:
Personalized Icebreakers: They personalize cold emails, LinkedIn connection requests, InMailss, and Backlink Outreaches. On sending prospect credentials their AI scans and generates compelling content that is sure to bring in responses  

Writecream uses GPT-3 like Shortly AI and it also generates plagiarism free outputs. 

Ads: They also produce Facebook ads, Instagram ads, and Google Ads. By the click of a button entering the name of the company and what it does Writecream creates ads instantly.  

SEO & Copywriting: In this arena, Writecream can produce the following:  Feature to Benefit, Before-After-Bridge, Value Proposition, Website Title & Sub-Headline, SEO Meta Descriptions 

Social Media: White cream can produce content for podcasts, voice notes, video scripts, special media post captions, social media product reviews, quora answer assists, etc.  

Articles & Blogs: Writecream can produce Long-Form Editors (A.I Article Writer), Blog Ideas, Intros & Outlines, Blog Heading Expanders, Blog Conclusions, and Compelling Bullet Points.

LongForm Content: Generate long-form content like blog articles and video scripts in minutes. Writing a 1,000+ word article takes less than 30 minutes using Writecream 
Copy AI lacks the longform content feature which Writecream has. Writing a blog from scratch can be challenging that WriteCream provides you in a couple of minutes. WriteCream also provides the feature to convert this blog article into a podcast which can be used  as a voiceover for a YouTube video. Writecream provides all guidance and assistance, from the initial blog idea to the final product.
Review Comparison
WriteCream:
G2.com, a peer-to-peer business software review website based in Chicago, Illinois, has given Writecream a 4.8-star rating on the basis of over 60 reviews. The majority of its evaluations are positive, describing it as a content generating powerhouse. Some reviews criticise the company's membership plans, which are based on a credit system, as well as the user interface design. Nonetheless, they are all satisfied with its core function, which is an artificial intelligence-assisted writing tool. Its excellent readability and personalized writing style with very simple input has been praised by multiple users.
In another Danish review website,Trustpilot, Writecream has reached a new high of 4.8 stars, with 114+ positive reviews. According to reviews, it is a terrific purchase that is extremely helpful when producing powerful cold emails with well-written content.
On Capterra, WriteCream has 48 reviews and a whopping 4.8 rating.  Quality of writing and output, as well as linguistic support, are great benefits, according to reviews. Many have sighted it as a helpful tool for small to medium enterprises and marketing.
Copy AI:
CopyAI lacks any reviews in both popular review websites namely G2 and Capterra. Trustpilot does have a couple reviews on Copy AI where it has been rated 3.7 stars. 
However, ProductHunt has rated Copy AI with 4.5 stars basedon22 reviews. The reviewers stated how the AI tool has efficiently aided their copywriters in increasing creativity and delivering products in lesser time. Many recommend it for sales copies on social media. 
Language Supported 
WriteCream:
Over 75 languages are supported by Writecream. All of their tools, including the long-form editor (A.I Article Writer), cold email icebreakers, LinkedIn icebreakers, image icebreakers, audio icebreakers, and voice-over, have multilingual support.
Some other languages supported by WriteCream are: Afrikaans, Albanian, Amharic, Arabic, Armenian, Azerbaijani, Bengali, Bosnian, Bulgarian, Chinese (Simplified), Catalan, Chinese (Traditional), Croatian, Czech, Danish, Dari, Dutch, English, Estonian, Finnish, French, French Canadian, Georgian, German, Greek, Gujarati, Haitian Creole, Hausa, Hebrew, Hindi, Hungarian, Icelandic, Indonesian, Italian, Japanese, Kannada, Kazakh, Korean, Latvian, Lithuanian, Macedonian, Malay, Malayalam, Maltese, Mongolian, Norwegian, Farsi (Persian), Pashto, Polish, Portuguese, Romanian, Russian, Serbian, Sinhala, Slovak, Slovenian, Somali, Spanish, Spanish Mexican, Swahili, Swedish, Filipino Tagalog, Tamil, Telugu, Thai, Turkish, Ukrainian, Urdu, Uzbek, Vietnamese, Welsh.
Copy AI:
CopyAI supports these languages for both input and output: German, English (Britain), English (American), French, Italian, Japanese, Spanish, Dutch, Polish, Portuguese, Portuguese (Brazil), Russian, Chinese (Simplified), Bulgarian, Czech, Danish, Estonian, Finnish, Greek, Hungarian Latvian, Lithuanian, Romanian, Slovak, Slovenian, Swedish.
User Interface and Tutorials
CopyAI:
The Copy AI platform is quite clean, easy to use, and straightforward. It has a minimalistic approach and is ideal for creative writing. Not only that, but their YouTube channel offers a wealth of well-produced video lessons that will walk you through the process of making whatever form of copy you require.
WriteCream: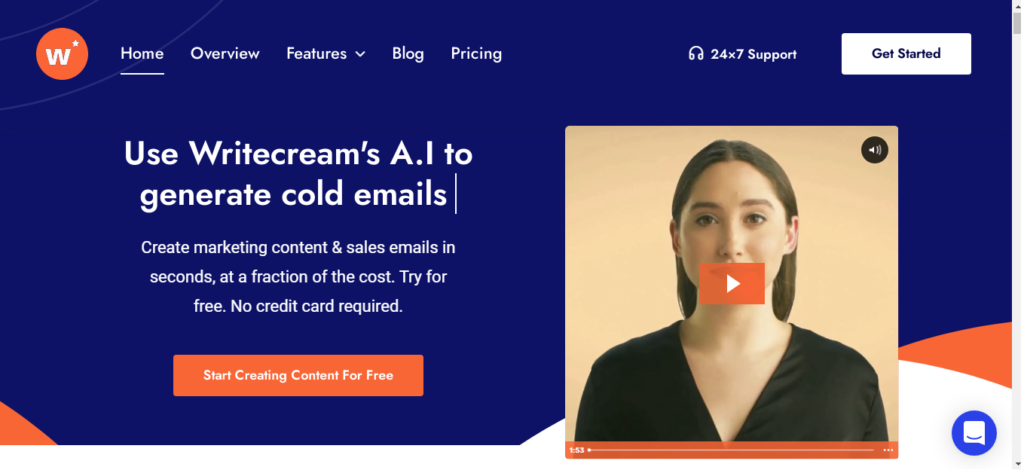 The Writecream user interface is simple and straightforward. It is the content, on the other hand, that must be personalized to the user. The long-form content writer in beta testing works smoothly to create and generate material.
To access the tutorials, go to the website and look for the "Tutorials" section in the upper right corner. It leads you directly to the YouTube channel where the tutorials are available. Aside from tutorials, Writecream also includes a blog section where you can find blog posts on various tools!
On the homepage, there are also several lessons for its most popular features, such as Cold Emails, Backlink Outreach, and LinkedIn Inmails.
Price
WriteCream: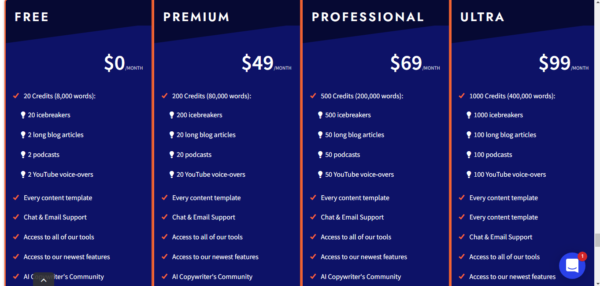 Free Plan

:Writecream's free plan includes all of its features as well as 20 credits and an 8,000-character restriction. It also gives you access to the most recent features as well as live chat and email help for any questions you might have.

Premium Plan

: This plan costs $49 per month and includes 200 credits and a character limit of 80,000. It also grants access to the AI Copywriter community and increases the quantity of picture icebreakers, long form articles, podcasts, and other outputs generated.

Professional Plan

: This plan includes 500 credits and a 2,00,000-word character limit. It also increases the number of image icebreakers generated from 200 to 500, as well as the number of blog entries and podcasts produced. It also includes all of the previous plans' features, such as chat and email assistance, as well as access to the AI Copywriter community. This plan is best for marketing agencies whose content and email marketing is a big part of their business. It is $69 per month.

Ultra Plan

: This plan includes 1000 credits and a 4,00,000-word character limit, making it ideal for business professionals, marketing companies, and digital marketers. It also increases the number of icebreakers produced from 500 to 1000, as well as the number of extended blog pieces, podcasts, and YouTube voiceovers. This package is $99 per month. It gives you unrestricted access to all of Writecream's tools, as well as live chat and email assistance.
Copy AI: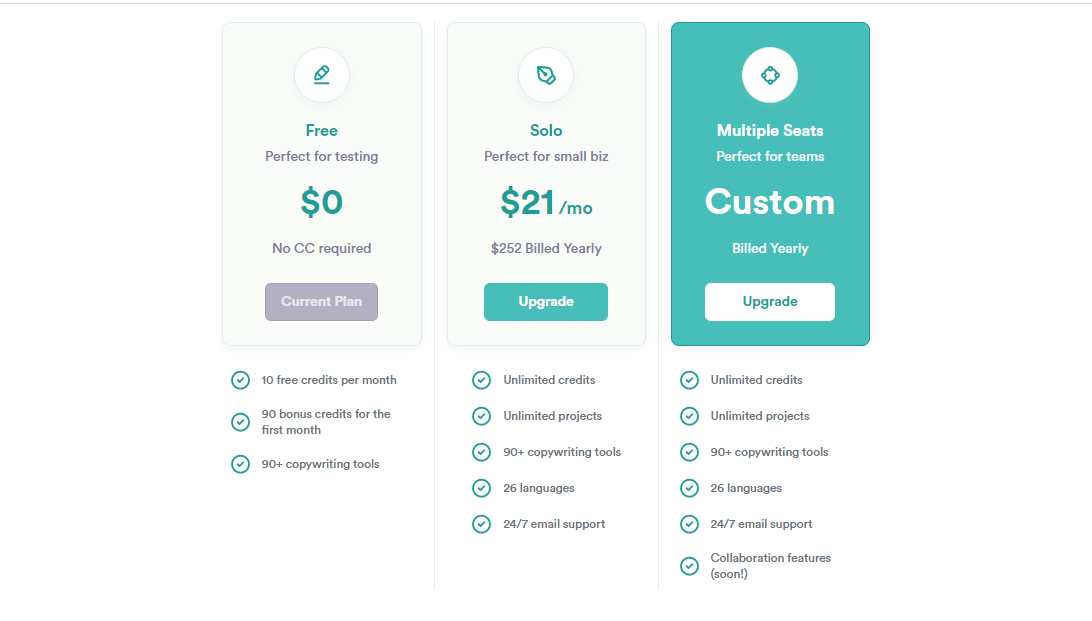 Free Plan

: Before purchasing a monthly or annual plan, you will receive a free seven-day trial. While working, you can use the free trial to explore the options provided. You are restricted to 100 runs per day with this bundle but you can access all its features. If you have any problems utilising the platform, the customer service department also provides email help 24 hours a day, seven days a week.

Solo Plan:

After the free trial time, you can pick between the single monthly subscription and the custom multiple-seat plan. The Solo bundle costs $35 per month, or $420 per year when invoiced annually. After that, you'll get access to unlimited daily runs, tools, the most recent features, 24/7 customer service support, and a VIP community.

Multiple Seats Plan:

The multiple seat package includes all of the tools found in the solo package, plus a collaboration function, making it ideal for large enterprises. The price quotes are provided upon request, and payment is made on a yearly basis. Its pricing is highly competitive and customer-friendly.
Output quality comparison
Output quality when it comes to Writecream is much more specific and depends on the user's needs, whereas for Copy AI. Copy AI doesn't have a personalized email icebreaker feature as such, so you can only send a thank you note for introducing yourself. 
Copy AI
Here's the output received when a test was run for an introduction email to Bill Gates on his blog GatesNotes.
The top results were:
"Thank you for accepting my linkedin request. I really enjoy your energy and information sharing on there. I feel like we share a lot in common and that we might have some great conversations."
" Thank you for accepting my linkedin request. It is an honor to be able to connect with you and learn from your abilities."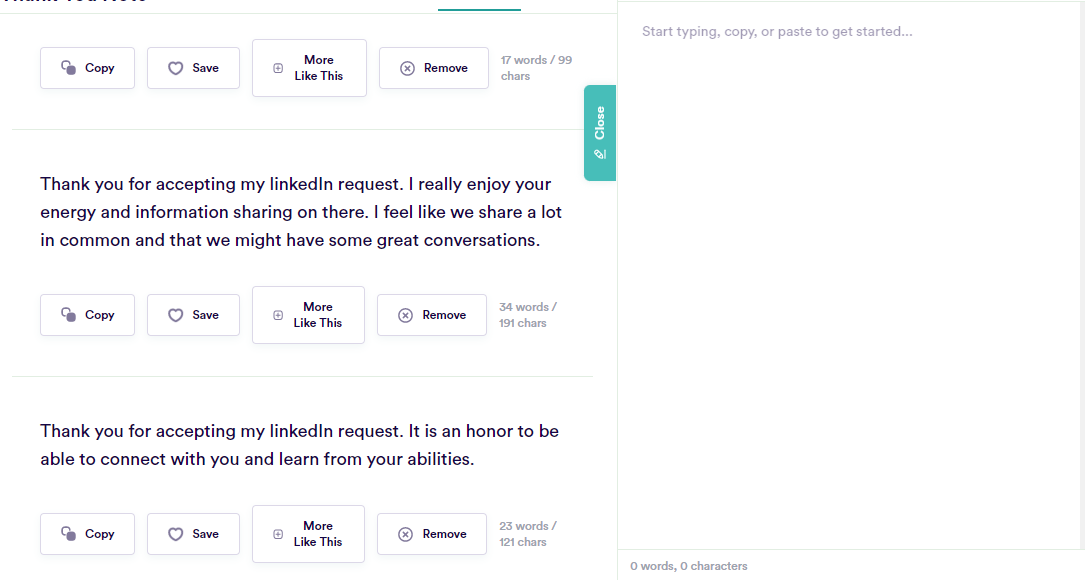 The 2nd output was for a blog idea on the topic "AI tools in Digital Marketing."
The top results were:
"How to Use Al in Marketing: A blog on how artificial intelligence works and how you can use it as a marketer."
"7 Al Marketing Tools You'll Love: A blog about the several Al tools that you can use in your marketing strategy."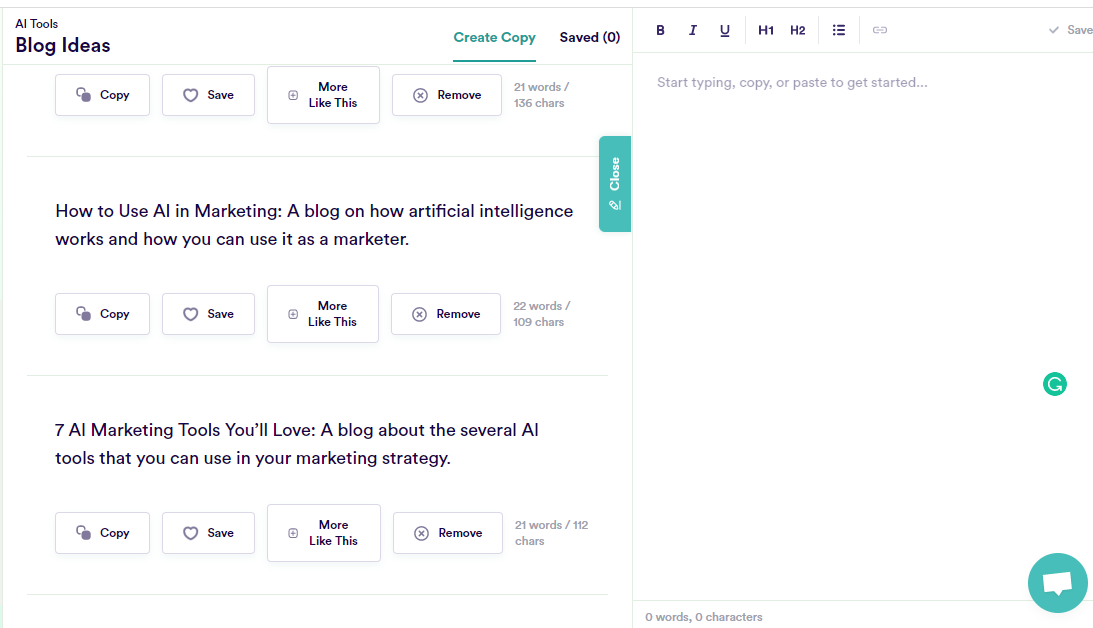 Finally, the 3rd out was received for google headlined on the topic "AI Tools."
The top results were:
"Need Artificial Intelligence?"
"Your Al Manager"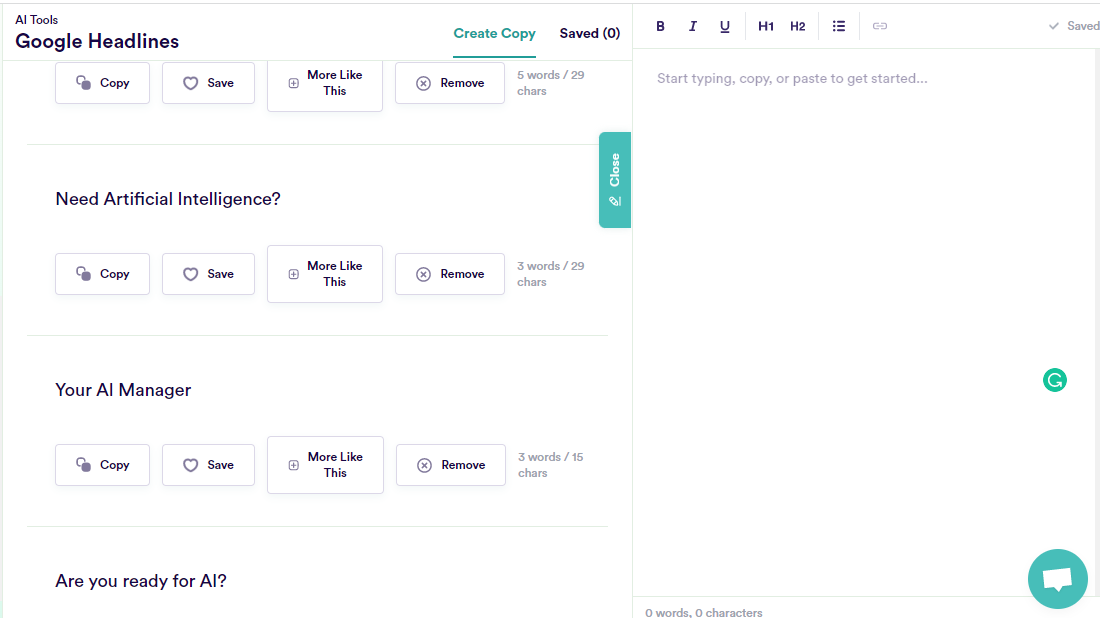 The output is general in nature and is not personalized. The receiver won't feel any connection with the sender. There's scope for more personalization and information in the output.
WriteCream
The first out here was received when a test was run for an introduction email to Bill Gates on his blog GatesNotes.
The top results were:
"I think it's so inspiring that you're sharing your personal insights and experiences with the world. Sharing your personal journey is a great way to connect with people, and love that you're doing that."
"I really enjoy reading your blog. I think it's really interesting to see how you're learning and sharing your thoughts. It's great to see that you're using your blog as a way to share information and learn from others."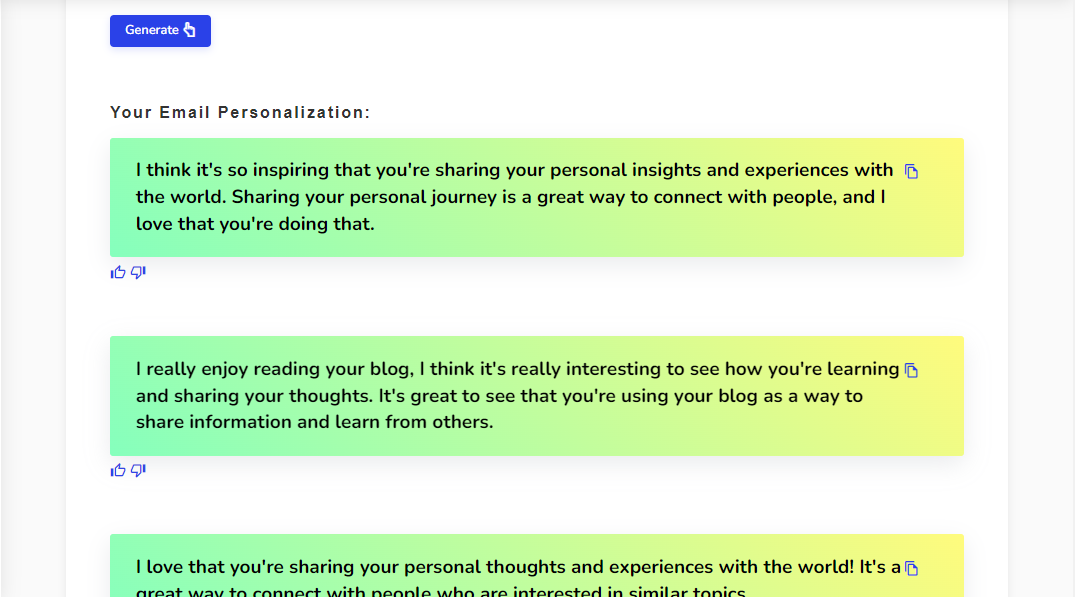 The 2nd output was on the same topic as was done for Copy AI, i.e., blog idea on the topic "AI tools in Digital Marketing."
The top results were:
"Al Tools in Marketers' Creative Process: A blog about the advantages that Al has for marketers."
"What Is The Best Way To Promote Your Al Tool: A blog about the best way to promote your Al tool."
"5 Ways Al Can Imprive Email Marketing: A blog pest around the five ways Al can improve email marketing."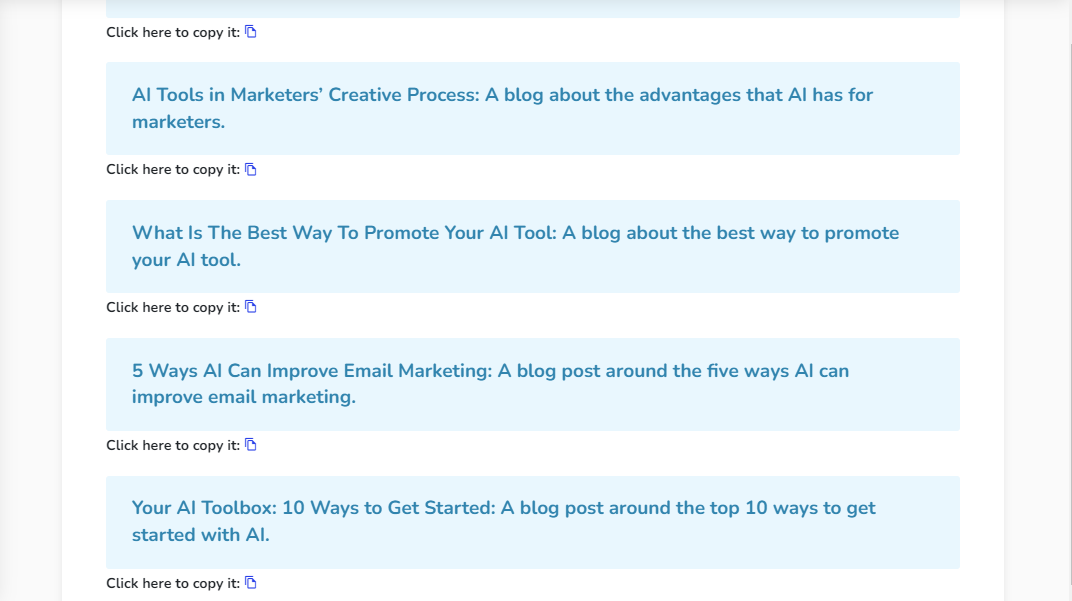 For WriteCream also the 3rd output was a google headline based on the topic "AI Tools."
The top results were:
"Al Tools The New Personalization Engine for Better Marketing"
"Al personalizes your communications"
"AI lets you reach people based on their interests and past behavior"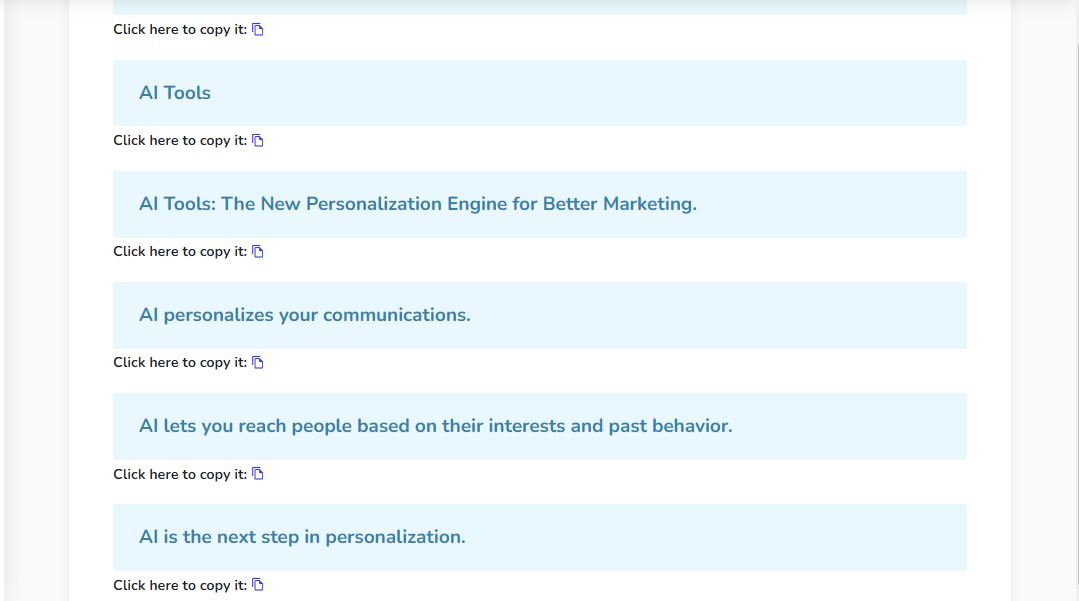 The output from WriteCream is very personalized and original. It's features are great for email outreach, copy ads and personalized icebreakers.
Future Outlook
Roadmap for Copy AI:
Copy AI recently announced that they've raised $11 million in Series A funding from Wing Ventures, Craft Ventures, Sequoia, Tiger Global, and Elad Gil along with many other new and existing investors  With this funding, they're planning to double the size of their team by the end of next year.
They are on a spree of hiring engineers, recruiters, product designers, and copywriters.
Some new features to be included are
Results quality

Content organization

Platform education
Roadmap for Writecream:
WriteCream is working to improve its platform and help its users with a variety of issues. It also offers a place where users may submit feature requests and provide comments on currently available features. The figure above depicts some of the features that are planned or in the works to be released shortly, as well as some that are being considered. There isn't a shadow of a doubt that Writecream will soon rule the content marketing world!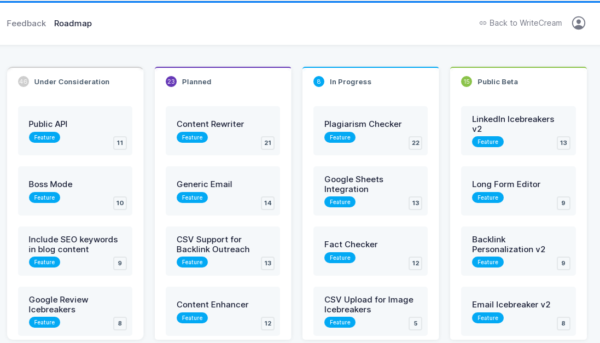 Where Copy AI wins
Some features that Copy AI has which WriteCram does not are various types of email/letter generator. It provides options for cancellation mails, thank you mails, follow up mails etc. Additionally there are special features called Brainstorming Tools like Growth Ideas, Name Generator, Startup Ideas and Viral Ideas. 
Where WriteCream wins
Writecream comes out on top in terms of specialisation. There are a variety of content development services and areas to pick from. Another advantage of Writecream is that it can create content in more than 75 languages, which is unmatched with any other AI. Additionally, WriteCream can produce podcasts and long form content which lacks in Copy AI.
Which one should you go for?
Both tools have advantages and disadvantages. However, you should choose the one that shows to be more useful and so increases your productivity and, as a result, sales!
Writecream is a one-of-a-kind content marketing solution. It's simple to use, and the AI allows for on-demand content generation. With each piece of content it creates, the AI learns and improves, making it a valuable tool for marketers who are always seeking for new ways to better their content. There are no credit card requirements, and the pricing is suitable for all budgets. The writing is of excellent quality and devoid of plagiarism.
Copy AI has several fantastic features as well, but Writecream's flawless interface and user experience give it the upper hand.  WriteCream is all about creating unique content and providing an incredible personalised experience. Therefore you should definitely go for WriteCream.
Conclusion
As we move closer to using AI to generate our content, it's critical to evaluate and select the best technologies to aid us. Both Writecream and Copy AI are effective tools but when it comes to selecting one, WriteCream has already emerged as a favorite in the digital circle.
Don't believe us? Try for yourself with the free trial plan today!