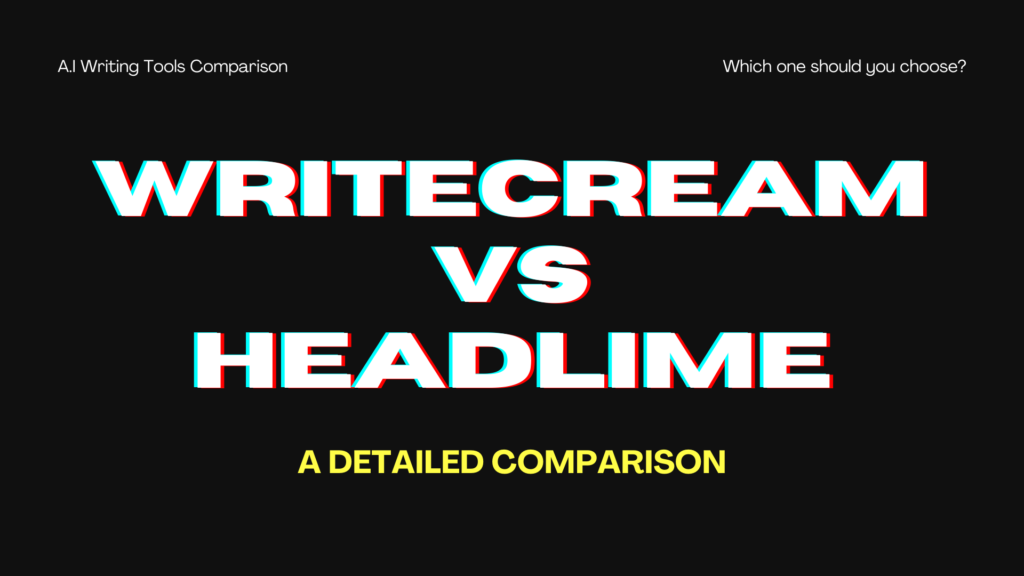 Creative writing has now expanded far beyond simply writing articles about popular science and adding annotations to websites, and has become involved in nearly all of the froths that an organisation or industry requires to expand their reach. A short glimpse into automatic, pre-written emails has sparked creative minds to create customization ideas in marketing, social media material, articles, and, on top of that, ideas for generating it all artificially. A field like this, which is in charge of digital communication, has relied heavily on the availability of professional creators and writers. However, this reliance has frequently led to early-stage companies and service providers with inadequate and incompetent promotion of their products, owing to their difficulty to attract such creative enthusiasts. Nonetheless, products such as Writecream and Headlime have developed Software-as-a-Service (SaaS) type pervasive solutions to this issue, enabling content production, marketing, outreach, and copywriting regardless of man-power constraints.
1. Features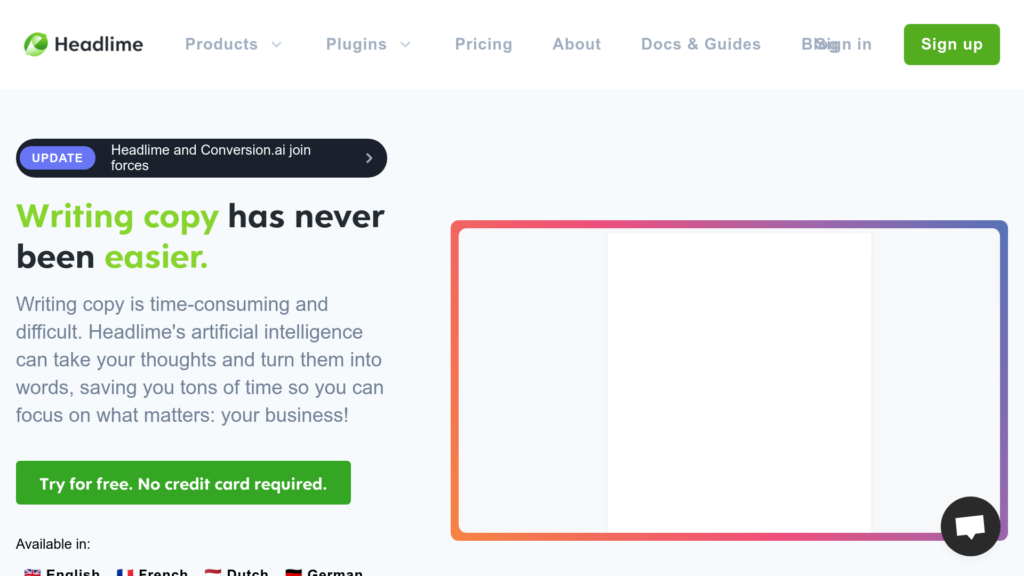 Headlime offers:
1. AI Blog Assistant
Within a short period of time, the service may create distinctive and intriguing blocks for you. This tool can also assist you in writing in multiple languages, and your content will be free of grammatical problems.
2. AI Copywriter
Headlime employs artificial intelligence to create one-of-a-kind duplicates in seconds. It is driven by Generative Pre-trained Language (GPT-3), which creates human-like replicas.
3. AI Page Builder
Creating a great landing page that draws your audience is not easy to develop, design, or code. But you can rely on Headlime's AI page builder to do it for you.
💡 Generate personalized emails, blog articles, product descriptions, and ads in seconds using the power of A.I
4. Copy Generator
Headlime features a variety of pre-made professional copy templates. As a result, it simplifies the copywriting process as compared to other traditional ways. These copies can be used to produce compelling copy for a product, service, or business. You only need to supply some basic information, and this service will create a personalised copy for you. There is also a personal database where one may save their marketing copy and retrieve it whenever they want.
5. Document Generator
Headlime can also be used to create documents. You can automate the document generation process by using templates.
You can also replace the variables and save your information to make it easier to produce several papers. Also, numerous document types can be saved in a CSV file for quick access. As a result, you can easily generate documents like invoices, emails, letterheads, and so on.
6. Copy Inspiration
For individuals who wish to see samples of how to write outstanding copy, there are inspiration features. These examples are organized into distinct groups. As a result, you can look for the one you require.
7. Headlime for Teams
Headlime also allows teamwork and collaboration among multiple users.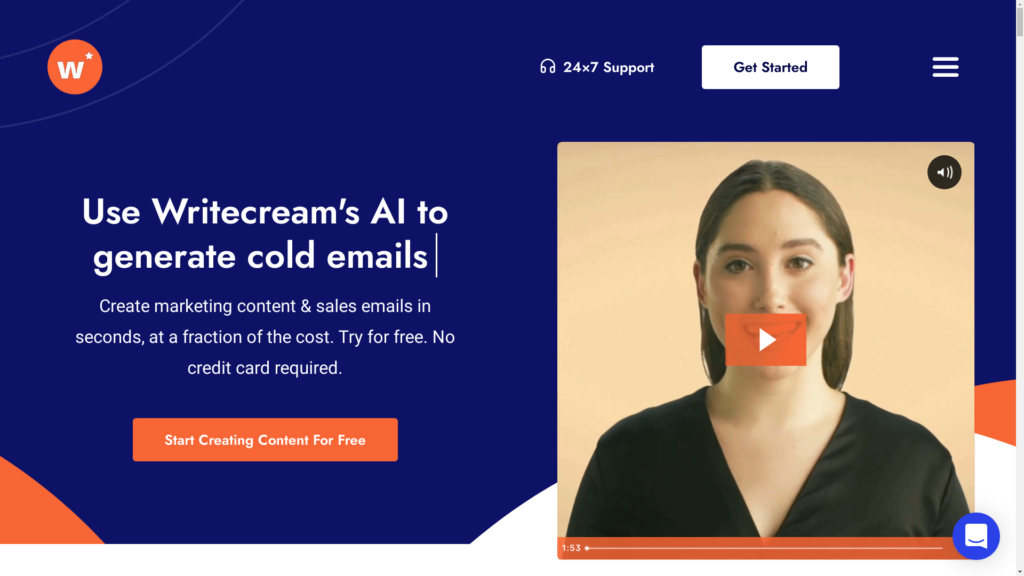 Writecream offers:
1. Video & Audio:
Writecream masters its excellence in not only text processing but audio and videos too, and provides content for podcasts, voice notes, video scripts, special media post captions, social media product reviews, Quora answer assistance, and other platforms.
2. Articles & Blogs:
Its multitudinality, even in text creation, encompasses Long-Form Editors (A.I Article Writer), Blog Ideas, Intros & Outlines, Blog Heading Expanders, Blog Conclusions, and Compelling Bullet Points can all be created using Writecream.
3. Long-Form Content:
Writecream has made long-form content writing – of hours and days – into a few minutes' job and takes less than 30 minutes to write a 1,000-word article.
4. Personalized icebreakers:
Personalization is applied to cold emails, LinkedIn connection requests, InMails, and backlink outreach. When you provide them with prospect credentials, its AI analyses them and generates engaging content that guarantees astute responses.
5. Writecream, like Shortly AI, uses GPT-3 to generate plagiarism-free output.
6. Advertisements:
It has brought creating advertisements a click button away. One can create Facebook ads, Instagram ads, and Google ads.n real time by pressing a button and entering the name of the firm and what it does.
7. Writecream can deliver the following SEO and copywriting services: Feature to Benefit, Before-After-Bridge, Value Proposition, Website Title & Sub-Headline, SEO Meta Descriptions.
8. You can upload a CSV file and the A.I. will generate personalized icebreakers for all the rows.
2. Reviews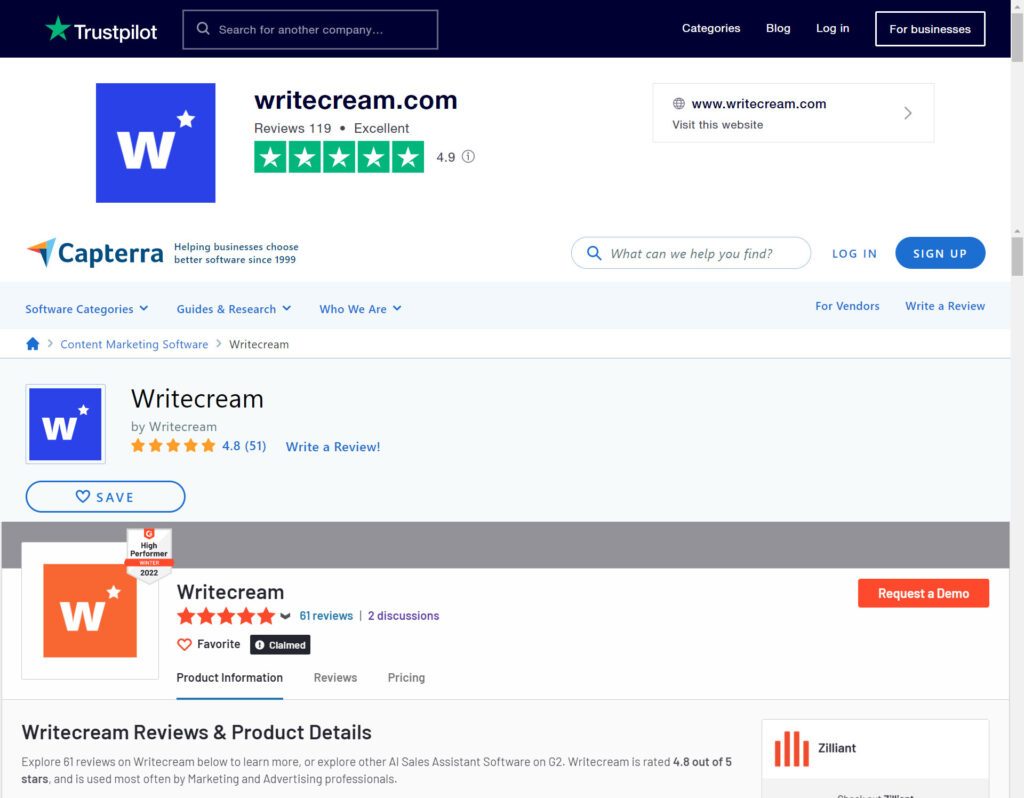 Writecream has received tremendous customer satisfaction in terms of personalized content and the multidimensionality of the tools they provide for marketing and advertising, and this at a multilingual level with 75 different languages and consistency of performance across all of them. The quality of the AI's output, particularly their customised Linkedin outreach and copywriting toolset, is highly recognized and greatly appreciated in the form of ratings from startups and marketing firms — an overall rating of 4.8/5 on capterra.com.
Headlime, too, has received commendable reviews for writing headlines, transactional email copy, Facebook ads and so much more. Their templates make it so much easier to write compelling copy faster. Their innovative feature of creating landing pages has been specifically, and utterly, admired in the opinions of Headlime's users over the internet.
3. User Interface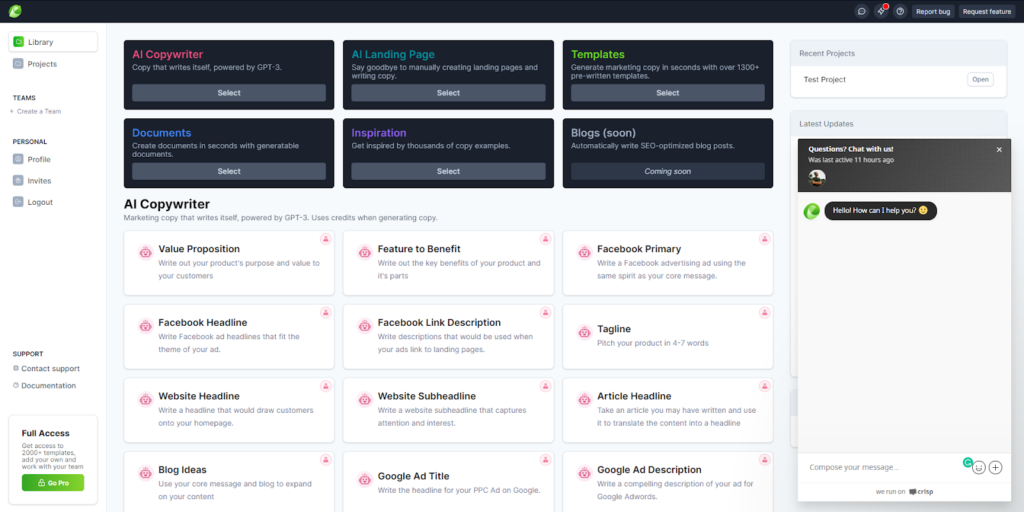 Headlime's interface might be overwhelming to some
Headlime's user interface is simplistic, easily navigable, and precise when the offered features are considered, and is also appreciated specifically within the reviews. Its layout of scattered reviews between the screens and the summary profile data on the dashboard seems like considerable evidence of the brand trying to follow the latest UI/UX trends. The home page is also accompanied with a clear navigation to the "Docs & Guides" section that includes clear instructions about using the software and the descriptions of each of their functionalities for users' understanding.
While we're on the subject of user interfaces, Writecream's website categorically incorporates and precisely explains the core services provided by their AI and their usage in individual domains such as outreach, copywriting, blog/article writing, social media, image and audio processing, and so on to ensure a unique marketing and advertising of their product. Their innovative and outward-facing approach of displaying a large number of qualitative and positive client reviews instantly instils a sense of trust and efficiency in users to this website, compelling them to become returning and recurring consumers of Writecream's services.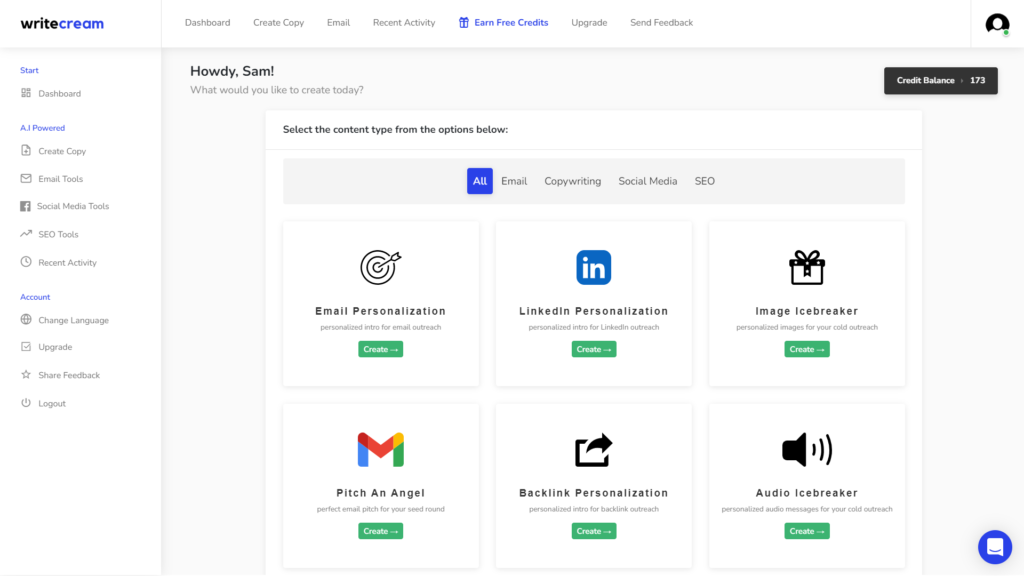 Writecream's interface is simpler and cleaner in comparison

Even their customer-side dashboard is compartmentalized for each of their broad domains, keeping in mind the complexity of the types and sub-types of their features: Create Copy, Emails, Social Media, Copywriting, Upgrade, and Feedback, making it extremely easy for users to move through and check out each tool without any information overload.

As intricate as the software can be for new users, the brand also offers video tutorials on YouTube for each and every function and tool of the software to help educate and familiarize those consumers.

4. Customer Support
Both of these softwares have proved their proficiency and profoundness when it comes to the application of their AIs and their outputs. Albeit, when these softwares are to act as constructive constituents for marketing agencies and startups, mere success of their tools is seldom the only factor of impact. Customer service and 24×7 support is what ensures smooth communication between the brand and its consumers, especially about the difficulties in operating the product and their critical concerns that are to be rectified instantly or be incorporated in software's future updates.

Headlime provides customer service and allows customers to reach their staff in a variety of ways. During the day, you can contact a customer service representative via the support chat. You may also write them an email with your questions or complaints to support@headlime.com. They'll get back to you as soon as possible. But this is where Writecream stands out: they reach out to their clients as soon as they can, to as many as they can at any one time.
On its website, Writecream offers 24×7 contact service and live chat support, as well as an area where customers can submit feature requests for upcoming software upgrades and provide feedback on their experience. This subtly implies their interest in the users' perspectives on their business needs, which might simultaneously widen the software's uses.

Furthermore, in response to feature requests, Writecream's website has gone above and beyond to clearly articulate and convey a roadmap of their numerous and undeniably advancing features, such as public API, sentiment analysis, Natural Language Processing features, and many more, in consideration and under development, to keep customers in the loop about what to expect from the company in the near future.

5. Output Comparison
Writecream (Blog Post): Why is Snapchat a good app?
Snapchat is a popular app that is often used by individuals. It is a platform that focuses on multimedia including images, text, and video. A lot of companies have begun to use Snapchat as another way to market their products and services. Snapchat has a unique sense of humor and a short-lived life that encourages users to talk back to the brands. Since it is a platform that allows users to be more expressive than other apps, companies are able to interact with their users in a more interactive way.


Headlime (Blog Post): Why We'll Never Get Over Snapchat?
Snapchat is a highly addictive social media app that has taken over the world. Snapchats have been known to have millions of people watching them, and they are often used for bullying or embarrassing others.


Snapchat is an American multimedia instant messaging app and service developed by Snap Inc., originally Snapchat Inc. One of the principal features of Snapchat is that messages are usually only available for a short time before they become inaccessible to their recipients. It's so you can't save or post a photo, but it does make it difficult to read someone else's messages as well.

Writecream (Value Proposition): Snapchat
Snaps Are Only Available for a Short Time: Snapchat allows users to share photos and messages that are only available for a short time before they become inaccessible to their recipients. The app is based on sending temporary pictures or messages that disappear automatically.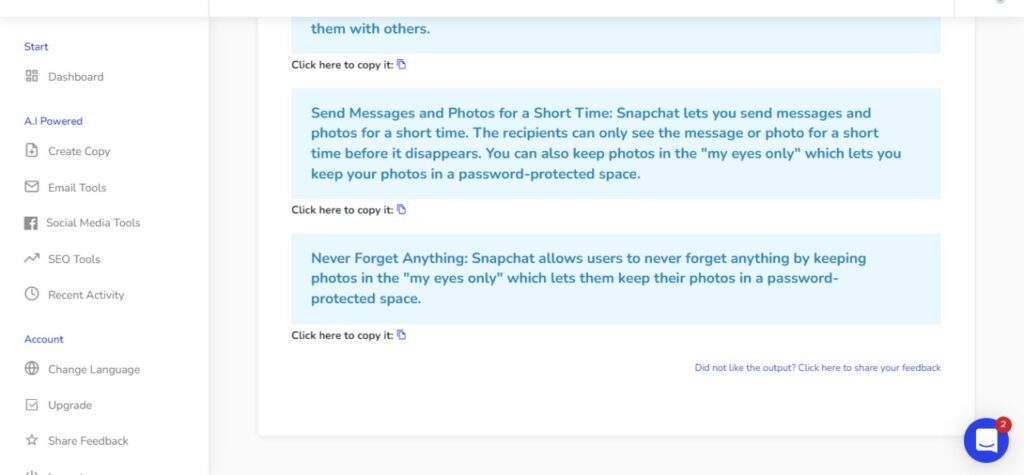 Headlime (Value Proposition): Snapchat
Snapchat is a photo messaging app that allows you to share photos and videos with your friends. You can set a timer so that the recipient has only 10 seconds to view it before it's gone forever!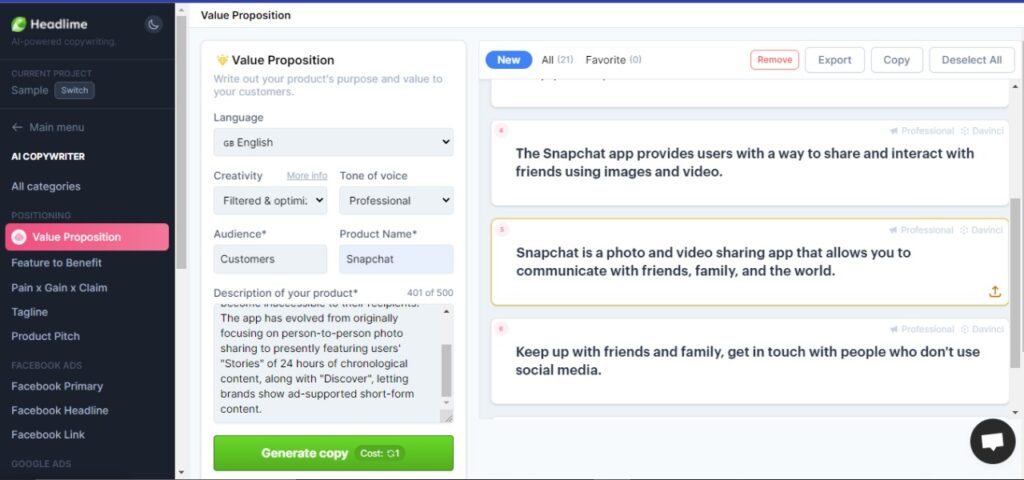 Headline indeed tries to state the highlights of the given text precisely, and formally too – to a certain extent; and it also uses its fundamental support of the GPT-3 OpenAI model when it comes to fluency and creativity in the text. It is impressive how the software could shift from garnishing the key features of Snapchat, in Value Proposition, to a more formal delivery of software details in the Angel Pitch. However, it is equally, or even more, crucial to suggest the artificially written text that is suitable in a particular context and that, not only tries but, ensures a positive outlook of the reader towards the text – be it emails or value propositions.
The above outputs apartments, and evidently, suggest that the core difference between the two, in terms of their excelling performance, lies in their way of presenting the features of a subject within a particular context. When we consider the Value Proposition or the Blog Post outputs, it seems that Headlime struggles a little in invoking excitement for the given product within the reader because of its usage of rather off-putting words.
Writecream, on the other hand, preserves the diplomacy required for more professional and business-oriented communication in a plausible and exemplary manner. Its emphasis appears to be on persuading a reader to be cordially responsive in very cold communications, regardless of whether the texts utilized are human or AI-generated. Taking into consideration Writecream's Angel Pitch, in particular, gives a holistic idea of its attention to small, but substantial, details like addressing the receiver, signing off, and its ability to protrude factual information, with consistently maintaining a formal layout, about the core subject and present it impartially and discreetly, without sounding, even implicitly, ostentatious.
6. Pricing
Another aspect of SaaS solutions is their pricing. Headlime has several pricing tiers, with the lowest starting at $59/month – with 1500 credits per month, all features included – and the business bundle starting at $399/month – with unlimited access to all the features.
The pricing plans of Writecream, however, are as varied as their features' categories, and there are four proposed plans on their website:
Free:

$0/month for 20 Credits
8,000-character restriction

Premium:

$19/moth for 100 credits
character limit of 200,000

Professional:

$49/month for 200 credits
400,000-character limit

Ultra:

$69/month for 800 credits
1,600,000-character limit
The usability of these credits and their associated benefits are clearly stated on the website's landing page (https://www.writecream.com/#pricing). This ensures a progressive growth in the types of customers from a website visitor, to initially test the AI features with the free pricing plan, to established firms and agencies enrolling with long-term Professional/Ultra plans.
7. Conclusion
In this case, we saw the range and breadth of both products' offerings. Headline offers some great capabilities as well, but Writecream's impeccable interface and user experience give it the edge. WriteCream is all about generating one-of-a-kind content and offering an exceptional personalized experience. While the GPT-3 model of both products maintains its consistency of high-quality output, Writecream appears to be exploring deeper issues of sales and marketing for businesses and putting their solutions into their program in a more advanced approach. Writecream's flexible pricing plan, particularly the free one, their voluminous roadmap of future updates and features, overtly responsive customer support, and the software's overall heterogeneity have all contributed to the product's increased popularity in a business or industry oriented environment.