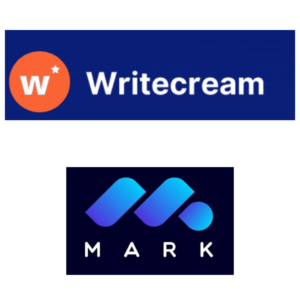 Marketing at the current age has advanced leaps and bound to such a level that following the same old techniques doesn't suffice anymore. Organizations and marketing professionals especially nowadays continuously establish higher standards of marketing their products and services in line with the changes that have taken place technologically. Machine learning is one of the recent major advances that science has developed and it has been found to play a major role in marketing and various types of promotions. A major aspect of marketing that it contributes to is AI-powered content creation. From writing content to creating personalized emails, AI-powered tools have made complex topics far simpler than what was earlier. In this article, we will take a look into two of the most exciting AI-powered tools in the market, Mark copy, and Writecream, and also make a side-by-side comparison of the two.
MARK COPY
Mark Copy is an AI-powered tool that focuses on marketing content. It comes loaded with unique features that set it out from many of its competitors. The tool leverages Artificial intelligence to create compelling copies by generating the right tone needed for your story to bring in more engagement from the readers. One of the major features of Mark copy is the writing assistant that helps the writer edit and correct text in a simple way helping you create the right content for every possible purpose. It can assist you in creating templates for articles, Emails, and even LinkedIn emails. By writing a few words, Mark copy will generate the rest of the content fort you saving hours of brainstorming that usually comes with content creation. Ready-made templates for Facebook ads, product descriptions, and even product titles are also easily available when you choose to use Mark copy. Another key feature is the live collaboration aspect that comes with Mark copy. With this tool, organizing your content has never been easier as it allows you to group your data in one place and even share it with your team. As a content creator, one also doesn't have to worry about plagiarism as Mark copy also comes with a plagiarism check that ensures uniqueness by generating fresh ideas.
Features
1. Writing assistant: With just the help of a few words, Mark copy can help you generate entire articles with the added guarantee of uniqueness in it. If you are a marketing professional working on product descriptions, Mark copy will create content tailored to your requirements, with the help of a little description from your end. The tool will provide multiple options to choose from once the content is created which can also be edited and modified as per your needs. If you head on to the company's website, you can read many of the reviews left by customers and get a better understanding of it helps its users in creating content.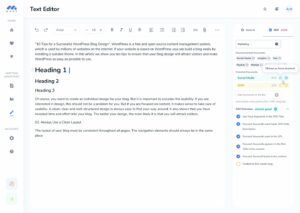 2. SEO assistant: Mark copy utilizes its SEO feature perfectly to help you rank your content higher on search engines making sure in the process that the hard work you put in generating content is not wasted. With this tool, you don't have to hope and wish anymore that your work will appear more prolifically on search engines, instead, you can be guaranteed of much better results when it comes to SEO optimization. This is something to be noted as SEO optimization plays a crucial role in achieving higher visits and reads. In all honesty, the developers at Mark Copy have done an exceptional job in coming up with an efficient and well-developed SEO feature.
💡 Generate personalized emails, blog articles, product descriptions, and ads in seconds using the power of A.I
3. Templates: Generating creative and fresh templates in an ever-evolving market is not an easy nut to crack but with Mark Copy's templates, you can create and share templates as per your needs with ease. From creating catchy and engaging posts for LinkedIn as well as ad copies for Facebook, Mark copy will ensure that your brand receives the maximum amount of traction possible. Along with this, it also generates product descriptions, headlines for your site, and even catchphrases, with the help of just a few sentences. A unique feature that Mark copy provides is the ability to generate customized emails in order to improve responses from prospective clients and customers, which is achieved via emails that are tailored to convert more clients. Other templates include blog post topics, Instagram captions, google ads, and even full blog posts.
4. Workplace: With the Team documents feature, mark copy allows you to easily organize your files by creating folders that can be then shared with your team. This feature is a huge benefit for marketing professionals as it helps them collaborate with colleagues on the go. With the combination of teamwork and individual knowledge, Mark copy ensures that marketing team members can effectively collaborate with each other and as a result achieve more brand growth. The workspace feature also helps you organize, and schedule your content in one place letting you know the exact type of content and timing to post.
5. Tones: For any story, relaying the perfect tone is something that content creators understand very well. With Mark copy, this important aspect of content creation is made simpler by helping you write and generate text keeping in mind the tone that you wish to deliver to your clients and customers. The tool helps you in creating content that could have an informal touch to it whenever needed as well as content that has aspects of journalism involved. This is a unique feature that copywriters will definitely find very interesting and of course beneficial.
6. Plagiarism check: As a copywriter, being accused of plagiarism is one of the worst scenarios that one could ever imagine of going through. The plagiarism checking feature that comes with Mark copy will ensure that you never have to worry about such allegations as it scans all the content to make sure that each and every content is unique and fresh.
Pricing
Mark copy is available for a 7 day free trial for people who are interested in the software. Beyond that, you will have to choose between three of he plans that are currently available.
Starter: At 39 euros per month, mark copy will generate a maximum of 20000 words which can be used by an unlimited number of users. Along with this, you get 20+ templates, basic SEO features, 20 plagiarism checks, and 100 SEO keyword searches.
Pro: the pro pack is available at 79 euros per month and has a much higher word limit of 50000 words. You also get advanced SEO features compared to the starter pack along with 100 plagiarism checks. 250 generations are also available as compared to 100 for the starter pack.
Growth pack: This offer is targeted toward established marketing teams and professionals and is priced at 119 euros per month. Users get 500 generations as well as 500 plagiarism checks. SEO keyword searches are also higher compared to the pro plan with 500 searches offered with this package.
WRITECREAM
Writecream is an innovative AI-powered tool that uses advanced machine learning to create content for Google ads, blog posts, social media, and more. Its simplicity and user-friendliness help it stand out among its competitors. It provides a host of features that includes Ice Breakers, SEO and copywriting, content creation for social media as well as digital Ad copy among many.  Write cream provides AI-powered Personalized Ice Breakers for LinkedIn that helps you create a message for your prospect. By just entering the LinkedIn profile URL, the tool will come up with a personalized message by analyzing and scanning the profile which will compel the prospect to respond. Similar Ice breakers are also available for emails and backlink outreach as well.
Stand-out features include AI-powered article writing which helps you generate long-form content in a short amount of time. As per the official website, Writecream can create a 1,000+ word article in less than 30 minutes, which is quite impressive.
Creating Ad copies could not get simpler as this is possible at the touch of a button with Writecream. All one needs to do is enter the name of their company and what it does and Writecream will create your ad in no time.
With the help of Writecream's Social Media Engine, you can also form ideas and content for your posts with the help of AI. You could even turn your blog posts into a podcast with the help of 40+ voices which allows you to create voiceovers for YouTube videos as well. Along with these, Writecream provides more than 75+ languages for you to select making it one of the best options in the market right now.
Features
Create Blog posts from Scratch: With Writecream, users can generate 5000 + word articles only with the help of keywords. The tool is extremely helpful for marketing professionals as well as bloggers as it can generate content in under 30 minutes as well as ensure that your content generates traffic. If you want to write long articles without really having to rack your brains, Writecream is the perfect option for you as the tool leverages artificial intelligence efficiently to produce the desired content. Writers also have the option to generate intros, outlines, conclusions etc for their blogs.
Personalized icebreakers: This is a major feature when it comes down to AI-powered tools and Writecream is one among very few other tools that provide the option to create personalized icebreakers for your sales requirements. Icebreakers are available for various outreaches like LinkedIn outreach, Cold mails, Image Icebreakers, Audio icebreakers, etc. With this feature, sales professionals can successfully create compelling and catchy messages that are guaranteed to grab the attention of prospects and in the process ensure that the brand continues to have a growth trajectory. Icebreakers are a crucial element in sales and the developers in Writecream have made sure that this requirement is handled aptly by the tool.
Ad copies: Writecream creates ad copies by analyzing the brand's website content as well as by predicting customer behavior. With a single click, the tool can generate Facebook and Google ads and you can even tweak the ad to your requirements. This feature also allows professionals to create ad copies for their campaigns by providing different strategies.
Social Media content: As social media has surged in popularity in the last decade, marketers and professionals from various fields continue to expand their reach on various platforms through various techniques. Writecream helps content creators generate engaging content for their social media profiles with the help of AI and helps gain followers and improve their reach in general. The tool helps brands across the globe in creating and publishing content on social media and grow their presence in general.
Voiceovers: This is another feature that most other AI-powered tools don't carry. If you are planning to start a podcast or create ads on YouTube, Writecream will help you generate scripts and even voice-overs. Coming up with a script for a podcast is an arduous task and with the help of AI, you can generate scripts and add voiceovers in a short amount of time. For people considering a career in podcasting or professionals looking to create compelling video content, this is the perfect tool that one can utilise.
Pricing
Writecream has three different packages currently and each of them is quite reasonable cost-wise when compared to Mark copy.
Free-forever plan: This plan is free of cost and users are given 20 credits to use. Support and templates are all accessible while 20 ice breakers are also provided. Users can also generate 2 long articles of 5000 words each.
Standard plan: For 49 $ a month, users are provided 200 credits and 200 ice breakers. You can also generate 20 long articles as well as 40 short articles in this package. Along with these 40 voiceovers for YouTube and 40 podcasts can be generated by members of this plan. If you own a startup or a small company, this plan is perfect for you.
Extended plan: Costing 69 $ for a month, this package is more suitable for agencies and enterprises. With 750 credits, users get access to 750 icebreakers,75 long articles, and a whopping 150 short articles. Even the number of podcasts and voiceovers that can be generated is quite high with users allowed to generate 150 of each feature.
Apart from the above features, every package comes with chat and email support, and access to new features as well as existing tools.
Output quality comparison
 Quality wise both the tools have very similar results. The sentences carry a human touch which many other AI powered tools fail to deliver. Although both the tools had similar results, Writecream had a few more options to choose from, which makes it a slightly better option if one was to look at the output aspect of these tools. Although it might be necessary for you to make few edits, the overall content was surprisingly impressive. There is enough creativity and flow making it easy to read and understand for the reader.
User interface
Writecream has a very simplistic approach in its interface, with every service categorized into different tabs making it easy to navigate. New users will find the simple interface easy to scroll as every feature of the tool is available in the Dashboard.
Apart from the various type of content to choose from, the home screen also provides access to settings that allows you to change the language, upgrade your account and also check your recent activity. Overall, the user interface for Writecream is simple and very easy to navigate even for a new user.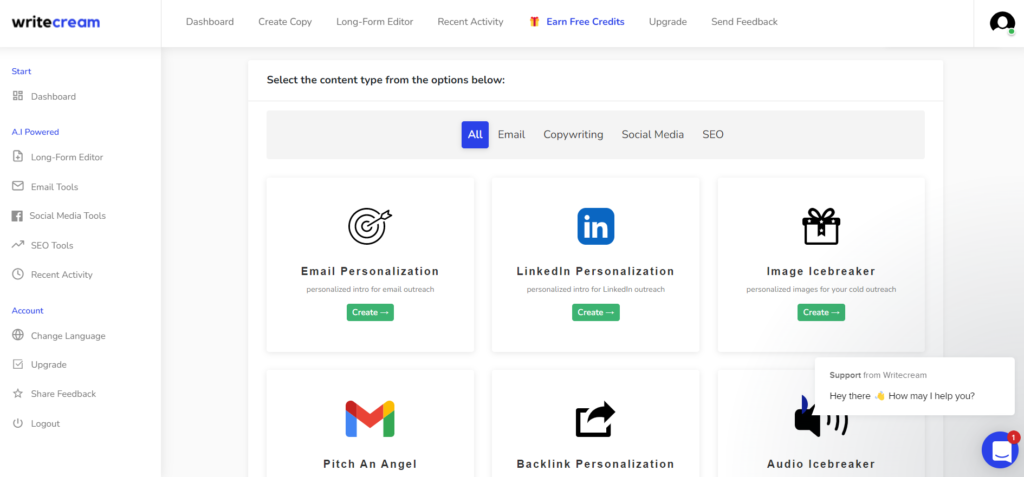 The developers at Mark AI has also taken the same approach when designing the interface with a focus on a simple and straightforward interface. Similar to Writecream, users should be able to find their way around the various options on the dashboard without much hassle. Although they are quite similar in that way, one can notice the difference in the layout which in all honesty is the most significant difference between the two tools. The options are not completely laid out in the home page when it comes to Mark AI and one will also see a lack of options when it comes to user profiles.

Although both Writecream and Mark AI have user friendly interfaces, Writecream clearly has an advantage in terms of design and layout as well as accessibility.
Tutorials
When it comes to how to do's and tutorials, Writecream has a massive collection of tutorials on YouTube, both from the official Writecream channel as well as various other copywriters. It clearly shows how as an AI powered tool, Writecream has been successfully able to carve a name for itself in the market. The tutorials are comprehensive and can be extremely useful for new and experienced users alike. If you plan on using Writecream for your content creation, I would suggest you to go on to their YouTube channel and check out one of the many tutorials.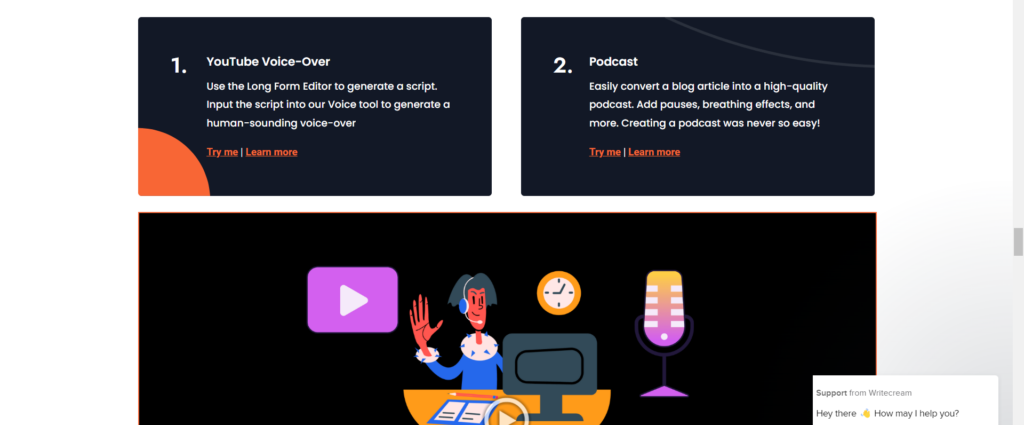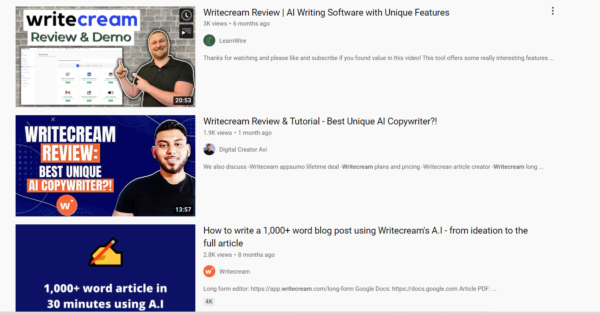 Unfortunately for Mark Copy, there are very few tutorials online and one has to either go through the official channel for some of the basic tutorials for more information or find their way through the tool themselves. Although since the interface is quite simple and easy to navigate , new users should not find it too challenging.
User Reviews
Users have generally posted positive reviews for both the tools, with people complimenting on the simplicity of Mark copy with specific attention on the efficiency of the tool. Although there are a few poor reviews, most of the reviews are positive with 74% people claiming it to be an excellent tool.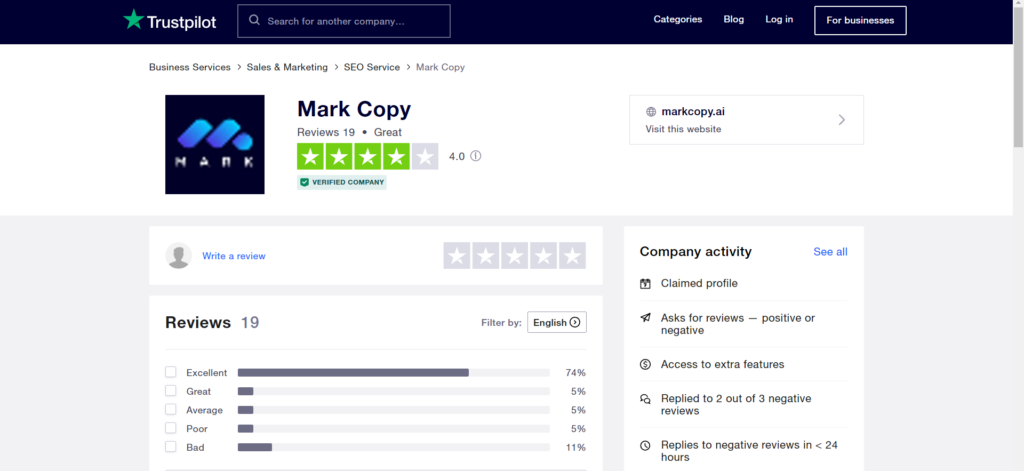 Writecream on the other hand has an almost spotless image among users, with an average rating of 4.9 out of 5 stars. The broad range of features as well as the quality of the product and the easy to use interface is what users found to be the best aspect of Writecream among many. Personally, I would completely agree with the reviewers as I myself found it to be extremely useful as a writing assistant tool. It clearly stands out among the many competitors in the market and also among various field of work be it writing blogs, marketing campaigns or even an Email.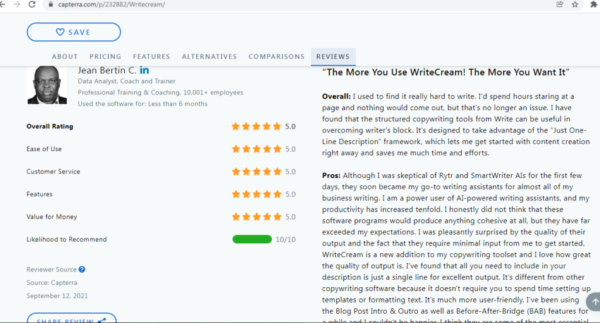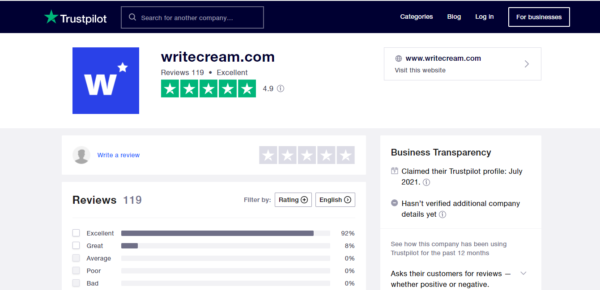 Conclusion
Overall, both the tools are quite effective when it comes down to the quality of work. Although there are many common features, where Writecream is a step ahead of Mark Copy like ice breakers and audio scripts. The SEO optimization with Writecream is also far better when dealing with Writecream. Mark Copy does have certain aspects that make it a unique tool in the current market, but users might find the services provided are quite minimal and expensive. In this regard, Writecream is a better choice for me as it comes loaded with features at a very reasonable price. As a content writer that is my opinion but the final call is for you to make.
Let us know your thoughts in the comment section below!
Writecream provides 30+ tools for generating tons of content within seconds! Use Writecream to generate product descriptions, personalized emails, blog articles and much more and that too for free! Our free plan provides 20 credits every month which helps you generate 10,000 words per month!
Isn't it amazing?
To get started, register here https://app.writecream.com/registerfor our FOREVER FREE plan NOW!