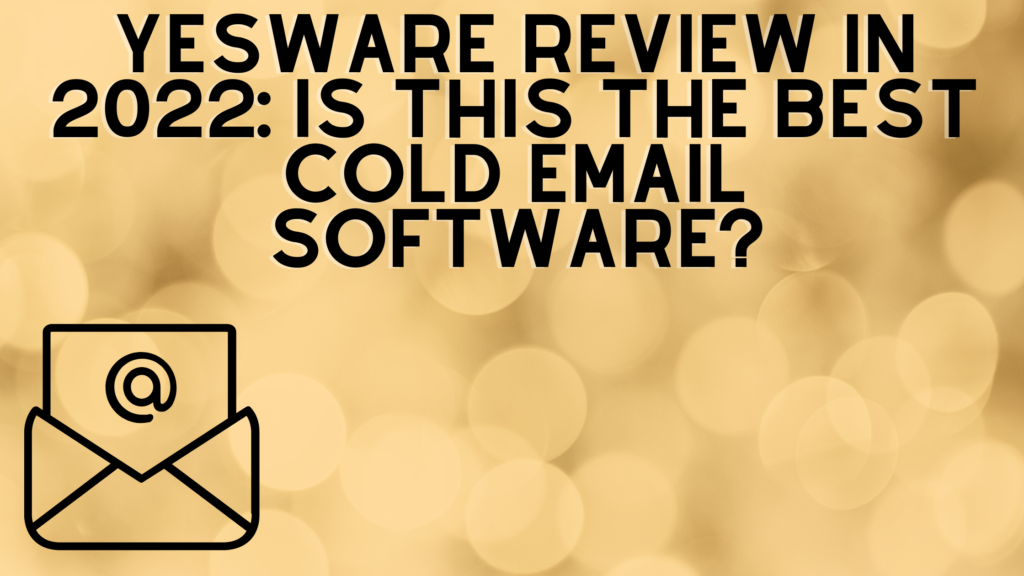 Yesware is a comprehensive cold outreach sales toolkit to help salespeople and businesses sell smarter. Connect users to target markets, monitor customer retention, and sell directly from your Gmail or Outlook inbox. This is one of the nest cold email tools of 2022 and allows sales reps and teams to work more efficiently and in a more productive manner. The user can quickly upload data to her CRM and the system automatically syncs everything and increases email deliverability. This system allows users to access valuable email data with just a few clicks. Data can be used to understand your customers better. With data insights and sales communication tools at your fingertips, your sales team can do more and make informed decisions faster.
A cold email outreach platform for people to come in and connect with qualified prospects. This dramatically increases efficiency and productivity as critical functionality can be found in a single, centralized solution. Yesware is used not only for email marketing services but also for sales automation features and security details. It indeed is one of the best cold email tool.
Advantages of using the best cold email software – Yesware
Yesware's main advantages are its ability to facilitate the work of various employees, including sales staff and company managers, to improve work efficiency and productivity, the ability to monitor employee activities, and excellent tracking notifications. Is. Here are the details:
The software is helpful for salespeople who manage and send emails to customers and company managers who create reports. Additionally, the tool reduces the burden on salespeople of manually creating email templates and messages so they can focus on more critical tasks like closing deals. It also helps reduce the time spent on reports. On the other hand, sales managers receive relevant and accurate data on the activities of their sales teams.
💡 Generate personalized emails, blog articles, product descriptions, and ads in seconds using the power of A.I
Bad leads just waste your time and effort. Yesware has tracking alerts that help your sales team discover prospects who are most likely to say yes to your product or service being offered. Determine who opens your emails, clicks on links and other elements, and increases your chances of conversion.
Increase Sales Team Effectiveness and Productivity
Yesware allows users to save and resend messages, maximizing the productivity and effectiveness of your sales team. Additionally, users can quickly create custom templates and insert rich text and links into templates. It also helps in sending personalized emails.
Using Yesware is beneficial not only for sales reps but also for those who lead their teams. This allows you to quickly and conveniently monitor the performance of your sales team.
The software automatically synchronizes all customer and prospect engagement activities, eliminating time-consuming manual data entry processes. Yesware also tracks presentations, emails, and calls directly from your inbox and allows you to update information directly from there.
Yesware offers solutions to help with your sales and email marketing needs. It helps you prioritize prospects, follow up, automate your cold emails, update Salesforce records, synchronize all user interactions across platforms, and identify the best message template for your options. Increased productivity Overall, this is a handy software product if you want to use your time effectively and productively—no need to worry about manual data entry. Instead, use automated workflows and customizable templates for your team to send to your recipients.
Additionally, Yesware allows you to view email open and response rates. This frees up the team because it helps them better understand what they need to do to maximize their sales reach and close more deals in less time.
Integration with Salesforce lets you do even more with Yesware. It offers two-way sync to keep you focused and efficient with your emails and follow-ups. This allows you to automate your CRM activities and reduce manual data entry. Additionally, you can add recipients to your workflow and personalize each touch with customized communication for new recipients.
To save time on messages, you can use ready-made templates to send to your recipients. You can choose the cold email template that best suits your message. This not only sends the right message at the right time, but also saves enough time to work faster, and also improves work efficiency. Additionally, you can personalize these messages with placeholders, dynamic fields, and drop-down menus to ensure the sincerity of your words to your audience.
 Yesware pricing methods- choose the best
Yesware's hassle-free pricing packages are designed to meet a variety of business needs. Take advantage of a wide range of productivity tools and tracking capabilities.
You can check out the the14-day free trial of Yesware before subscribing to any package. No credit card information is required.
Professional offers $15.00 per user per month, you get access to Yesware's core features. This includes tracking in real-time, personal templates, multiple types of reports, and the ability to schedule times. You can choose monthly or yearly billing, but you can save even more by using the yearly billing cycle.
Premium Pricing is $35.00 per user per month. It offers everything Pro offers, but with additional campaign features, role-based permissions, central billing, reporting, and template sharing as a team. Like in the previous plan, you can choose between monthly or billing cycles.
As the last package offered by Yesware, Enterprise offers users the most comprehensive plan. Users will be billed $80.00 per user per month. Combined with all the features of previous plans, it also features a Salesforce inbox sidebar, two-way Salesforce sync, calendar and CRM sync, and email and CRM sync. To get started with Yesware, simply install the software solution into Gmail or Outlook.
Conclusion
Yesware is an cold email outreach tool that ensures email quality with simple yet powerful features and tools. Examples include email automation, email tracking, campaigns, analytics, reports, and customizable templates. It comes with a variety of features designed to streamline and automate your email marketing service. If you're looking for an email marketing service for a salesperson that not only sends emails but also helps managers report them, Yesware is a viable option.